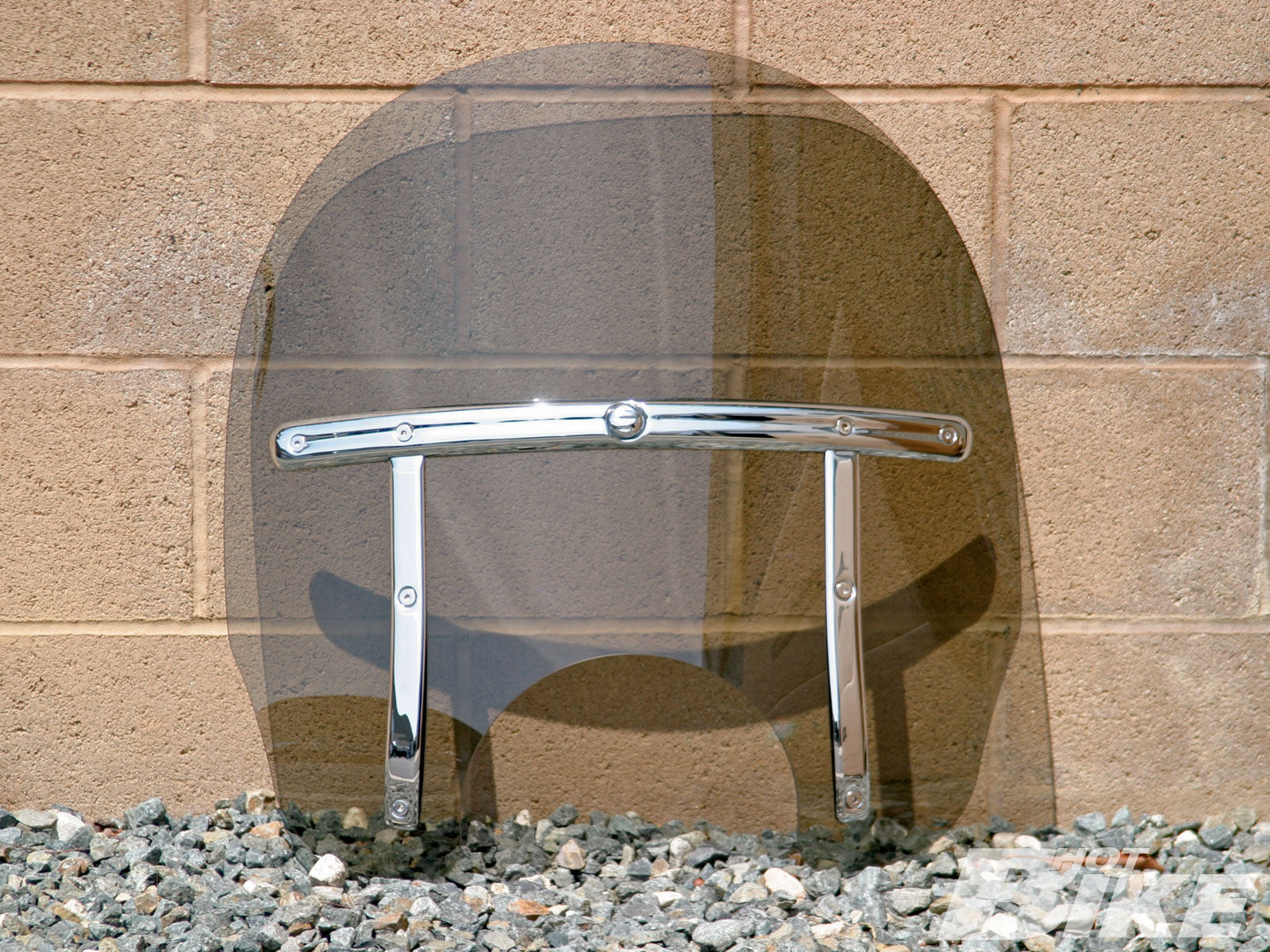 Under Budget
Windshields and fairings are very handy when touring. Both help prevent bugs from flying into your mouth (picture Lloyd from Dumb and Dumber), and they also help keep the wind from blowing you every which way when it kicks up.
Küryakyn, makers of anything and everything motorcycle related, has released an air management system line of AirMaster windshields ($299.99) for keeping the elements and unruly flying insects at bay. The windshields are available in tint or clear and these specific shields were made to fit multiple Harley-Davidson Softail models utilizing the fork slider frontends and work with or without the OEM light bar. The shields are made of 0.125-inch optical grade, hard-coated polycarbonate and are available in three different heights: low, mid, and tall. A high-quality, chrome-plated stainless steel hardware kit ($89.95) is required for installation. Another cool feature is that the AirMaster can be tilted forward and aft to better suit the rider by making adjustments to the mounting hardware. The windshields/mounting hardware will fit '05-10 Deluxe, '90-10 Fat Boy, '86-10 FLST(C), and '93-96 FLSTN models. The best part is that once the hardware has been mounted (about a 10-minute process), windshield installation/removal takes a matter of seconds.
Another air management option that Küryakyn offers is the Sportech Fairing-Plus ($599.99) for Softail models. With the bagger craze not leveling off by any means, fairings are still the rage. Especially when you can take them off and put them back on in no time at all. The Sportech Fairing-Plus is thermo-formed from the same materials found on auto body panels, and the outer shell has been painted in black with a nice glossy clearcoat to withstand the elements. The inner shell features a black textured surface with an inner compartment for storing belongings. The Fairing-Plus also requires a mounting hardware kit ($49.90) that will work with '86-10 Heritage, '05-10 Deluxe, and '93-96 FLSTN models. It will also fit '94-10 Road King models.
We headed over to one of Küryakyn's facilities in nearby Santa Ana, California, to check out the air management line of windshields and the Sportech Fairing-Plus to see how they looked when installed on the test mule, an '09 Softail Deluxe. We were also curious as to what was required for installation purposes and if taking the windshield on and off once the hardware had been installed was as easy as Küryakyn claimed.
Sources
Küryakyn Contact your local dealer | kuryakyn.com