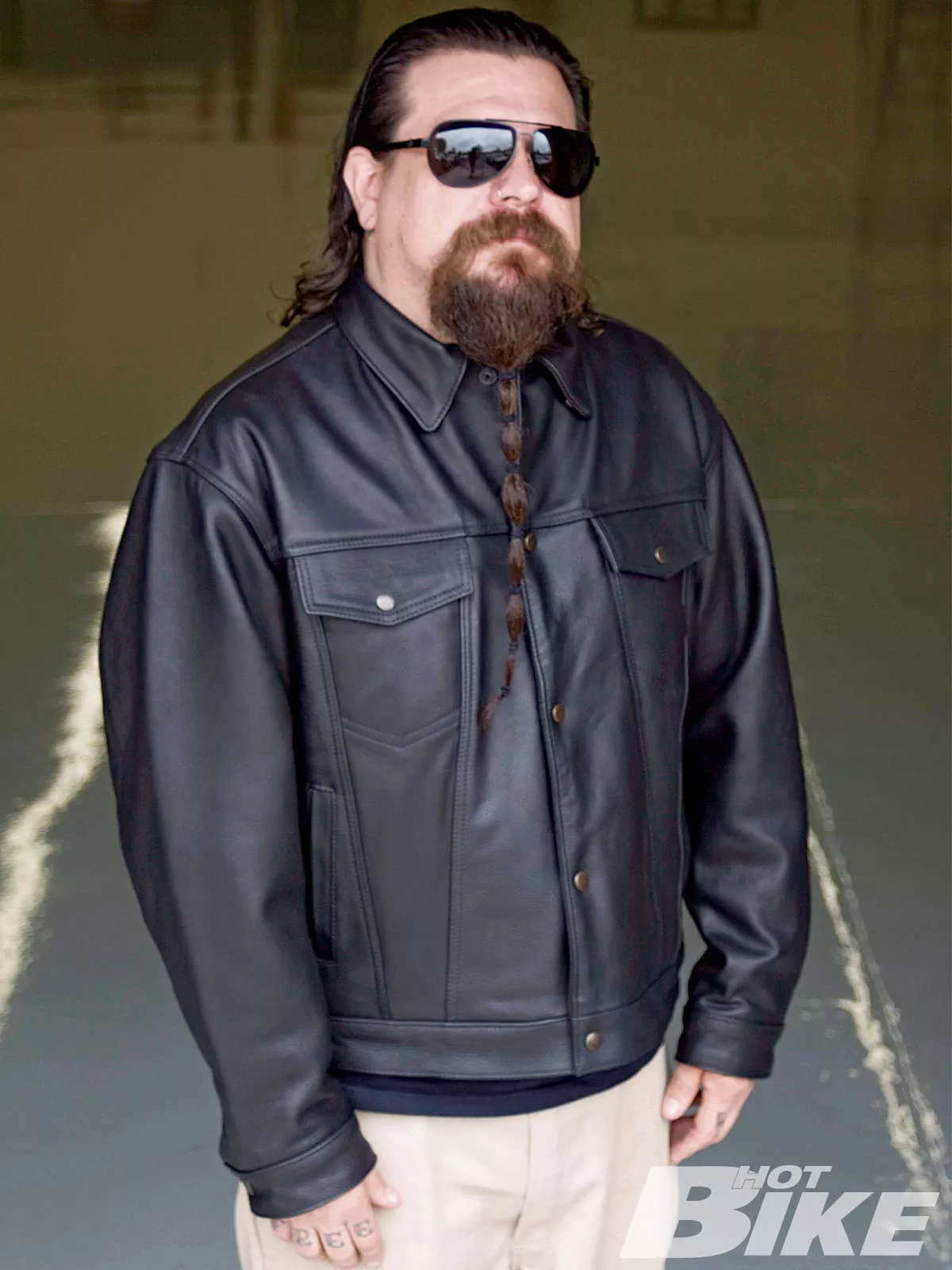 For me, finding a good-looking daily riding jacket that fit correctly has not been an easy task. I have worn dozens of mid- and high-priced leather jackets and have always found fault with them. Some fit good, but looked like a billboard, while others were stealthy, but felt like cardboard. Suffice to say, I have been wearing uncomfortable jackets for safety, and I was fed up.
After searching my options and hearing good things about the brand, I decided to give a Fox Creek Leather Jean Jacket ($346) a whirl. Situated in Virginia at the foot of the Blue Ridge Mountains, Fox Creek is a family-run business that has been making all its motorcycle-centric jackets, vests, and chaps right here in the USA for more than 40 years. To top that, Fox Creek stands behind the aforementioned garments with a lifetime guarantee. This fact alone piqued my interest enough to cough up my own hard-earned dough on some dead cow.
When I gave Fox Creek a call to order the jacket, a very nice sales associate asked me a few questions about my body dimensions and determined what size I needed. In less than a week the jacket showed up and from the first time I put it on and rode home, it fit as if it were made for me personally.
The jacket looks very basic, which is what I was after, but it has all of the features I was looking for. Tough leather and top-quality construction were my main concerns, and the Leather Jean Jacket had both of those in spades. The beefy 1.8mm leather is some of the nicest stuff I have ever thrown over my tattooed hide. It's very thick, but I didn't have to walk like a robot or drag it behind my truck for a month to get it to break in. In fact from the day I dawned the jacket, it felt like I had been wearing it for years.
Additional standouts are the use of snaps on the front, cuffs, and collar instead of zippers. I just say no to zippers because they have a tendency to ensnare and yank on my beard when I ride. I also like the fact that there are six different pockets to stash my essentials. For those of you fortunate to have a concealed carry permit, the jacket also has an inner gun pocket with built-in barrel pouch.
After a decade of searching for the perfect daily riding jacket, I think I found my leather life-partner. Just as long as I don't get too fat for it or none of the other HOT BIKE editors steal it from me, I'll be just fine.
Fox Creek (800) 766-4165 | foxcreekleather.com
Ratings: *******
**Quality of Product *****
Ease of Installation *****
Ease of Use ** *****
**Overall *****