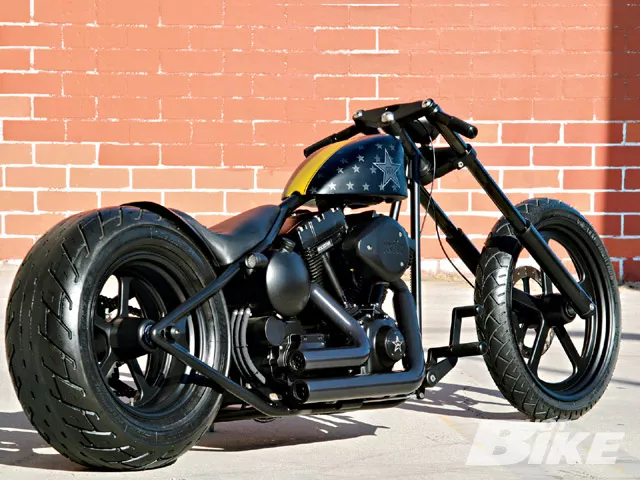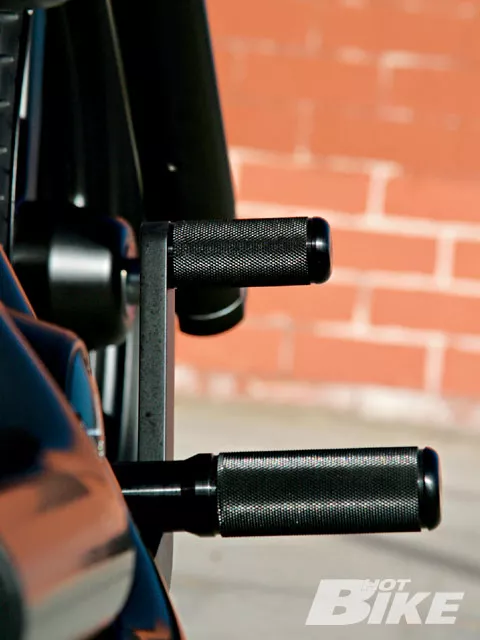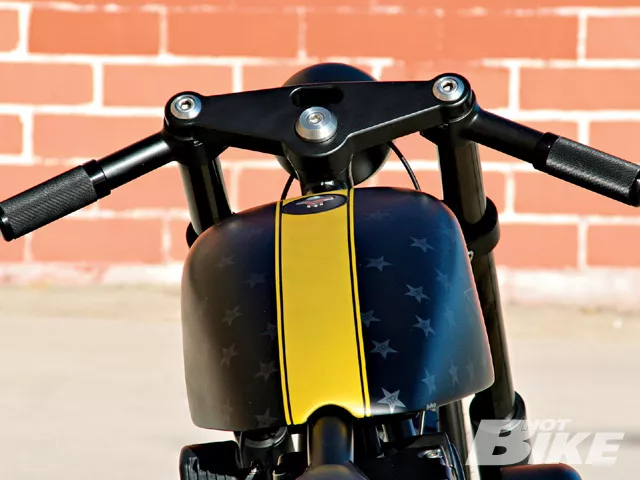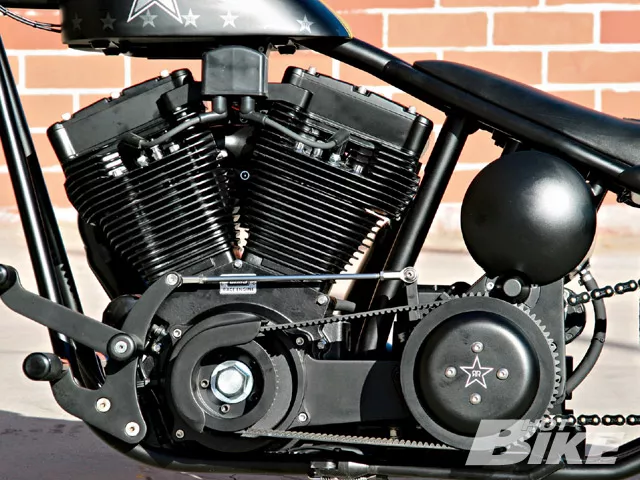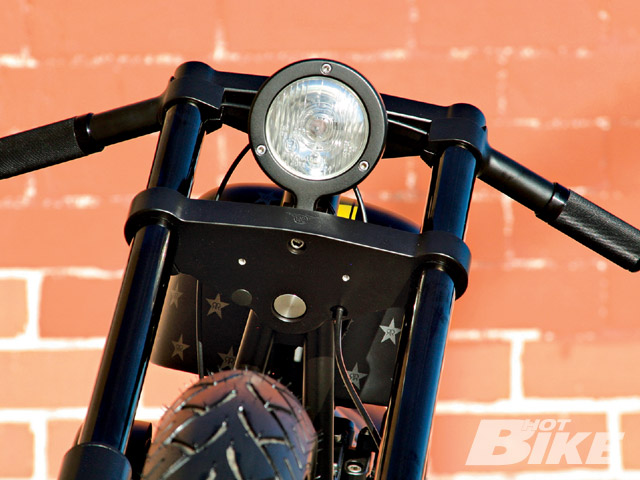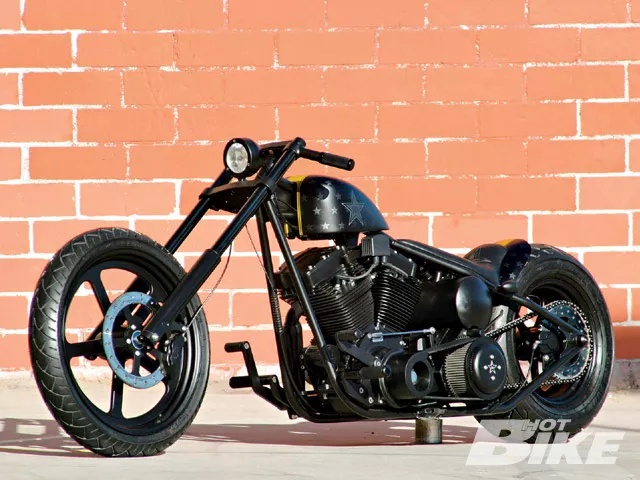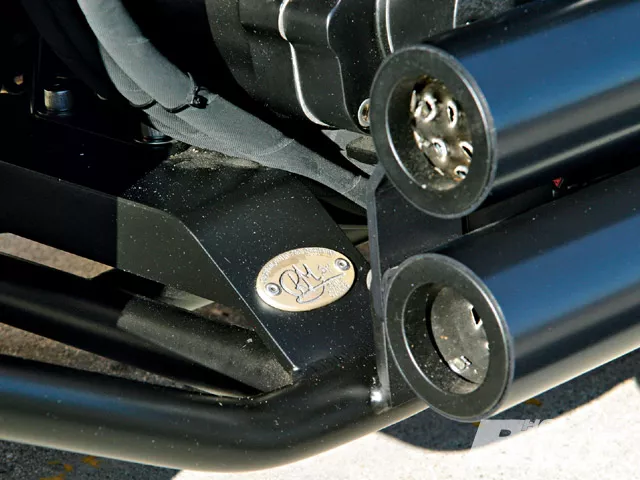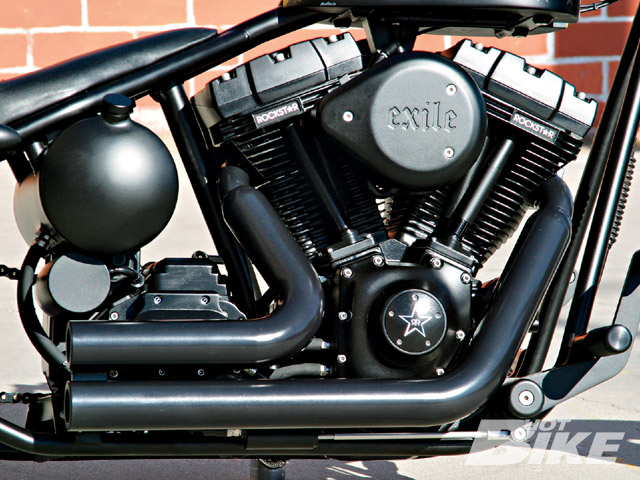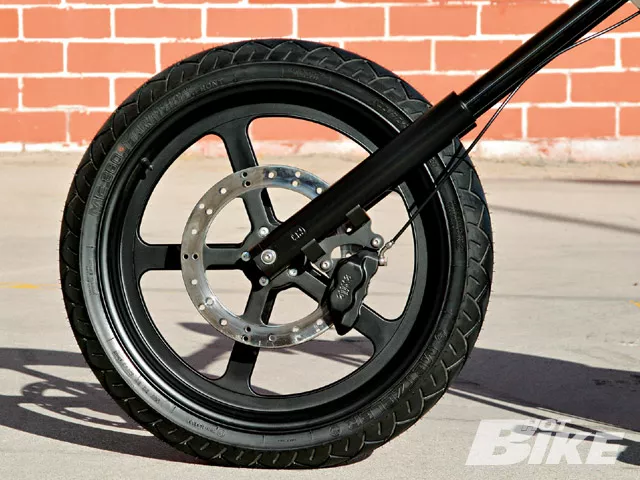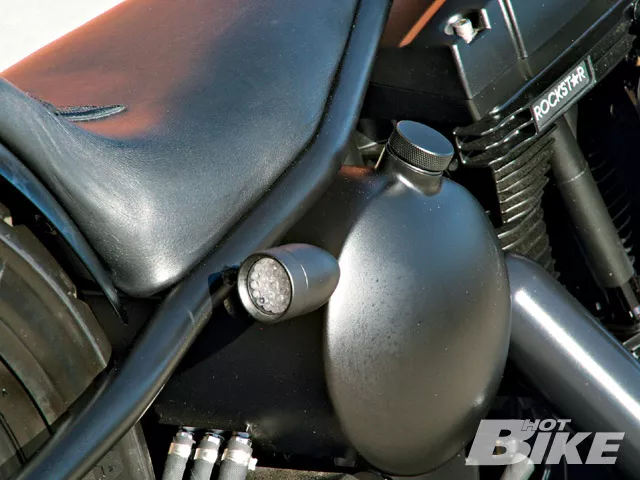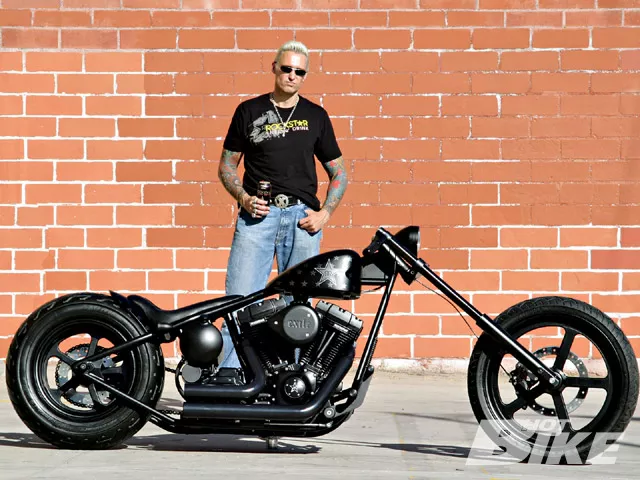 Russell Mitchell of Exile Cycles has always been known for his minimalist design. Everything he makes is clean, industrial, badass, and almost always painted black, so it's no coincidence that when the guys at Rockstar Energy Drink went looking for a bike to carry the Rockstar name, they went straight to Russell.
Russell grew up in England, and surprisingly enough, his introduction into the two-wheeled lifestyle began with Lambretta scooters. Of course he couldn't ever leave them stock, so he chopped them. His first custom scooter was called Exile, a tough-looking chop with twisted forks, a coffin tank, and a foot shift. It won all kinds of awards and became considered among scooter buffs to be one of the coolest scooters of all time.
Eventually fate brought Russell to the states, where upon arrival, with $9,000 in his pocket, he went out and dropped $8,650 on a 1987 Softail. In 1994, after coming into a bit of cash, he decided to build a pair of identical customs. He really went crazy with the parts development, learning how to weld and machine as necessary. His first custom V-Twin was eventually featured in a magazine, kick-starting a demand for his one-off parts, which led to Russell starting a makeshift operation out of his garage. In 1995 Exile Cycles was born, and the rest…well you know what they say.
Russell first ran into the Rockstar guys in Sturgis around three years ago and they hit it off right away, combining forces for a full-scale reign of terror on the infamous Full Throttle Saloon. Russell began calling Craig and Jordan of Rockstar "Bill and Ted." He also became friendly with another key Rockstar player, Kelso, who kindly facilitated Exile's involvement in some very exclusive Hollywood parties at the Rockstar mansion, box seats at the X-games, etc., the list goes on. It became clear that both Rockstar and Exile had very similar company sensibilities, so the next logical step was for Rockstar to get behind Exile for some sponsorship and for Exile to develop the definitive "Rockstar" bike.
Russell put together a rendition of the bike and sent it over to corporate for approval. Of course the finished product is exactly what Russell wanted, and corporate just happened to like it, too.
Russell started this build with an Exile Rigid frame with 45 degrees of rake and 2 inches of stretch in the front legs of the frame. He wanted it to be long, low, and lean; to look like it's doing 100 mph standing still, and it definitely does. Russell took his must-be-black mantra to the extreme on this bike, extensively powdercoating almost everything he could. He even had a tricky, high-tech black coating applied to the fork tubes. Only the stainless steel hardware that holds the bike together was spared.
Because this bike was for Rockstar, it had to be fast! Russell decided on a JIMS 131ci Twin-Cam style motor with Evo-style lower mounts, mated with a JIMS six-speed transmission. They machined Rockstar into the heads and logos on the ignition and clutch covers.
For wheels Russell went with a newer designed billet five-spoke pattern, which is a departure from his wire-spoke norm. The Monster Shotgun Pipes and round oil bag give this bike the tough look we've all come to expect from Exile.
To reach his minimalist design ideals, Russell employed most of the tricks he has developed and become known for over the years. The Exile Sprocket Brake keeps the rear wheel neat and clean, while the Internal Throttle, Twist Clutch Kit, and Integrated Brakes keep the bars as understated as possible. According to Russell, the brakes are integrated with two brake lines running from a double banjo-bolt. One supplies the front caliper and one supplies the rear. In this instance no proportioning valve is necessary as the front caliper is stronger (4-piston) than the rear (2-piston), thus there is proportionally more braking force applied to the front wheel. The beauty of this bike comes from its utter simplicity.
For paint, Russell called up Buck Wild and gave him enough freedom to work in the Satin Gold Racing stripe and the repeating subtle Rockstar logo over the black satin base.
In the end both parties were extremely happy and it has signified the beginning of a strong friendship.
| | |
| --- | --- |
| SPEC SHEET | |
| BIKE OWNER | Rockstar Energy Drink |
| SHOP NAME | Exile Cycles |
| SHOP PHONE | (818) 255-3330 |
| SHOP WEBSITE | www.exilecycles.com |
| YEAR/MAKE/MODEL | '08/Exile/Rockstar Dragster |
| FABRICATION | Exile |
| ASSEMBLY | Exile |
| BUILD TIME | Six months |
| | |
| --- | --- |
| ENGINE | |
| YEAR/ MANUFACTURER | 2008/JIMS |
| TYPE/SIZE | 131ci |
| BUILDER | JIMS |
| CASES | JIMS |
| CYLINDERS | JIMS |
| HEADS | JIMS/Screamin' {{{Eagle}}} |
| | w/Rockstar Logo |
| ROCKER BOXES | H-D |
| CARBURETOR | S&S; Super G |
| AIR CLEANER | Exile |
| EXHAUST | Exile Monster Shotgun Pipes |
| | |
| --- | --- |
| TRANSMISSION | |
| YEAR/MANUFACTURER/TYPE | '08/ JIMS/ |
| | 6-Speed |
| CASE | IMS |
| CLUTCH | Primo |
| PRIMARY DRIVE | Exile/Primo 3-inch belt |
| | |
| --- | --- |
| FRAME | |
| YEAR/MANUFACTURER | Exile Rigid |
| RAKE | 45 degrees |
| STRETCH | 2 inches in front frame tubes |
| | |
| --- | --- |
| SUSPENSION | |
| MANUFACTURER FRONT | SJP |
| LENGTH | 8 inches over |
| TRIPLE TREES | SJP 6-degree raked trees |
| MANUFACTURER REAR | N/A |
| SWINGARM | N/A |
| | |
| --- | --- |
| WHEELS, TIRES, AND BRAKES | |
| MANUFACTURER FRONT/TYPE | Exile Cycles/ |
| | Five-Spoke |
| SIZE-WIDTH/HEIGHT | 21X3.5 |
| TIRE/SIZE | Metzeler 120/70-21 |
| CALIPER | Exile 4-piston |
| ROTOR | Exile |
| MANUFACTURER REAR/TYPE | Exile Cycles/ |
| | Five-Spoke |
| SIZE-WIDTH/HEIGHT | 15X7 |
| TIRE/SIZE | Metzeler 230/60-15 |
| CALIPER | Exile |
| ROTOR | Exile Sprocket Brake Kit |
| | |
| --- | --- |
| FINISH/PAINT | |
| COLOR | Satin Black with Satin Silver logos |
| | and Satin Gold |
| PAINTER | Buck Wild Design |
| GRAPHICS | Buck Wild Design |
| POWDER COATING | Andrews Powder |
| | Coating |
| | |
| --- | --- |
| ACCESSORIES | |
| REAR FENDER | Exile |
| GAS TANK∩ | Exile tank with CCE cap |
| OIL TANK | Exile round oil bag |
| HANDLEBARS | Exile Clip-on bars with |
| | internal throttle and twist clutch |
| HAND CONTROLS | Exile Internal Throttle/ |
| | Exile Twistclutch Kit/ Exile Billet Grips |
| FOOT CONTROLS | Exile |
| FOOTPEGS | Exile |
| HEADLIGHT | SJP |
| TAILLIGHT | Lazer Star |
| SEAT | Bill Wall Leather |
| ELECTRICAL | Exile |