Obviously, this bagger isn't built for the infamous singer Rick James, whose epic battles with Eddie Murphy's brother Charlie were chronicled in the very awesome Chappelle's Show on Comedy Central. F Bomb Baggers made it for a totally different guy with the same name. This particular Rick James loved the shop's dark, evil, murderous custom iron after ogling it on YouTube.
"In the past couple of years, we have become well-known for murdering out baggers with our own little style—or what I have started to hashtag #blacktory—because we do so many black bikes," F Bomb's Tony Palermo tells us. Rick reached out and said he was in the market. The shop had a '16 Road Glide that was already going under the knife. It was perfect timing.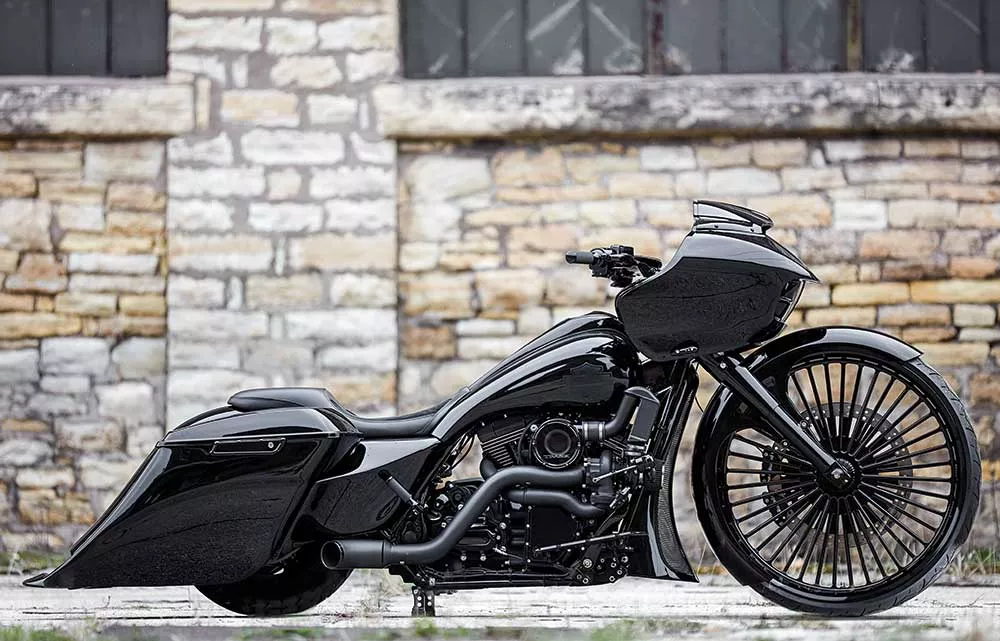 F—k yo' couch.… F—k yo' couch.…
Road Glides are big and comfy, but stock furniture on two wheels wasn't what Rick wanted. Instead, he said he was in love with the murder look the shop brought to baggers and that theirs stood out from the other bikes he had seen.
"So we went ahead with the build and got started by raking the frame with a Misfit 30-inch neck and American Suspension Trees," Tony says. He ordered a Top Shop ass end, sides, and stretched tank; RWD fender; BMF chin spoiler; and Dirty Bird headlight bezel and windshield as the foundation for what the bike would look like when it was done.
Now, Darkness, the tables have turned.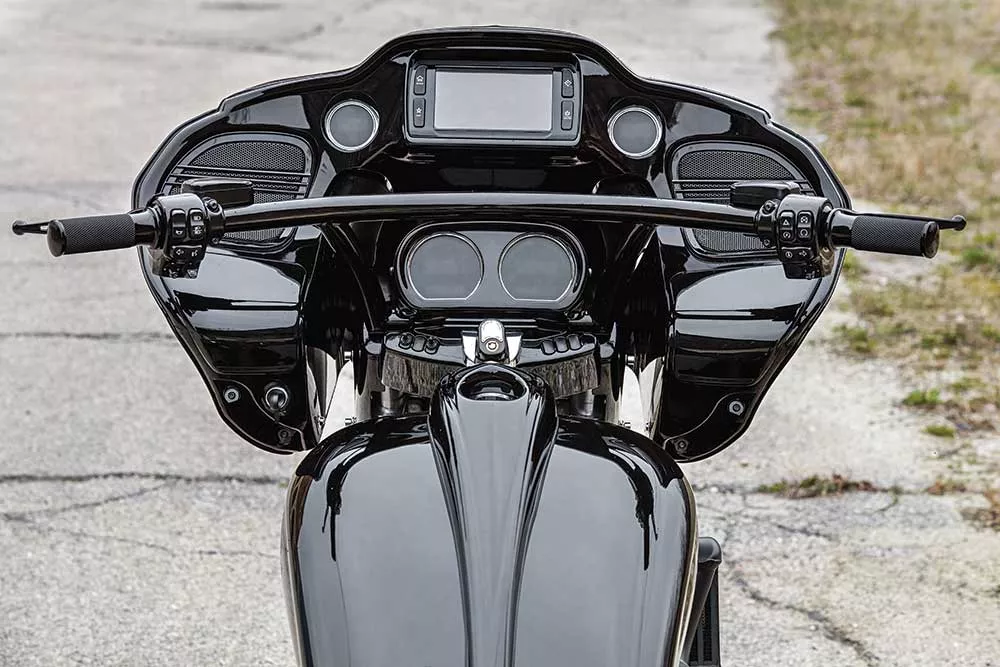 Big-wheel baggers are as polarizing as it gets in the custom-scoot world. There's very little middle ground when it comes to how people see the things. If you can get a positive response out of your haters, however, you've turned out something good. Tony says, "I always try to keep our builds clean and classy. We get enough s—t as it is in this crowd of big-wheel haters, so if I can get a thumbs-up from one of the haters, then I know I'm doing my job."
That's exactly how some of said haters have responded to this machine. Finishing can make or break a completed motorcycle, and in this case, Fast Eddy's laid down a Vivid Gloss black throughout the whole body while also taking the beautification up a notch by molding the Dirty Bird headlight bezel to the outer fairing. Matched with DD's turn signals and a tinted headlight by Five Star, the details just added to the murdered look of the bagger.
"John at Dirty Bird basically won me over on doing a Road Glide because until that lowlife windshield and bezel came out; Road Glide fairings just looked like giant bird heads to me," Tony says. "With those two pieces and the special in-house fairing bracket we designed, we got the bike to get a factory-tucked look that flows like the factory fairing. There'll be no fairings that stick up 5-plus inches or higher on my Road Glides."
Beyond that, murdering out a motorcycle means black everything. Every part that was chrome was then sent out to Bret at Advanced Powdercoating and gloss-blacked out. The special mix he came up with blows away any other powdercoater Tony has ever used, and he says the durability is 10 times better than the previous shop with which he dealt.
What did the air suspension say to the bagger? Slam!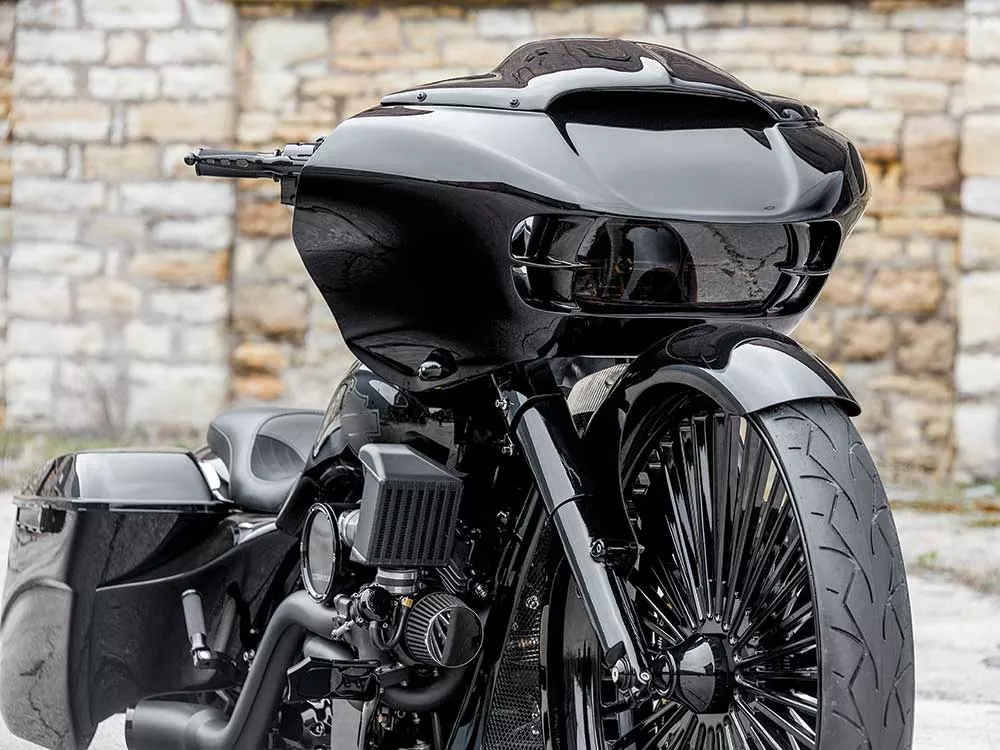 When customizing the chassis and suspension, Tony went with a Dirty Air El Grande setup and MRI centerstand because, "If she ain't slammed, it just don't look right." F Bomb Baggers needed custom wheels to finish out the roller, and when it came to picking the wheel, Tony knew SMT was the way he wanted to roll. SMT's Big Fatty rim was the one that would give Rick James' Road Glide that spoke look he wanted. That, paired up with SMT's 18-inch dual-caliper setup, made sure the bike would stop on a dime too.
Horsepower is a powerful drug.
Last but not least, Rick wanted to feed his horsepower fix. When Rick saw the Trask Turbos on all of F Bomb Baggers' other bikes, he had to have one on his too. Tony hit up Trask Performance and ordered up one of its kits, which nearly doubled the factory horsepower on this V-twin.
Specifications
| | |
| --- | --- |
| General | |
| Owner | Rick James |
| Shop | F Bomb Baggers |
| Shop Phone | (779) 435-0849 |
| Website | fbombbaggers.com |
| Year/Make/Model | 2016/Harley-Davidson/Road Glide |
| Fabrication | F Bomb Baggers |
| Build Time | Four months |
| Engine | |
| Year/Type/Size | 2016/V-twin/103 |
| Builder | F Bomb Baggers |
| Cylinders | Minos Racing |
| Heads | Minos Racing |
| Exhaust | F Bomb Baggers |
| Air Cleaner | Trask Turbo |
| Transmission | |
| Year/Type | 2016/H-D |
| Gears | 6-speed |
| Clutch | H-D |
| Primary Drive | H-D |
| Frame | |
| Year/Type | 2016/H-D Touring |
| Rake/Stretch | Misfit Short Neck (secret) |
| Suspension | |
| Front End | Factory w/ machined fork |
| Rear | Dirty Air |
| Wheels, Tires, and Brakes | |
| Front | |
| Builder/Size | SMT/30 in. |
| Tire/Size | 30 in. |
| Calipers | Dual Willwood SMT setup |
| Rotors | 18 in. |
| Rear | |
| Builder/Size | SMT |
| Caliper | Willwood |
| Finish/Paint | |
| Colors | Vivid Gloss Black |
| Paint/Graphics | Fast Eddy's Hot Rods |
| Powdercoating | Advanced Powdercoating |
| Accessories | |
| Front Fender | Russ Wernimont Designs |
| Rear Fender | Top Shop |
| Gas Tank | Top Shop |
| Dash | Top Shop |
| Gauges | Dakota Digital |
| Handlebars | Dirty Bird Concepts |
| Grips | Arlen Ness |
| Foot Controls | Arlen Ness |
| Floorboards | Arlen Ness |
| Headlight | Harley-Davidson with Five Star window tint |
| Taillight | F Bomb Custom LEDs |
| Seat | Two-up done by Brian at Sinister Seats |
| Stereo | Rockford Fosgate |
| Amplifier | Rockford Fosgate |
| Speakers | Two 8-in. woofers, two horns, and two 6-in. mids |