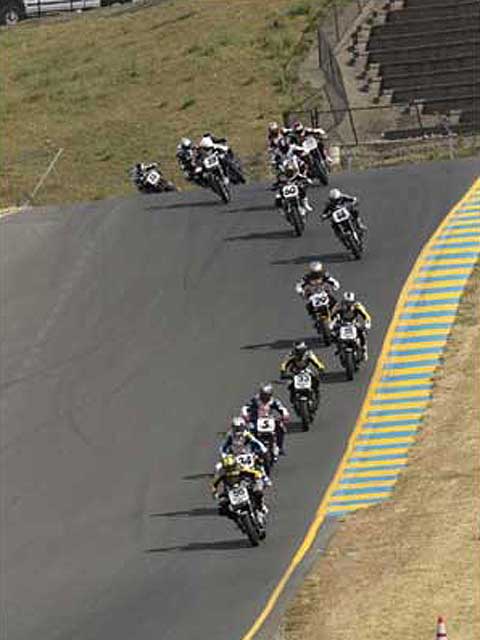 Sonoma, CA (May 15, 2011) - RMR/Bruce Rossmeyer's Daytona Racing's Chris Fillmore earned his first AMA Pro road racing win with a victory over veterans Michael Barnes and Steve Rapp in the Vance & Hines XR1200 series at Infineon Raceway May 14.
Starting from pole position, Fillmore engaged in a see-saw battle for the lead with Drag Specialties rider Barnes, as Rapp (Parts Unlimited) followed in close pursuit during the opening five laps of the 11-lap race. The race was red-flagged on lap six when Gerry Signorelli high-sided at the exit of the final turn before the start/finish line on lap six with Barnes in the lead. After the restart, Fillmore quickly took the lead and broke away to take a 3.586-second victory over Barnes and Rapp, who was hit with a 5-second penalty for jumping the restart.
"You can't really make up any ground because the bikes are so even on power. So it's all under braking and if you're not right there, the places where I thought I'd be able to pass Barney and catch up to him, he'd get that little bit of a gap, and we all pretty much hit the same brake markers," Fillmore said about the opening laps battle with Barnes. "[On the restart] Barney opened the door a little bit going into the carousel, and I just went for it and put my head down and did everything I could to pull away."
Barnes, who is still recovering from a broken collarbone sustained at the AMA Pro season opener at Daytona, was suffering from some nagging injuries that hampered his race.
"I felt a little more confident on the first start. I haven't been on a motorcycle since Daytona, and my throttle arm hasn't been working as well as I want it to. I got some arm pump from the brakes," Barnes said. "I thought I had a little bit more for Chris, but he really stepped it up for the restart, and I didn't have much left in my arm. I knew Rapp had that penalty and it was all I could do to try to stay within that 5-second gap."
Further back in the order, Daytona XR1200 race winner Kyle Wyman crashed out of the race with four laps to go, and AMA Pro Harley Davidson Insurance Flat Track Championship points leader Sammy Halbert finished 13th in his professional road racing debut.
The AMA Pro Vance & Hines XR1200 series returns to action in two weeks at Miller Motorsports Park in Tooele, UT.
Infineon Race Result:
1. Chris Fillmore (RMR/Bruce Rossmeyer's Daytona Racing), 11 laps
2. Michael Barnes (Drag Specialties), -3.586 seconds
3. Steve Rapp (Parts Unlimited), -7.323 (includes 5-second penalty)
4. Tyler O'Hara (GPBikeParts.com), -8.549
5. Michael Beck (J&P; Cycles), -8.713
6. Michael Corbino (RMR/Bruce Rossmeyer's Daytona Racing), -9.141
7. Chase McFarland (Latus Motors Racing), -10.430
8. Bradley Adams (Sport Rider Magazine), -23.977
9. Joe Kopp (Latus Motors Racing), -36.594
10. Josh Chisum (Troy Lee Designs), -38.889
11. Michael Morgan (Python Exhaust), -39.915
12. Paul James (James Gang/Hoban Brothers/H-D of Appleton), -53.481
13. Sammy Halbert (HOG Racing), -76.405
14. Kyle Wyman (RMR/Bruce Rossmeyer's Daytona Racing), – 4 laps, crash
15. Gerry Signorelli (Kuryakyn), -6 laps crash
XR1200 Series Points Standings
1. Chris Fillmore, 57
2. Steve Rapp, 40
3. Kyle Wyman, 38
4. Joe Kopp, 33
5. Michael Beck, 29
6. Chase McFarland, 29
7. Michael Corbino, 27
8. Michael Barnes, 25
9. Tyler O'Hara, 18
9. Paul James, 18
Company Background
Harley-Davidson Motor Company produces heavyweight custom, cruiser and touring motorcycles and offers a complete line of Harley-Davidson motorcycle parts, accessories, riding gear and apparel, and general merchandise. For more information, visit harley-davidson.com.