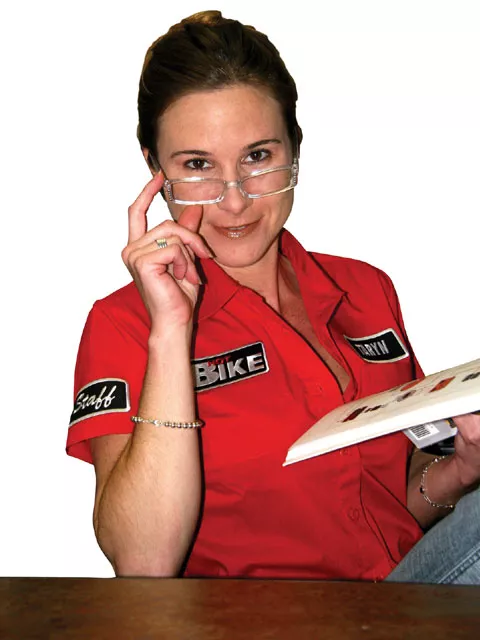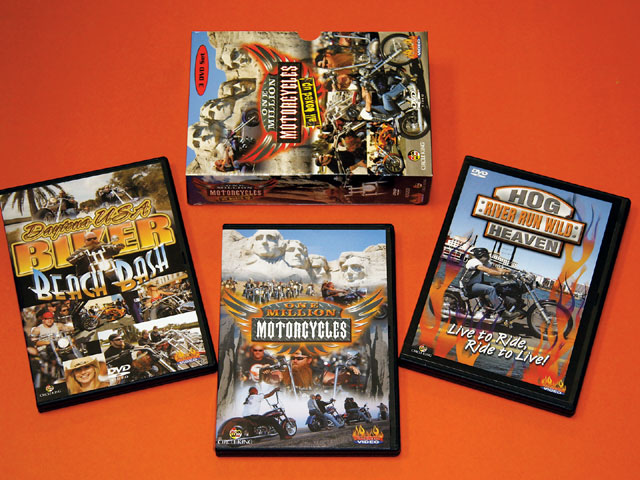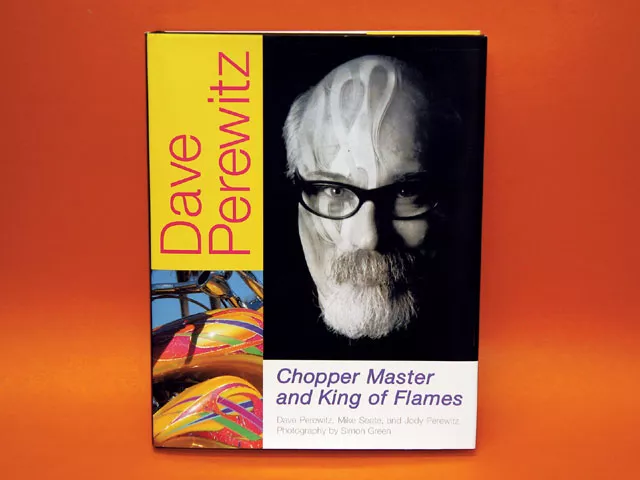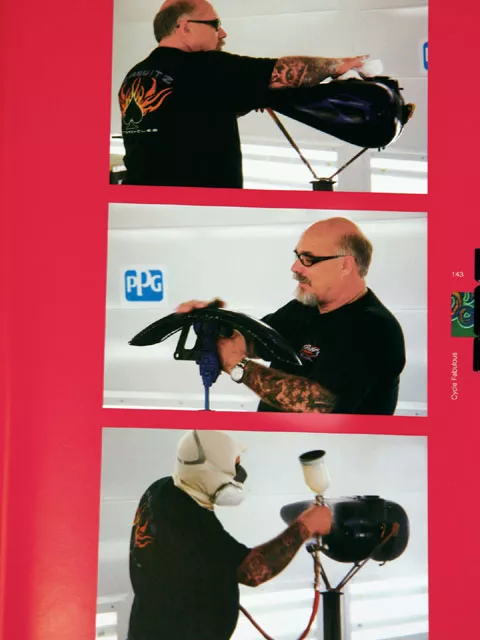 "Meet the Librarian" is your chance to send in media-books, DVDs, books on tape, eight-tracks, whatever-related to the motorcycle industry. Your material(s) will be checked in and reviewed by yours truly, then safeguarded on our shelves. This could be your space below. Drop your media in the slot addressed to: Meet the Librarian, HOT BIKE, 2570 E. Cerritos Ave., Anaheim, CA 92806.
Hear, Watch, And Learn
What beats having your mug and bike at some of the top rallies in the country? Well, nothing, but as a backup, how about watching them from the comfort of your couch? Perhaps you want to do some homework on these rallies before you go, or maybe you missed something. Full Throttle Video Production's One Million Motorcycles All Boxed Up gives you a 60-minute window into each of the biggest rallies in America: Sturgis, Daytona Bike Week, and the Laughlin River Run. Brought to you by Circle King Networks, the boxed set is intended for enthusiasts, people who want to talk during the movie, and those who want to know the dirt on these events.
Dirt (in a good sense) is exposed in Daytona USA Biker Beach Bash. This DVD is loaded like a baked potato with a little bit of everything: from the event's history and the old days of racing on dirt tracks to motorcycle touring in central Florida and what Daytona has to offer you. What's cool about this video is that it doesn't focus too long on one particular thing, like just the action on Main Street or people and bikes going past the camera. You get a good taste of the Bike Week experience, including commentary from top builders and footage of the sizzling street nightlife.
You want to know why the river runs wild? The Wild West gets unleashed during the Laughlin River Run on Hog River Run Wild Heaven. This DVD is best described as an adventure, taking you to Laughlin's unique attractions and seeing them almost as if you were on a bike. Your pit stops are anything from the motorcycle sand drags and street parties to girlies in bikinis, a Biker Build-Off, and interviews with some of the most famous builders around. If you like bikes, bikinis, and some of that brew-ha-ha, watch this video and see how the West got its wild.
The mother of 'em all, in one word: Sturgis. Say hello to One Million Motorcycles, your tour guide of the Sturgis rally and cool motorcycle touring from around SD. Packing up and temporarily moving out gets a whole new meaning in this video when you see bikers from around the world converging on the tiny, quiet city of Sturgis. The city gets turned into motorcycle mania for about two weeks, but the residents don't seem to care. You'll also learn some interesting history about the event, and no, not the boring kind where you're dosing off, people. You also find out cool places to ride and get to go where few (wo)men have gone before. Watch this, weep for joy, and then go see for yourself. For more information about this DVD set, check out www.fullthrottlevideo.com, or call (949) 916-7880.
Does Dave Perewitz Have A Secret?
Have you ever watched one of those bike-building TV shows and wondered, "How the hell did that guy get to where he's at?" Come on-you gotta be a little curious. Some builders may have had opportunity plop into their lap, but for many others, they had humble beginnings, probably just like you. In Dave Perewitz: Chopper Master and King of Flames by Motorbooks, he shares his life story for the first time with journalist Mike Seate and with us regular folks, from his humble beginnings to stardom and the hurdles he jumped in-between.
Like Dave, most people get bike fever as youngsters, and he describes his transformation from a kid with his first motorcycle to becoming a self-taught designer, mechanic, fabricator, and painter, as well as a major influence in the industry for more than 30 years. With close to 200 pages and 250 color photos, this book offers you almost a grand tour of his life, including his family unit and friends who helped make it possible, along with some of his best-known creations that took him to flamin' fame. To learn the inside scoop on what it took for Dave to get where he's at, get your copy at www.motorbooks.com, or call (651) 287-5000.
Let Your Mouse Do the Walking
Companies are making it easier to see what your bike would look like with a specific part before you shell out the clams for it. Call it a sort of web-based perusing, where you can try things on until you find the right fit. One such company is Renegade Wheels in Orange, CA, and with a few clicks, you can take the interactive journey to wheel enlightenment. The company's website is quick and easy to navigate around in, and it's convenient 'cause you don't have to leave your chair. And, besides, you get to see more than 10 styles of custom wheels in three sizes-16-inch, 18, and 21-on more than eight Harley-Davidson models.
There are few clicks to put you in the precise spot for wheel selection, skipping all that red web tape and those flashing, almost seizure-causing graphics. For instance, enter www.renegadewheels.com, click on the Wheels tab, and then the Wheels and Bike Selector tab, and finally select your bike. Voil! Now you don't have to waste time wondering how the wheels will look on your bike. Shown here is the convenient layout of two screens seen on Renegade's website.