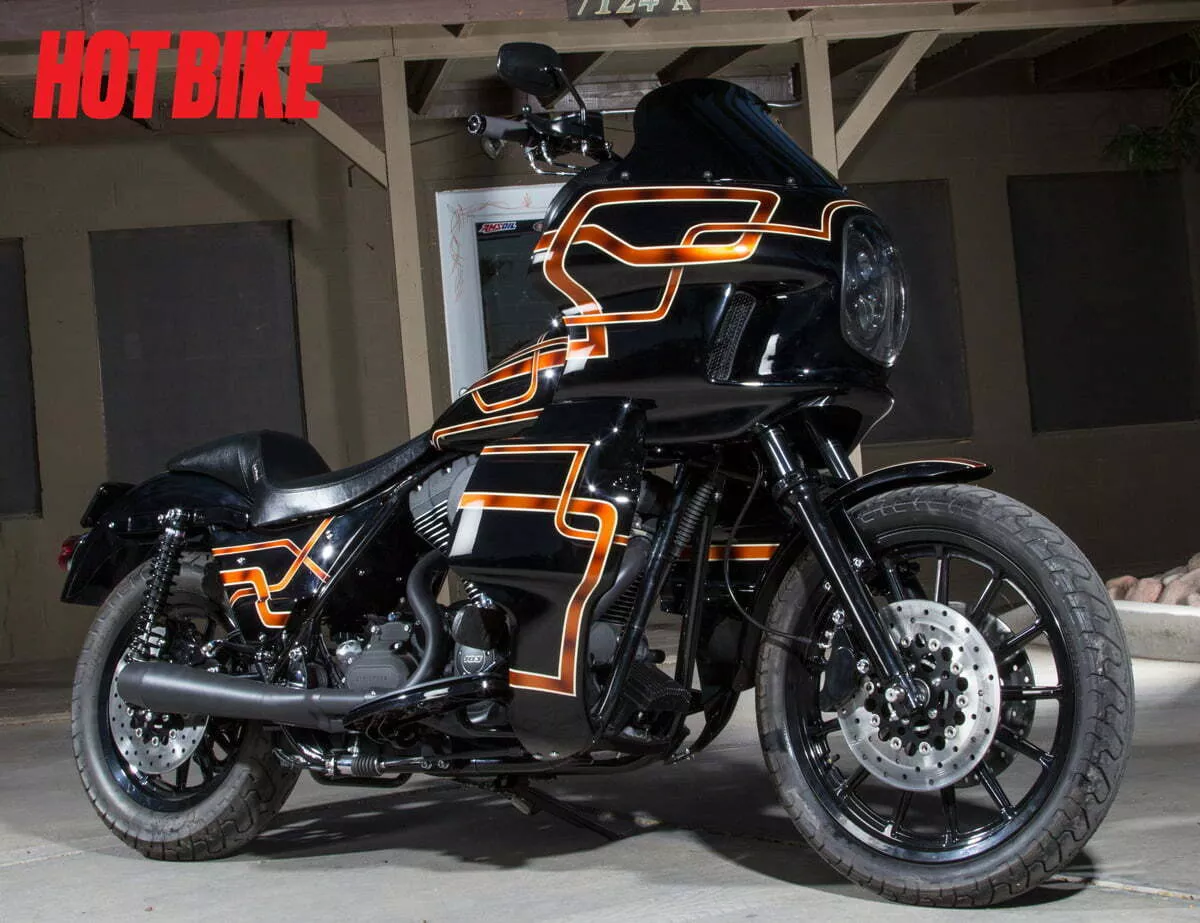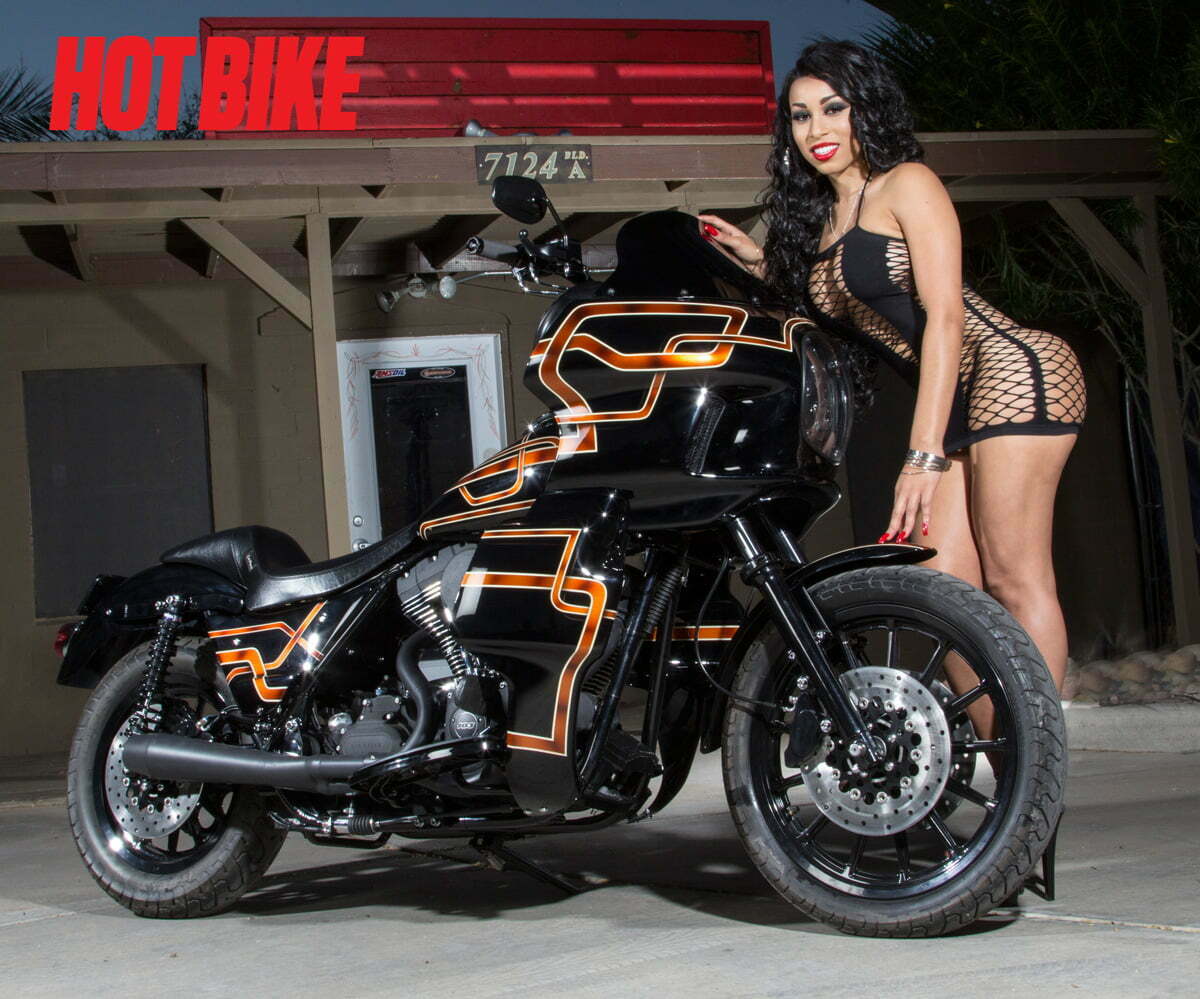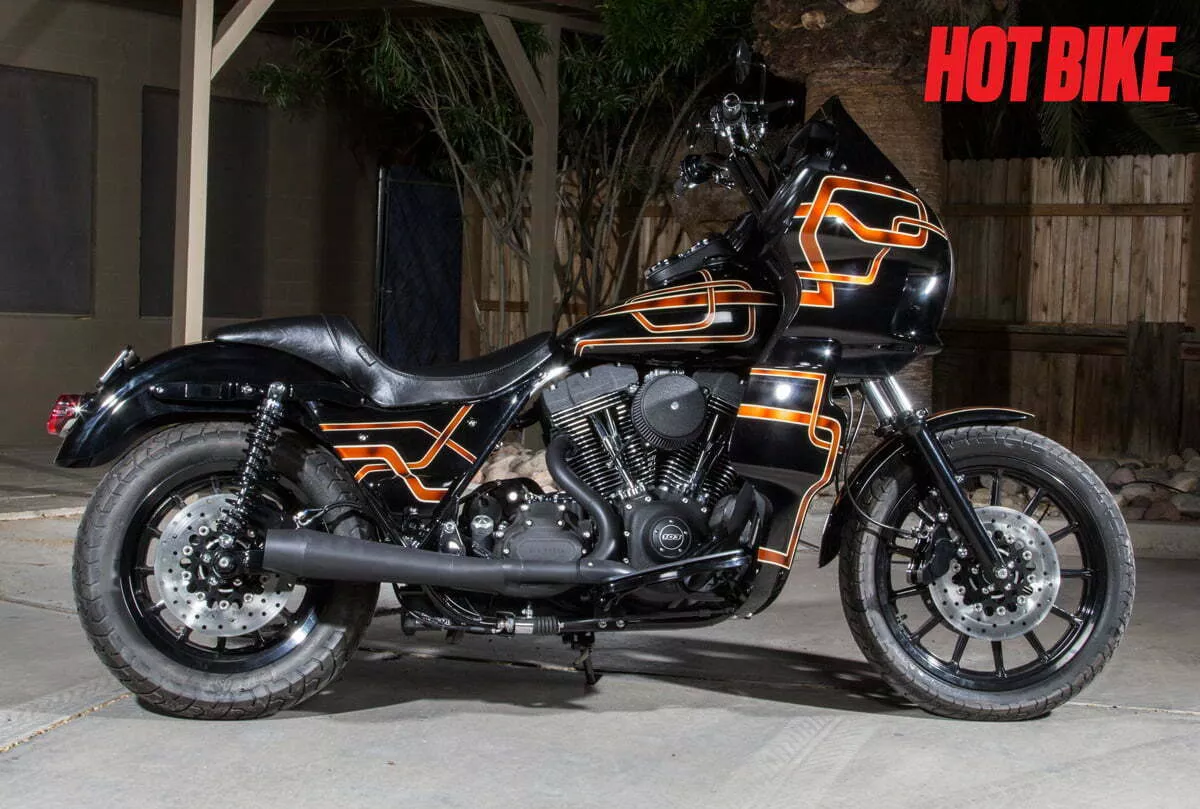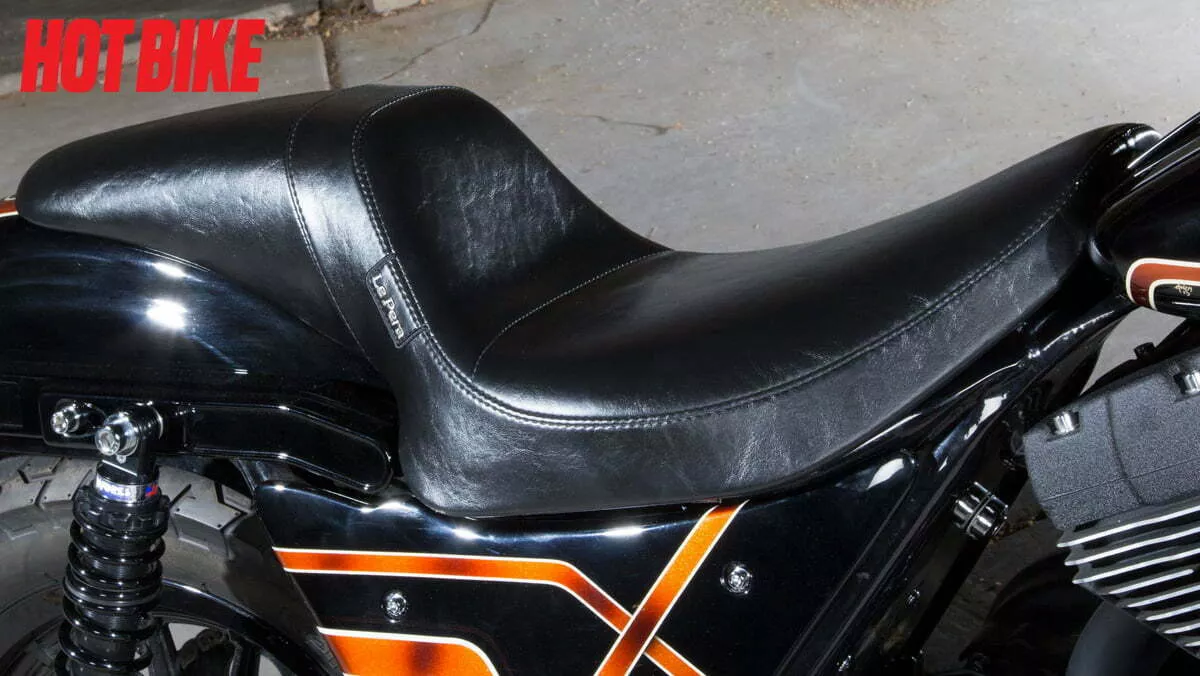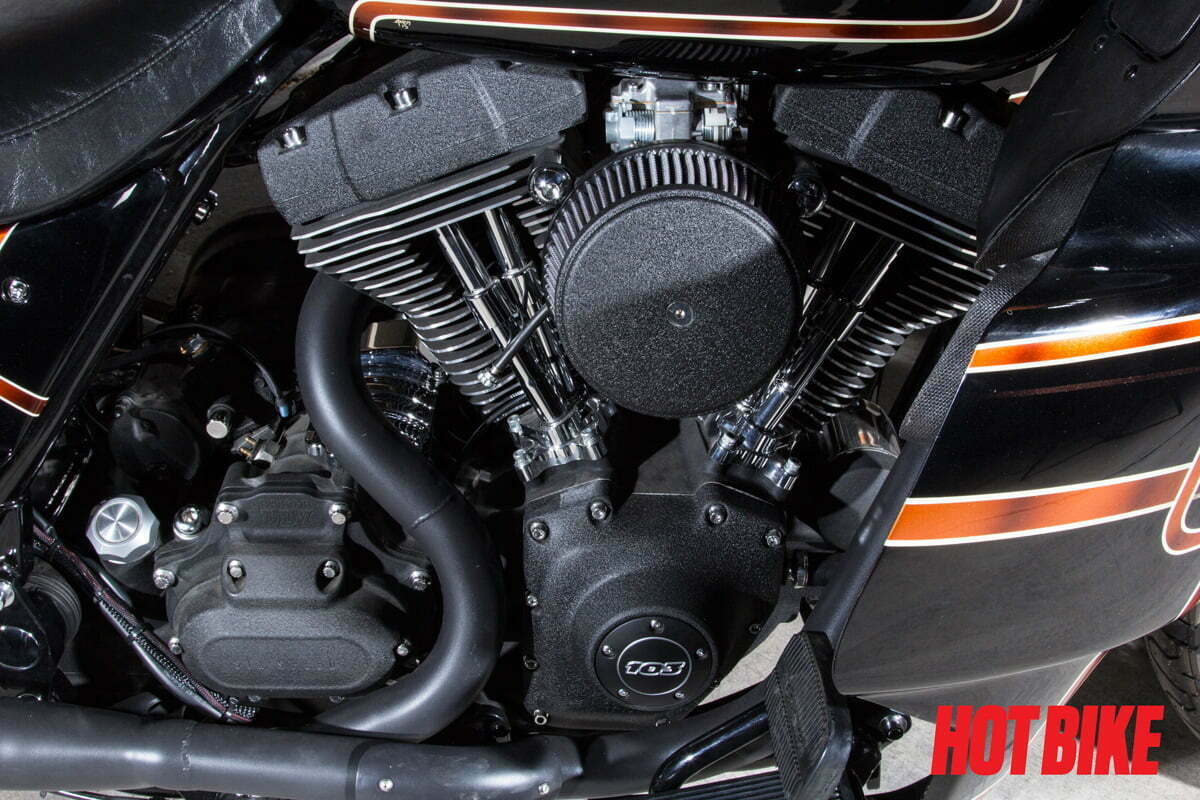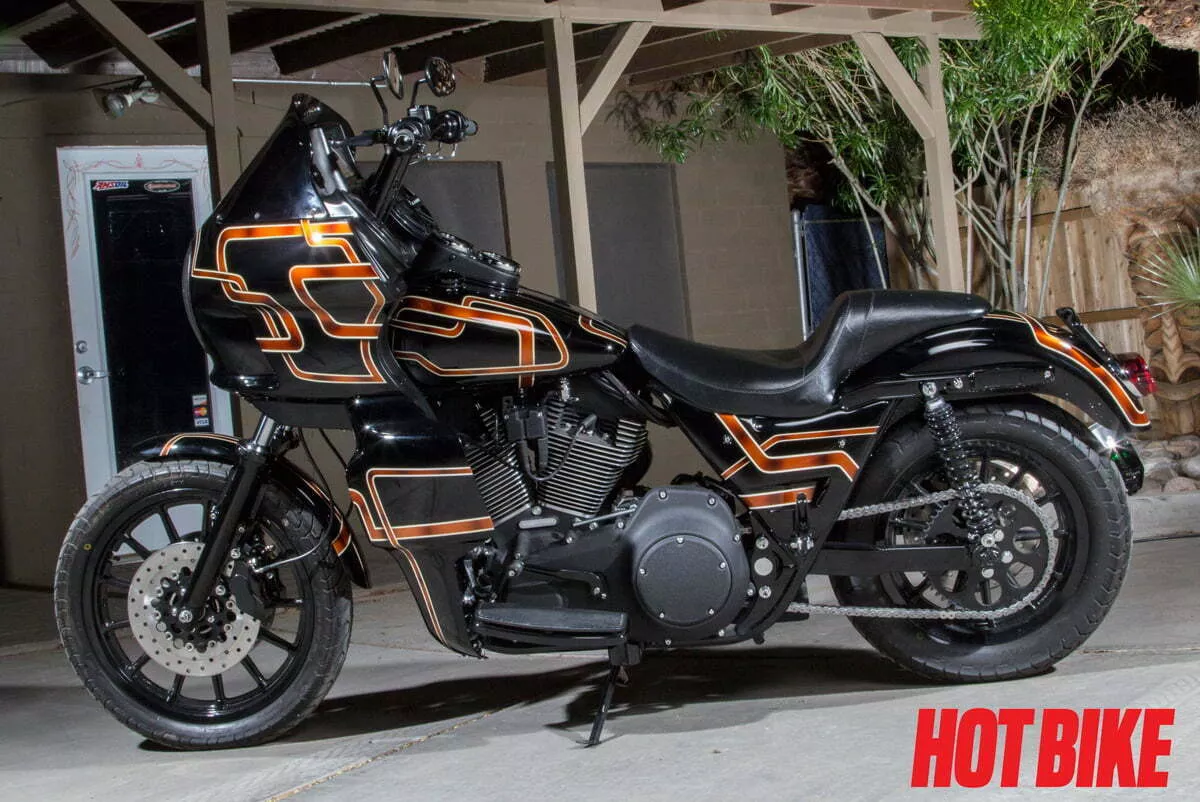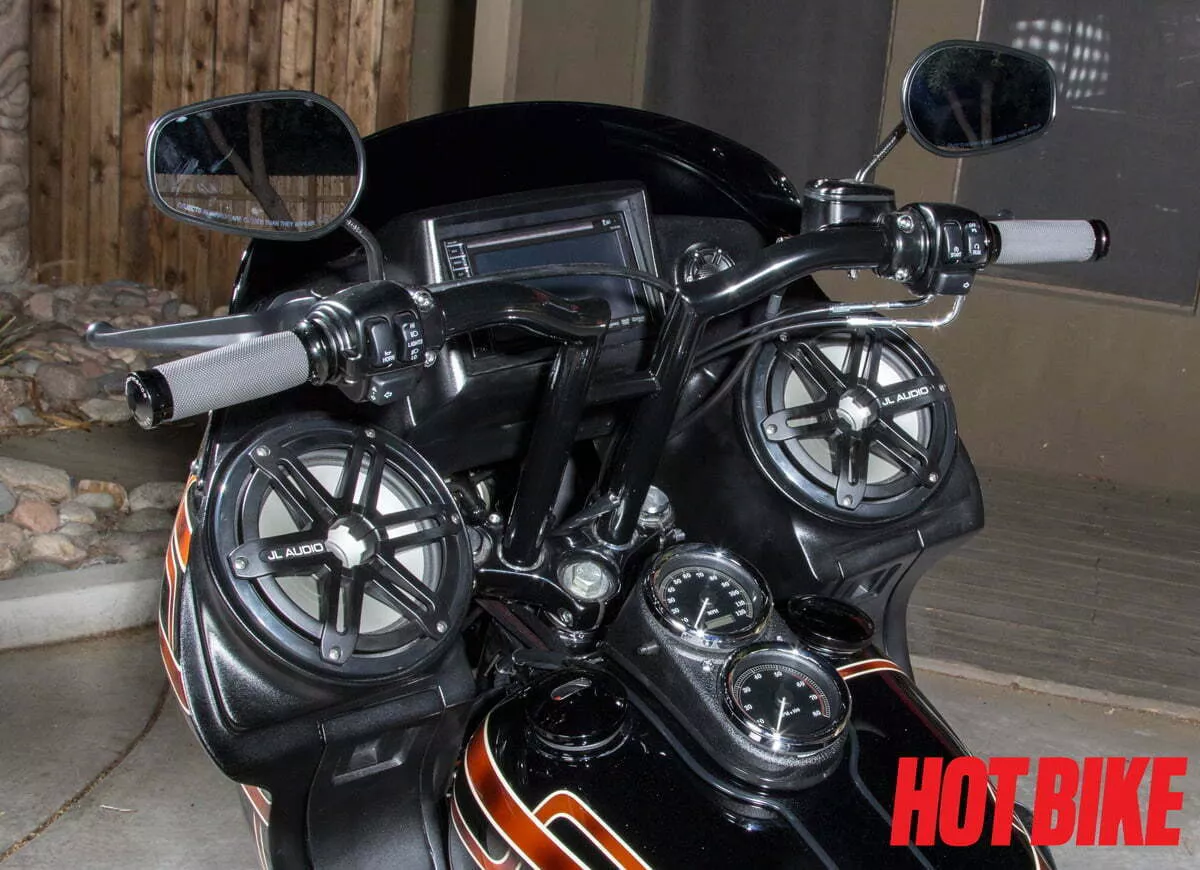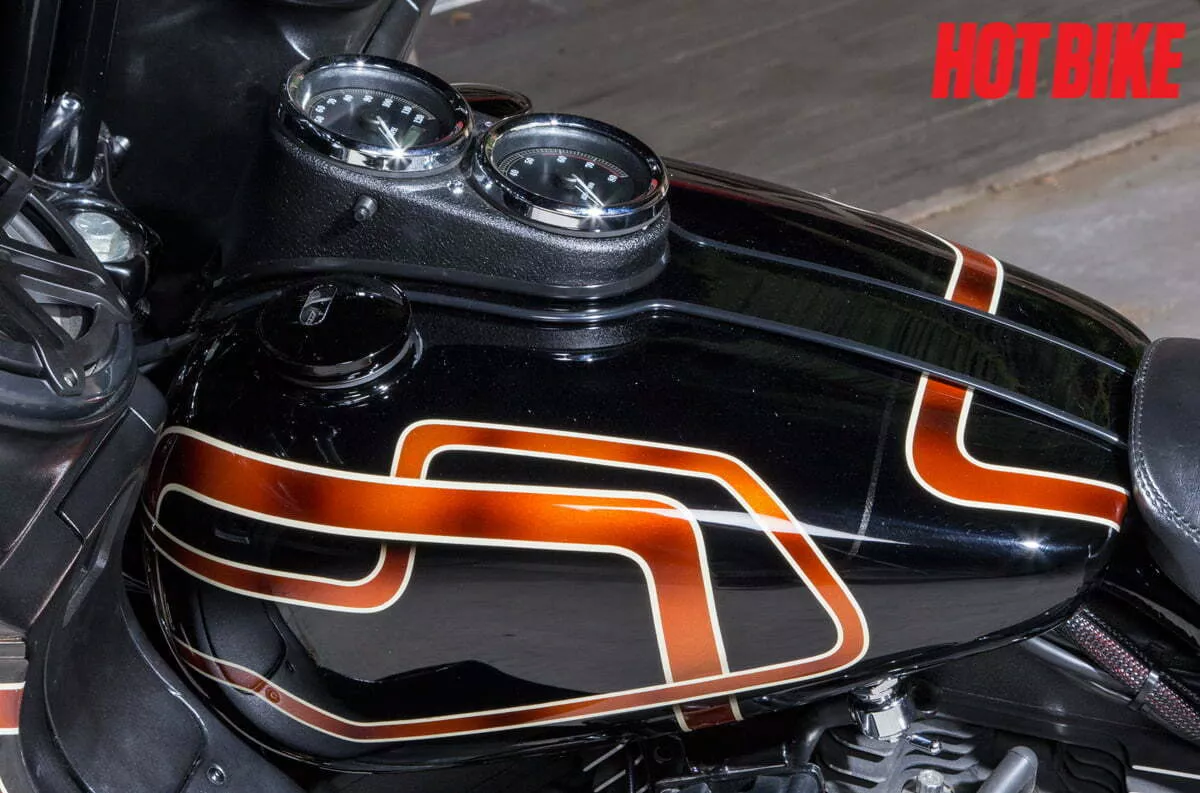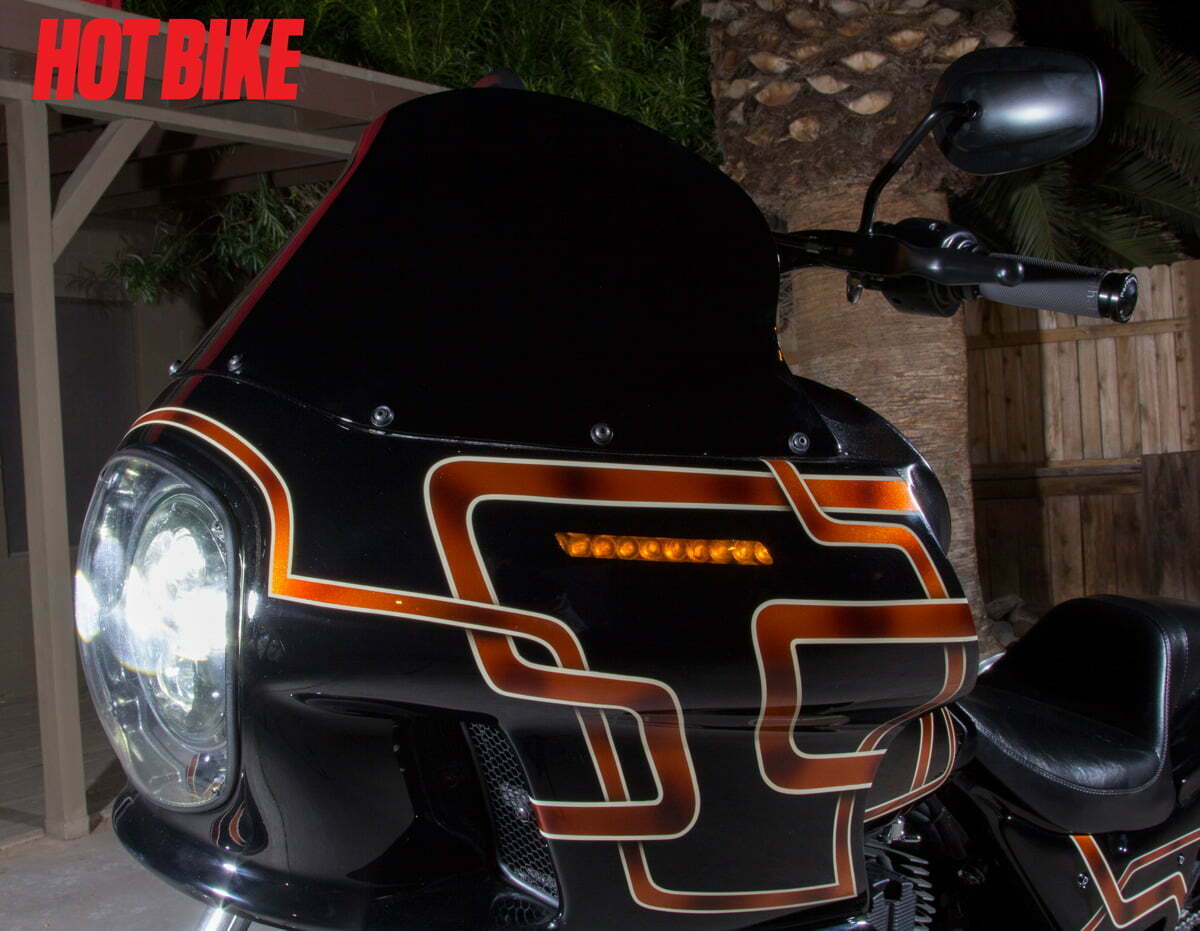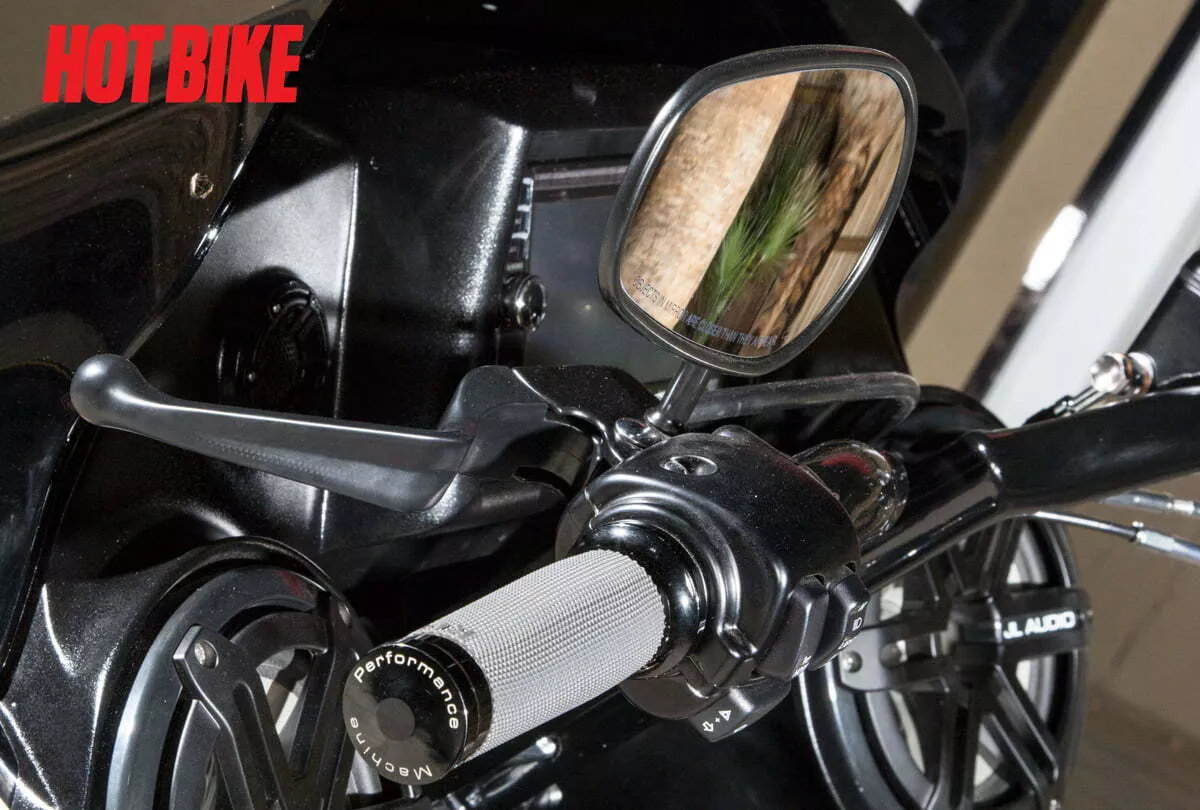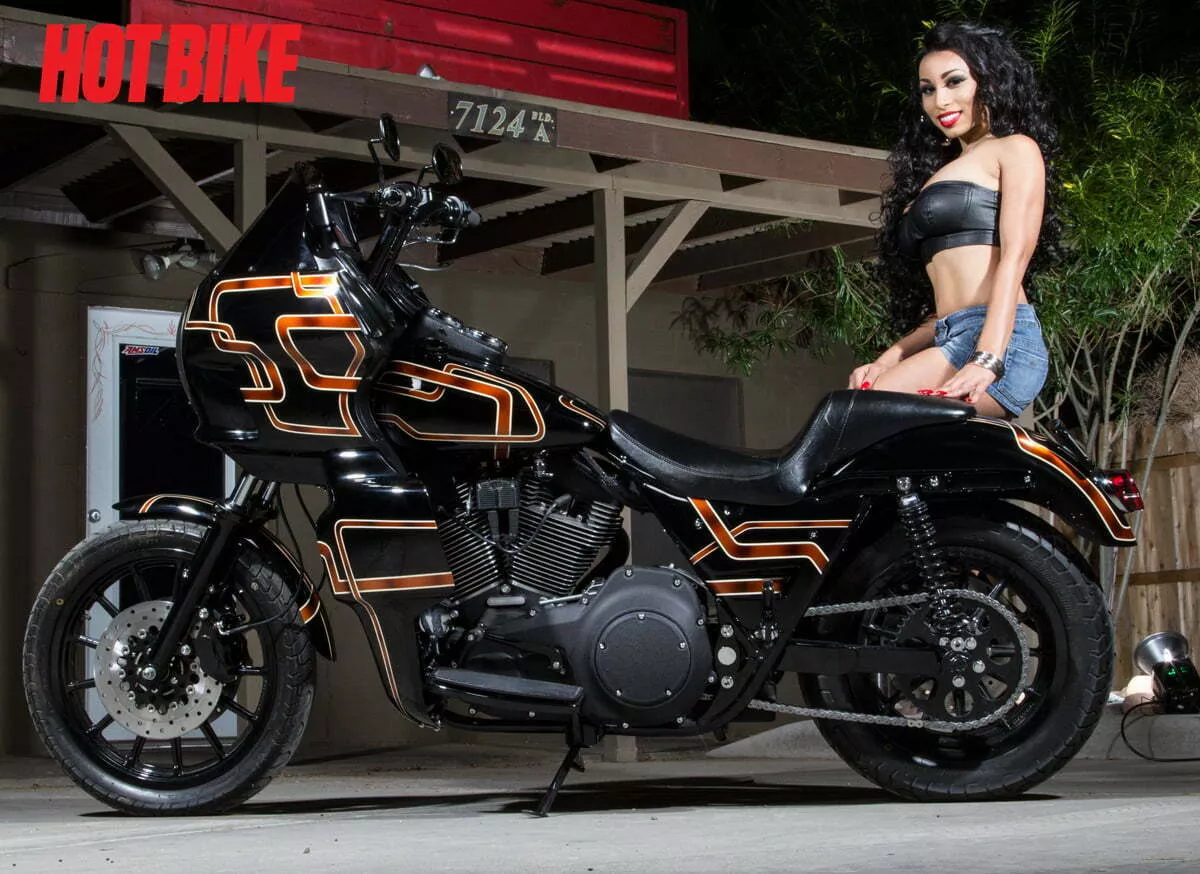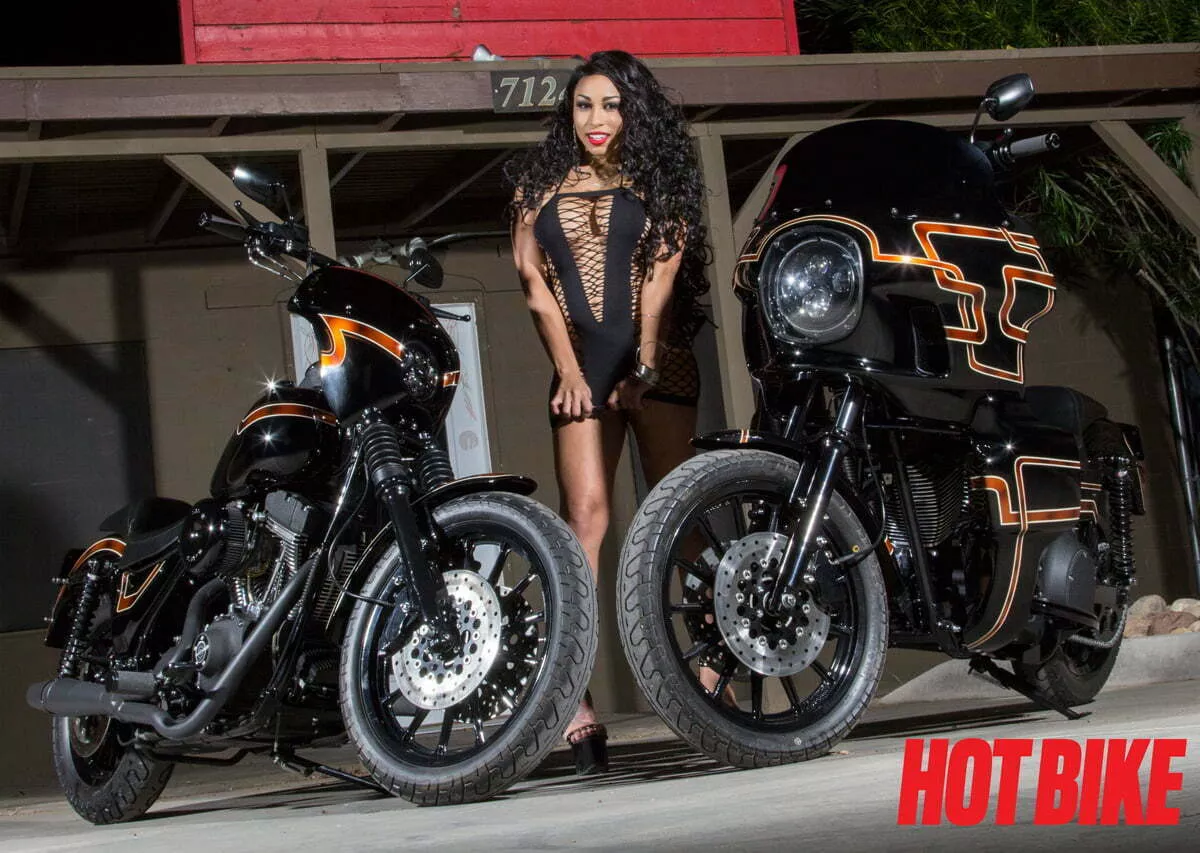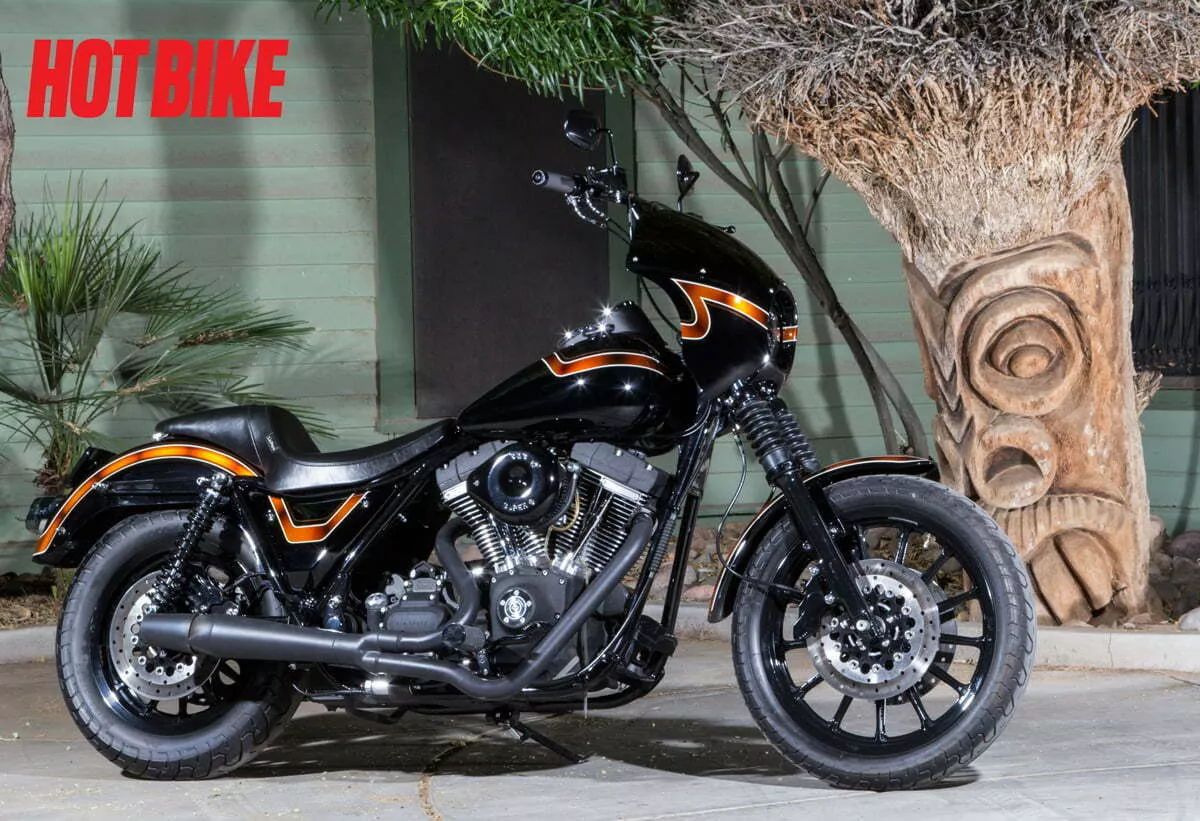 Sometimes a simple background check of facts and figures is all that is needed to tell the story that words can't describe. The numbers behind the names can often lead to a record and rap sheet that ends up being a mile long. If Eric Buell were transported in time from his original reign over the FXR program and given free rein of the H-D parts bin today, he might very well build something like this pair of motorcycles. Both bikes house Twin Cam motors ranging in size from 103 to a monstrous 114 inches of pure H-D muscle and quite possibly might be the bikes that could and should be brought back into production.
From a distance, they might appear to be another pair of blacked-out club bikes with fancy orange stripes. In reality, this pair of FXRs is like a set of masterminded criminals roaming the streets in plain sight with its past cloaked behind a veil of crinkle black paint. But what better way to walk the world unseen than to keep your secrets to yourself and only show them when necessary.
Hot Bike magazine was able to break into the FXR Division headquarters and separate the facts from the fiction of these two bikes. Read their rap sheets, and make your own decision whether or not they might be the two deadliest FXRs on the road.
| Specifications | |
| --- | --- |
| Bike Owner | Christopher Staab/The FXR Division |
| Shop Name | The FXR Division |
| Shop Phone | (480) 300-9914 |
| Shop Website | fxrdivision.com |
| Year/Make/Model | 1988/Harley/FXRT |
| Fabrication | Justin Coleman/FXR Division and Chris Staab/FXR Division |
| Build Time | 6 months |
| Engine | |
| Year/Type/Size | 2013/H-D/103 in. Twin Cam |
| Builder | Ramjet Racing |
| Cases | H-D |
| Cylinders | H-D|103 in. |
| Heads | Dunn Performance LLC, ported, polished, flowed, and decked, 0.020 for a compression ratio of 9.85:1, AV&V 1.900 intake/1.610 exhaust valves w/ competition multi-angle valve job and radial seats for max flow, high-heat Viton seals, high-flow manganese bronze valve guides, and high-lift beehive valve springs |
| Rocker Boxes | H-D w/ S&S roller rockers, wrinkle black powdercoat |
| Cams | S&S 0.585 gear-driven cams |
| Throttle Body | Mikuni 45mm |
| Air Cleaner | Arlen Ness Stage 1 |
| Exhaust | Modified Thunder header |
| Transmission | |
| Year/Type | 2013/H-D 6-speed case w/ Baker 7-speed gearset |
| Gears | First: 3.76, Second: 2.75, Third: 2.06, Fourth: 1.55, Fifth: 1.27, Sixth: 1.10, Seventh: 1.0 |
| Clutch | Barnett Scorpion |
| Primary Drive | Modified H-D FLT inner and outer w/ Screamin' Eagle Compensator setup and Diamond primary chain |
| Frame | |
| Year/Type | 1988/Modified FXRT |
| Rake/Stretch | 32°/Stock |
| Suspension | |
| Front End | 39mm dual disc w/ forking by Franks Hard Chrome Tubes and Works Dual Rate Spring Kit Length 25-3/8 in. |
| Triple Trees | 39mm H-D |
| Swingarm | 2007 FLT modified to factory FXR shock position |
| Rear Shocks | 13.5 Works Dual Rate Black Trackers |
| Wheels, Tires, and Brakes | |
| Front | |
| Builder/Size | 19-in./H-D 13-spoke w/ black powdercoat |
| Tire/Size | Bridgestone Spitfire/19-in. |
| Calipers | Dual Wilwood 4-piston GP 310s |
| Rotors | H-D Vivid Black floating rotors |
| Rear | |
| Builder/Size | H-D/16-in. 13-spoke w/ black powdercoat |
| Tire/Size | Bridgestone Spitfire/16-in. |
| Caliper | Wilwood 4-piston GP 310 |
| Rotor | H-D Vivid Black Floating Rotor |
| Pulley | Converted to chain drive w/ Baker 24-tooth transmission/52-tooth aluminum sprocket w/ black powdercoat |
| Finish/Paint | |
| Manufacturer | House of Kolor |
| Colors | Black, Copper Base, Tangerine Orange, and Rootbeer Candy |
| Paint/Graphics | Andy Meeh/Flying Iron Designs, Vista, CA |
| Powdercoating | Desert Powder Coat, Phoenix, AZ |
| Accessories | |
| Front Fender | FXD |
| Rear Fender | FXR |
| Gas Tank | FXRS |
| Dash | FXRS |
| Gauges | Factory H-D FXD digital gauges |
| Handlebars | FXR Division MX-style bars |
| Grips | Performance Machine |
| Mirrors | H-D |
| Hand Controls | H-D '96–later |
| Foot Controls | H-D |
| Floorboards | FXRT |
| Headlight | H-D 7 in. Daymaker LED |
| Taillight | Küryakyn Panacea LED integrated taillight |
| Turn Signals | Integrated into the taillight |
| License Mount | Küryakyn Lay Down |
| Seat | Le Pera Daytona Sport |
| Stereo | JVC Double Din DVD/Navigation |
| Amplifier | JL M400/4 |
| Speakers | JL M770 7, 7-in. Marine w/ mids |
| Charging System | Cycle Electric 80 Series SE 50 amp |
| | |
| Specifications | |
| --- | --- |
| Bike Owner | Hayden Blachard, Atlanta, GA |
| Shop Name | The FXR Division |
| Shop Phone | (480) 300-9914 |
| Website | fxrdivision.com |
| Year/Make/Model | 1988/H-D/FXR |
| Fabrication | Keith Cole, Justin Coleman/FXR Division, Chris Staab/FXR Division |
| Build Time | 12 months |
| Engine | |
| Year/Type/Size | H-D Twin Cam w/ Revolution Performance 114-in. Big Bore Kit |
| Builder | Ramjet Racing |
| Cases | Bored H-D |
| Cylinders | 4.250 bore aerospace-grade, all-aluminum cylinders w/ nickel-silicon-carbide electroplating w/ 10.5:1 flattop forged pistons |
| Heads | Dunn Performance LL 110ci Screamin' Eagle performance heads, ported, polished, flowed, and decked to 84.2/84.4 020, 2.070 intake/1.615 exhaust valves w/ competition multi-angle valve job and radial seats for max flow, high-heat Viton seals, high-flow manganese bronze valve guides |
| Rocker Boxes | H-D w/ S&S roller rockers, wrinkle black powdercoat |
| Cams | S&S 0.625 gear-driven cams |
| Throttle Body | S&S Super G w/ Thunder Jet |
| Air Cleaner | Modified S&S |
| Exhaust | Modified Thunder Header |
| Transmission | |
| Year/Type | 2013/H-D 6-speed case w/ Baker 7-speed gearset |
| Gears | First: 3.76, Second: 2.75, Third: 2.06, Fourth: 1.55, Fifth: 1.27, Sixth: 1.10, Seventh: 1.0 |
| Clutch | Barnett Scorpion |
| Primary Drive | Modified H-D FLT inner and outer w/ Screamin' Eagle Compensator setup and Diamond primary chain |
| Frame Year/Type | 1988/Modified H-D FXR |
| Rake/Stretch | 32°/Stock |
| Suspension | |
| Front End | H-D dual disc FXDXT adjustable 39mm w/ Race Tech springs |
| Length | 25-3/8 in. |
| Triple Trees | 39mm H-D |
| Swingarm | 2007 FLT modified to factory FXR shock position |
| Rear Shocks | 13.5 Works Dual Rate Black Trackers |
| Wheels, Tires, and Brakes | |
| Front | |
| Builder/Size | H-D/19 in. 13-spoke w/ black powdercoat |
| Tire/Size | Bridgestone Spitfire/19 in. |
| Calipers | Dual Wilwood 4-piston GP 310s |
| Rotors | H-D Vivid Black floating rotors |
| Rear | |
| Builder/Size | H-D/16 in. 13-spoke w/ black powdercoat |
| Tire/Size | Bridgestone Spitfire/16 in. Caliper Wilwood 4-piston GP 310 |
| Rotor | H-D Vivid Black floating rotor |
| Pulley | Converted to chain drive w/ Baker 24-tooth transmission/52-tooth aluminum sprocket w/ black powdercoat |
| Finish/Paint | |
| Manufacturer | House of Kolor |
| Colors | Black, Copper Base, Tangerine Orange, and Rootbeer Candy |
| Paint/Graphics | Andy Meeh/Flying Iron Designs, Vista, CA |
| Powdercoating | Desert Powder Coat, Phoenix, AZ |
| Accessories | |
| Front Fender | FXD |
| Rear Fender | FXR |
| Gas Tank | FXRS |
| Dash | FXRS |
| Gauges | Factory H-D FXD digital gauges |
| Handlebars | FXR Division T-bars |
| Grips | Performance Machine |
| Mirrors | H-D |
| Hand Controls | H-D '96–later |
| Foot Controls | H-D Dyna |
| Headlight | H-D 5-in. Daymaker LED |
| Taillight | Küryakyn Panacea LED integrated tailight |
| Turn Signals | Integrated into the taillight |
| License Mount | Küryakyn Lay Down |
| Seat | Le Pera Daytona Sport |
| Charging System | Cycle Electric 80 Series SE 50 AMP |
| | |