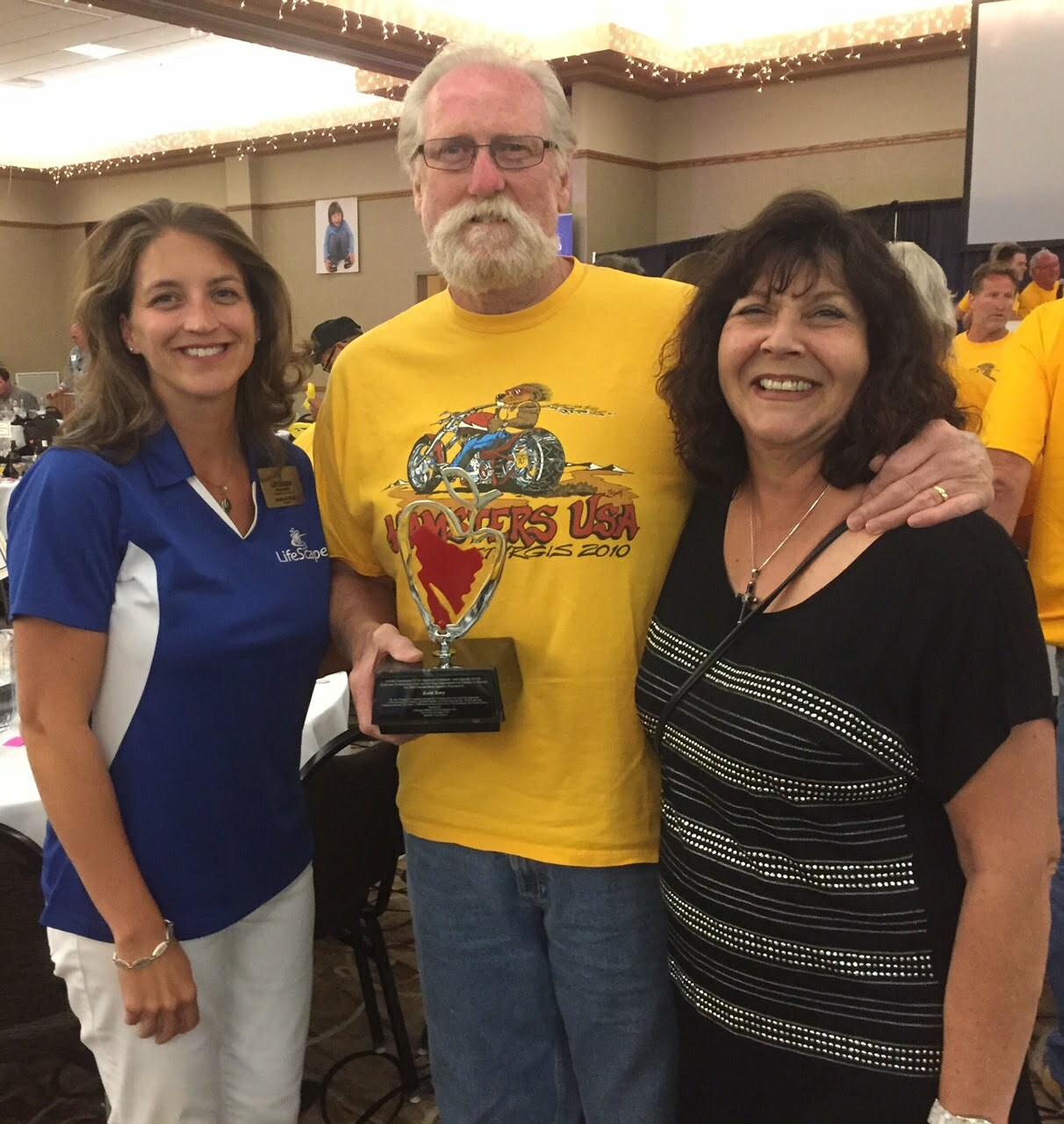 Hamsters USA kicked off the biggest Sturgis Rally in history by breaking the $2 million mark in total dollars raised for LifeScape Children's Services in Rapid City. Having raised and donated funds at their annual meeting for the last eleven years, the $253,828 announced on Monday, August 3rd at their annual gathering in Spearfish brought the total to nearly $2.2 million.
Hamsters USA generously supports LifeScape Children's Services out of a desire to give back to the greater Black Hills community, which many Hamsters consider their second home. Their gifts help provide physical, occupational, and speech therapies, plus psychological services, to children in their Black Hills area homes and communities. LifeScape personnel drive over 10,000 miles a month to provide these services, helping children have the best life possible.
Hamster member Keith Terry received the Chrome Heart Award, presented by LifeScape Children's Services to honor individuals in the motorcycle world "whose philanthropic support and civic duty represents everything positive in the industry and sport of motorcycling."
Keith Terry, who along with his wife, Fran, owns the largest supplier of motorcycle starter motors and battery cables in the industry, has been involved in motorcycling since he was 15 years old. The former professional baseball player built his first custom motorcycle in 1994, and more than 20 years later continues to build as well as mentor others in the industry through Buffalo Chip's Legends Ride Student Build Challenge. Terry was selected for the 2015 Chrome Heart Award for his commitment to the motorcycle community, his dedication to mentoring youth, and his contributions to making sure the children in the Black Hills area get the healthcare, therapies, and attention they need to be successful.
The inscription on the award read:
<div class="st-block quote text-
Notice: Undefined index: st_text_align in C:laragonwwwhotbike-importblocksquote.php on line 1
">
For his commitment to the motorcycle community and especially for his dedication to mentoring youth and providing opportunities for children to succeed, this 2015 Chrome Heart Award is presented to Keith Terry

Mr. Terry, through his leadership and passion for the motorcycles, gives youth the opportunity to be involved in the industry and build valuable life skills along the way. His personal and corporate generosity also makes a difference in giving kids access to the healthcare they need to thrive.

Presented by LifeScape Children's Care and Hamsters USA This 3rd day of August, 2015 Spearfish, South Dakota
LifeScape Children's Services of Rapid City, SD, is affiliated with LifeScape, based in South Dakota. LifeScape is a private, independent, non-profit organization with a mission to empower children and adults with disabilities to lead fulfilling lives. The organization as a whole served over 2,400 children and adults last year.