It's a crying shame when a motorcycle doesn't get ridden all the time. Why else would you have one? They look good sitting parked, but they look even better out in the wind being ridden by someone who loves and appreciates the joys of riding a good bike. Mike Harden at HardCo feels the same way, and that just might be his mantra for the whole custom bike experience: "We build them, we show them, we ride them, we break them, then we rebuild them better." A guy like that rides his metal hard and isn't big into trailer queening it.
"I have always wanted to build a single-drop-tube-frame 45-cubic-inch Flathead," Harden says. "Five years ago we did. Oklahoma City has a lot of talented chopper guys. With their help we built a modern twist on a legendary chopper."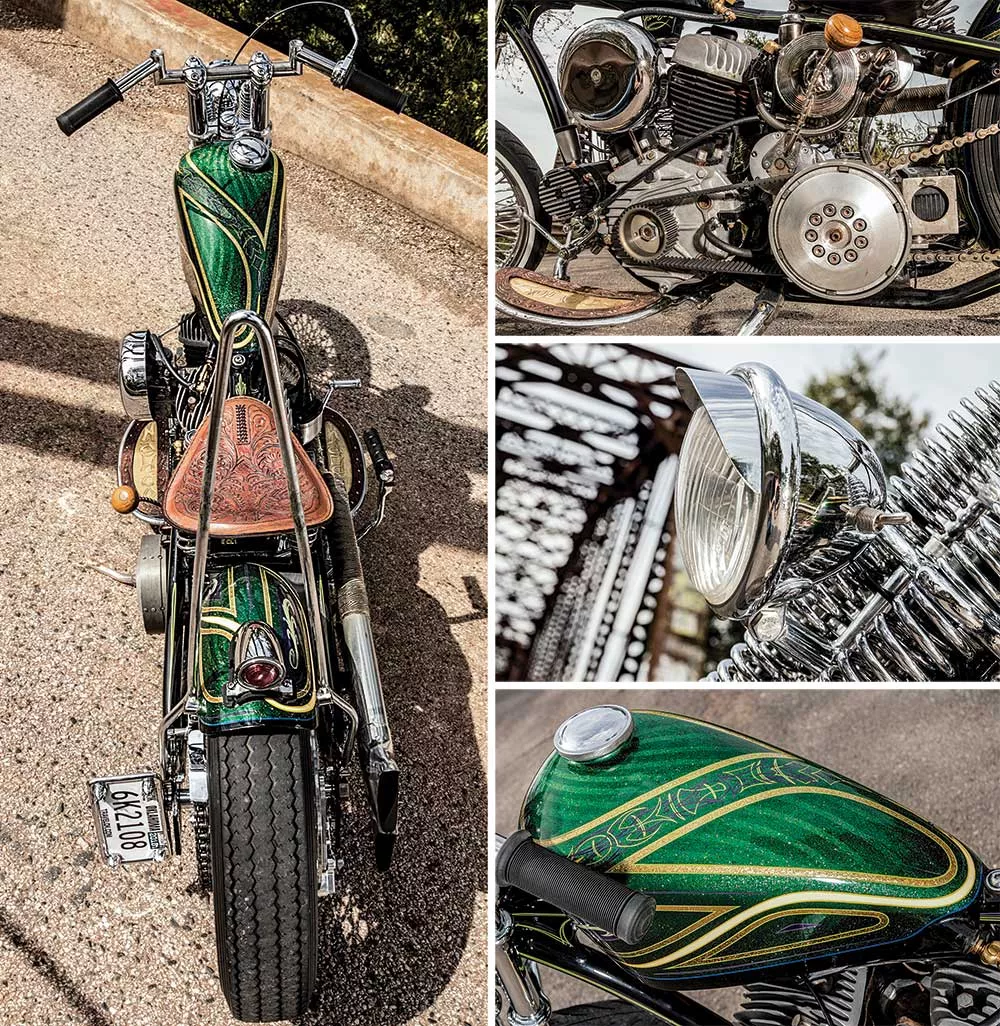 Some think of the 45 side valve an underpowered motor. In the hands of a good mechanic and with the right transmission and gears, it will run with V-twins like the Shovelhead. This motor was originally built up by Manny in OKC who did right by Harden. The Oklahoma roads were less kind. Thanks to those streets, the frame broke after approximately 15,000 miles. Luckily, Paughco warranted the frame; HardCo set out to rebuild her better after that.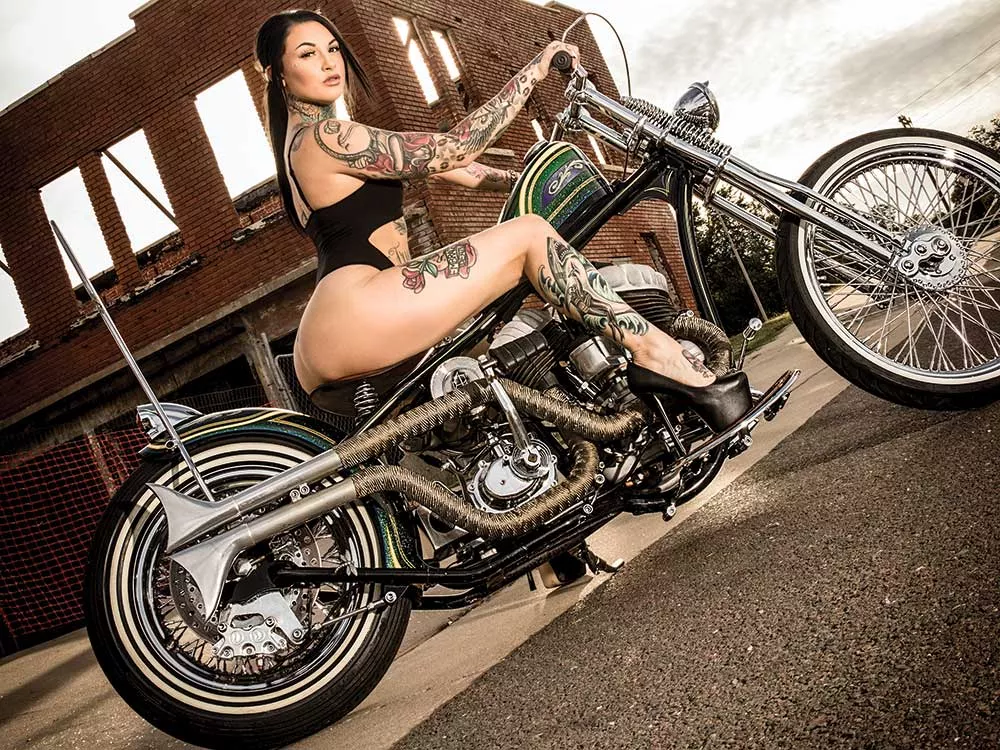 "It may have been easier to weld up the frame, but I ride hard so we started over," Harden says. Harden and Mike Antinoro tore the bike down then welded all the tabs and mounts to it. The Acme Choppers' narrow wishbone springer got fitted with 6-inch risers from Lowbrow Customs and stainless bars from Acme. After that they fabricated a new set of fishtail pipes and it was on to cleanup and bodywork.
Harden molded and painted the frame. Meanwhile, he sent the fender and tank to Mik's Pinstriping Custom Paint in Oklahoma City, which laid down a beautiful '70s paint job and striped the frame to help with Harden's imperfections.
Ashley at Distinct Customs in OKC continued the killer design work with a floral Western pattern on the seat. He also engraved brass inserts and tooled leather surrounds for the running boards. Once all of that handcrafted handiwork was done, the two Mikes set about reassembling the bike. Since then, the HardCo 45 Flatty has become a fixture in the Texas and Oklahoma chopper scenes. Harden says he's already attended and rode in to a lot of events this year coast to coast. Why are we not surprised?
Specifications
| | |
| --- | --- |
| General | |
| Owner | Mike Harden |
| Shop | HardCo/Garage built |
| Year/Make/Model | 1949/Harley-Davidson/45ci Flathead |
| Build Time | 1 year |
| Engine | |
| Year/Type/Size | 1949/H-D/45ci Flathead |
| Builders | Mike Harden and Mike Antinoro |
| Cases | H-D |
| Cylinders | H-D |
| Heads | H-D |
| Rocker Boxes | N/A |
| Cams | H-D |
| Air Cleaner | Aftermarket of some sort |
| Exhaust | Homemade fishtails |
| Transmission | |
| Year/Manufacturer/Type | 2011/RevTech/Ratchet top |
| Gears | 4-speed |
| Clutch | BDL |
| Primary Drive | BDL |
| Frame | |
| Year/Type | Year unknown/Paughco |
| Rake/Stretch | Stock |
| Suspension | |
| Front End | Acme Choppers narrow springer |
| Length | 2 in. under |
| Wheels, Tires, and Brakes | |
| Front | |
| Builder/Size | Unknown/21 in. |
| Tire/Size | Avon/21 in. |
| Rear | |
| Builder/Size | Unknown/16 in. |
| Tire/Size | Avon/16 in. |
| Caliper | Performance Machine |
| Rotor | Performance Machine |
| Finish/Paint | |
| Manufacturer | PPG |
| Colors | Green and gold over silver flake |
| Paint/Graphics | Mik's Pinstriping Custom Paint |
| Plating/Polishing | Diversified Plating LTD |
| Powdercoating | Jet-Hot |
| Accessories | |
| Rear Fender | Lowbrow Customs |
| Gas Tank | Lowbrow Customs |
| Oil Tank | Made from 1951 Plymouth hubcaps |
| Running Boards | Distinct Customs |
| Controls | Manny's Fineline |
| Handlebars | Acme Choppers |
| Foot Controls | Manny Fineline |
| Floorboards | Distinct Customs |
| Headlights | Bates-style |
| Taillights | Sparto |
| License Mount | Side mounts |
| Seat | Distinct Customs |