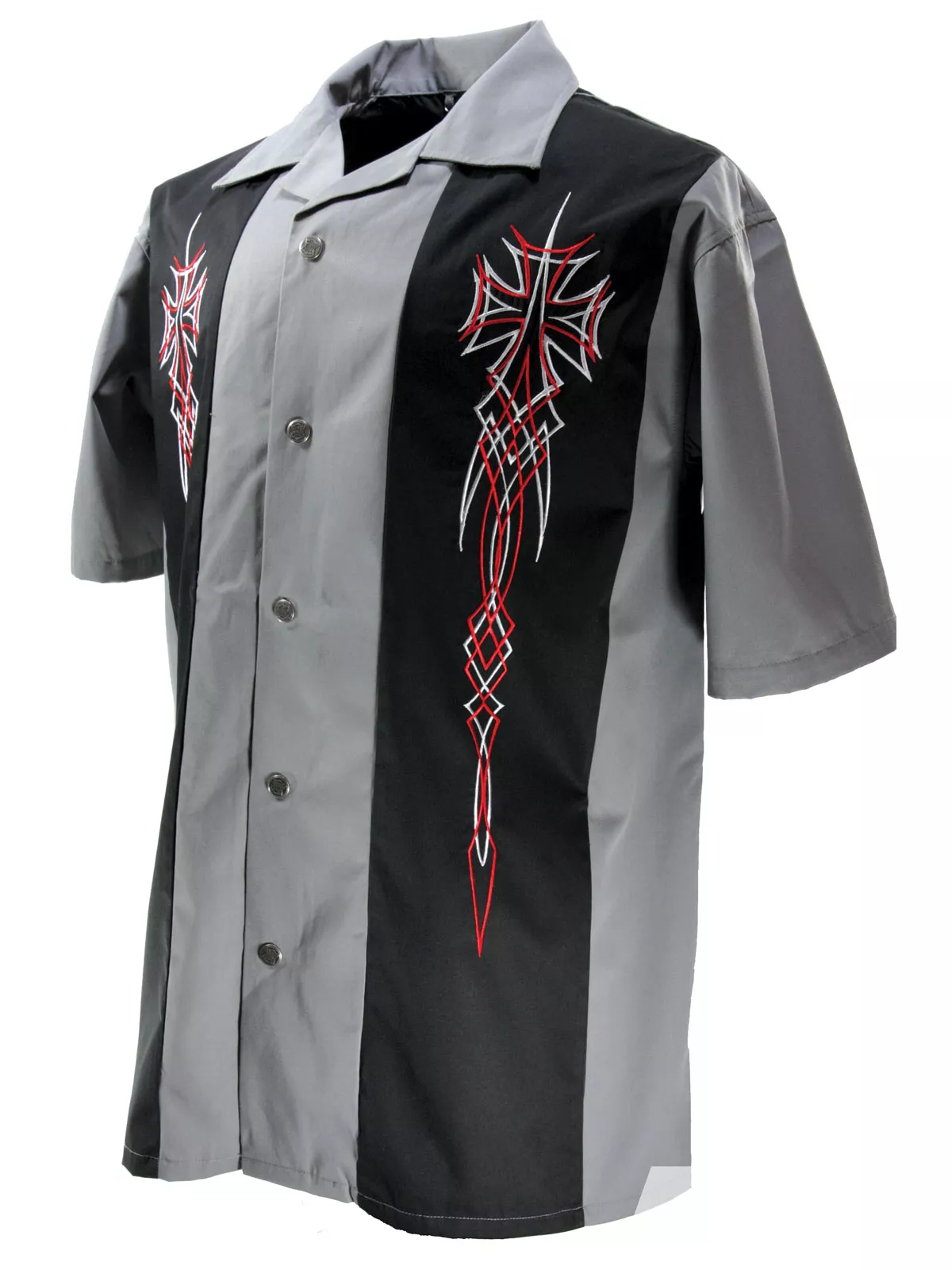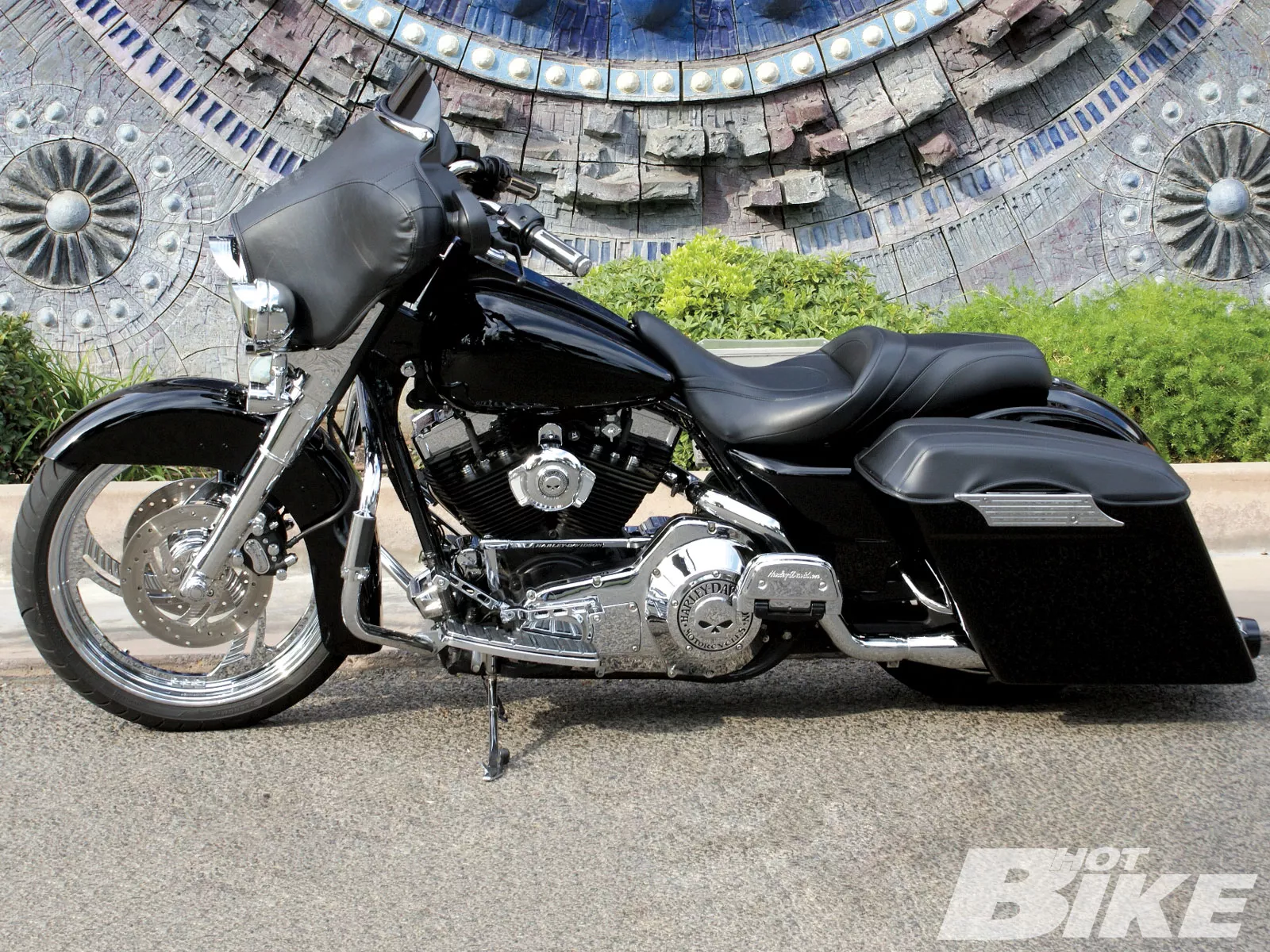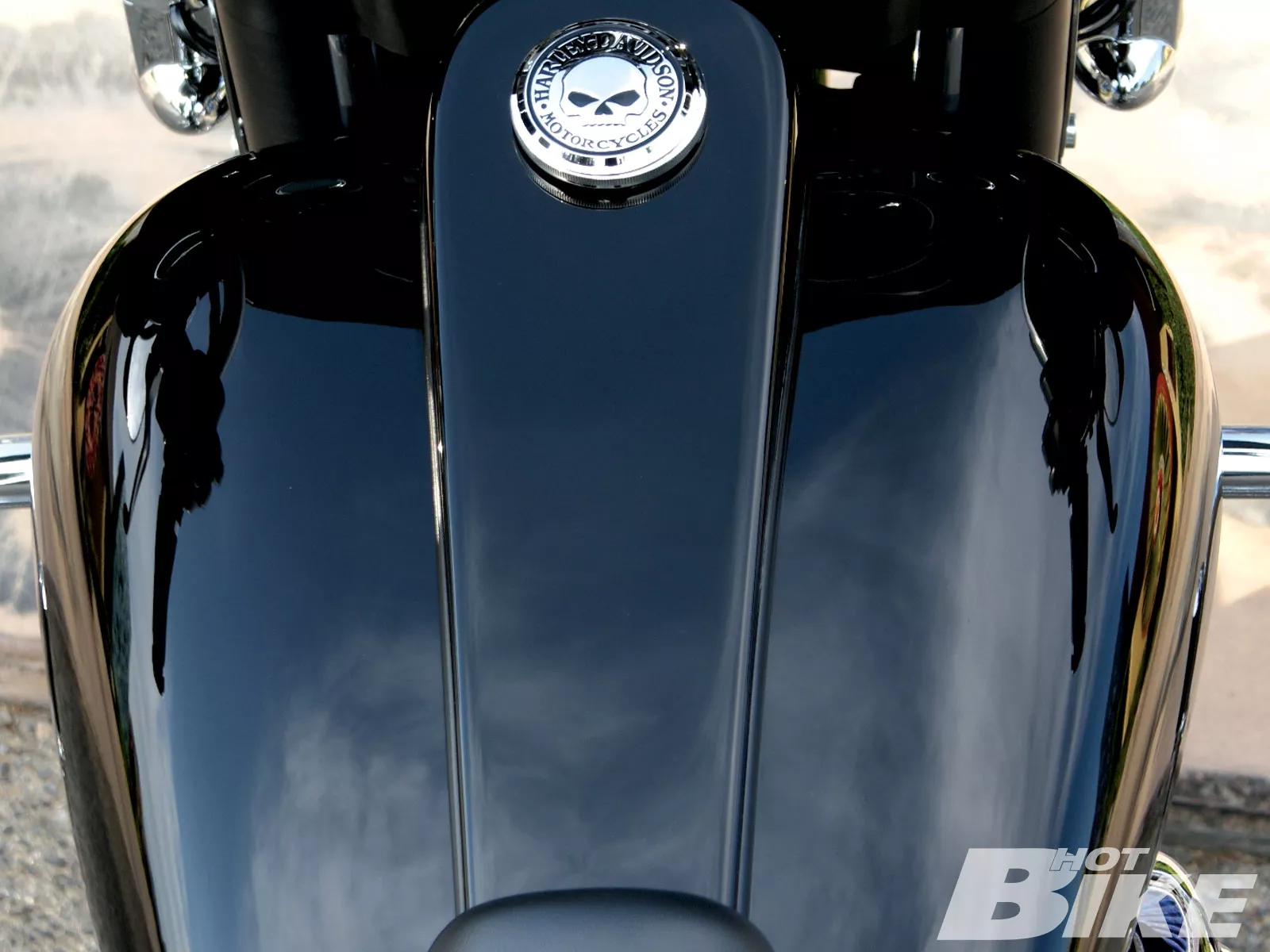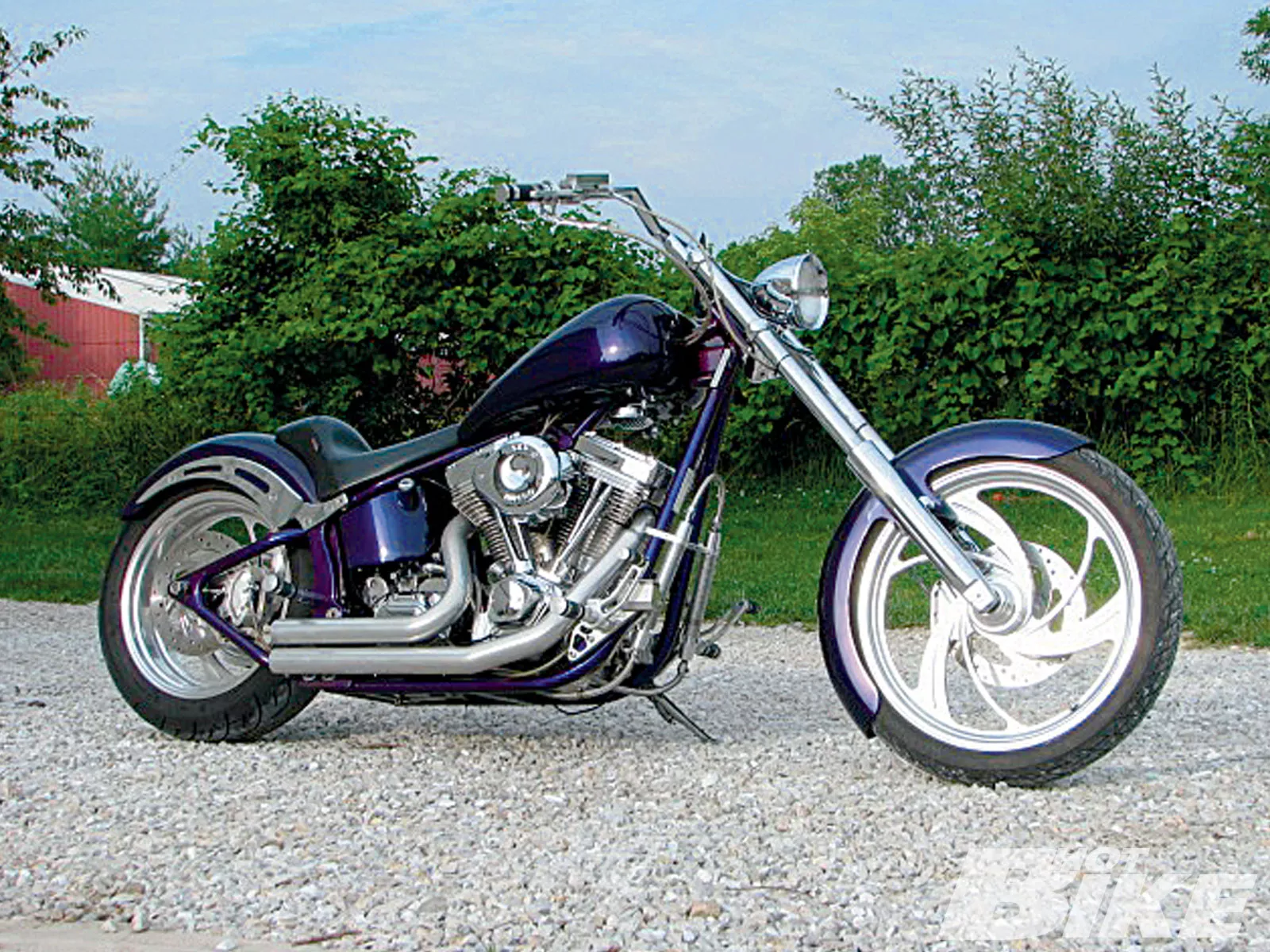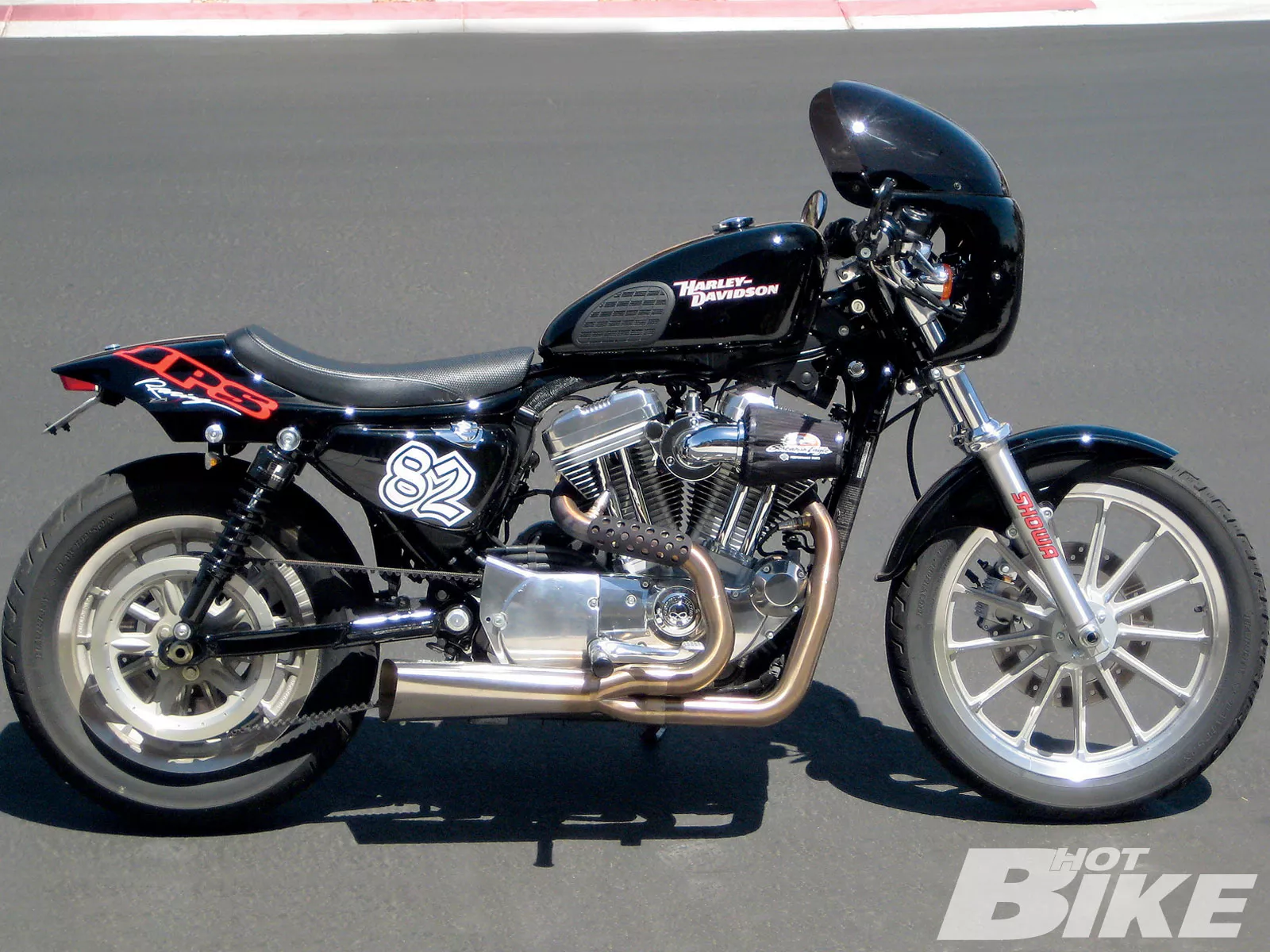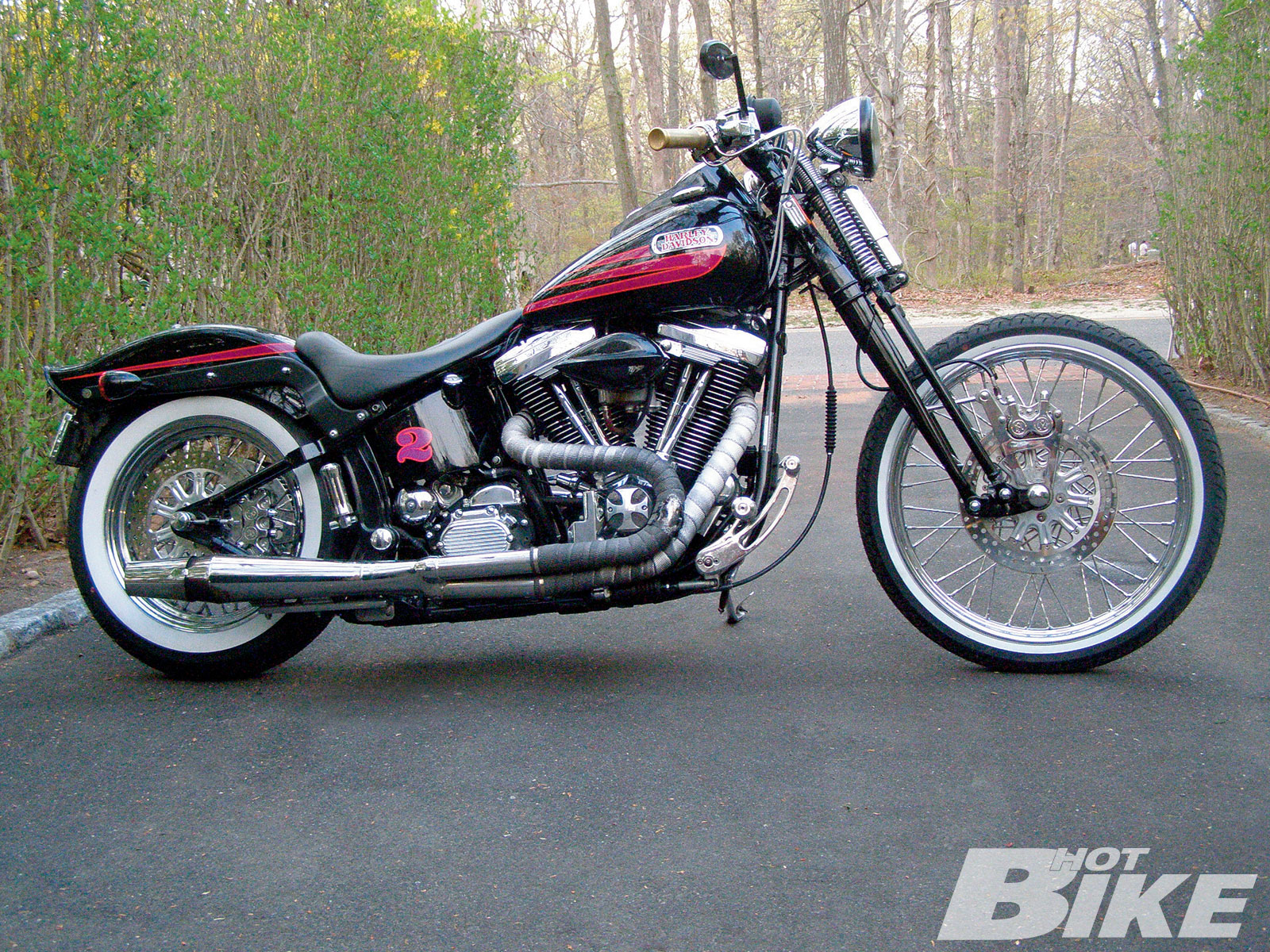 Email your submissions to: [email protected] Or snail mail to: HB Reader's Showcase 2570 E. Cerrotos Ave, Anaheim, CA. 92806. Please include hi-res jpegs, your name, hometown, email, phone #, bike year/model, engine size, frame, wheels, sheetmetal, painter, custom accessories, and anything else interesting about your bike.
Each readers bike showcased this month will receive a free button down shirt from Hard Chrome Gear. Hard Chrome Gear offers a full line of extremely detailed embroidered mechanic style shirts, microfiber and hoodie sweatshirts. Check out the full line at hardchromeclothing.com
---
Standard Deluxe
Larry Melcher from Fresno, California, shot us some images of his `01 Electra Glide Standard. The mod list is pretty long, but it includes Carriage Works Wheels, Bad Dad rear fender, stretched bags, and tank shroud/dash. The bike also features an Arnott air ride system, Dakota Digital gauges, custom-made leather bra, lid covers and seat. This standard got a major sound system upgrade with Hogtunes speakers including a Tweeter Pod and a Sony Head Unit. The deep black paint was done by a local shop, but the rest of the work Larry has done himself. The engine is a TC88, basically stock with jetted carb and Rinehart Duals. This is Larry's first Bagger after having Sportbikes, and he loves it! This deluxe Standard has won multiple shows and with that assemblage of parts and paint we know the reason why.
---
Purple Perpetrator
Ted Combs from Wright City, Missouri, emailed us a photo of his '05 custom build that took him five years to finish. The bike is powered by a 127ci, 140hp El Bruto engine backed by an Ultima six-speed tranny and 3-inch BDL beltdrive. This machine rolls on a set of Colorado Custom billet wheels with Avon Tires. Other cool features of this bike are a Fat Katz front fender, Progressive air tail with on-board compressor, Samson pipes, Bare Knuckle Choppers handlebars, and a serious coat of House of Kolor Candy Purple paint.
---
Keep On Trackin'
J.P. St. Claire from Las Vegas, sent us a photo of his '08 XL 883 Sportster that he has done a killer job of street-tracking. The bike rides on a set of stock mag wheels with Progressive 14 1/4-inch 412 Shocks and Progressive fork springs. For some serious seat-of-the-pants fun, the engine has been outfitted with Screamin' Eagle 497 cams, a Screamin' Eagle Heavy Breather intake, and a Vance & Hines Competition 2-into-1 exhaust. It didn't take much, but to get that street-tracker look, J.P. installed a Storz Performance Tail Section, Superbrace Fork Brace, Daytona Steering Damper, Rock Wall clip-on handlebars, bar-end mirrors, sport front fender, Honda GB250 tank knee pads, and a Viper 1/4 fairing.
---
Srpung '96
Joseph Gatt from Southampton, New York, mailed us a photo of his '96 H-D Bad Boy Springer Softail that has a little more than 10,000 original miles. The bike features an S&S; carburetor, cam and ignition, a Thunderheader exhaust, and a set of Goodson knock-off finned breathers. The bike also has Performance Machine brake calipers, rotors, and pulley bolted to Landmark diamond-cut spoke wheels, which are shod in Metzeler ME880 WWW tires. Believe it or not, that is the original paint the bike came with from the factory as well.
---