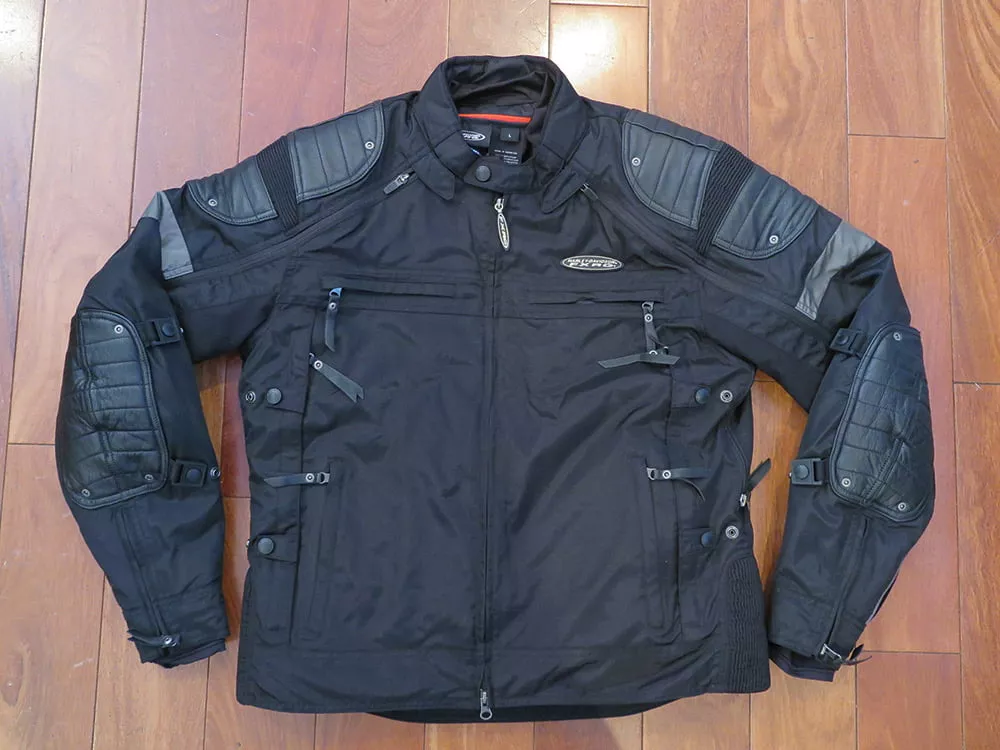 I have been looking for one jacket that does it all as long as I have been riding motorcycles. After cramming my saddlebags full with a mesh jacket, a regular jacket, and a rain jacket, I found the solution: the Harley-Davidson Switchback Riding Jacket ($595, harley-davidson.com).
This jacket truly has four-season capabilities and does so in an all-in-one package.
The outside of the jacket has cowhide leather patches on shoulders and elbows and 500 Denier nylon panels that zip off to create a mesh jacket when things heat up. The FXRG Switchback is designed with a genius triple-vent system, which has three strategically placed vents on each side of the body allowing for some very versatile and customizable airflow.
For safety's sake, the jacket has ultra-lightweight body armor at elbows and shoulders that goes virtually unnoticeable when worn. If you really want to add a larger layer of protection, the Switchback comes complete with a back pocket for H‑D's optional Tri-Layer Back Body Armor system.
The inside of the jacket features a removable zip-out full-sleeve waterproof liner with two-way zipper and interior storm flap. But that's not the only liner residing in the FXRG Switchback. There is also another spacesuit-looking metallic silver zip-out full-sleeve warmth liner that employs thermal reflective technology, using your body heat to regulate the jacket's warmth.
The aforementioned features of the FXRG Switchback Riding jacket are really just the tip of the iceberg, so to speak. There is also a snap-out kidney belt, two interior pockets, belt tabs to keep the jacket from riding up, 3M Scotchlite reflective piping, arm panels, and the rear jacket graphics are also reflective for those long nights riding the lone highway. And check this out: Harley-Davidson even stands behind this very versatile garment with a lifetime warranty.
As anyone can see, this jacket isn't the best looking on the market, but I honestly believe that, style aside, this is the ultimate riding jacket. It really is ready for any type of weather at any time. And I have personally found this out while riding from NYC to Tennessee in 90-degree heat or 40-degree thunderstorms, and even during a 45-minute hailstorm this jacket proved to be the real deal. The bottom line on this here FXRG Switchback Riding jacket is if you care more about function over fashion and encounter inclement weather when you ride, this is the garment for you.
$595 // harley-davidson.com