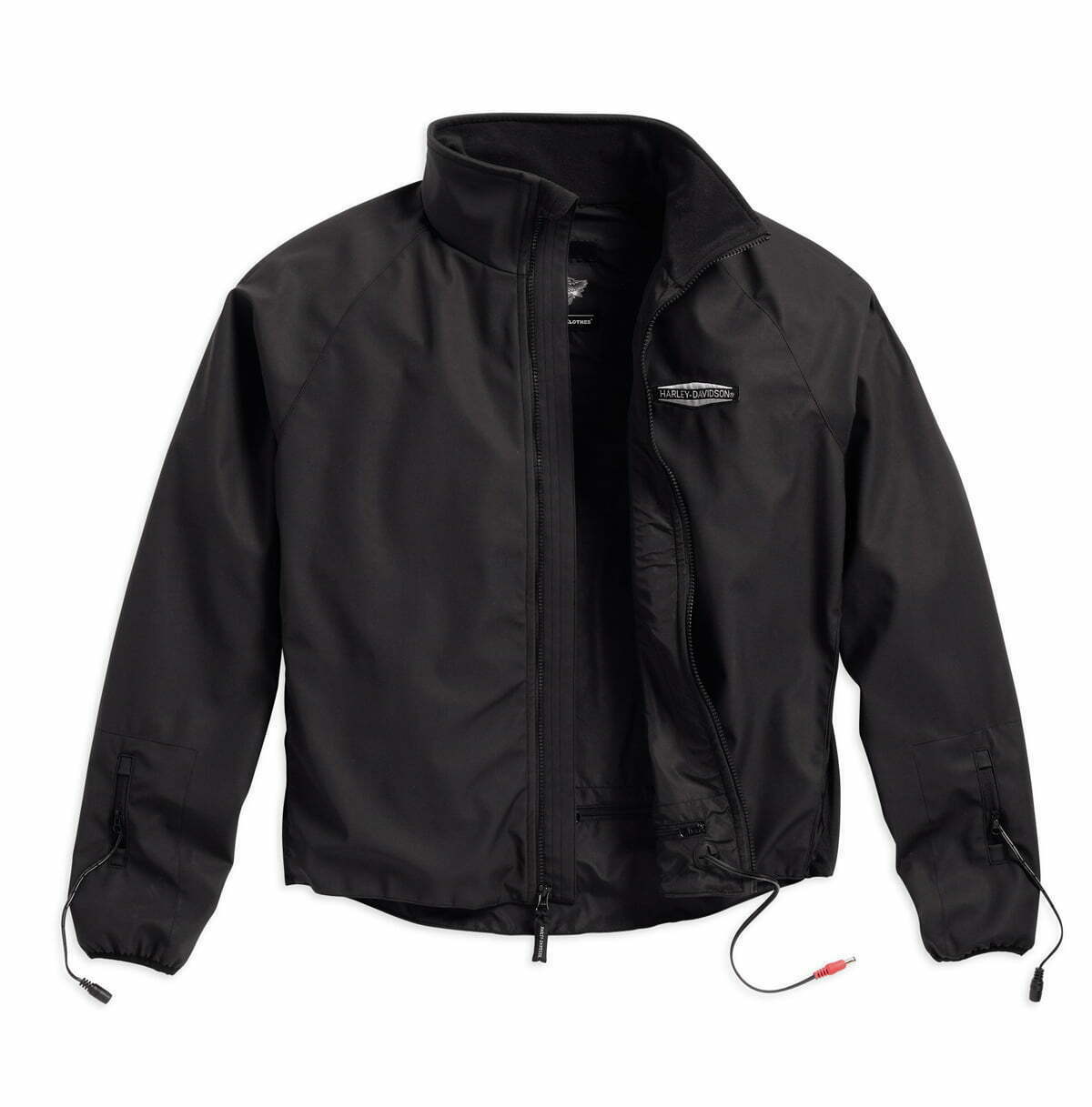 In any season, in any environment, at any elevation – new Harley-Davidson Heated One-Touch Programmable gear offers the motorcycle rider fingertip control of customizable comfort. Neck-to-toe warmth is provided by pre-programed heat settings selected with a wireless control worn on the wrist. It's the most convenient and sophisticated heated gear ever offered by Harley-Davidson. It is available in four liner options: jacket, pants, glove and socks, that can be worn together yet controlled independently.
A new Men's Heated One-Touch Programmable Plug-In 12V Jacket Liner (P/N 98346-15VM, $425.00 size XS to 3XL) is the foundation of the system. This packable liner is powered by the motorcycle charging system, and has seven large heating panels (two chest, two back, two sleeve, and one collar) with infrared technology that generates immediate heat to penetrate the body for deep warmth. A wireless controller included with the jacket is worn on the wrist over a jacket sleeve and used to control heat settings with just a finger tap. The wrist controller pairs with a receiver within the jacket and enables temperature adjustment to one of five customizable heat levels the rider can pre-program. This liner can be worn as a casual jacket and is trim enough to wear as a bulk-free mid-layer. Stretch expansion panels on the sides, sleeves, and back shoulders enhance range of motion and reduce bulk. The jacket comes with a charger cable for the wrist controller, the garment receiver inside the jacket, and a complete motorcycle battery connecting harness.
For additional comfort and coverage, the Jacket Liner can be combined with Men's Heated One-Touch Programmable Plug-In 12V Glove Liners (P/N 98347-15VM, $95.00 size S, L and 2XL), Men's Heated One-Touch Programmable Plug-In 12V Pant Liner (P/N 98384-15VM, $295.00 size XS to 3XL) and the Men's Heated One-Touch Programmable Plug-In 12V Sock Liner (P/N 98385-15VM, $125.00 size S to 2XL). Coaxial plugs on the jacket liner and pant liner cuffs power the glove and sock liners, but the heat level of each heat One-Touch Programmable garment can be adjusted independently with the wrist controller. For example, it's possible to select more heat in the fingers and less in the torso. Each Heated Programmable One Touch garment is backed by a three-year warranty.
You'll find plenty more gear and parts in our Products section.