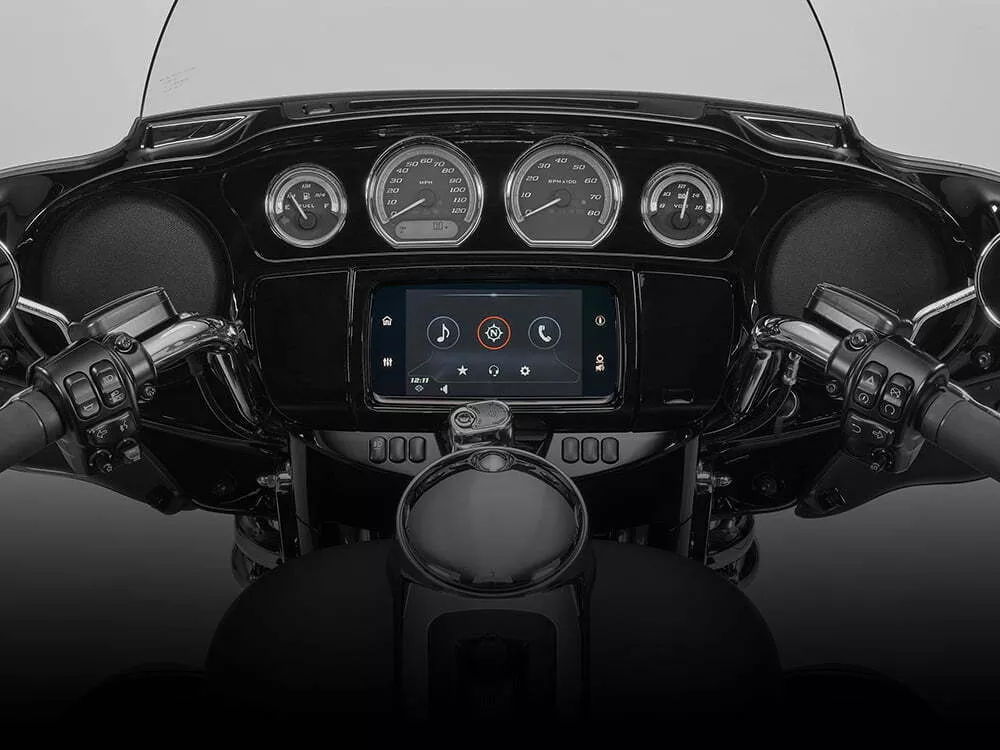 Among the flurry of new announcements pouring out of Milwaukee in the last month or so are new technology enhancements to Harley's Touring and trike models, so let's take a breath and break it all down for you here.
It first made headlines back in 2013/2014, but the Boom! Infotainment system was due for some upgrades, so for 2019, the new Boom! Box GTS infotainment system gets an improved display, a faster processor for enhanced performance, and a host of other features to make it even more compatible with external programs. The touchscreen and frame get a more contemporary look, and the system now has Apple CarPlay compatibility (when a microphone is used with Harley's optional Genuine Motor Accessories headsets) as well as hands-free voice recognition, which is a welcome plus.
Probably most noticeable is the 6.5-inch Boom! Box GTS display. The super-tough Gorilla Glass touchscreen surface goes edge to edge in a modern design that mimics the latest high-end automotive displays, and its advanced surface treatment is designed to minimize reflection for better visibility in sunlight. The improved TFT display screen now has 100 percent more resolution, higher contrast, and is optimized for use in wet or dry conditions, even when you're poking at it with riding gloves.
Harley also says the Boom! Box GTS processes faster, has more memory, and is more responsive than the previous Boom! Box 6.5GT system, with a start-up time of just 10 seconds, with route calculation time also greatly improved, to just 2.5 seconds. The interface is now more responsive to familiar smartphone gestures like swiping, pinching, and dragging and the new home screen display is simpler to navigate, with just three key system buttons: Navigation, Phone, and Music. A new Back button has been added to the right-hand control. The Navigation, Phone, and Music screens feature condensed information that's easy to read and navigate, while the new Quick Jump feature allows easy access to Navigation, Audio, and Vehicle info (you press and hold Home on the left-hand control for the pop-up menu). You can even choose the background colors and a high-contrast viewing mode. The whole GTS system can be managed through the touchscreen and with the thumb-operated five-way joysticks located on the left- and right-hand controls.
It's not just about the visuals either: the factory-installed Boom! Box GTS audio brings 25 watts per channel through two or four speakers (depending on the model; system upgrades are available too). Audio sources include AM, FM, WB, XM, Bluetooth streaming, and Digital Mass Storage compatibility. The Boom! Box GTS supports the Harley-Davidson Wireless Headset Interface Module (sold separately) so you can fully access the infotainment features via Bluetooth and compatible wireless headsets.
And finally, the Boom! Box GTS gets Apple CarPlay compatibility when you use the optional Harley accessory headsets, which means you can project your iPhone functions to the screen, so you can stream apps, weather, traffic, or other functions you might have on your phone.
A new navigation engine features a voice-recognition-enabled "one box search" function, and when the rider punches in the Alternate Routes function, he can choose a route based on Fastest, Shortest, Twisty, and Scenic features. The Boom! Box GTS navigation system is integrated with the Harley-Davidson app for iOS or Android, so riders can easily find a destination in the app and send that point of interest or addresses to the navigation system (no need to use a USB drive to import routes anymore!). Ride routes can be created in the app or on the redesigned Harley-Davidson Ride Planner website at http://www.h-d.com/rideplanner.
The Boom! Box GTS comes standard on the 2019 Harley-Davidson Ultra Limited, Ultra Limited Low, Road Glide Ultra, Road Glide Special, Street Glide Special, CVO Limited, CVO Street Glide, CVO Road Glide, and Tri Glide Ultra models. The Boom! Box GTS is a factory-installed option for Harley-Davidson Street Glide, Road Glide, and Electra Glide Ultra Classic models.