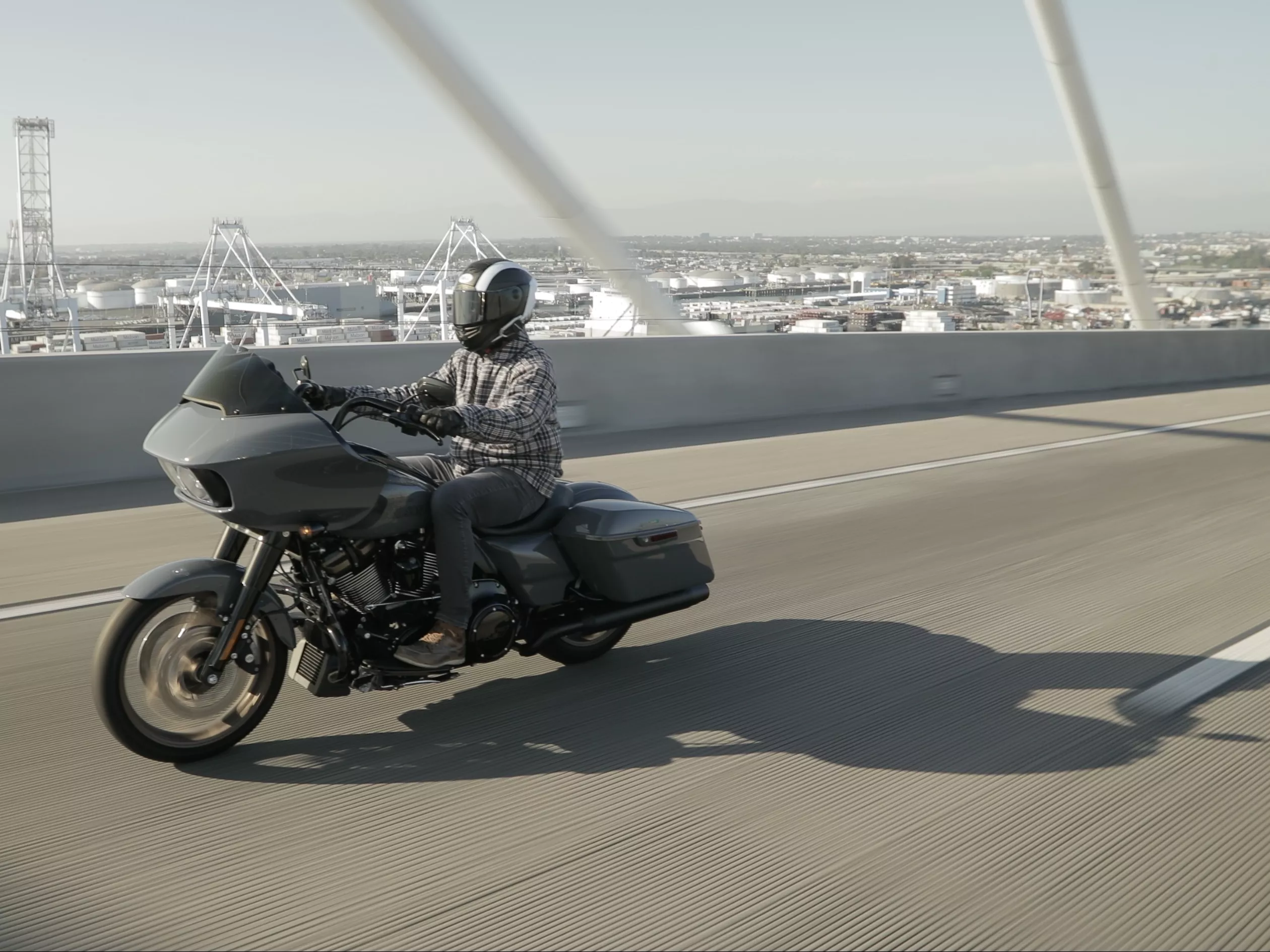 Harley-Davidson has focused heavily into bagger racing since the King of the Baggers series debuted in 2020. Applying that racing inspiration into something a bit more palatable for regular riders and weekend street warriors, the new Harley-Davidson Road Glide ST is just that and more. One of Harley's new Grand American Touring machines, the Road Glide ST is capable of touring the country in comfort and style, but set up for a solo rider from the factory ready to rip cross-country while channeling your inner-Wyman.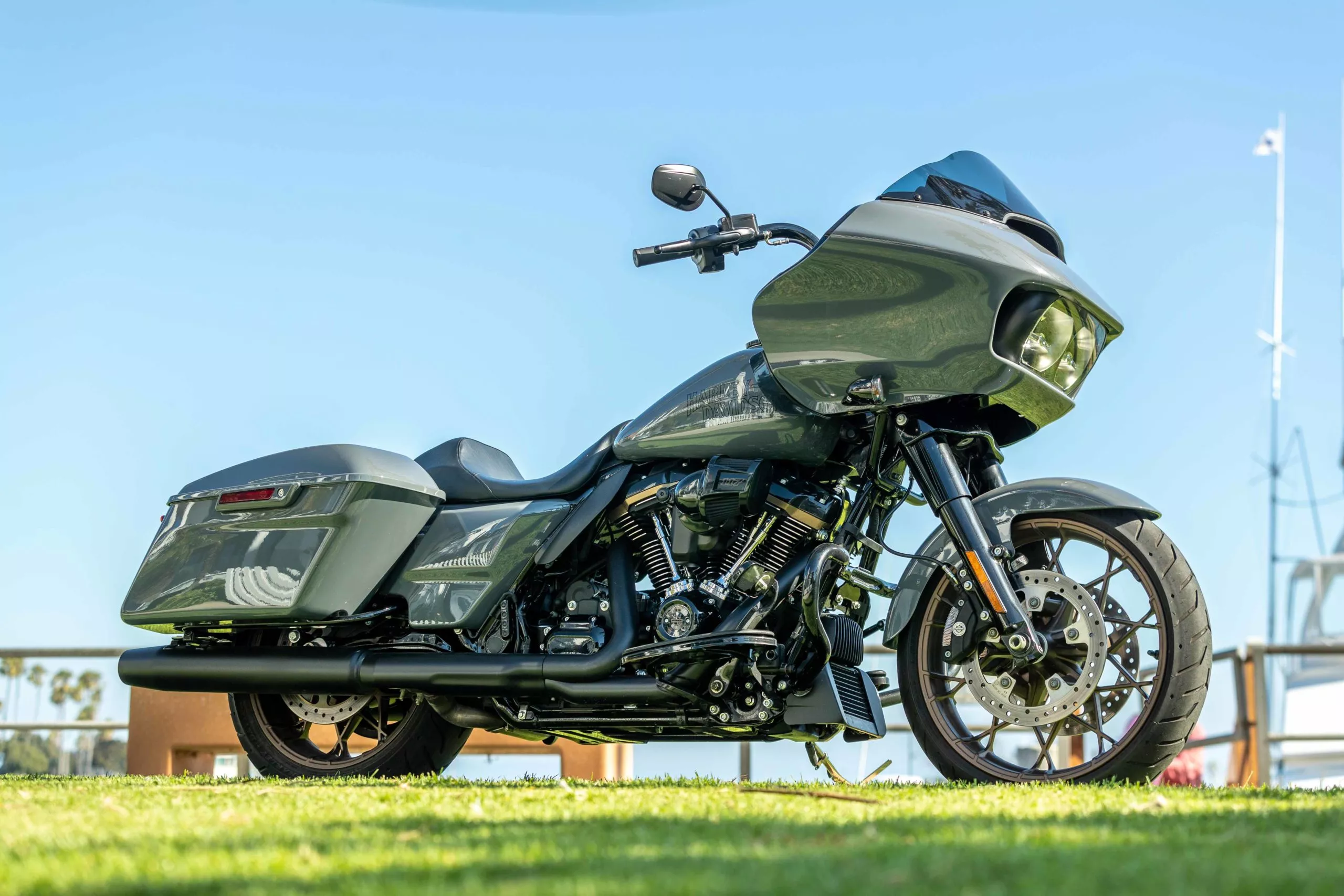 The Road Glide ST brings purposeful style by combining the power of the Milwaukee-Eight 117 V-Twin engine with simple paint schemes (either Vivid Black or Gunship Gray only) and new dark-and-bronze finishes. Considered one of Harley-Davidson's "Grand American Touring" models, the Road Glide ST packs comfort, performance and style into an all-encompassing performance touring machine. For those of you looking to break into the performance bagger segment, this is the platform to do so.  
Road Glide ST Model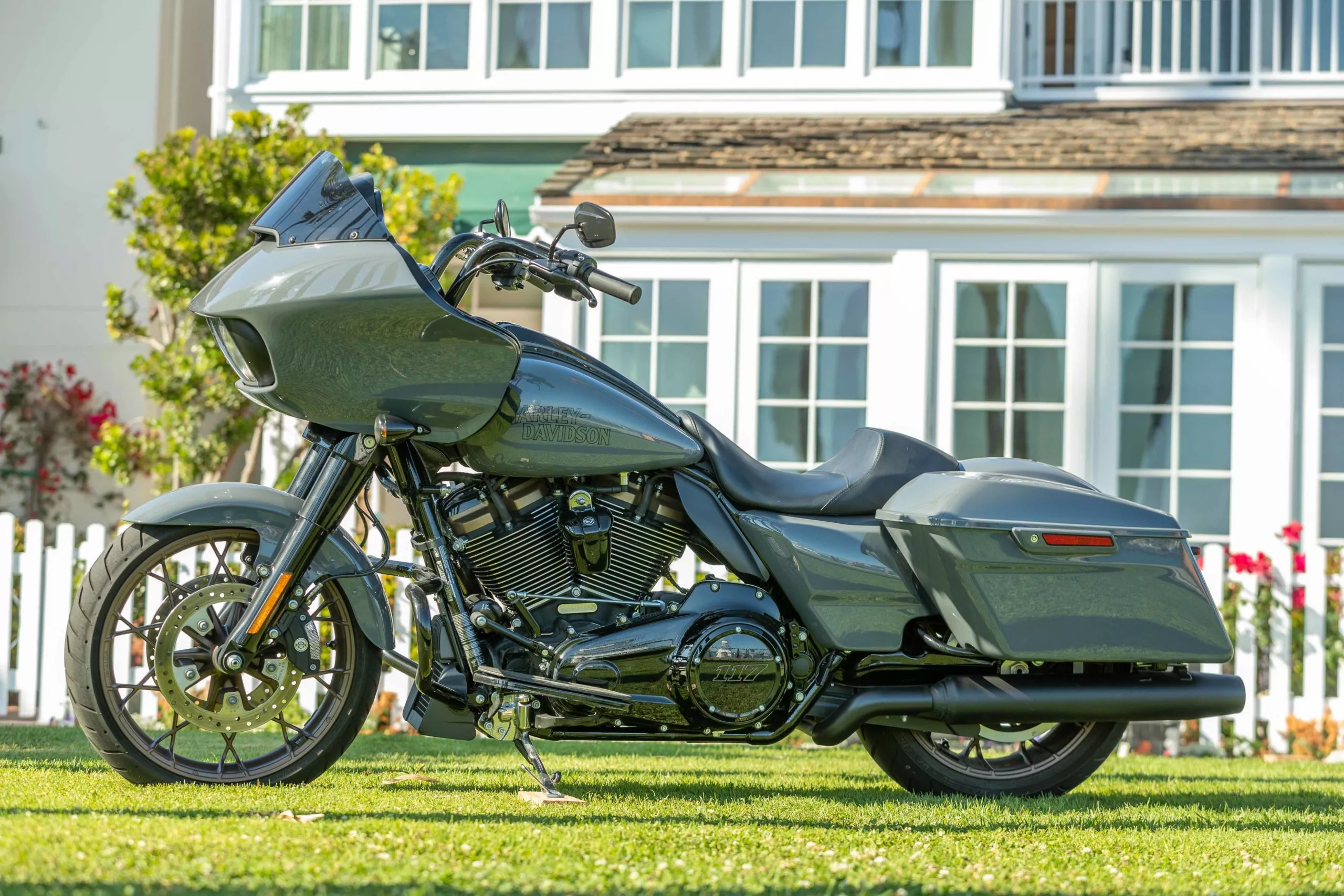 At first glance, the sleek Road Glide ST model projects the attitude of the Screamin' Eagle Factory championship winning race bike and backs it up with torquey power output of the Milwaukee-Eight 117 powertrain. Undiminished rider comfort and the shark nose frame-mounted fairing is a great fit for the solo adventurer who craves performance tech.
The shark nose Road Glide fairing features triple Splitstream venting to limit head buffeting and incorporates a low-profile dark windshield. The dual Daymaker LED headlamps also project a powerful bright-white beam to light your path. A low-profile engine guard and tank console combine to give the Road Glide ST trim lines.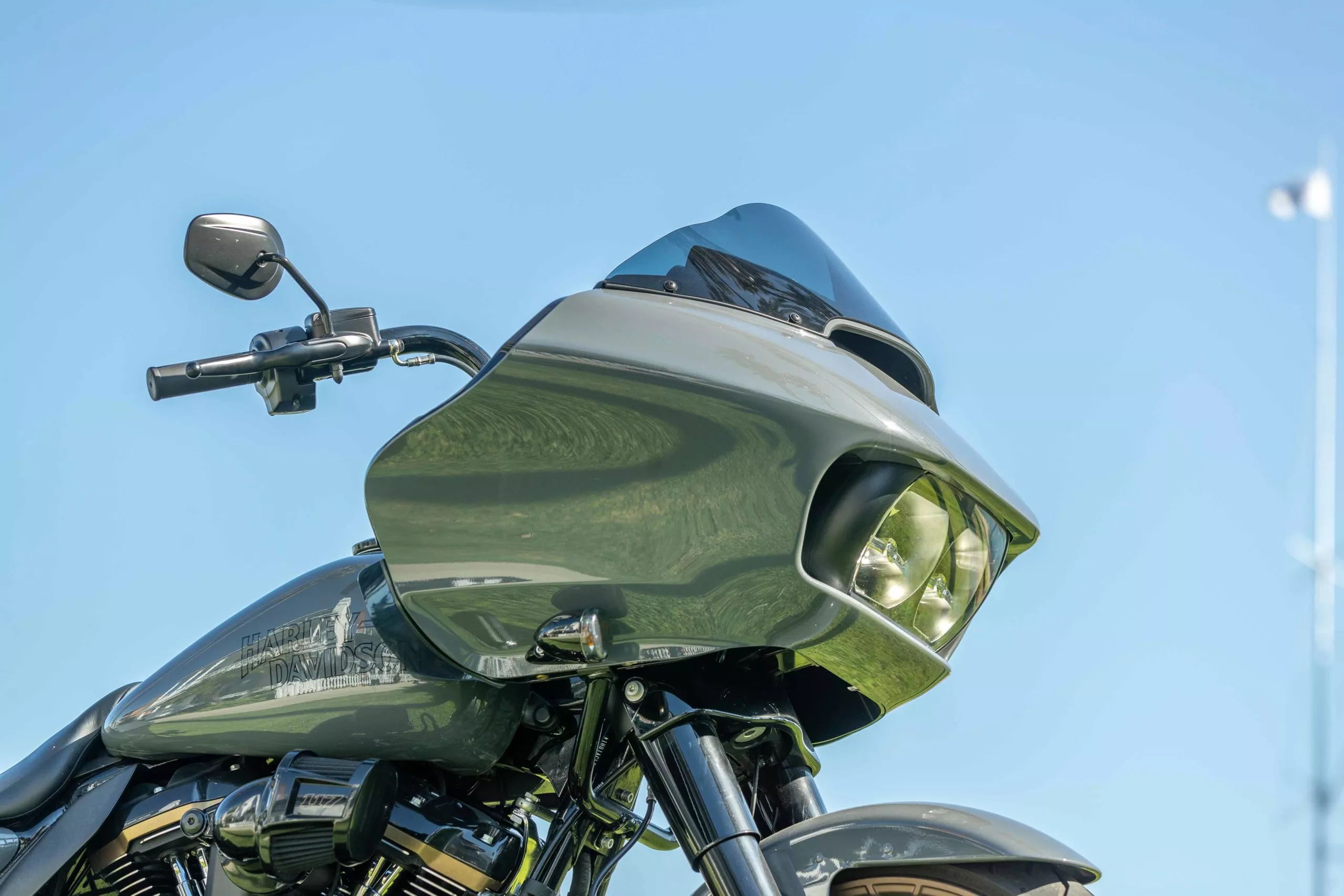 Not equipped from the factory with a two-up seat, or even passenger pegs, Harley is targeting solo riders with the Road Glide ST. I'm not sure this makes logical sense to me. When I think of a bagger, I think fully-equipped machine to take my wife and I on a trip for miles and miles. It's nice to not have to think about adding optional upgrades to an already supposed "touring" bike. But I do ride on long journeys by myself where a passenger seat probably wasn't (or isn't) necessary. But even by myself, passenger pegs have always come in handy as I sometimes like to rest my dogs on an alternate location when blasting boring stretches of highway for miles on end. Options are nice like that, ya know? With that gripe aside, I pretty much dig everything else about Harley's new Road Glide. The solo seat, standard-length saddlebags and trimmed front fender provide a cleaner design aesthetic. The blacked-out front end, controls, powertrain and exhaust contrast with bright pushrod tubes and tappet covers, and machined cylinder fins. Unique to the Road Glide ST (and its brother from another mother, Street Glide ST) are Matte Dark Bronze finish on the cast aluminum Prodigy custom wheels, the color band on the lower rocker box, timer cover medallion, intake medallion, and the classic script tank graphic. I kind of dig the subtle contrasts placed in just the right spots. Harley did a good job of not going overboard here with subtle accent trim pieces.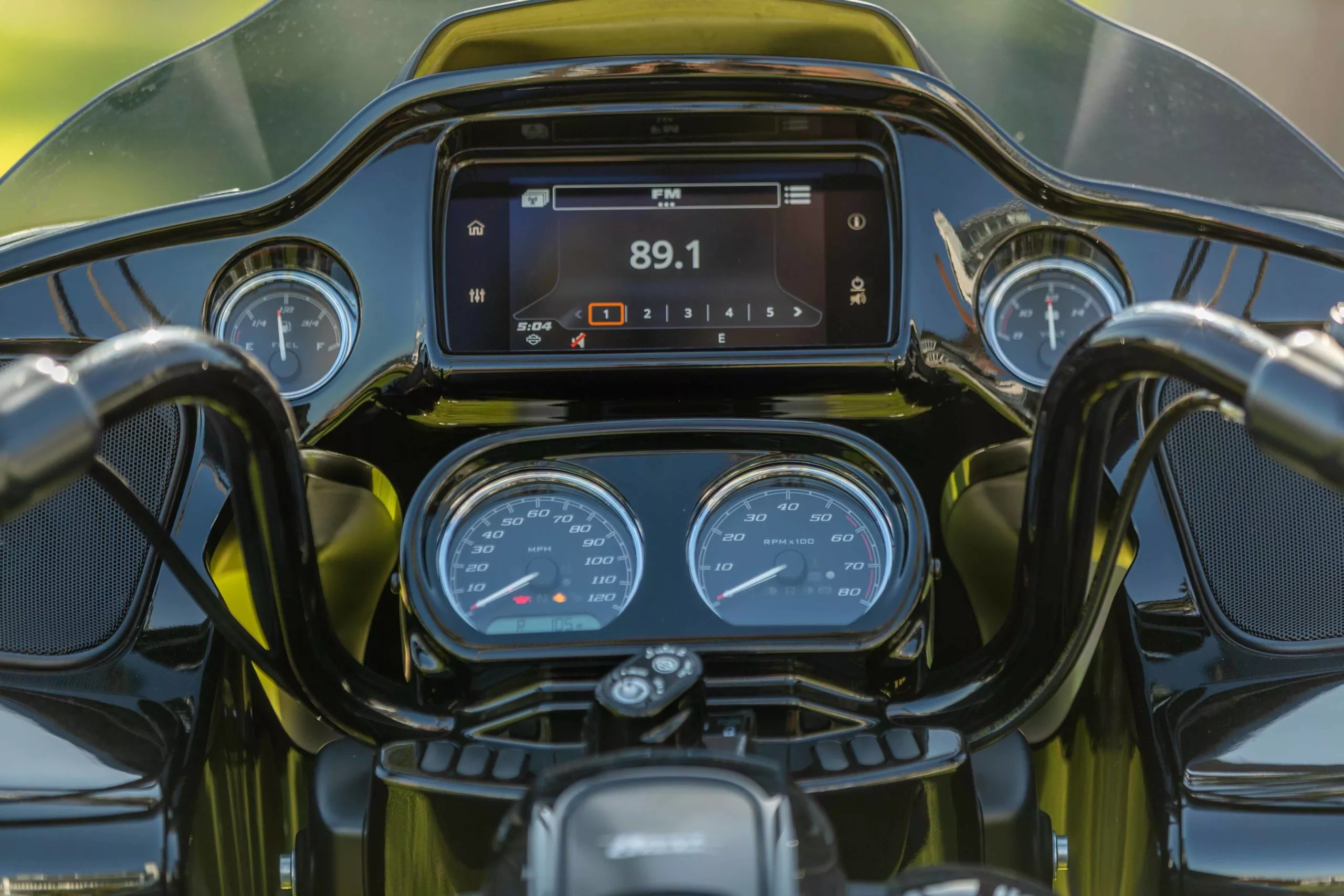 Emulsion-technology rear shock absorbers feature a single knob to hydraulically adjust pre-load for optimal ride and control. The 49mm forks with dual bending valve suspension technology deliver linear damping characteristics for a smooth ride. Reflex linked Brembo brakes with ABS are standard. The Road Glide ST is equipped with the Boom! Box GTS infotainment system with color touch screen, two fairing-mount speakers and hidden radio antenna. Electronic cruise control also comes in handy for taking naps on long rides (kidding!). Smart Security System with proximity-based, hands-free security fob offers some peace of mind with your most prized possession. 
Milwaukee-Eight 117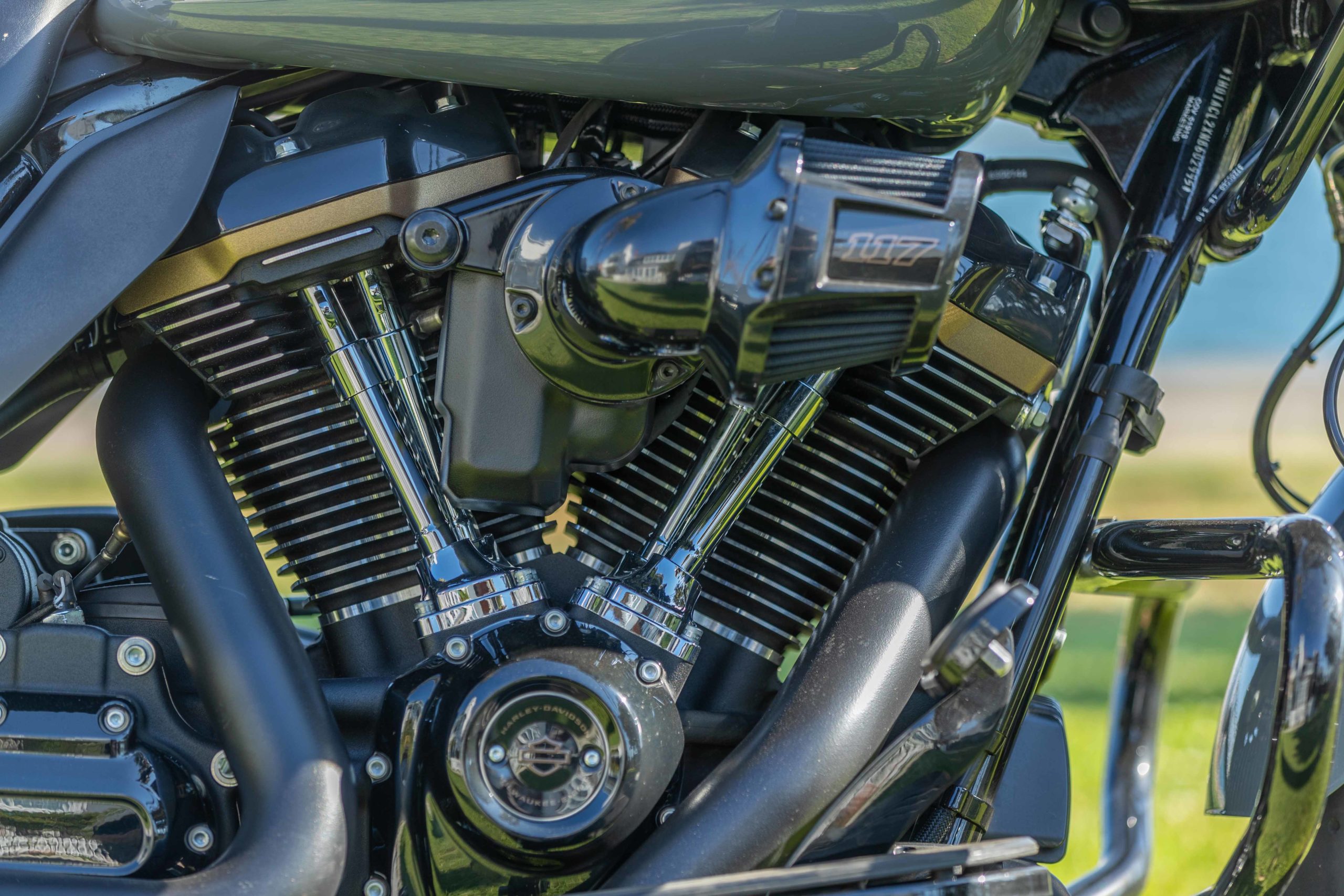 The Milwaukee-Eight 117 V-Twin engine offers the most displacement and torque available from a factory-installed, regular-production Harley-Davidson powertrain. Compared against the standard Road Glide's 107ci engine, the 117 packs a lot more punch. But it's way more fun in the Low Rider ST! For the Road Glide ST, however, the Milwaukee-Eight 117 with precision oil/air cooling produces up to 127 lb. ft. of torque at 3750 RPM. The engine features a high-performance camshaft, a high-flow intake, and high-performance exhaust tuned to maximize engine performance while maintaining 50-state compliance and producing a nice throaty tone without annoying your neighbors. Throttling out of corners and in the straights is definitely noticeable compared to the standard 107. 
Cornering Rider Safety Enhancements by Harley-Davidson
Offered as an option for the Street Glide ST and Road Glide ST models, Cornering Rider Safety Enhancements by Harley-Davidson is a collection of technologies designed to assist the rider in maintaining the rider's intended path through a curve. We had limited time with the Road Glide ST, but we're planning to dive deeper into Harley's new tech enhancements very soon. Stay tuned! 
Cornering Electronically Linked Brakes

Cornering-ABS

Cornering-Traction Control with modes

Drag Torque Slip Control

Vehicle Hold Control

Tire Pressure Monitoring (TPMS)