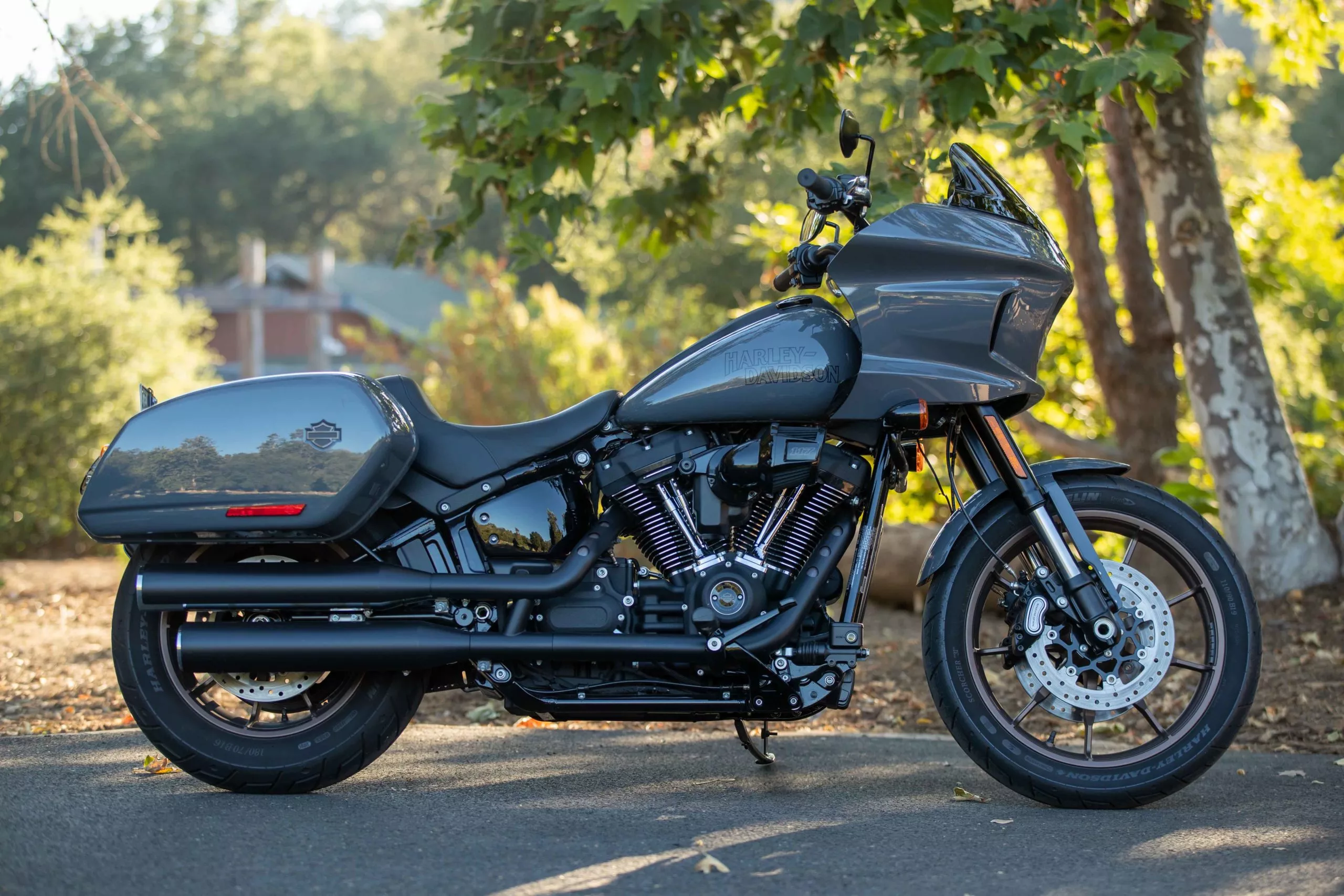 When Harley-Davidson released its newest Softail, the 2022 Low Rider ST, it definitely left a favorable impression on motorcycle enthusiasts of all shapes and forms. There's something to be said about why you can't seem to find them on dealership showroom floors because they've all been pre-sold. The versatile and functional Low Rider ST offers plenty of comfort packed with loads of performance and just might be one of our favorite factory Harleys we've ridden to date.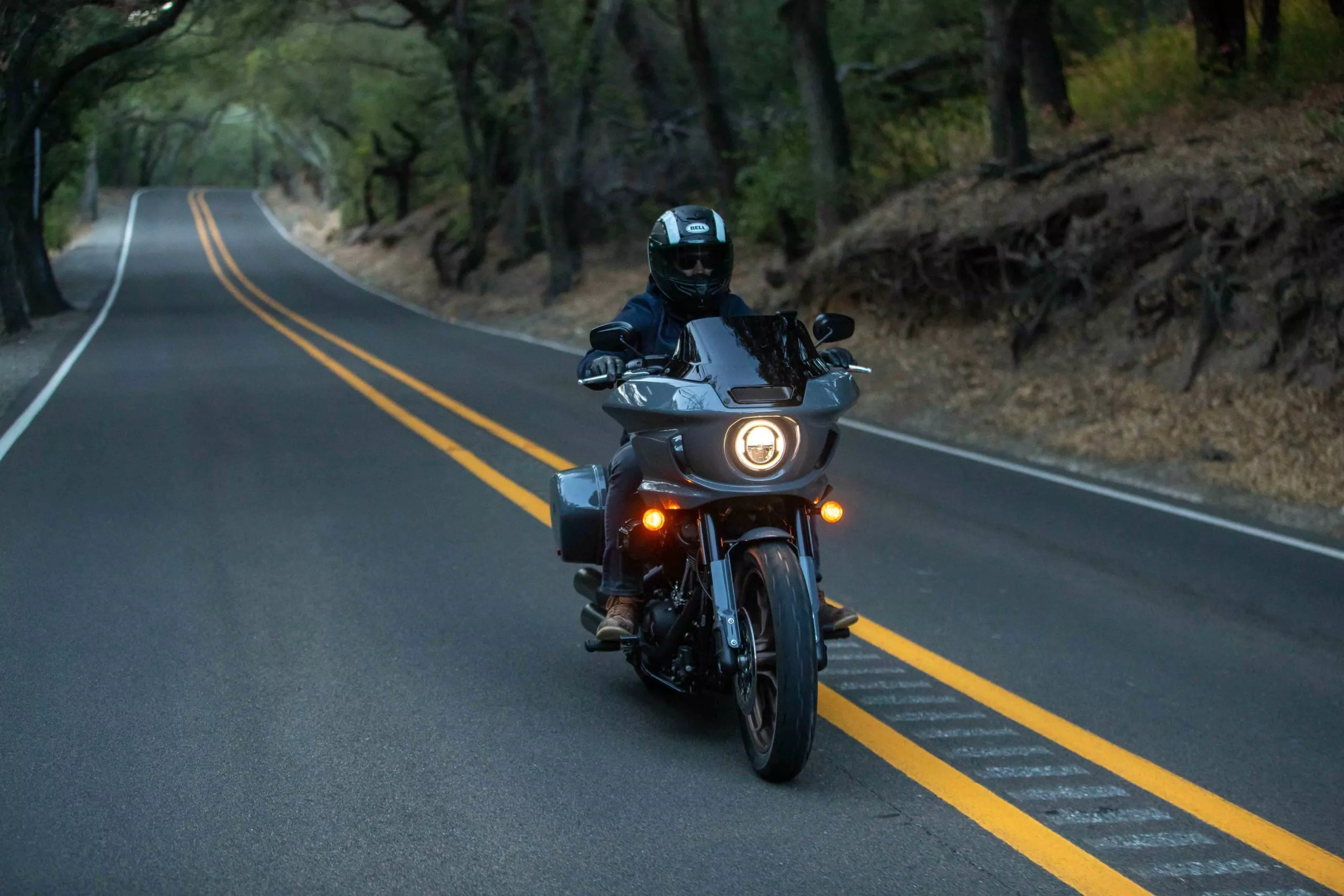 The ST's West Coast custom styling is hard to ignore. Shown in Gunship Grey (also available in Vivid Black), the lines from front to rear flow seamlessly. The ST's FXRT-style fairing is a great nod to previous-gen Harleys while the removable clamshell-style saddlebags are attractively designed.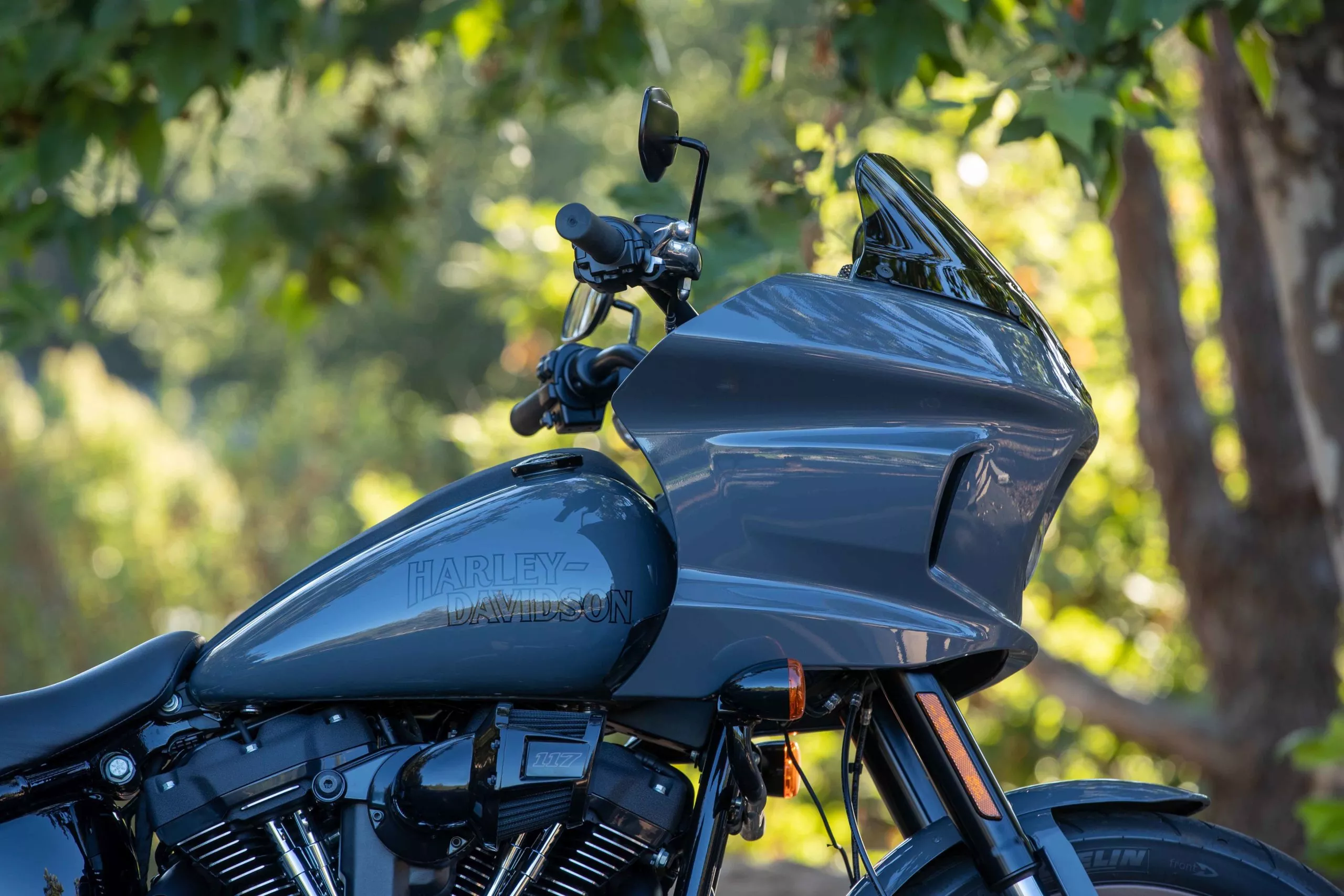 "A key element of this model is the frame-mounted fairing, which has a shape inspired by the classic FXRT Sport Glide model fairing favored by West Coast customizers," said Brad Richards, Harley-Davidson Vice President of Design. "With a dominant central headlamp flanked by side vents, the genetic connection to the original FXRT remains familiar. The sharper creases and revised proportions in the Low Rider ST fairing provide a look that is intended to be modern, athletic and aerodynamically superior to the FXRT fairing. The raised fitment of the saddlebags high above the exhaust reinforces the performance of the model – the message being that these bags will not limit lean angle when the bike is pushed to the limit."
MILWAUKEE-EIGHT 117 ENGINE 
The Milwaukee-Eight 117 V-Twin engine is a torquey SOB. Featuring oil/air cooling the 117 in the Low Rider ST packs a definite punch. 
117 cubic inch displacement

125 ft-lbs of torque at 3500 RPM

High-performance camshaft is matched to displacement and air flow intended to maximize performance

High-performance, tuned Heavy Breather intake with forward-facing exposed filter element flows more air into the engine to produce exciting mid-range torque

High-performance 2-into-2 offset shotgun exhaust is tuned to provide smooth and broad mid-range torque while producing a stirring tone

Dual counter-balancers reduce primary vibration at idle for improved rider comfort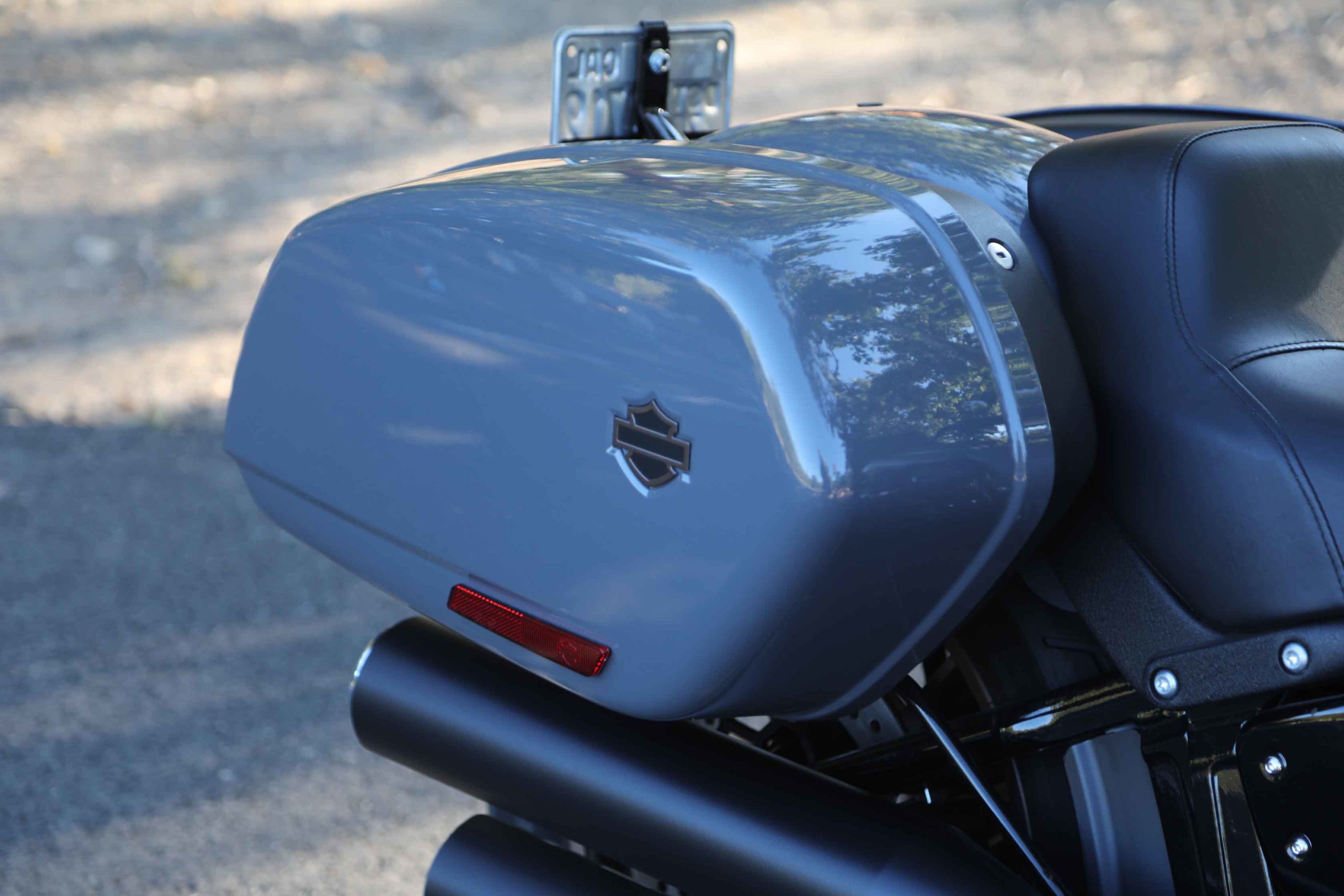 TOURING MODE
It's no secret that a fairing and saddlebags make a road trip more comfortable. Wind deflection is key for preventing fatigue and storage is an absolute must for functionally packing your goods. The Low Rider ST is a great go-between for cruiser and touring models, ready for any long-distance trek. The detachable saddlebags provide ample storage (combined saddlebag capacity is 1.9 cubic feet) and the clamshell style lids function well because of the built-in tether to prevent belongings spilling out when opening. Bag placement is just right to avoid scraping when tucked into a sweeper or hairpin. We've heard some gripes on the Interwebs regarding the pipe-side saddlebag's size being smaller than the left. It doesn't bother us in the slightest, but it will be interesting to see what might happen in terms of a gap when we start messing with different exhaust options.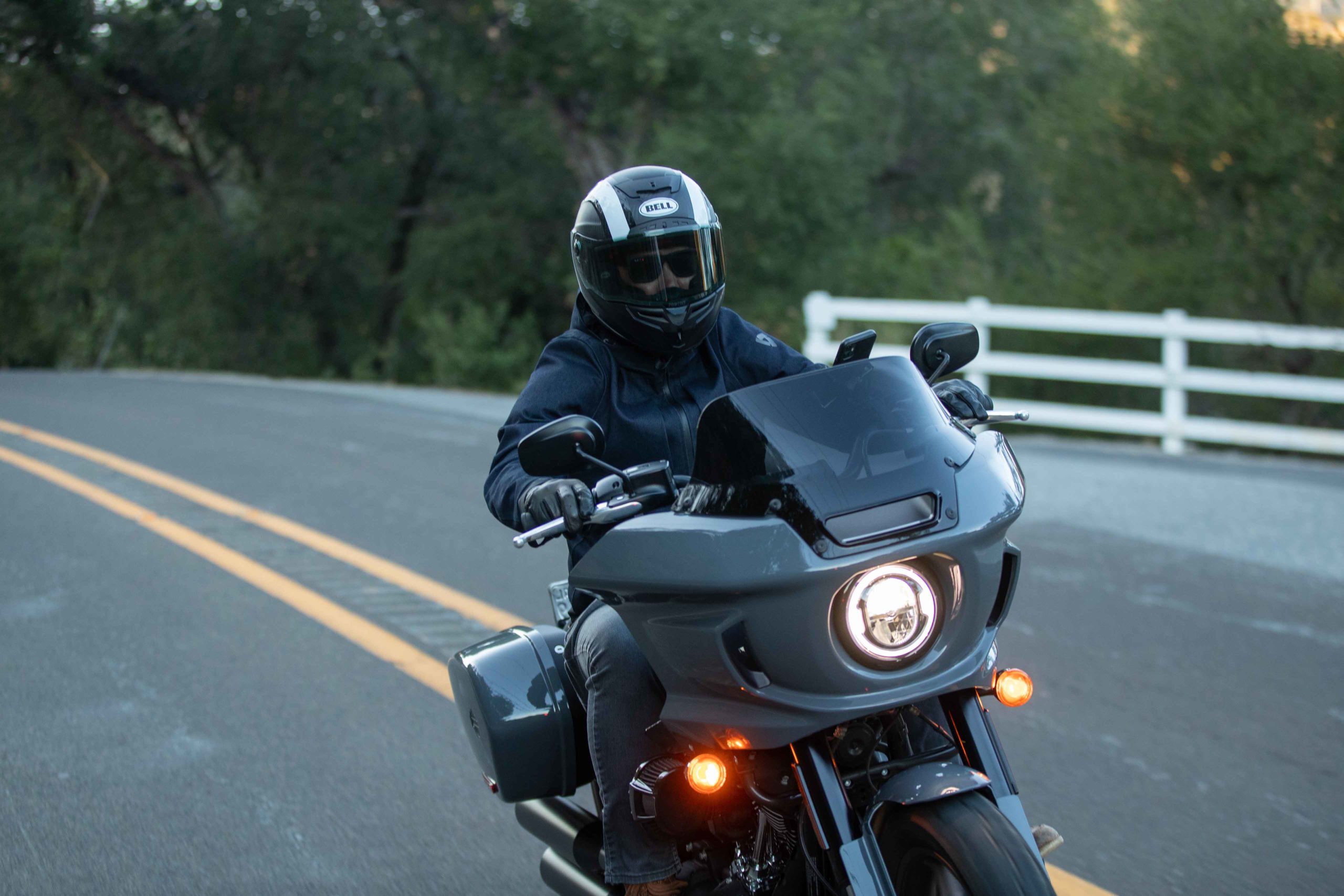 SUSPENSION AND HANDLING
Up front, the Low Rider ST is equipped with a single cartridge, 43mm inverted frontend with aluminum triple clamps. In the rear, you have a 56 mm coil-over monoshock that features hydraulic preload adjustment. The ST features a taller rear monoshock than standard Softails (1/2-inch more stroke, 1-inch more rear wheel travel, ¾-inch higher at the seat), which raises the rear of the motorcycle. The engine is also rigid-mounted to the frame to aid in overall rigidity providing a stiffer chassis. Overall, the suspension provides plenty of comfort when cruising and works dynamically well when cornering or simply playing in the twisties. Also, the ST's stance is nice and tall so you can really lean it over in both right and left curves (right and left lean angle is 31.3-degrees) without scraping.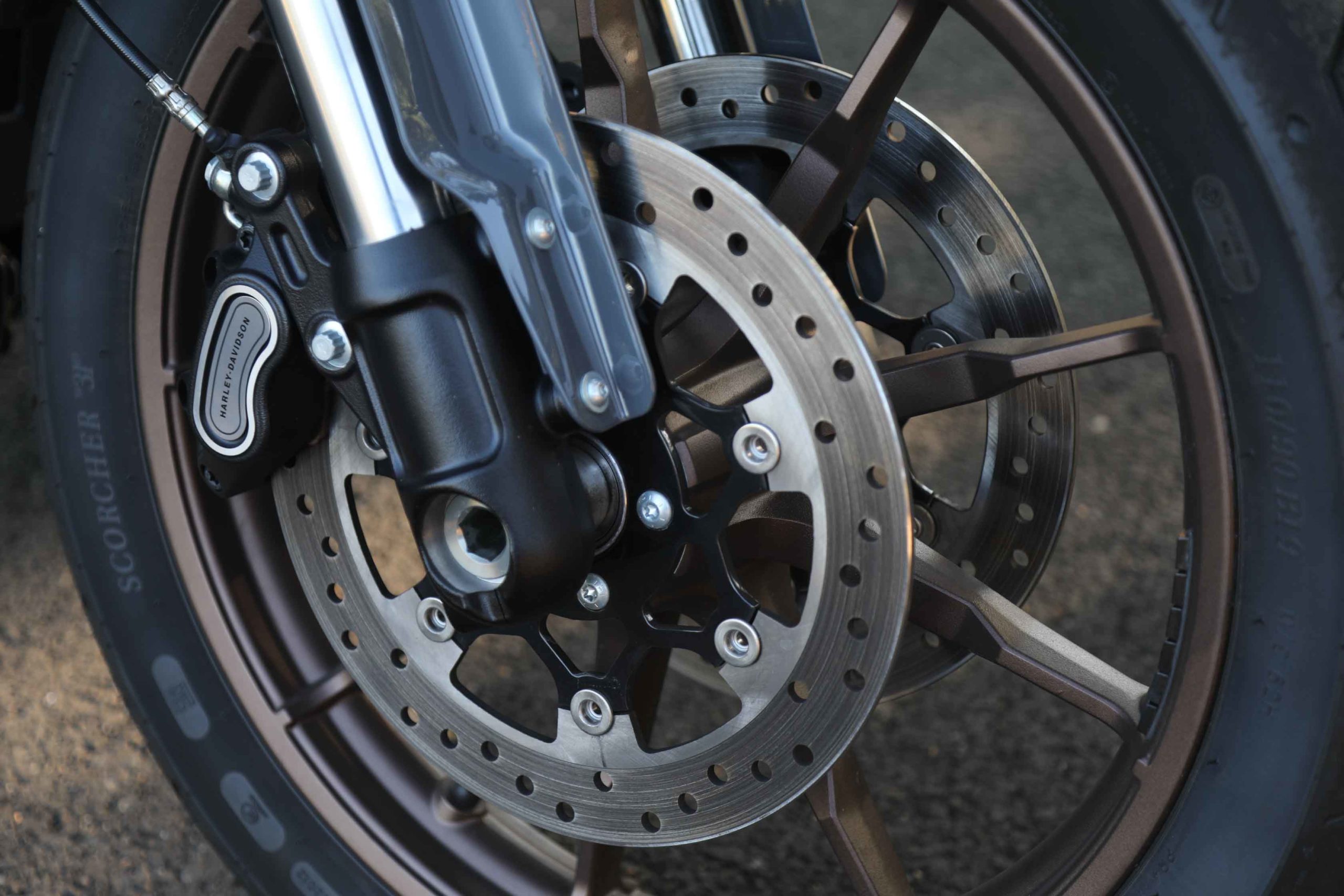 WHEELS/BRAKES/TIRES
Dual front brakes with 300mm discs/four-piston calipers and single rear disc with two-piston caliper deliver the responsive braking demanded by aggressive riders. Standard ABS (antilock braking system) provides confident braking performance when conditions are less than ideal. Premium Michelin Scorcher 31 tires (Front 110/90B19, Rear 180/70B16) enhance ride and handling performance.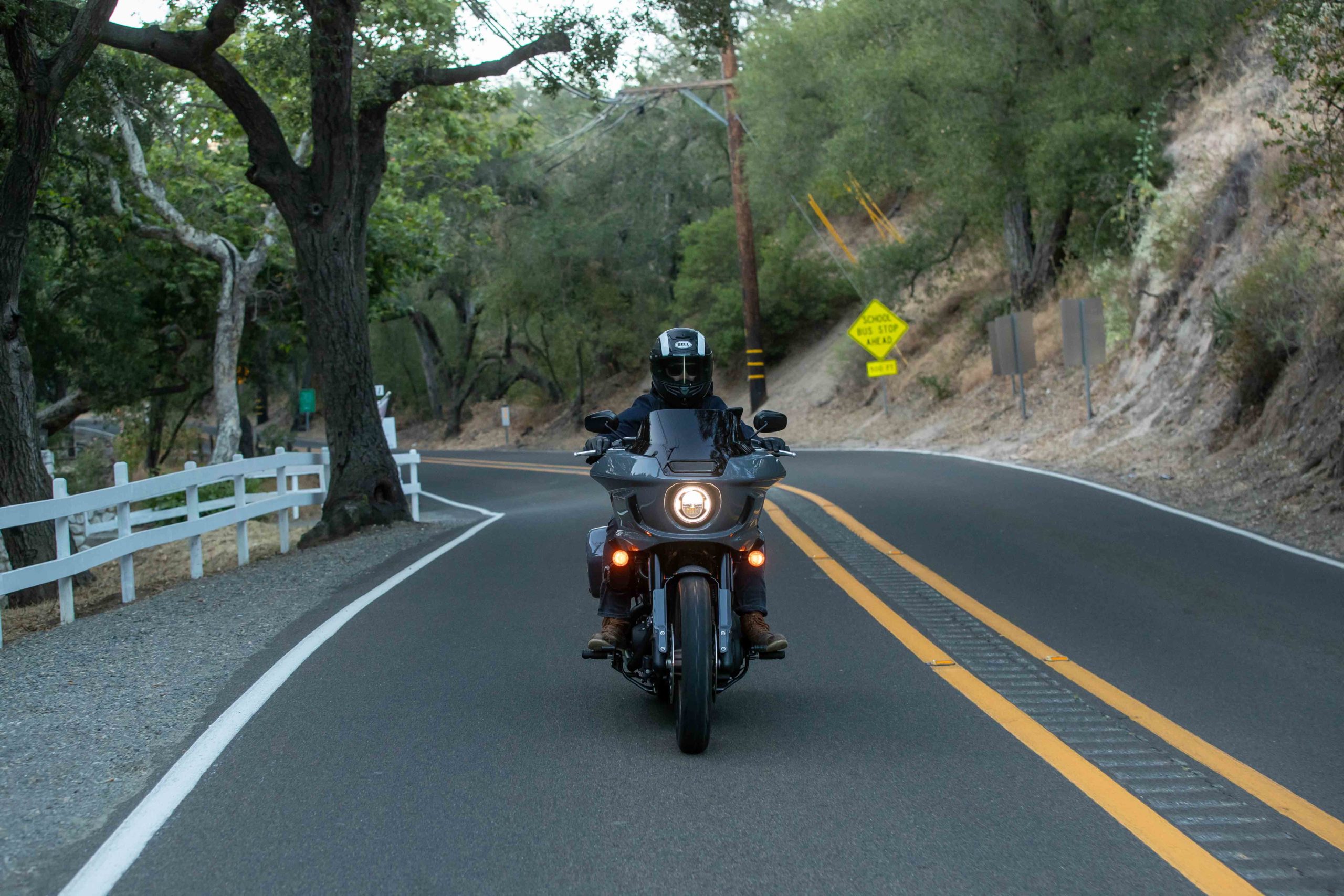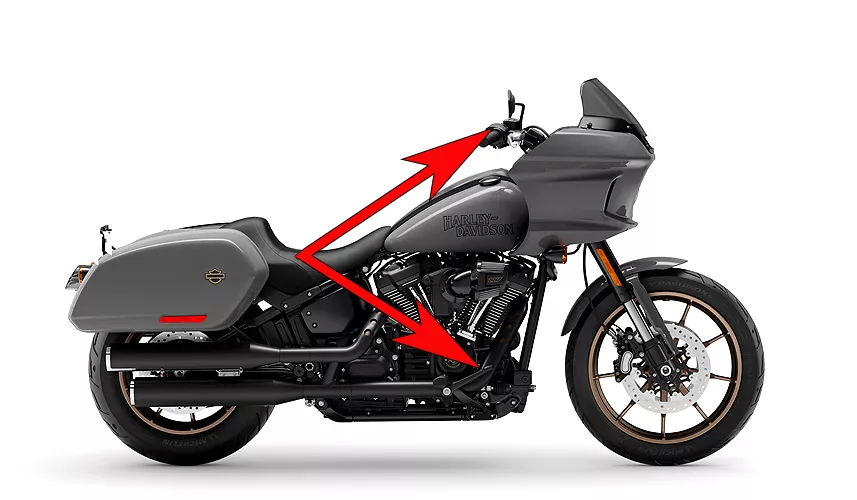 ERGONOMICS

From a rider triangle perspective (handlebar position to seat position to foot position), the Low Rider ST fits me pretty well. The factory solo seat is a little flat and somewhat large leaving me to slide around a bit, which I don't particularly like. I'd prefer to feel planted, tucked into the cockpit comfortably. A proper seat is such a crucial component for overall ergonomics. If it's not just right, then it affects hand and foot placement as well. The taller pullback risers and handlebar positioning work well and the placement of where the mid controls are located are just right. I think with a new seat, the hand and foot positioning would get even better.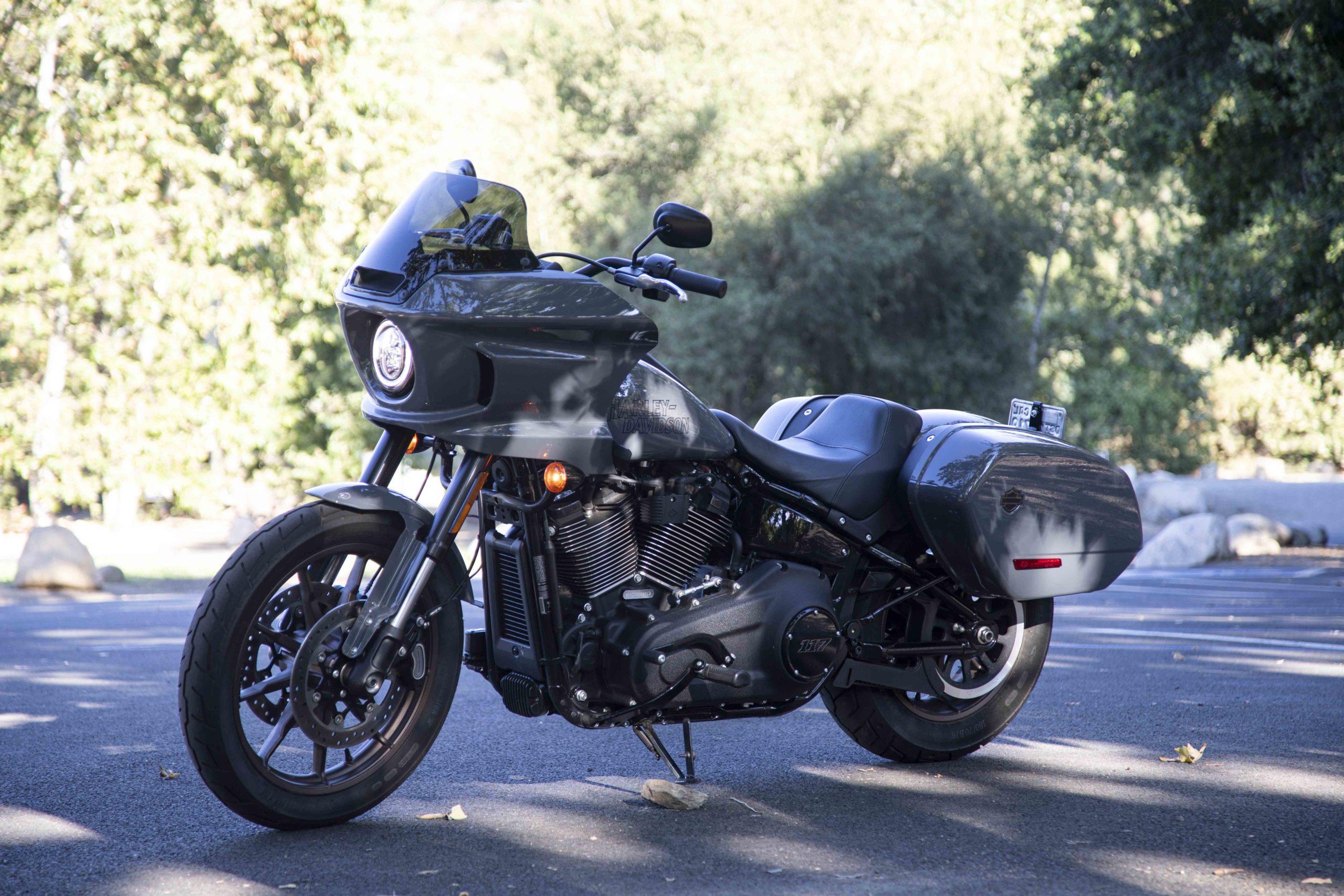 FINAL THOUGHTS

We spent about a month riding Harley-Davidson's new Low Rider ST. It's a great fit between your typical cruiser and your fully-equipped touring bike. It's also just fun to ride. There's plenty of torque, it handles well, you can comfortably ride it long distances and it's not too pricey. We liked the Harley-Davidson Low Rider ST so much that we ponied up and bought one for ourselves from our good friends at Quaid Harley-Davidson in Loma Linda, California. Follow the build process of our new project Low Rider ST soon! 
SPECIFICATIONS
LENGTH 93.1 in.
SEAT HEIGHT, LADEN 27 in.
GROUND CLEARANCE 5.9 in.
RAKE 28 degrees
TRAIL 5.7 in.
WHEELBASE 63.6 in.
TIRE, TYPE Michelin Scorcher "31" front and rear
TIRES, FRONT 110/90B19,62H,BW
TIRES, REAR 180/70B16,77H,BW
FUEL CAPACITY 5 gal.
OIL CAPACITY (W/FILTER) 5 qt.
WEIGHT, AS SHIPPED 694 lb.
WEIGHT, IN RUNNING ORDER 721 lb.
LUGGAGE CAPACITY -VOLUME 1.9 cu ft
ENGINE Milwaukee-Eight 117
BORE 4.075 in.
STROKE 4.5 in.
DISPLACEMENT 117 cu in
COMPRESSION RATIO 10.2:1
FUEL SYSTEM Electronic Sequential Port Fuel Injection (ESPFI)
EXHAUST 2-into-2 offset shotgun; catalyst in muffler
ENGINE TORQUE 125 ft-lb
ENGINE TORQUE (RPM) 3500
LEAN ANGLE, RIGHT (DEG.) 31.3
LEAN ANGLE, LEFT (DEG.) 31.3
FUEL ECONOMY 47 mpg
PRIMARY DRIVE Chain, 34/46 ratio
FRONT FORK Single cartridge 43 mm inverted with aluminum fork triple clamps; single rate spring
REAR SHOCKS Hidden, free piston, coil-over monoshock; 56 mm stroke; hydraulic preload adjustment
WHEELS, FRONT TYPE Dark bronze, Radiate cast aluminum wheel
WHEELS, REAR TYPE Dark bronze, Radiate cast aluminum wheel
BRAKES, TYPE Front and rear black, Split 7-spoke floating rotors
BRAKES, CALIPER TYPE 4-piston fixed front and 2-piston floating rear
HEADLAMP, TAIL/STOP/FRONT SIGNAL LIGHTS All LED, low beam, high beam and signature position lamp, LED Zeppelin tail lamp, Incandescent bullet turn signals
GAUGES 2.14 inch viewable area LCD display with speedometer, gear, odometer, fuel level, clock, trip, range and tachometer indication
VIVID BLACK LOW RIDER ST $21,749
ADD COLOR (Gunship Grey) $22,199
ABS OPTION Standard
SECURITY OPTION Standard
CRUISE CONTROL Standard