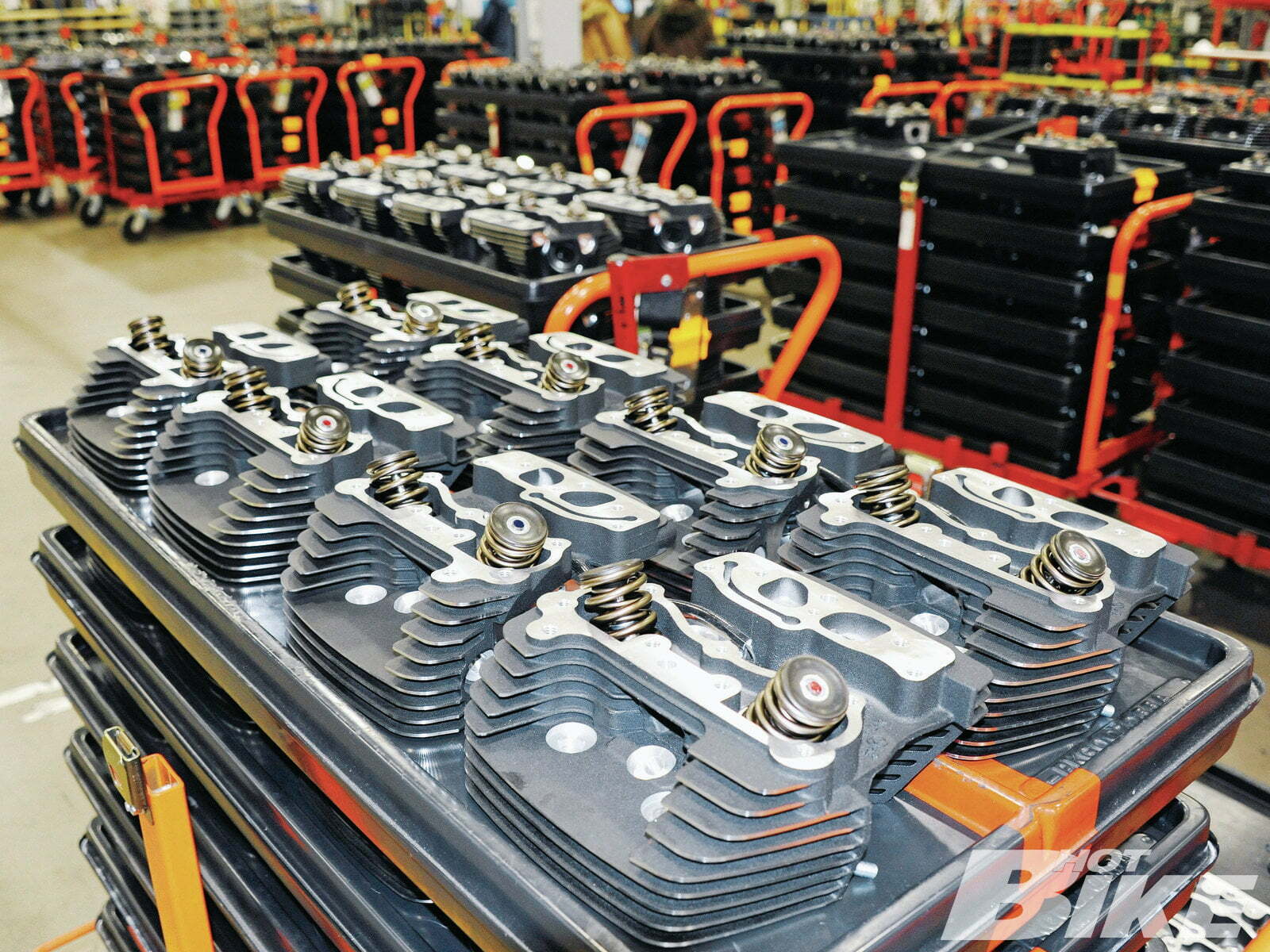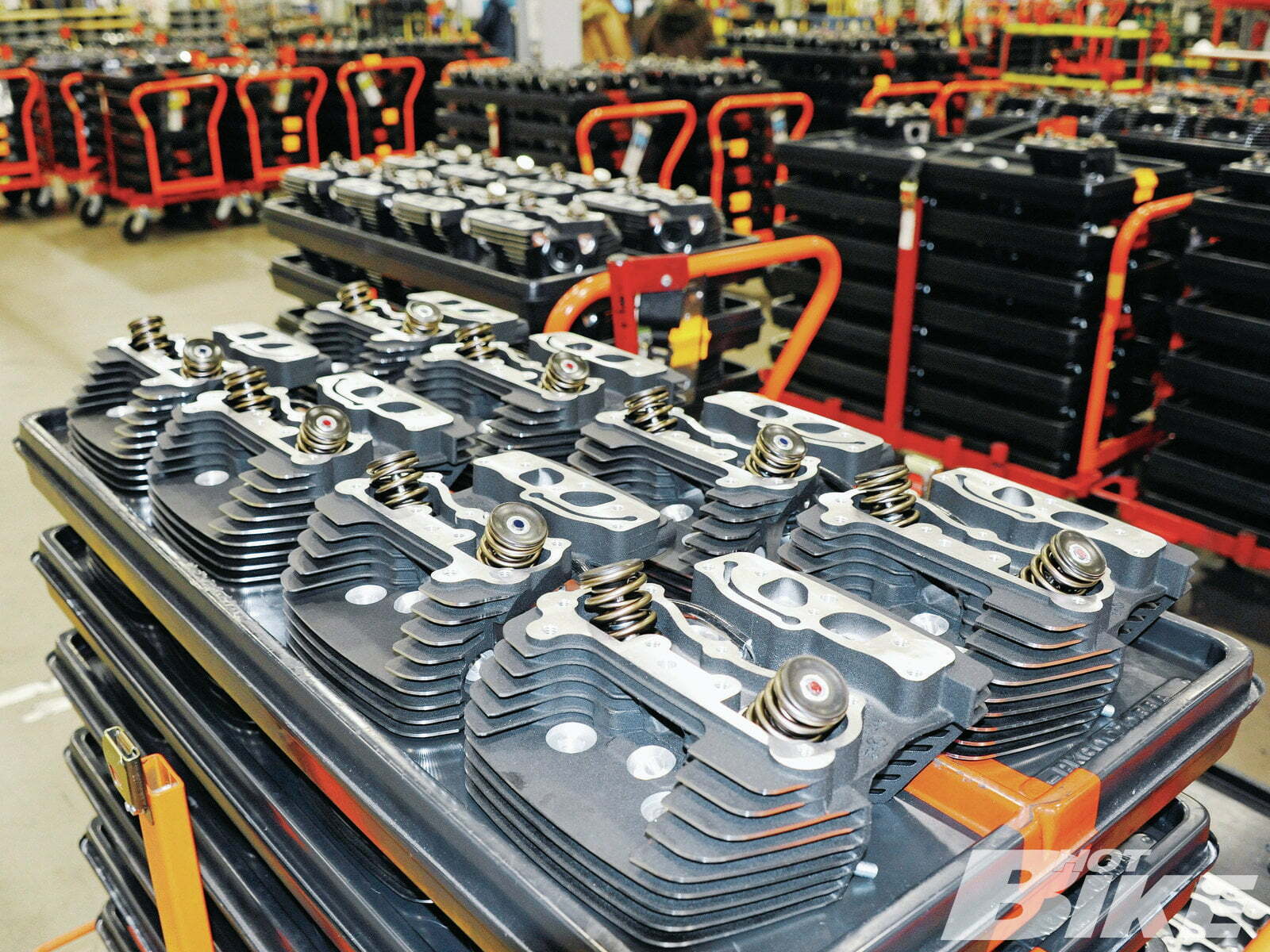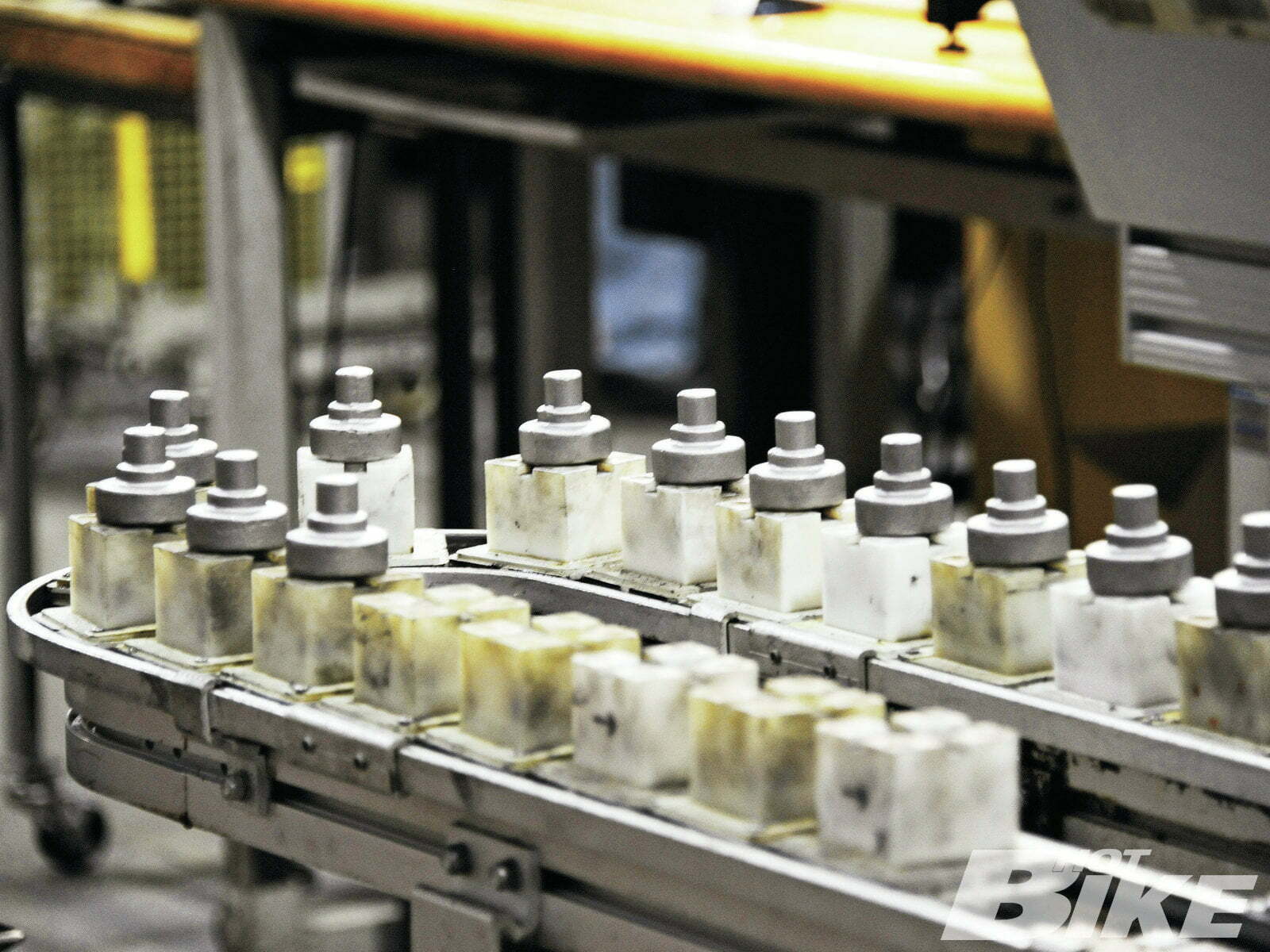 You won't find turkey dinners and buckled hats at Harley's Pilgrim Road plant. What you will come across are powertrains by the bushel. Why? Because this is where the engine and powertrain in your V-Twin or Sportster come from. It's a far cry from Harley's original "factory," which is a lot closer to what you'd expect from a traditional pilgrim. The only thing separating the first factory from a shotgun shack was an actual shotgun. William S. Harley and Arthur Davidson used the shed made by Arthur's dad, William, to develop their single cylinder engines and bicycle frames. William was a cabinetmaker for the Milwaukee Road Railway shops and used the 10×15-foot woodshed as his personal shop. Come 1903, Arthur and William took over the shed over as their new and first motorcycle factory. The factory stood on the Davidson lot that is now the site of the Miller Brewing Co. headquarters on the corner of 38th Street and Highland Avenue in Milwaukee, Wisconsin.
As business grew, so did the shed. It had to in order to accommodate more workers and equipment. In 1906, operations were moved to a second wood-construction building on what is now the MoCo's current Juneau Avenue site. It wasn't enough; due to the massive amount of bikes that were being sold, H-D needed a much more substantial facility. The main wedge-shaped building at Juneau Avenue was constructed in stages between 1910 and 1913. By 1966, this second factory had an addition on the side facing the railroad tracks to the north. The main Juneau Avenue building was used at least partially for motorcycle and parts production as recently as 1973 when motorcycle assembly operations moved to York, PA.
Which brings us to the birth of the Pilgrim Road digs. Located in Menomonee Falls, Milwaukee, the Pilgrim Road facility was sired in 1979 by the small-engine manufacturer, Briggs & Stratton, another historic Milwaukee company. Harley-Davidson bought the 850,000 square foot building (the same area as 15 football fields) from Briggs in 1996.
Perhaps most importantly, though, the Pilgrim Road facility represents the modernization of an American classic. Not of the Harley-Davidson motorcycle, but of the American factory.
Take, for example, the company's changed stance on employee fitness. When John Lowry worked at the factory years ago, there wasn't much in the way of gym equipment to keep employees healthy (and working). In fact, there was an underlying concern that too much time on the gym equipment would cut into work hours. Now though, Pilgrim Road and Harley's other factories have fitness centers with loads of equipment, including treadmills, spin bikes, elliptical machines, weight machines and equipment designed to prevent on-the-job injuries. John Lowry, who's now a general manager at Pilgrim Road, can pick from 42 fitness classes a week, athletic trainers, and physical therapists to keep him running as smooth as the powertrains that roll off the line every day. The company says on-the-job injuries have dropped dramatically, partly from the attention given to fitness and preventive health care in the past few years.
Not only are the good people who work at the place healthier, so is the plant itself. Take a tour of the joint and you'll run across collecting bins full of metal scrap, chips from the machining operations, and rejected parts. All of this metal is recycled. Here's a breakdown of what Pilgrim Road recycled in 2010 alone: 6 million pounds of ferrous metals (steel), nearly 2 million pounds of non-ferrous metals (aluminum), and 92 tons of paper and cardboard. Moreover, the cutting oil used on many of the machining operations is filtered and reclaimed to boot.
Hell, they even recover lost heat. In 2006, the heat treating facility was fitted with new recuperative burners that recover waste heat that was previously exhausted up the flu. Now, that heat pre-heats incoming combustion air. Bottom line: this reduced natural gas consumption over three years by more than 110 million cubic feet, and eliminated 6,644 tons of carbon dioxide emissions.
If you really want to know how modern Pilgrim Road is, stop by and take a tour for yourself. Harley's standard factory tour is free and gives you a view of the assembly line and designated machining areas. Shell out a few bucks, though, and you can get the Pilgrim Road Steel Toe Tour package where you'll go behind-the-scenes through areas previously unseen by the public, including the Engine Room. You'll be required to wear safety glasses and steel toe protection, which are provided, so it must be cool. A shuttle will take you from the Museum to Pilgrim Road, where you'll get an up-close-and-personal view of the assembly line, powder coat process, cold testing, and steel and aluminum machining. The Steel Toe Tour Admission includes one tour ticket, one Museum ticket, transportation to and from the Museum to the plant, commemorative pin, and a group photo.
If you do take the Pilgrim Road tour, picture that first 10×15-foot shed back in 1903 in your mind. It'll give you not just an accurate image of how far Harley-Davidson has come as a company, it will show you how far America has come as a country.
**For More Information:
** The Steel Toe Tour, (877) 883-1450,
www.harley-davidson.com
A HARLEY MOTO TIMELINE
1903 :
William S. Harley's and Arthur Davidson's first public offering is a bike with a 3-1/8 inch bore and 3-1/2 inch stroke. The factory in which they worked was a 10 x 15-foot wooden shed with the words "Harley-Davidson Motor Company" crudely scrawled on the door.
1906:
A new factory, measuring 28 x 80 feet, is built on the Chestnut St. site, later renamed Juneau Avenue. Staff size is increased to six full-time employees.
1909:
Harley-Davidson Motor Company introduces its first V-twin powered motorcycle. With a displacement of 49.5 cubic inches, the bike produces seven horsepower. The image of two cylinders in a 45-degree configuration would fast become one of the most enduring icons of Harley-Davidson history. Also available for the first time from the Motor Company are spare parts for motorcycles.
1911:
The "F-head" engine becomes a workhorse of the Harley-Davidson motorcycle until 1929.
1912:
Construction begins on what will become the six story headquarters and main factory building at Juneau Ave. in Milwaukee. A separate Parts and Accessories Department is formed.
1919 :
The 37 cubic inch opposed twin cylinder Sport model is introduced and gains great popularity overseas. Unique not only for the cylinder configuration, which was directly opposed and flat, the Sport quickly earns a reputation for being uncommonly quiet.
1921:
The first 74 cubic inch V-twin engine is introduced on the JD and FD models.
1928:
The first Harley-Davidson two cam engine is made available to the public on the JD series motorcycles. The bike is capable of top speeds between 85 – 100 mph.
1929:
The 45 cubic inch V-twin engine (later to be known as the "flathead") is introduced on the D model. The engine proves to be so reliable that variations of it are available on Harley-Davidson motorcycles as late as 1972.
1936:
Harley-Davidson introduces the EL, an overhead valve, 61 cubic inch powered bike. With increased horsepower and bold styling changes, the motorcycle quickly earns the nickname of "Knucklehead," due to the shape of its rocker boxes. The same year, the Motor Company introduces a 80 cubic inch side valve engine.
1946:
Harley-Davidson introduces the 45 cubic inch flathead WR racing motorcycle. It proves to be one of the best racing motorcycles ever built.
1947:
Attendees at the year's Dealers Convention in Milwaukee are given a train ride to a "secret destination," which turns out to be the newly purchased plant on Capitol Drive. The plant was formerly the A.O. Smith Propeller Plant, created during the war. Harley-Davidson uses the plant as a large machine shop, shipping the new parts to Juneau Ave. for final assembly.
1948:
New features are added to the 61 and 74 overhead valve engines, including aluminum heads and hydraulic valve lifters. Also new are the one piece, chrome plated rocker covers shaped like cake pans. The nickname "Panhead" only seemed logical.
1952:
The side-valve K model is introduced with an integrated engine and transmission to compete with smaller, sportier motorcycles coming mainly from Great Britain. The K will eventually evolve into the Sportster.
1957:
The motorcycling public met a new motorcycle called the Sportster. It premiers as a 55 cubic inch overhead valve engine, and within one year of its debut, becomes known as the first of the "Superbikes." Another Harley-Davidson tradition and legend is born.
1960:
Harley-Davidson purchases a half interest in Aeronatica-Macchi, forming Aermacchi Harley-Davidson, a European division that will produce small, single cylinder motorcycles.
1966:
The first of the Shovelhead engines is introduced on the Electra-Glide models, replacing the Panhead.
1973:
Motorcycle production is upgraded when all assembly operations are moved to a modern 400,000 square foot plant in York, Penn. All other production operations remain in Milwaukee and Tomahawk. The Capitol Drive plant in Milwaukee begins production of engines.
1982:
The Materials As Needed (MAN) application is introduced to production. Generally, this means that parts and raw materials are purchased and built only as they are required. This dramatically lowers production costs and improves quality.
1984:
Harley-Davidson unveils the 1340cc Evolution engine on five models including the all-new Softail. The result of seven years of development, the Evolution engine produces more power at every speed, runs cooler, cleaner and is oil-tight.
1997:
A new 217,000-sq.-ft. Product Development Center opens next to the Capitol Drive plant in Milwaukee. The building is dedicated to Willie G. Davidson. Powertrain Operations at Capitol Drive expanded its capacity by moving FL engine and transmission production to a newly purchased plant located in Menomonee Falls. XL engines and transmissions, as well as Genuine Parts Manufacturing, remain at Capitol Drive. A new 330,000-sq.-ft. plant in Kansas City produces its first Sportster.
1998:
A new assembly facility opens in Manaus, Brazil, the first operations outside of the U.S.
1999:
All 1999 model year big twins receive the new Twin Cam 88 engine.
2000:
The 2000 model year Softail models are outfitted with the Twin Cam 88B engine, a counter-balanced version of the Twin Cam 88.
2001:
The VRSCA V-Rod is introduced for the 2002 model year. Inspired by the VR-1000 racing motorcycle, the V-Rod is Harley-Davidson's first motorcycle to combine fuel injection, overhead cams and liquid cooling, and delivers 115 horsepower.
2011:
Harley introduced the Screamin' Eagle 120R engine. A 135 horsepower 120-inch racing motor was a big-bore factory-built monster motor for consumer consumption.