A lot of paint jobs have been getting out of hand over the past few years. They look like carnival wagons and '70s drum sets with a bowl of linguini thrown on 'em. Not mine.
I've owned this bike for close to 20 years now. It ran the 80-inch motor for the first year I owned it, and then I ran a 96-inch S&S Evo mill in it for a while.
Over the years I had a lot of fun breaking everything behind the motor on my bike: two transmissions, three belts, two rear wheels, an inner primary, a torque arm, four rear axles, a swingarm, axle adjusters, and one transmission case. I lost count of the motormounts I wasted riding the piss out of this thing.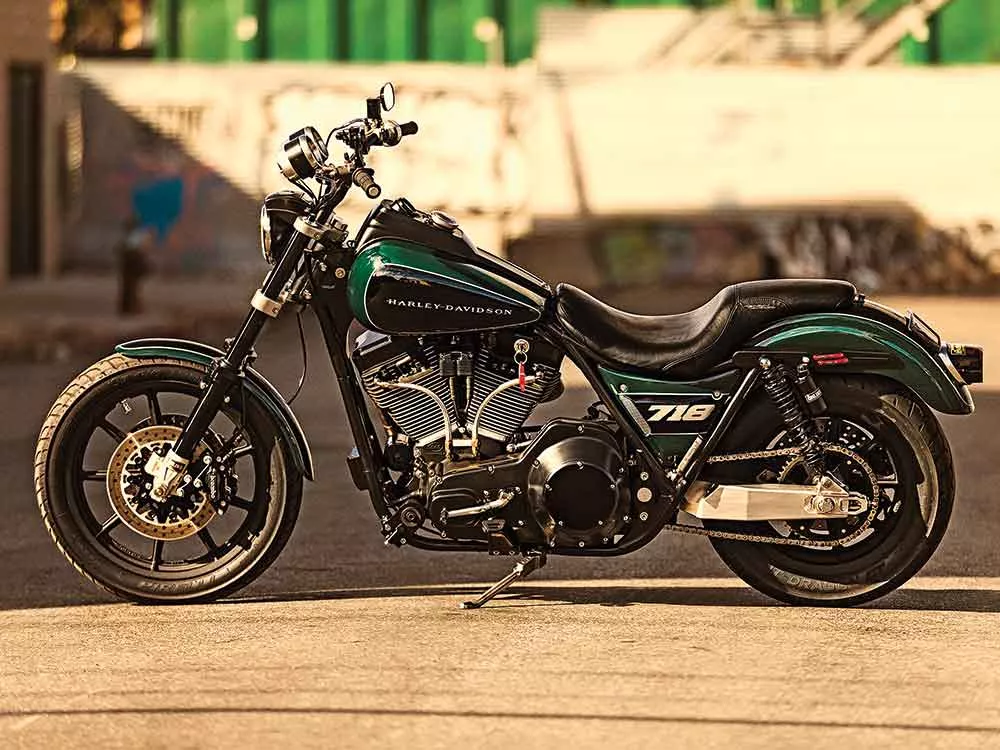 After about 15 years of this abuse (it was ridden like a stolen dirt bike), the motor was getting tired. Every seal was leaking. I took the bike off the road. I figured I was going to go over it. It was going to go down to the bare frame and come back from there.
Big-inch Evos and FXRs have a lot of problems. Evo FXR drivelines have a lot of weak links in them. They were great for 35-hp Shovels in 1982 when they came into production, but when you're making more than 100 ponies, the motor doesn't want to stay attached to anything. I figured a Twin Cam swap would take care of most of those weak links in the driveline.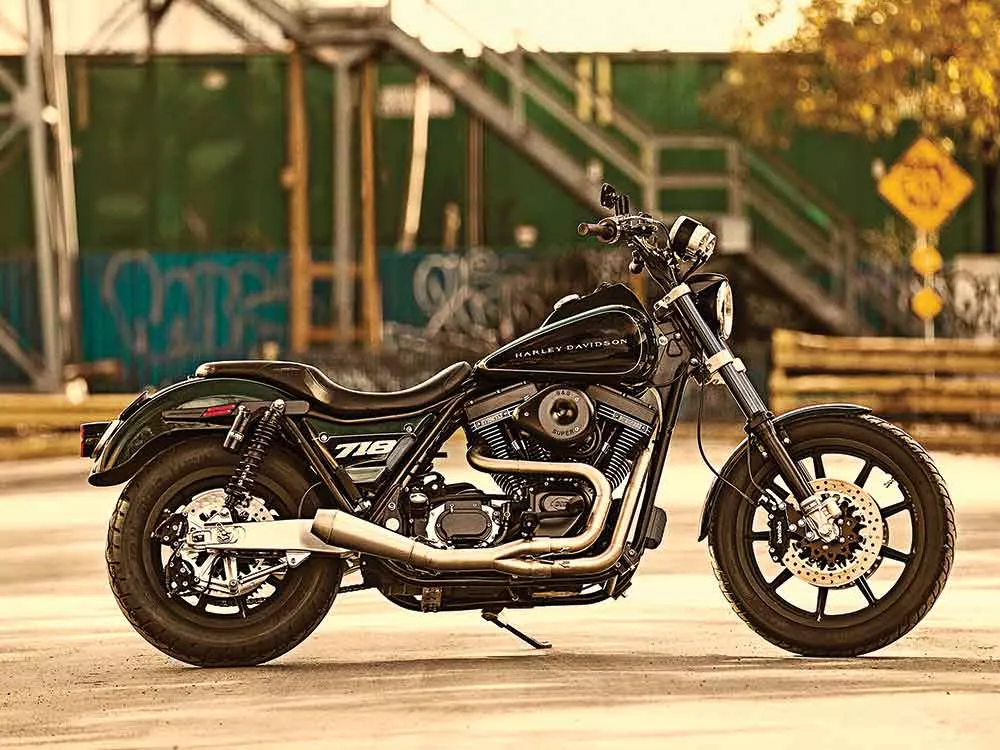 Once I knew where I was going with this bike, next up was a front motor mount. The front stock one is another weak link. We took a Big Bear Performance front motor mount and added an additional mounting point to it. Next came the swingarm. I had two other aluminum swingarms I was going with until I saw the piece from Mad Jap Performance. It has absolutely the best craftsmanship I've seen: five-axis CNC machining, solid billet, precision fitment… Every aspect of it was perfect for me.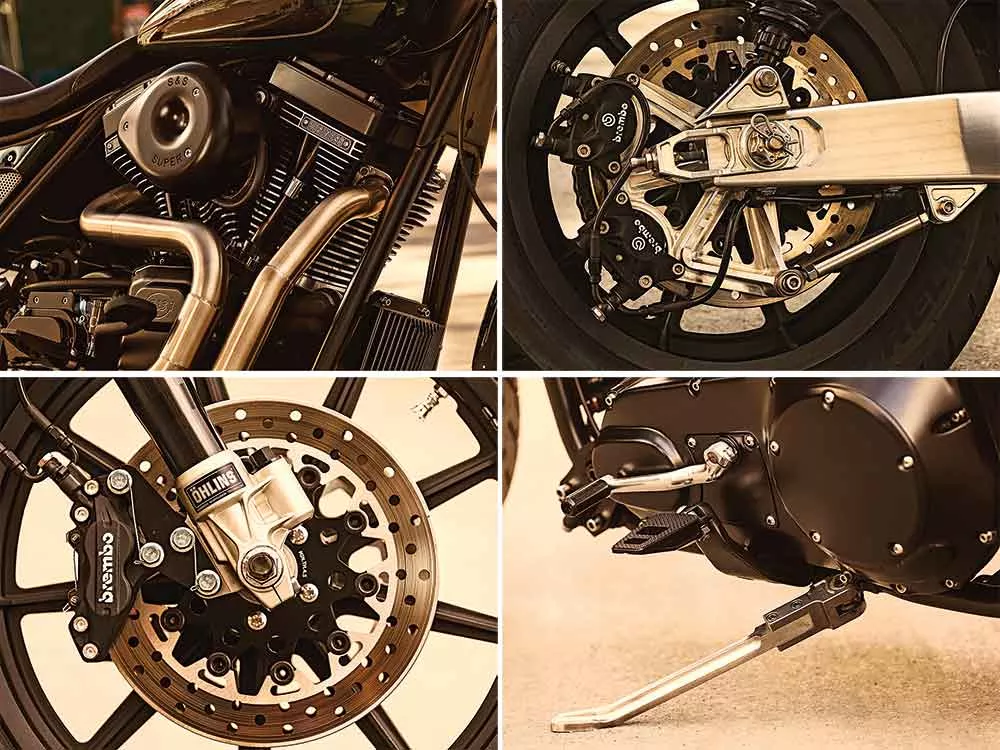 I called Öhlins to hold up that swingarm with a set of Blackline piggybacks. Since I was on the phone with them, I ordered up a set of their 43mm fully adjustable fork assemblies too. Beyond that, the crew at SLNYC made the custom fender bracket/fork brace/brake line router. Topping off the front end is a set of ProTaper bars held down by Hard Case Performance risers.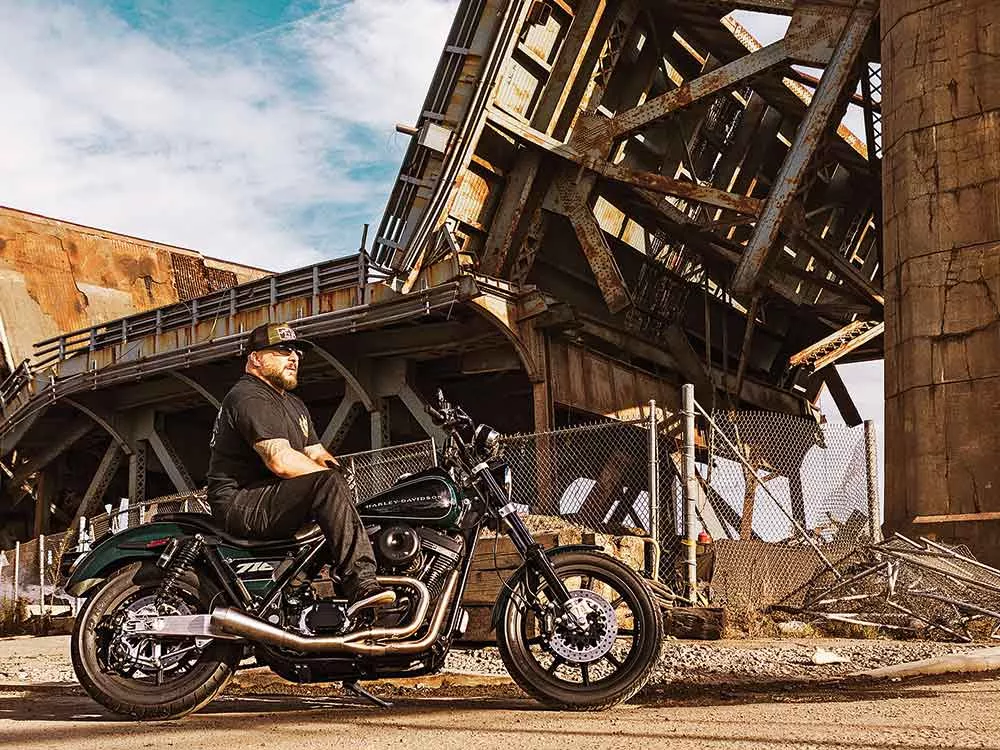 When it came time to that Twin Cam driveline for my bike, I called Ramjet Racing in Arizona, and what we came up with was a 124-inch Twin Cam in S&S cases. Ramjet filled them up with a crank from Darkhorse Crankworks, Carrillo rods, Woods cams, and capped them with a Dave Mackie top end. That's all I'm telling you about the motor though…
For the styling, I stayed away from the current trends and went back to the classic FXR look. I kept the headlight eyebrow and old taillight and went with Arlen Ness struts from the 1990s with a lower bar/riser setup.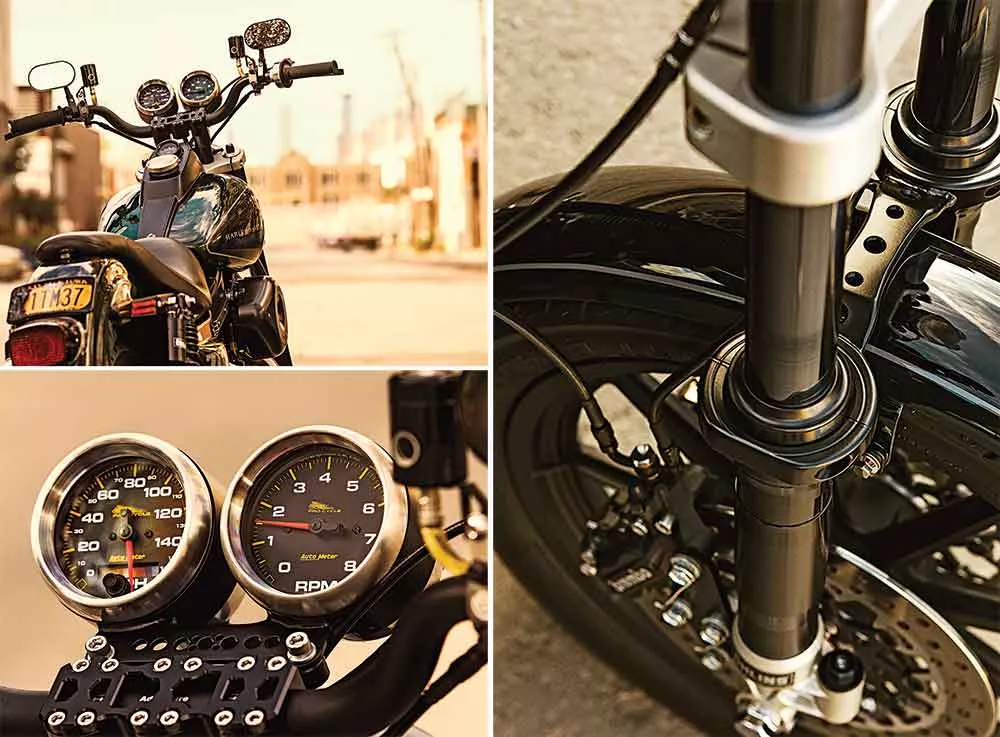 I also wanted to keep the paint away from trends, so I called my homie Nick at Trigger Twist to handle that task. We went with a simple Jaguar British Racing Green and black two-tone with gray stripe and FXDX Harley-Davidson logo on the tank. The Earnhardt-style 718s on the side covers rep my hometown of Queens, New York, just like the set on my 2014 Dyna.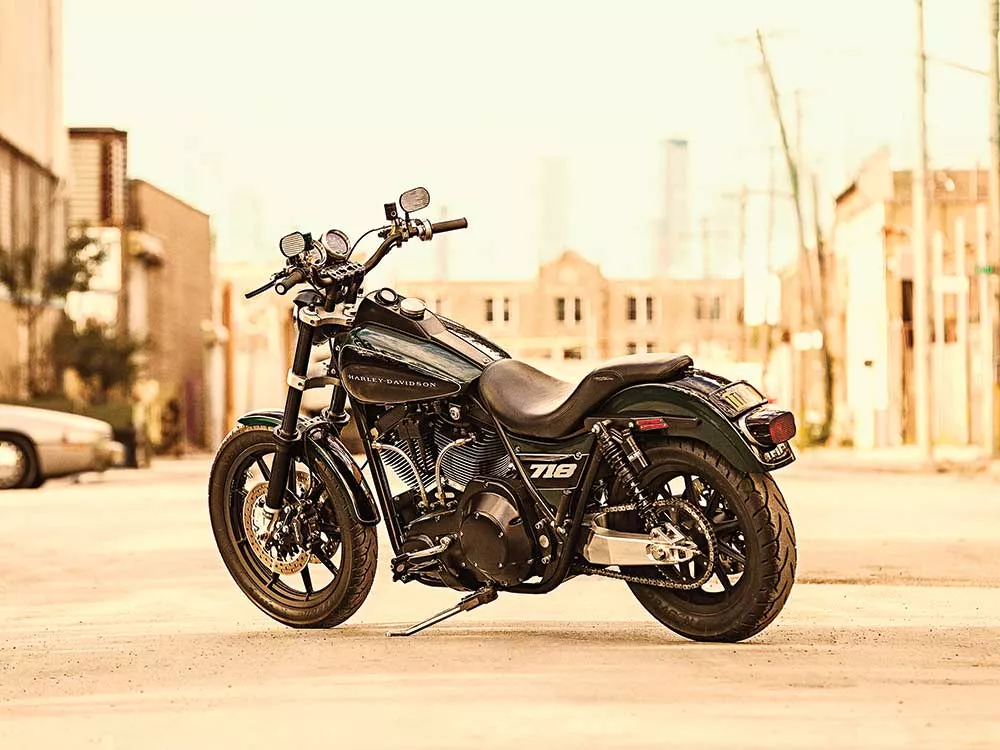 The frame was brought down to bare metal and had a few modifications done. The kickstand crossmember was removed and substituted with a new one to clear the oil pan. A weld-on Eastern Fabrications kickstand was modified and tacked into place. The front motor mount was cut out and replaced with a tubular replacement brace. The regulator has been relocated to the wishbone. The oil tank opening under the seat was closed off, as well as a custom battery hold down and a few other mods before shipping the frame and a bunch of other components to Arcane Powdercoating in Brooklyn, New York. These guys did great work in a quick turnaround, as they knew the FXR show in Sturgis was coming quickly and this bike was debuting out there.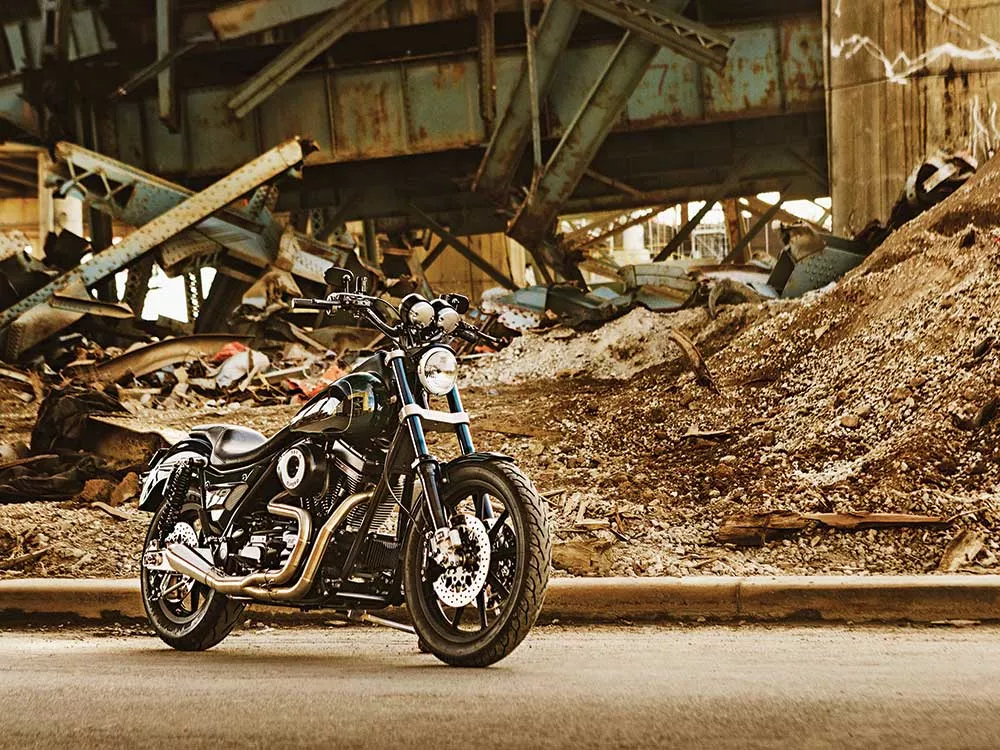 Specifications
| | |
| --- | --- |
| General | |
| Owner | NYC Danny D |
| Shop | SLNYC |
| Shop Phone | (347) 642-8047 |
| Website | slnycinc.com |
| Year/Make/Model | 1992/Harley-Davidson/FXR |
| Fabrication | SLNYC |
| Build Time | 1 year |
| Engine | |
| Year/Type/Size | 2016/Twin Cam/124ci |
| Builder | Ramjet Racing |
| Cases | S&S |
| Cylinders | S&S |
| Heads | H-D/Mackie |
| Rocker Boxes | S&S |
| Cam | Woods |
| Throttle Body | S&S G-series carburetor with Thunderjet |
| Exhaust | 2-into-1 Brawny Built |
| Air Cleaner | S&S |
| Transmission | |
| Year/Type | 2016/H-D |
| Gears | JIMS |
| Clutch | Bandit |
| Primary Drive | H-D bagger (modified) |
| Frame | |
| Year/Type | 1992/H-D/FXR |
| Rake/Stretch | Stock/None |
| Suspension | |
| Front End | Öhlins 43mm |
| Length | Stock |
| Triple Trees | Fabricator Kevin |
| Swingarm | MJK Performance |
| Shocks | Öhlins Blacklines |
| Wheels, Tires, and Brakes | |
| Front | |
| Builder/Size | H-D/19 in. |
| Tire/Size | Pirelli/19 in. |
| Calipers | Brembo |
| Rotors | Brembo |
| Rear | |
| Builder/Size | H-D/16 in. |
| Caliper | Brembo |
| Rotor | Twin Power |
| Pulley | Twin Power |
| Finish/Paint | |
| Colors | Black and green by Nick at Trigger Twist |
| Paint/Graphics | H-D DX |
| Plating/Polishing | None |
| Powdercoating | Arcane Powdercoating |
| Accessories | |
| Front Fender | H-D (modified) |
| Rear Fender | H-D FXR |
| Gas Tank | H-D FXR |
| Dash | H-D FXR |
| Gauges | Auto Meter |
| Handlebars | ProTaper |
| Grips | Very cheap |
| Mirrors | Came with the grips |
| Hand Controls | Brembo |
| Foot Controls | H-D Dyna |
| Seat | H-D |