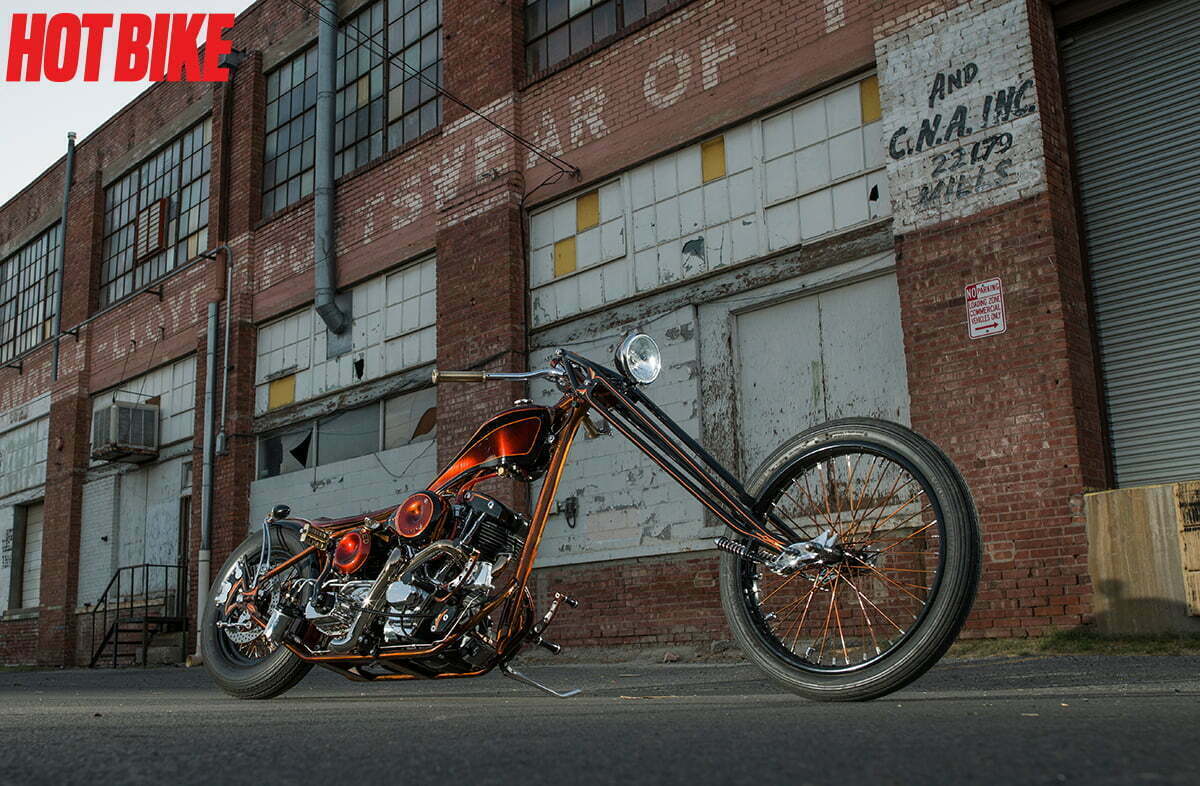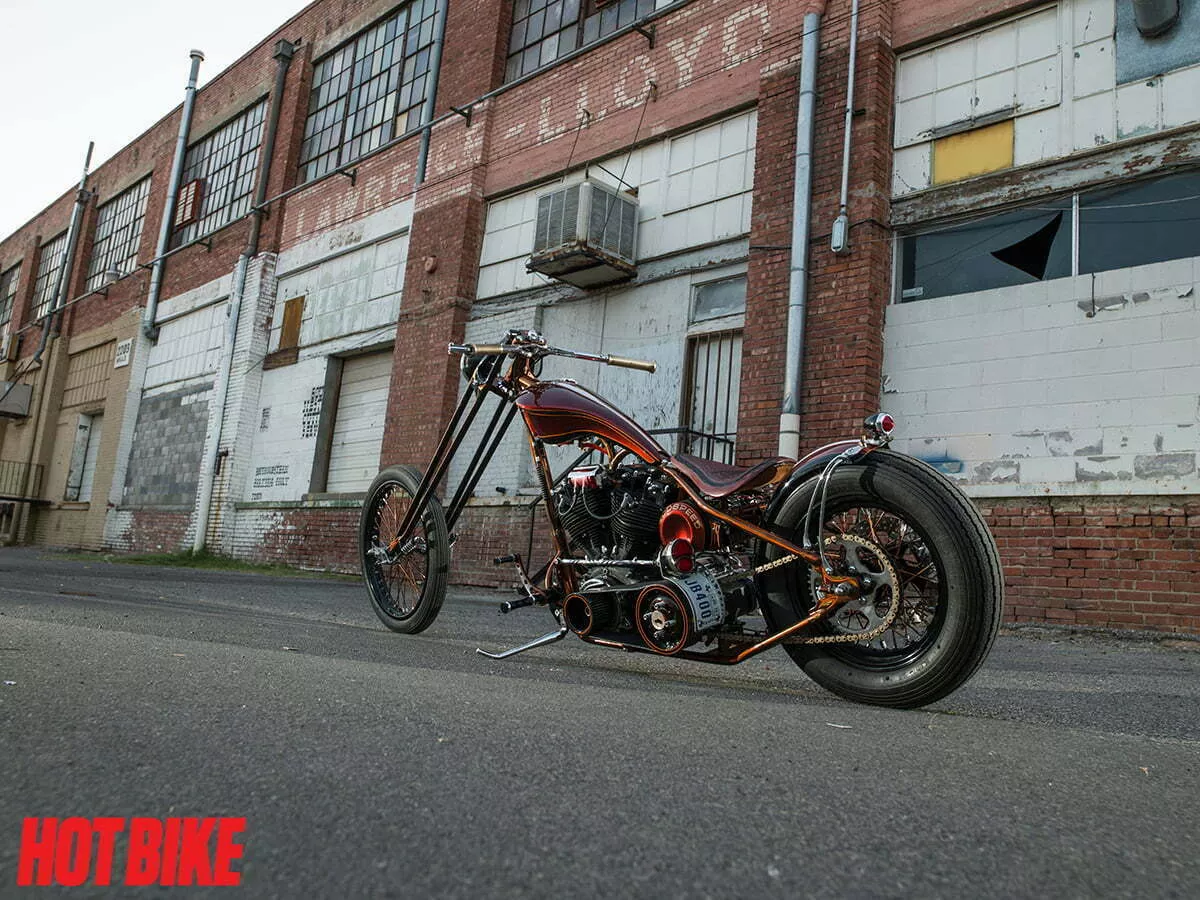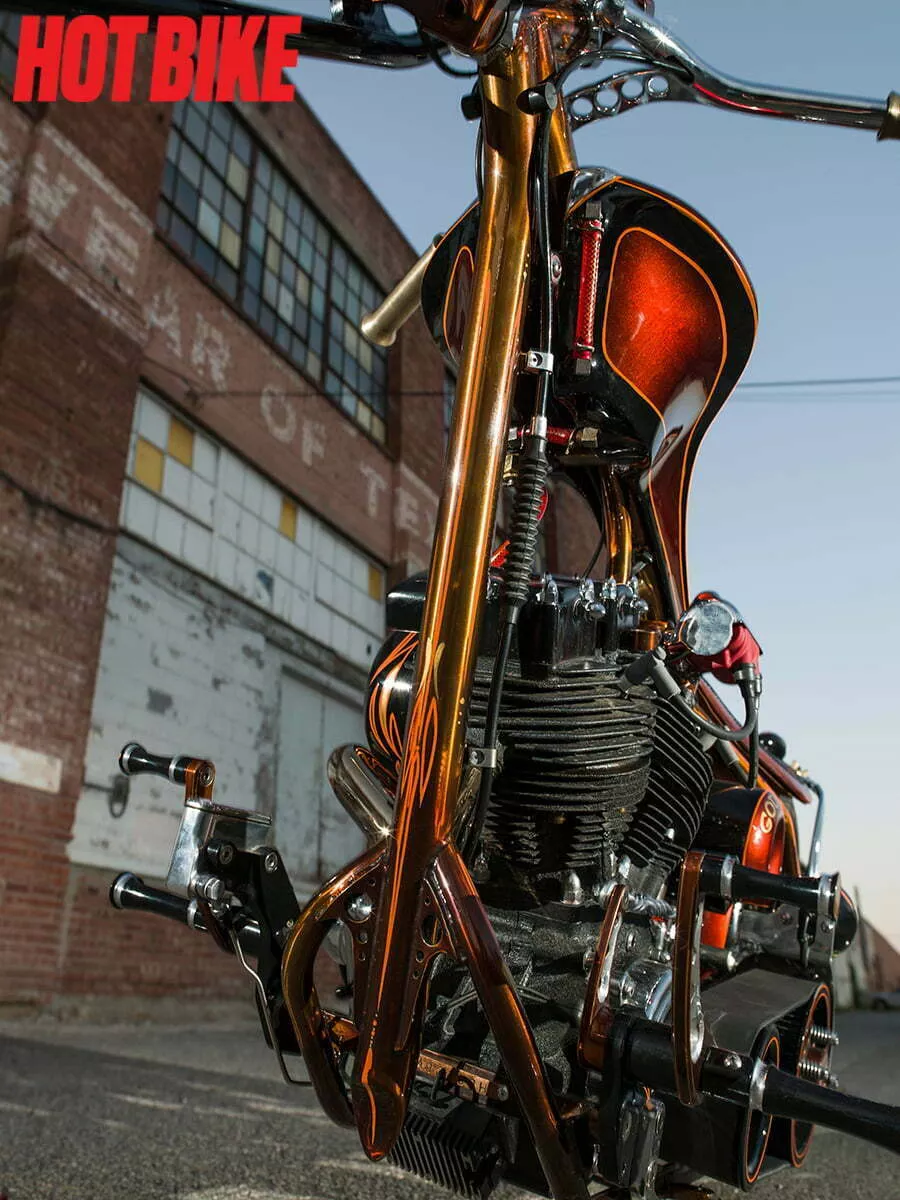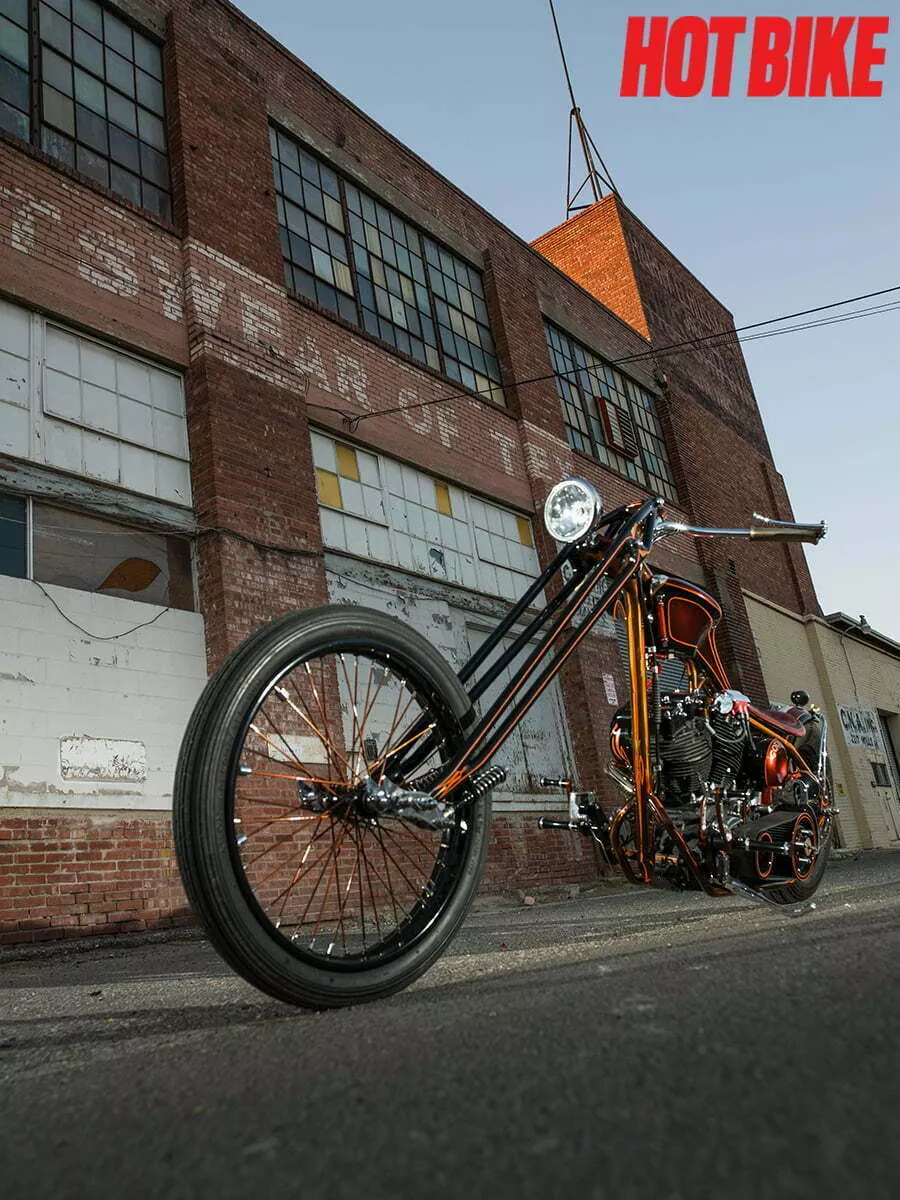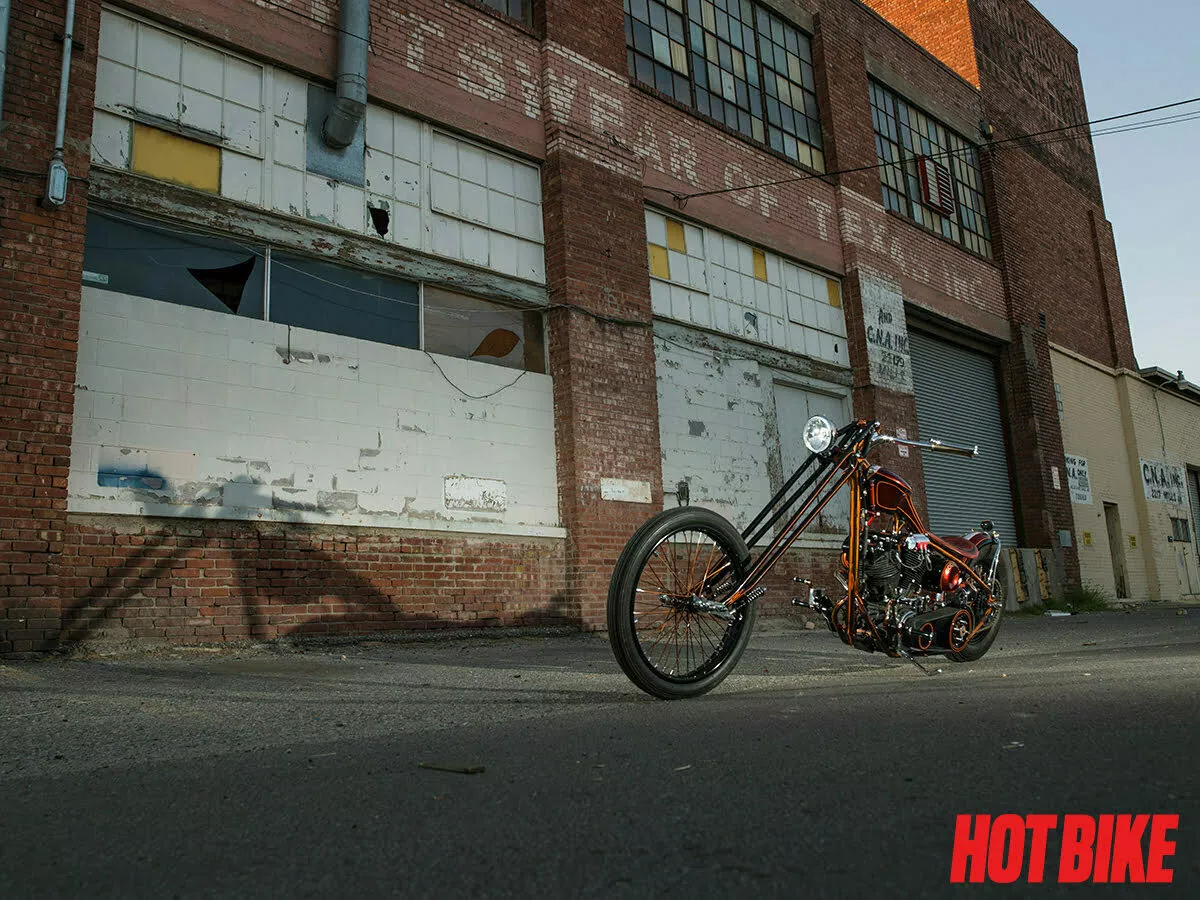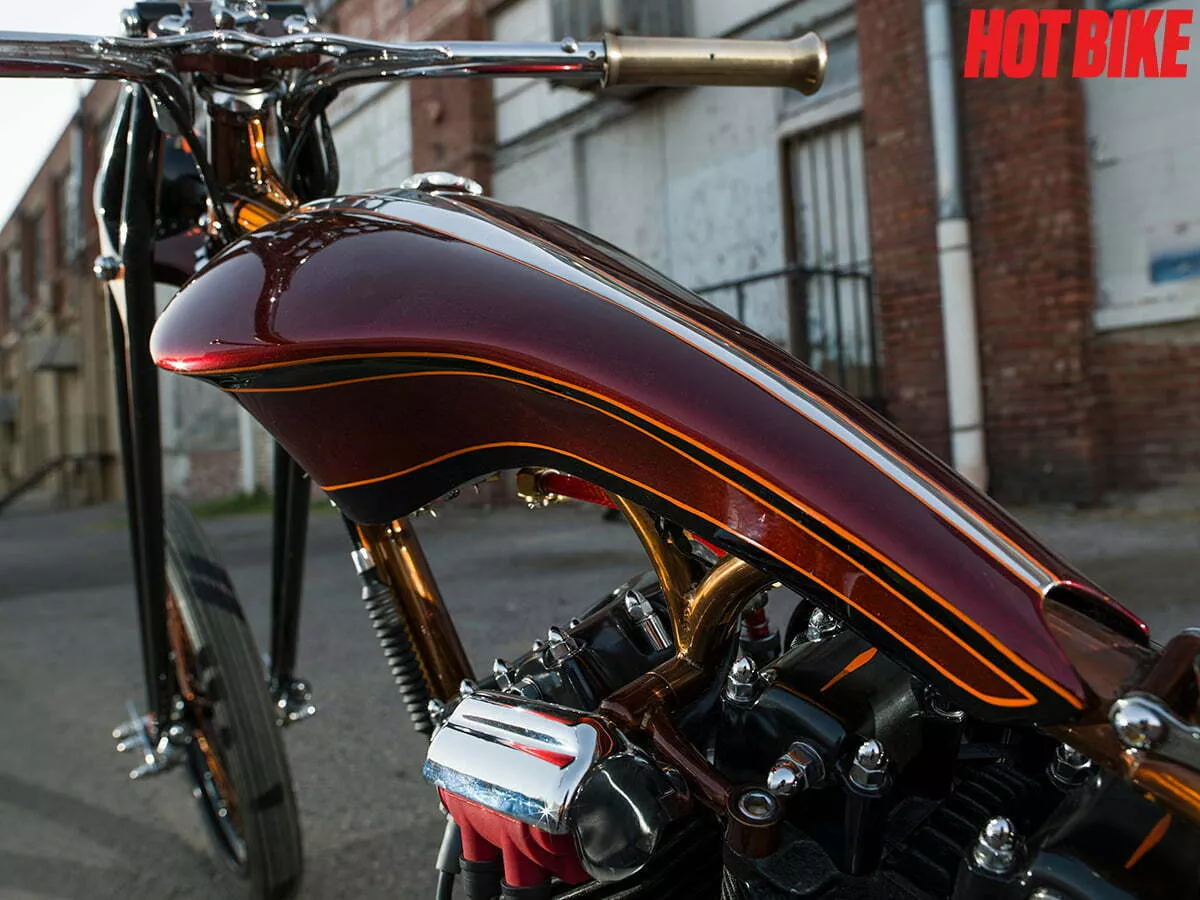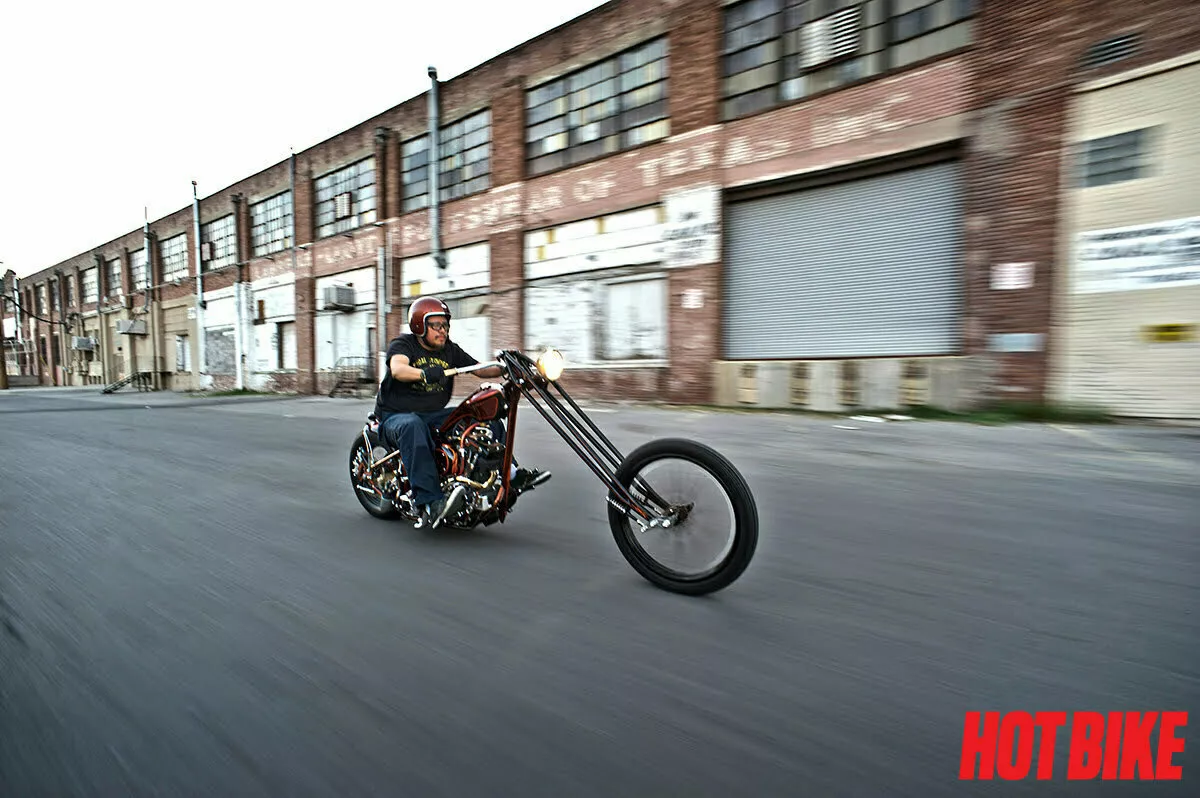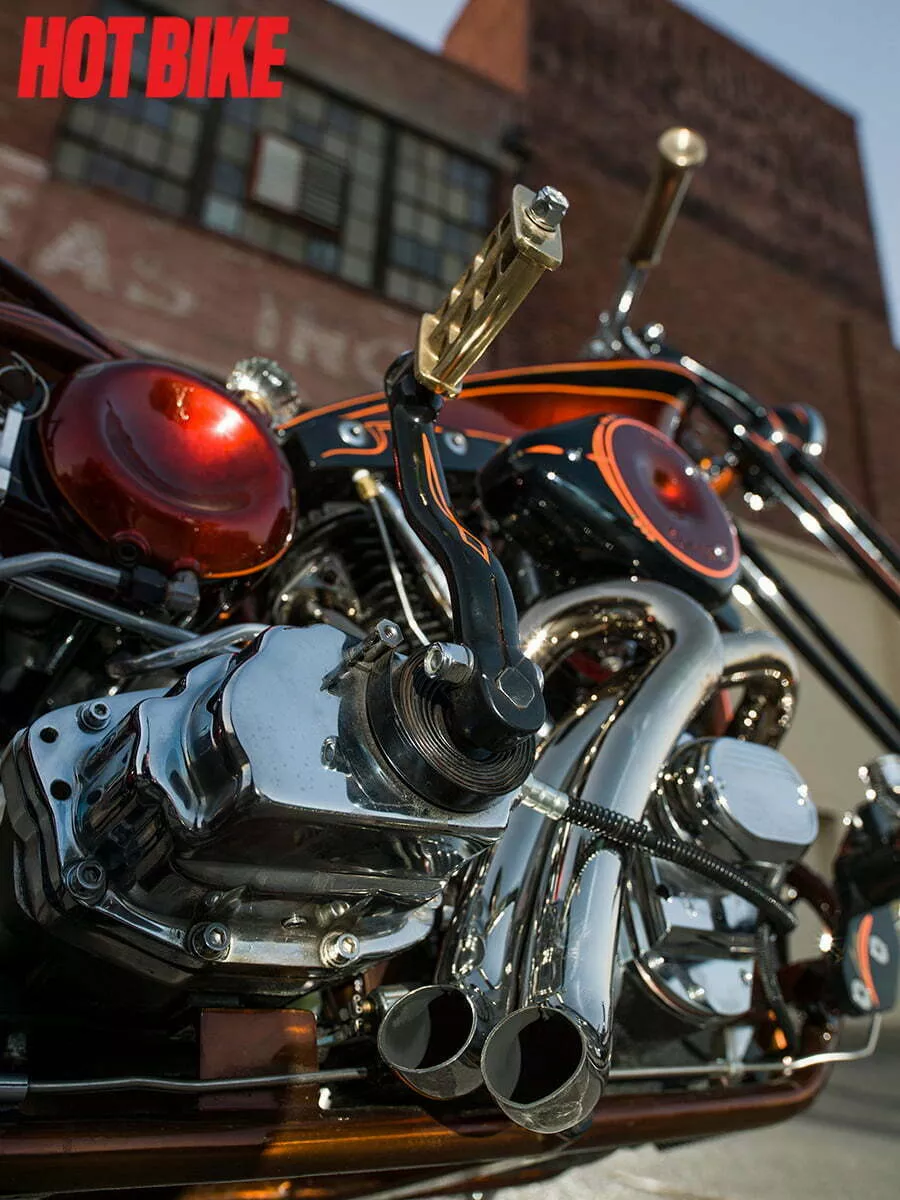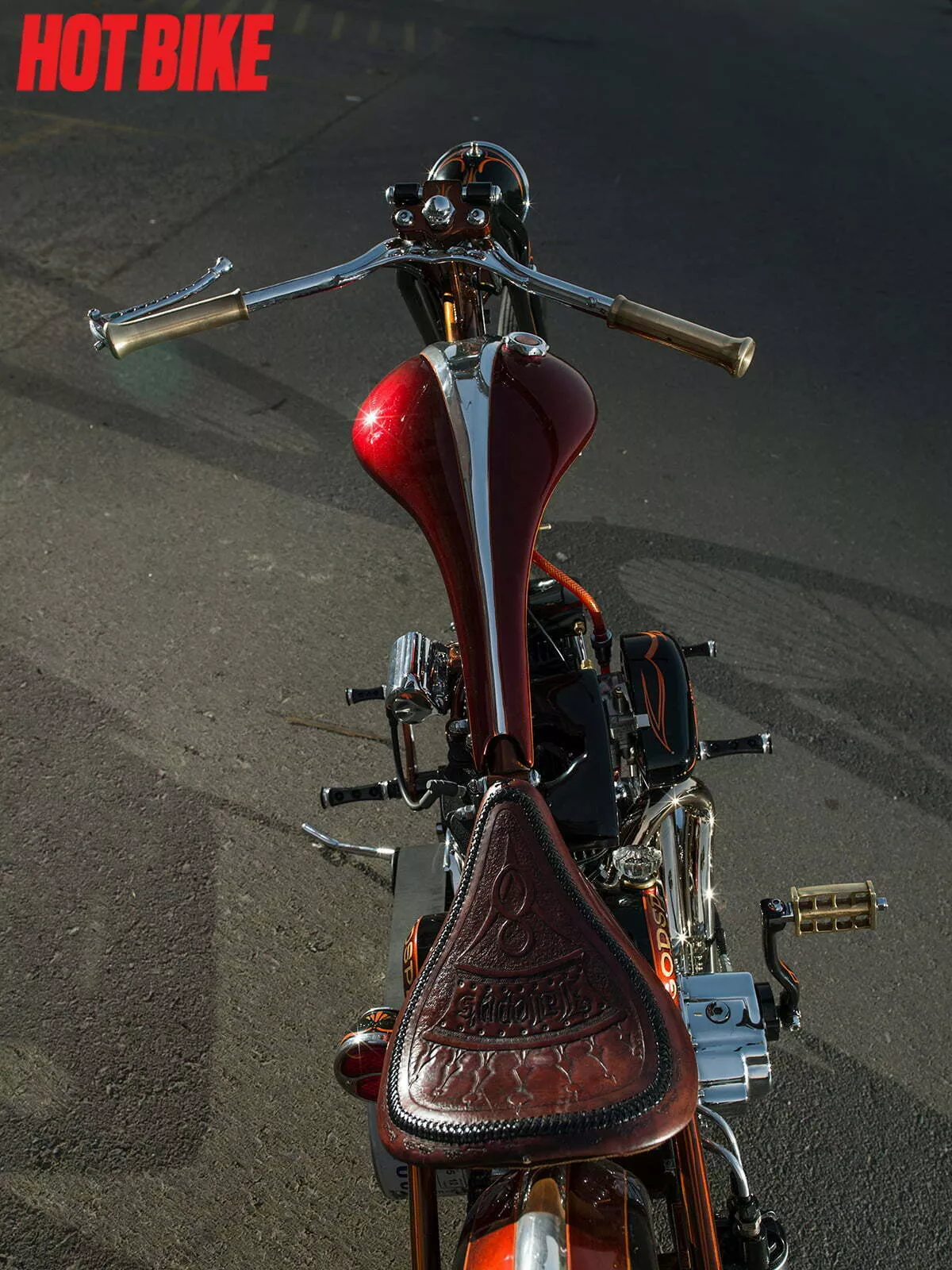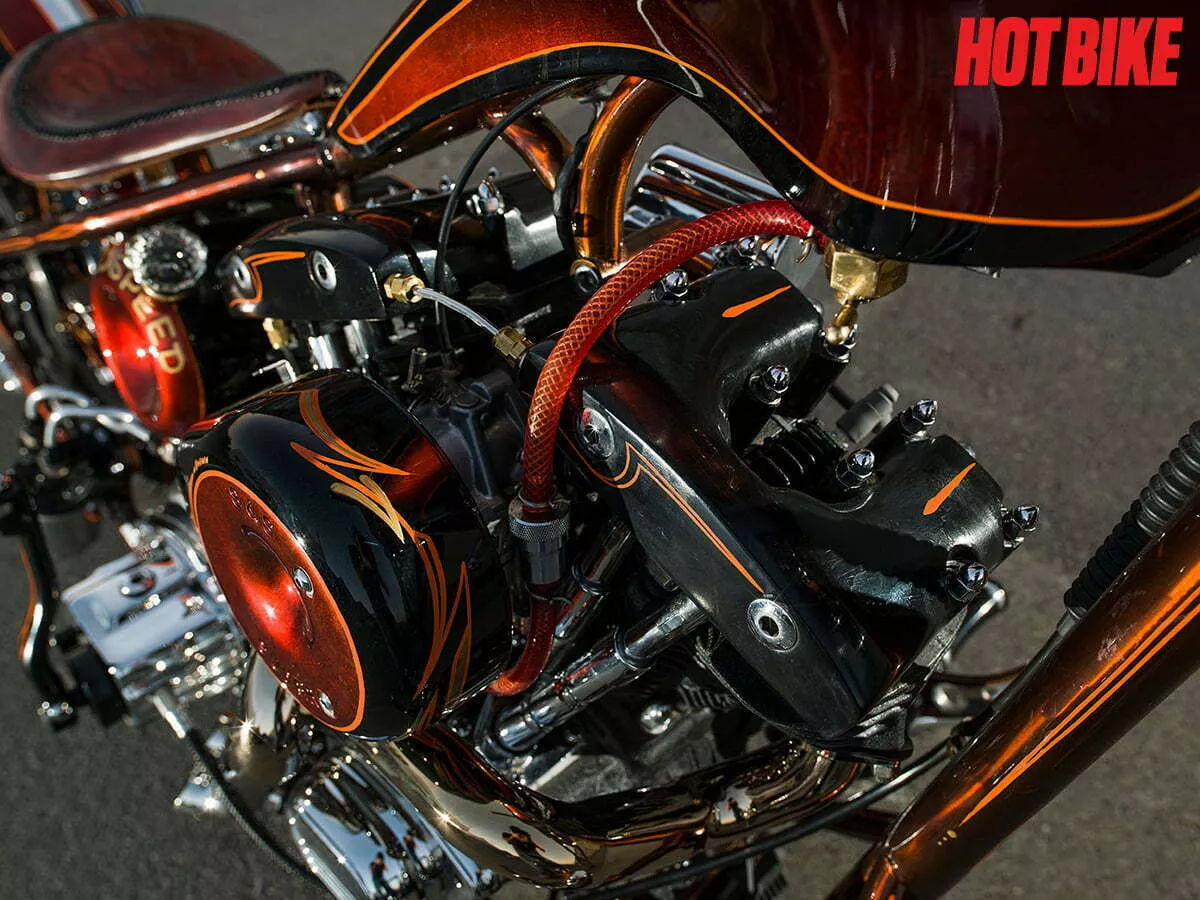 I started out my career building hot rods and race cars from the ground up. Originally, I was employed by world-famous NHRA race car builder Don Davis (Don Davis Race Cars), who gave me an opportunity to travel while setting up suspensions for the track. A few years later, I was working at another hot-rod shop, Rick's Hot Rods, now known as Rick's Tanks, when I decided to open my very own business. After years of struggling, one day I had a call from the oldest bike shop in the area, Biker's Custom, which had been in business since 1969. The owner, Jimbo, asked if I wanted to rent a portion of his shop and help him with his builds as a fabricator and welder. With the opportunity to be surrounded by so much motorcycle history, I couldn't say no.
Years later, I received a call from 300 miles away from a small town called Alpine, Texas. Turns out the call came from local race legend Jon Ward. Jon had a history of winning races such as Panamericana Road race, Baja, Daytona 24 Race and was also known for building, customizing, and doing stunt work for commercials and movies such as Tango and Cash, Knight Rider, and The Highway Man when he lived in Hollywood. He wanted me to work on some of his new and old famous race and movie cars.Within a 3,100-square-foot shop I was working on projects of everything from race cars, hot rods, choppers, and even oddball builds. Without these people, and others I forgot to mention, I wouldn't be where I am today. After all, I'm on borrowed time.
<div class="st-block quote text-
Notice: Undefined index: st_text_align in C:laragonwwwhotbike-importblocksquote.php on line 1
">
Masa Suzuki of MC Pecker, who builds some of the most wicked '70s choppers and front ends in Japan, was involved
This bike originally started with a personal friend of the shop: Charlie Gutierrez. He and his wife, Earleen, have been longtime friends and customers. In addition, another friend of Charlie and mine, Masa Suzuki of MC Pecker, who builds some of the most wicked '70s choppers and front ends in Japan, was involved. One day Charlie asked Masa if he had ever built a Harmon-style front end. Masa replied, "No, but I can."
Every year Masa travels through the States to visit bike shops and see what parts he can carry off to Japan. While he's here also he makes it a point to attend Sturgis. And since he advertises in Japanese bike magazines, he writes stories about his adventures in the United States.
The next year Masa came to visit Charlie and me, he had in his hand a Harmon-style front end. He even had to buy an extra airline seat so he could bring it with him. That's when Charlie pitched the idea of having our shop convert his daily rider into a chopper.For years, Charlie had ridden his bike, along with his wife Earleen, throughout the hill country of Texas. After a couple of years of Charlie being Charlie, he wanted to trade a bunch of hot-rod parts for his stripped-down bike. During the process of the exchange, Earleen suffered a severe heart attack and passed away.
Several weeks later, I got a call from my old friend and asked if I still wanted to trade. So I drove 700 miles to pick up the old FLH. During my visit, the bike had been taken apart. He asked which motor out of the pick I wanted: his or the shovelhead out of Earleen's bike that Charlie had built. I said hers and decided the bike had to be built in her honor. The idea was to use Earleen's motor, Masa's front fork rails, and the brakes originally from the old chopper.
When Earleen had her heart attack, she was disappointed she wasn't going to make the Rock'n Car Show in Luckenbach, Texas. I decided to build the bike for the next year's show, as well as a 1954 Ford pickup. I felt like she was with me when we brought four hot rods and a bike. We ended up taking home first place as well as Best of Show, in addition to its being the first time Charlie had seen the bike.
The next year the bike was invited to attend The Grand National Roadster Show in Pomona, California. It was entered in the America's Most Beautiful Motorcycle category. Although we didn't win, I felt the adventures with Earleen were just beginning.
| Specifications | | |
| --- | --- | --- |
| Bike Owner | Carlos Chong | |
| Shop | Jalopy's Rod & Custom (Carlos Chong) | |
| Year/Make/Model | 1975/H-D/Custom Shovelhead | |
| Fabrication | Carlos Chong | |
| Build Time | 8 months | |
| Engine | | |
| Year Manufacturer | 1975/Shovelhead/84-in. bored and stroked | |
| Builder | Charlie Gutierrez/Carlos Chong | |
| Cases | H-D | |
| Cylinders | H-D | |
| Heads | H-D | |
| Flywheel | S&S | |
| Rods | S&S | |
| Piston | S&S | |
| Carb | S&S Super E | |
| Air Cleaner | S&S | |
| Exhaust | Custom stainless steel by Carlos Chong | |
| Transmission | | |
| Year/Manufacturer/Type | 1985/5-speed with case modified, cut, and smoothed to eliminate starter | |
| Clutch | BDL | |
| Primary Drive | BDL | |
| Frame | | |
| Year/Type | Gooseneck custom frame made out of chrome-moly and TIG-welded by Carlos Chong | |
| Rake/Stretch | 43º/7 in. up, 3 in. out | |
| Suspension | | |
| Front | Girder style, rails from Masa Suzuki of (MC Peckers Japan)/TIG-welded rails by Carlos Chong | |
| Length | 14 in.over | |
| Triple Trees | Custom Carlos Chong | |
| Wheels, Tires, and Brakes | | |
| Manufacturer Front/Type | 80-spoke laced by Carlos Chong | |
| Tire/Size | Avon Speedmaster 3.00×21-in. | |
| Manufacturer Rear/Type | 80-spoke laced by Carlos Chong | |
| Tire/Size | Avon Speedmaster 5.00×16-in. | |
| Finish/Paint | | |
| Manufacturer | House of Kolor | |
| Paint/Graphics | Marbleized by Rudy Ramos/Pinstriping by Carlos Chong at Jalopy's | |
| Plating/Polishing | EG in El Paso, TX/Carlos Chong | |
| Powdercoating | Candy Orange spokes, frame, and trees by Carlos Chong | |
| Accessories | | |
| Rear Fender | Aluminum center beaded with stepped sides made from special dies to form by Carlos Chong | |
| Gas Tank | Aluminum 2-gal. made from special dies to form, metal shaped by Carlos Chong | |
| Gauges | Mooneyes oil pressure | |
| Handlebars | 1-in. chrome-moly Carlos Chong | |
| Grips | Machined from solid bronze by Carlos Chong | |
| Hand Controls | Machined reversed clutch lever, line lock button by Carlos Chong | |
| Foot Controls | Deep South Choppers | |
| Headlight | JP Cycles, then drilled out to install high/low switch | |
| Taillight | 1929 Ford replica LED on custom license plate, fender taillight drilled and modified for LED | |
| License Mount | Custom aluminum chromed by Carlos Chong | |
| Seat | Seat pan and tooled Jalopy's logo 8-oz. leather by Carlos Chong | |