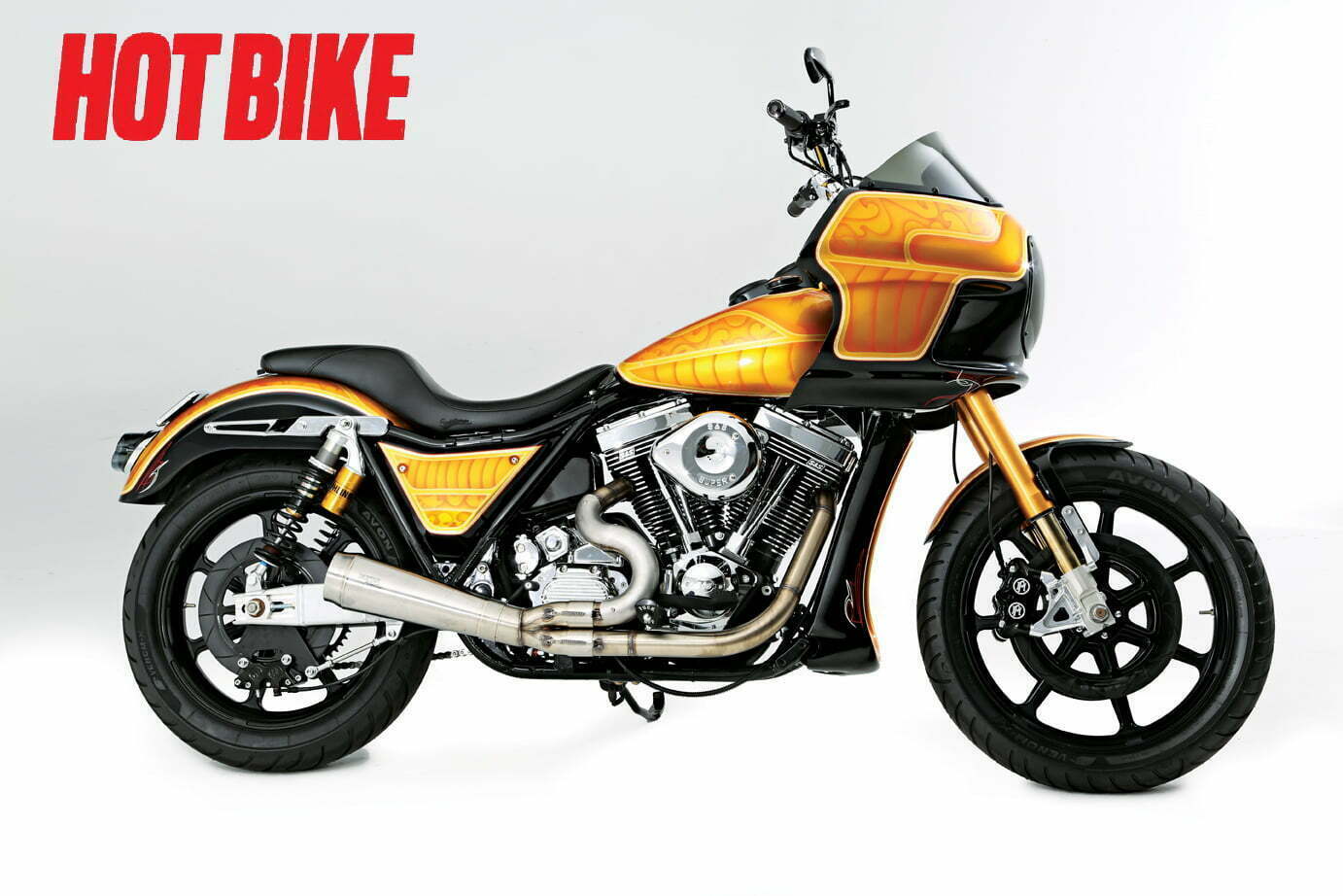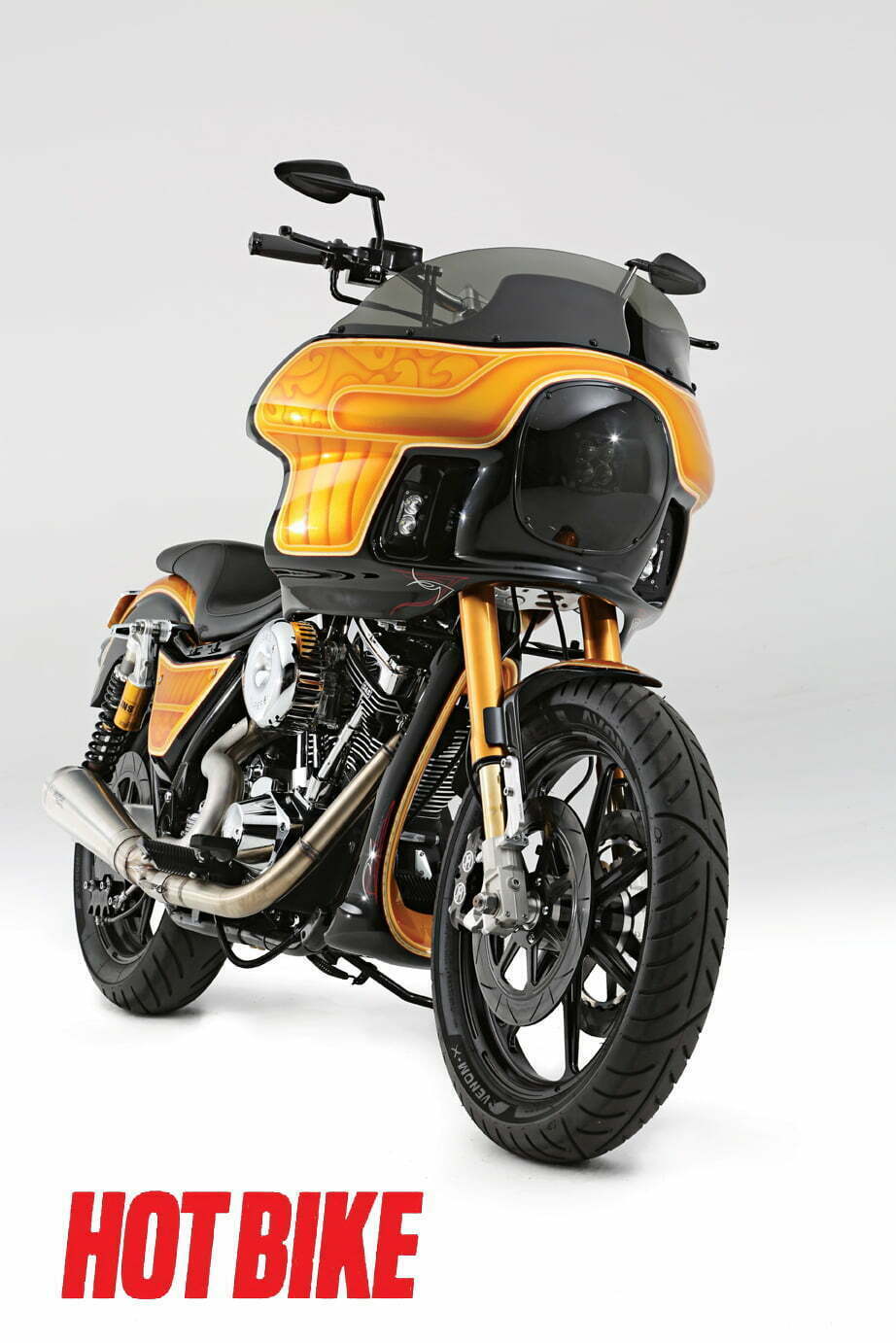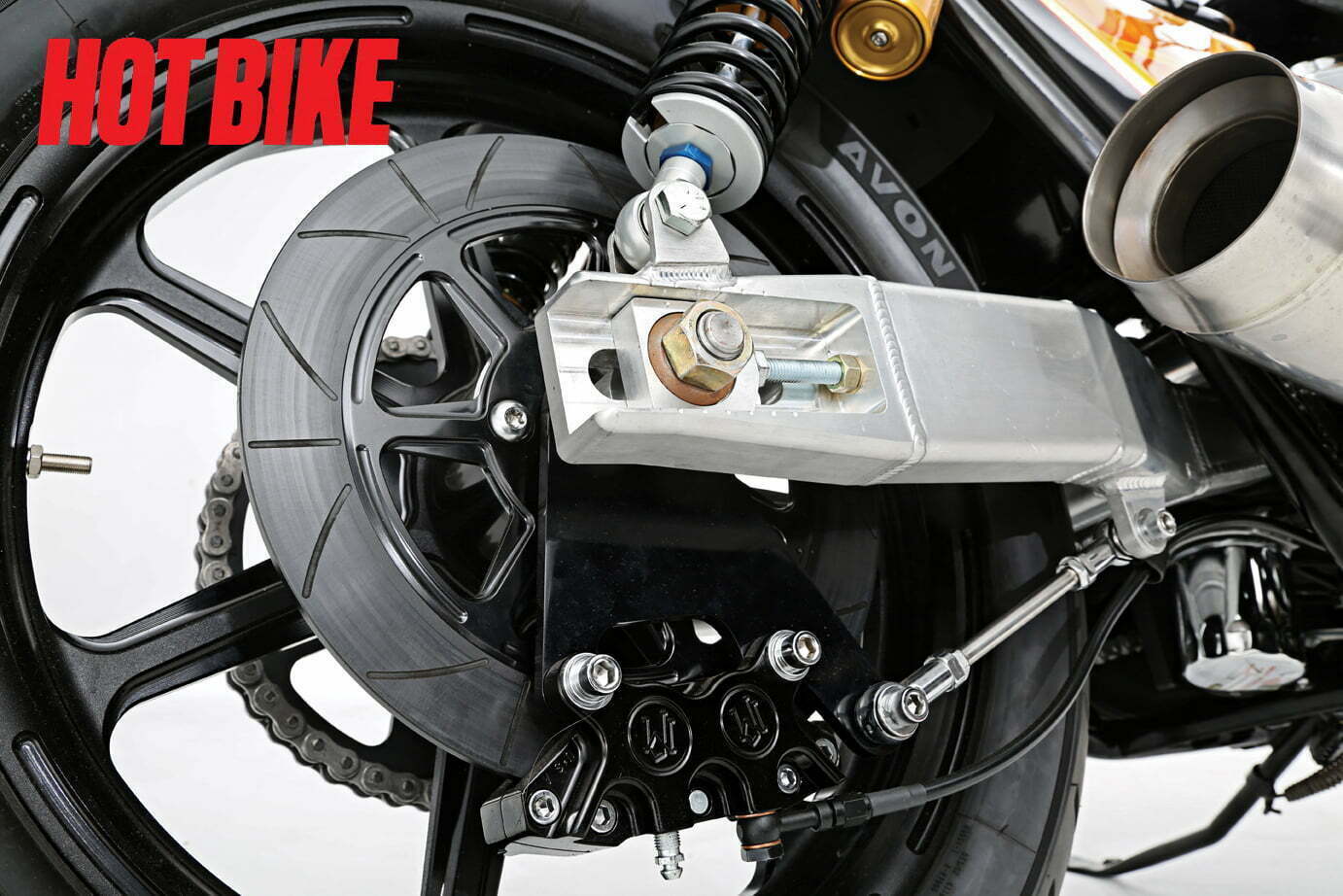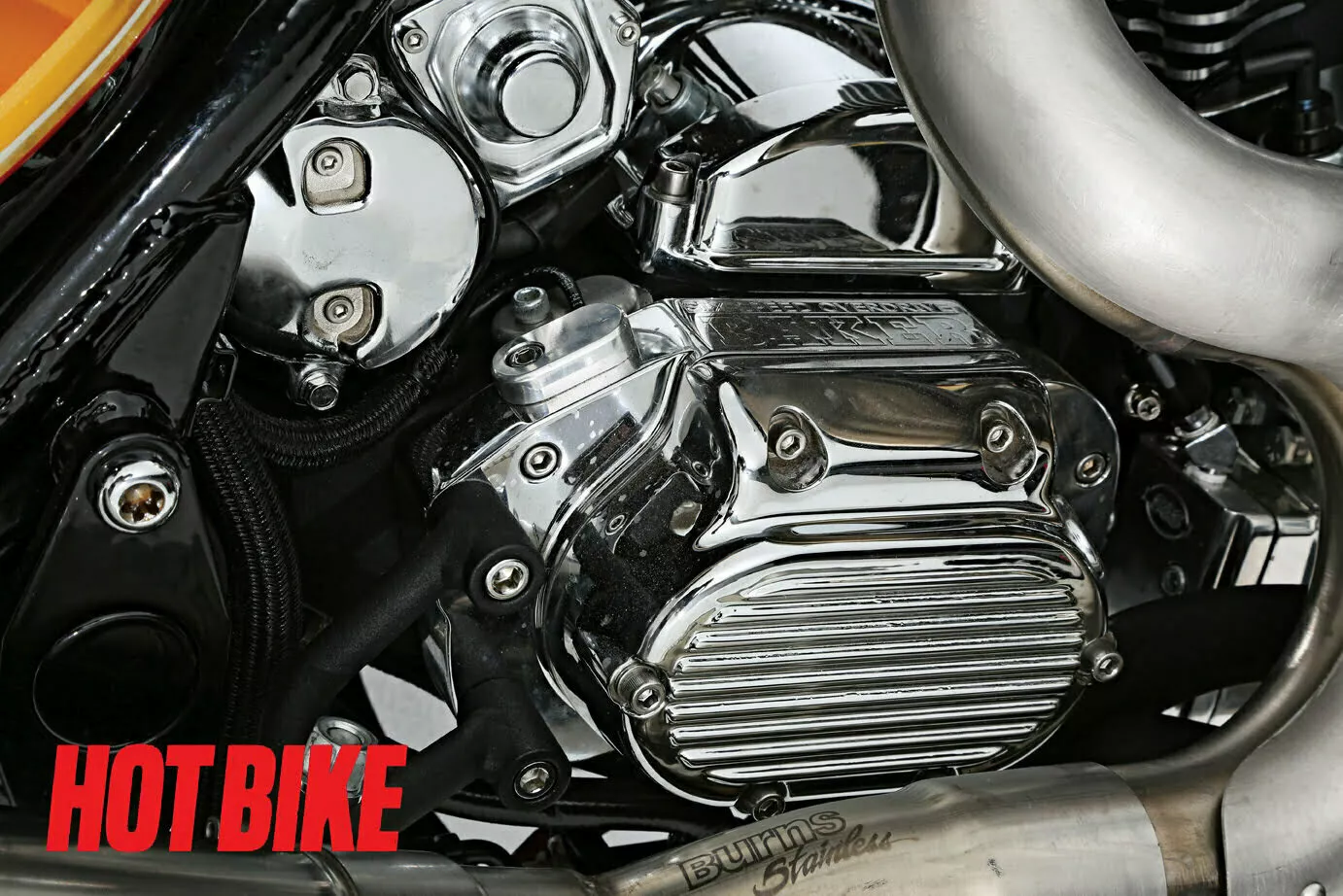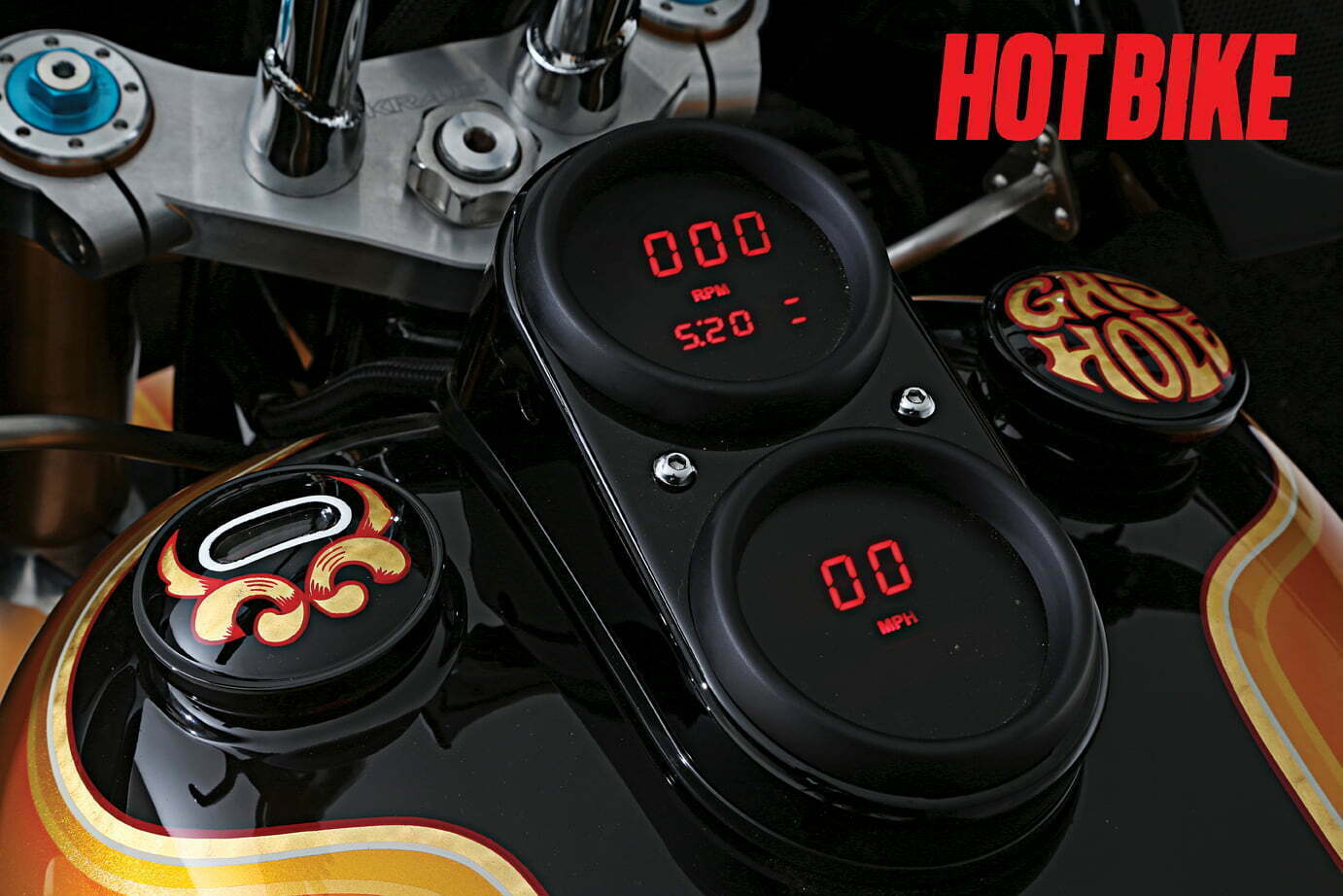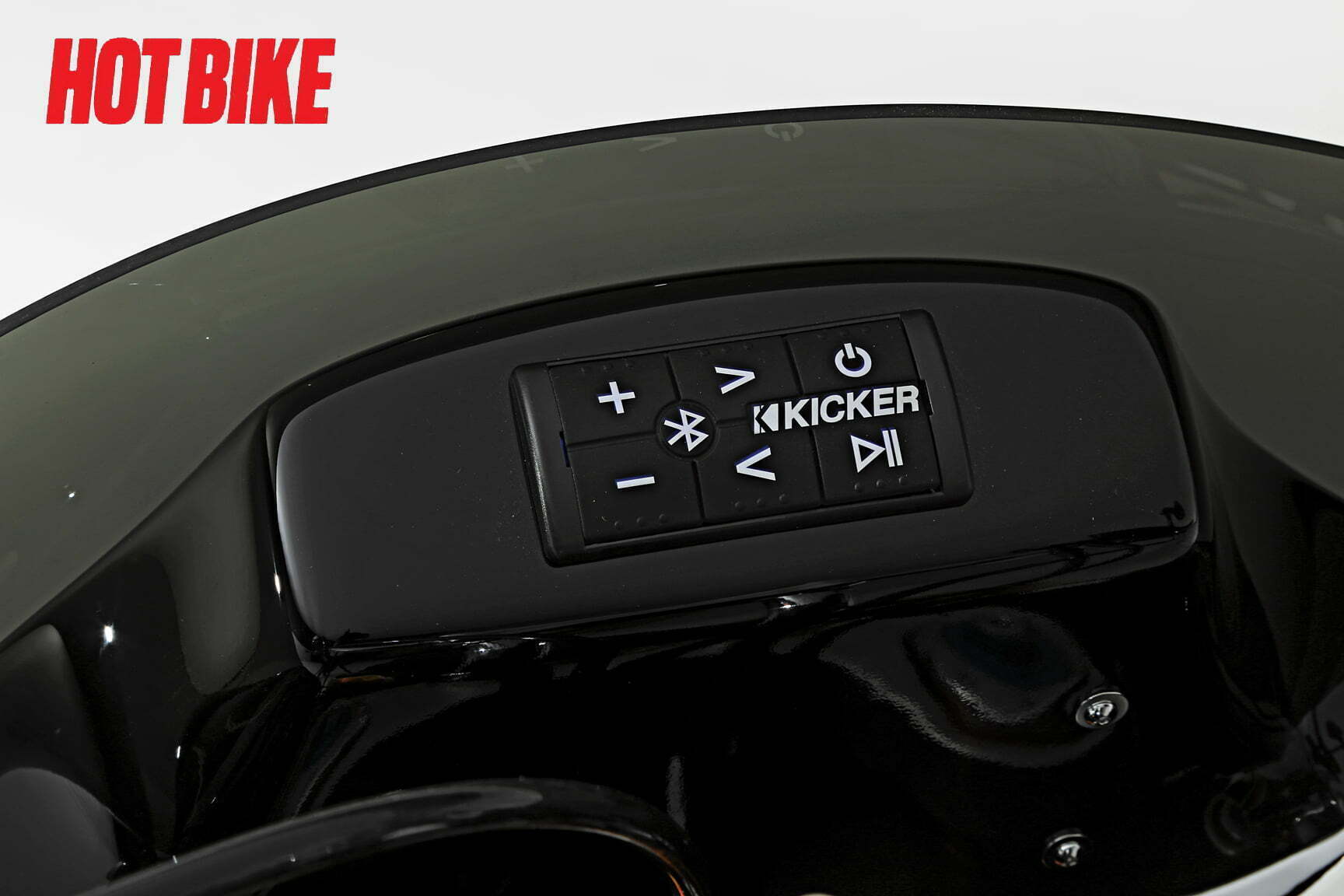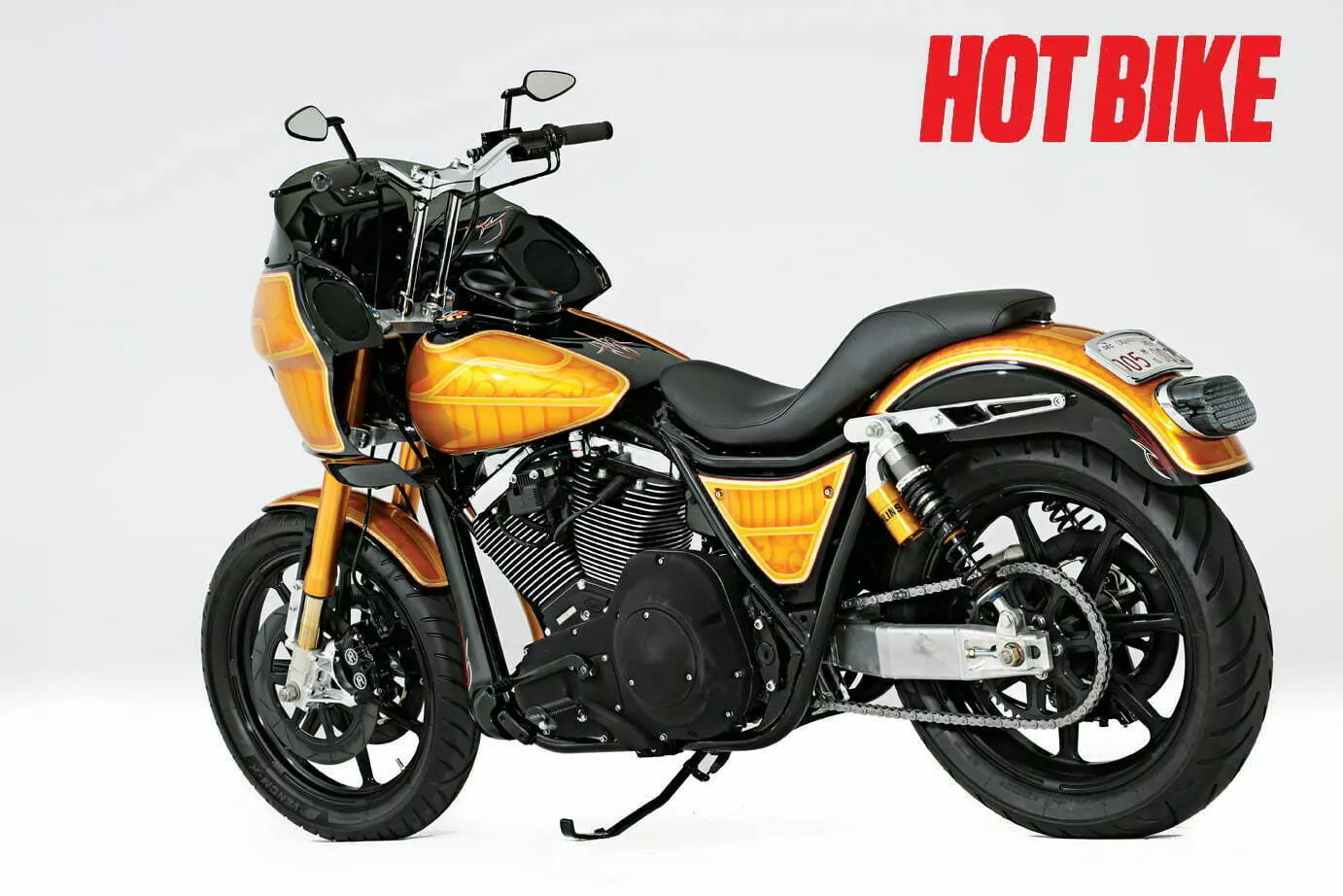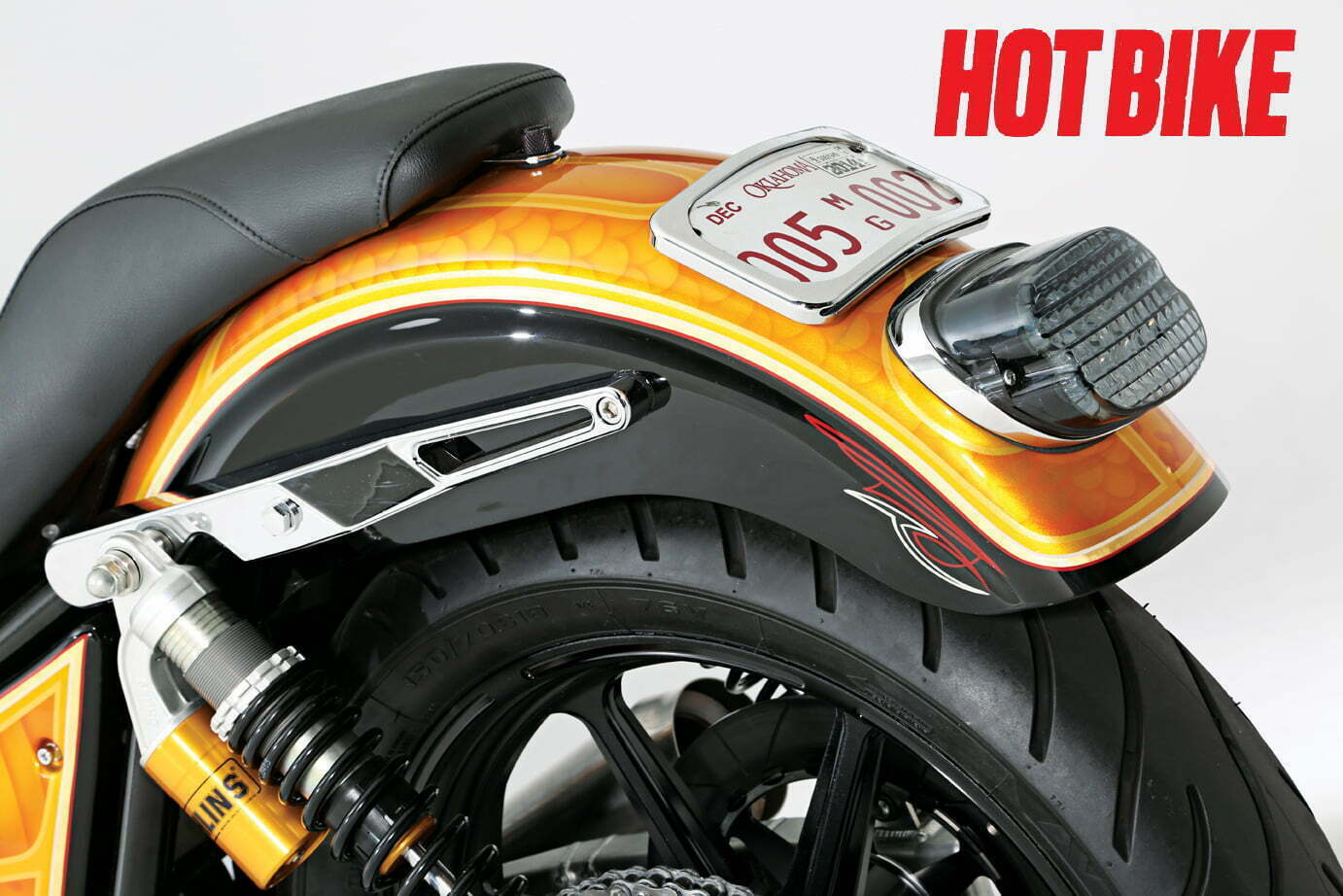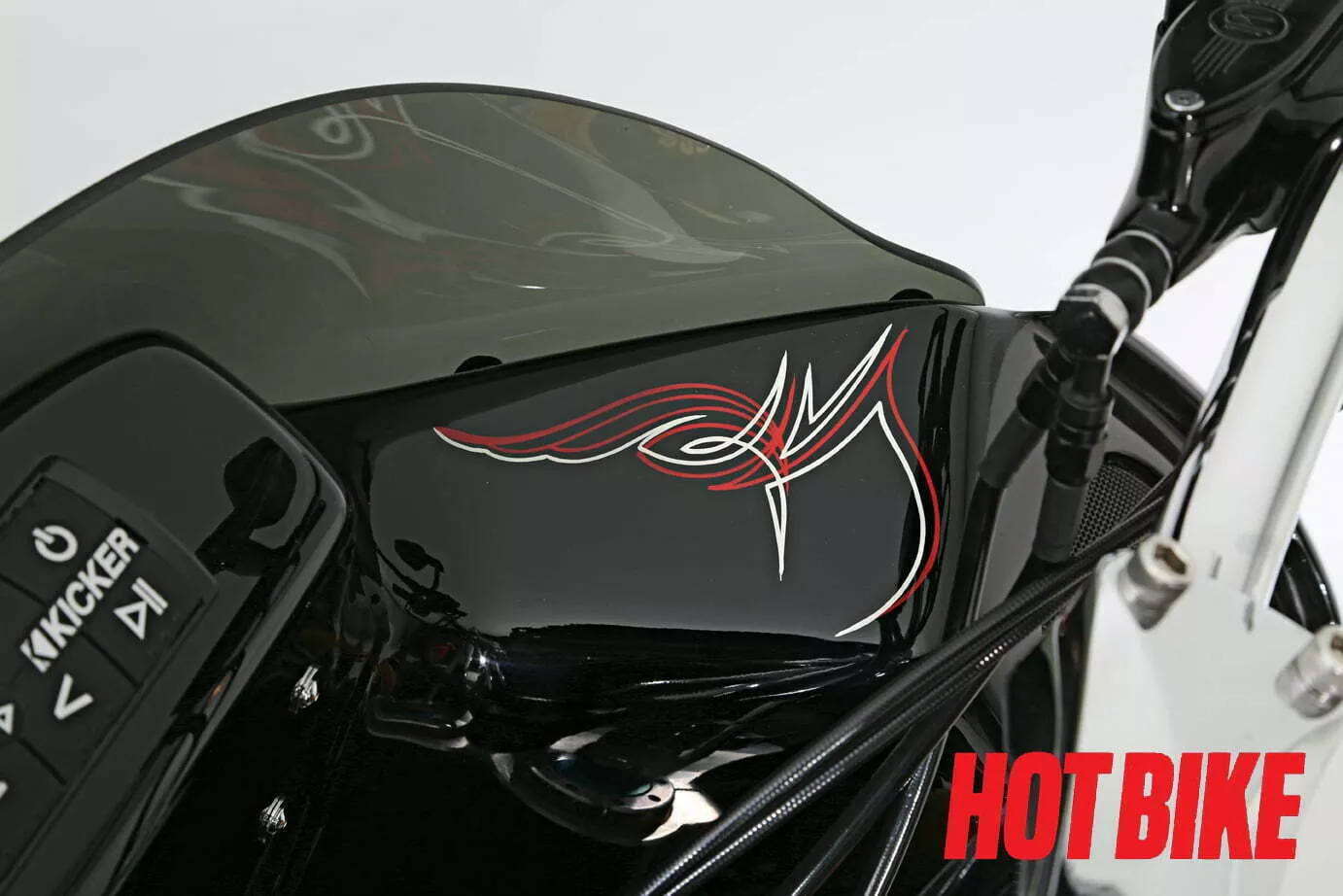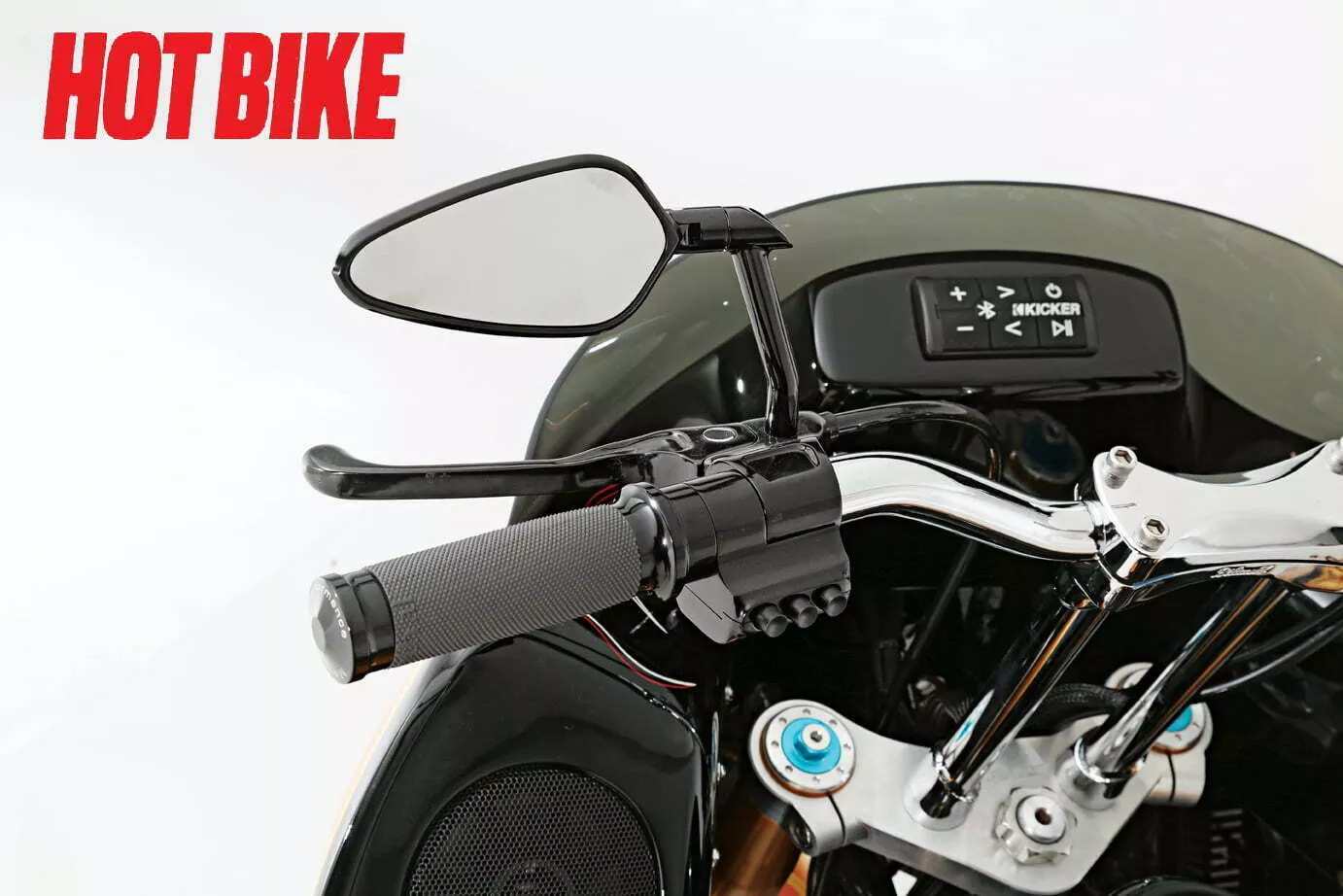 We here at Hot Bike love rags-to-riches stories, and the story of the project Hot Bike Tour F-XXX-R build is an extreme case of that, indeed. Starting as a basket case 1992 Harley-Davidson FXR roller, the Hot Bike staff—with the help of San Diego Customs, Schultz Designz, and a slew of the best performance parts companies in the business—all spent one year's time transforming it into what you see here: the pinnacle of FXR existence.
Powering the bike is a grunting S&S Cycle V111 motor fed by a Super E carb and coated in black and chrome. The mill is backed by a bombproof Baker six-speed FXR transmission and BDL belt drive that both can easily manage the horsepower and torque that this motor puts out. A custom shorty exhaust using Burns Stainless tubing and megaphone was welded up by SPF for San Diego Customs. It sounds deep and throaty at idle, and it screams like a pack of hellhounds at wide-open throttle.
The front of the stock frame was mated to a custom-spec'd aluminum Trac Dynamics swingarm with the aid of Custom Cycle Engineering spherical bearings and a set of custom-valved Öhlins piggyback shocks. Up front a Kraus Motor Co. triple tree kit holds a set of custom-sprung golden Öhlins legs.
The F-XXX-R rolls on a set of 19-inch front and 18-inch rear Roland Sands Design Morris Black Ops wheels shod in Avon rubber. Stopping this machine is a set of Performance Machine radial calipers up front and a single four-piston caliper out back. All three of these badass brakes clamp down on a set of custom-designed Lyndall Brakes Metal Matrix rotors CNC-machined to perfectly match the RSD wheel set.
To control the bike we went with a set of 10-inch Biltwell Murdock risers mated to a set of Biltwell's tracker bars. A set of blacked-out Performance Machine hand controls, grips, and mirrors round out the upper awesomeness. The foot controls of the F-XXX-R are a mixture of Custom Design Studios left-side primary peg mount, a set of SDC Parts Gnurlies pegs, and a right-side H-D mid-control mount.
The gas tank, tank dash, and rear fender are from Biker's Choice, and the fairing is one of Deviant Fabrications offerings. Inside the fairing we housed a Bluetooth-enabled Kicker PXiBT50.2 head unit mated to a PXi50.2 amplifier and a set of PS5250 coaxial speakers. The outside of the fairing was treated to some major lighting in the form of flush-mounted Squadron and S2 LED lights from Baja Designs shooting out a total of 8,620 lumens. That's some major brightness, indeed.
Taylor Schultz of Schultz Designz handled the amazing "lowrider meets muscle car" paintwork and perfectly bridged the gap between the gold of the Öhlins shocks and front end and the black and chrome of the motor and other ancillary parts.
Other standouts of the build are the Dakota Digital speedo and tach, Saddlemen leather seat, Clearview Shields headlight cover and windshield, Arlen Ness side covers and fender rails, and Küryakyn Panacea taillight.
After all was said and done, the only parts that were used from the original bike were the pink slip, the front triangle of the frame, and the kickstand. Talk about a two-wheeled Cinderella story.