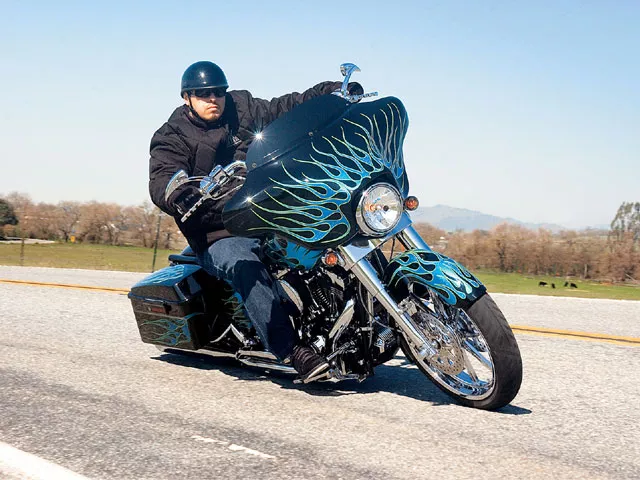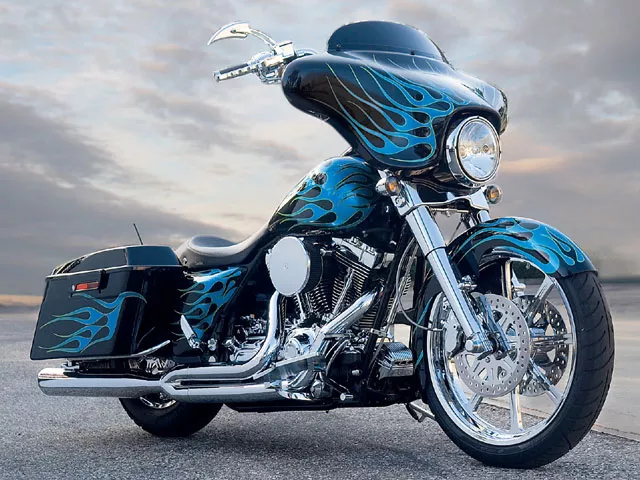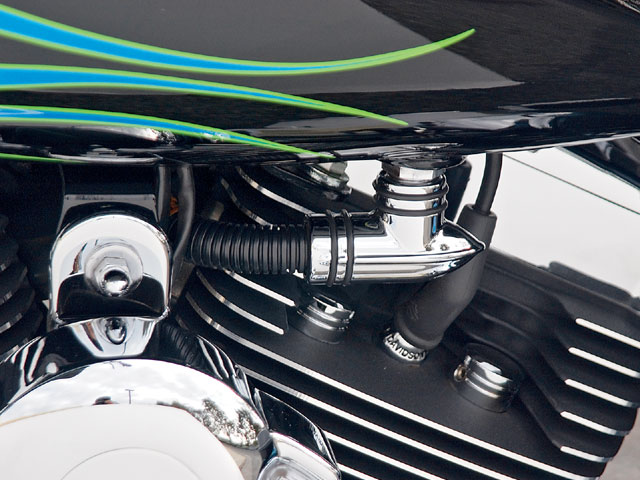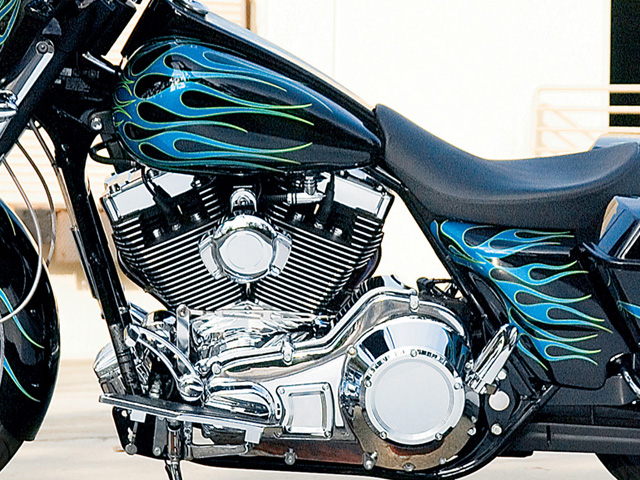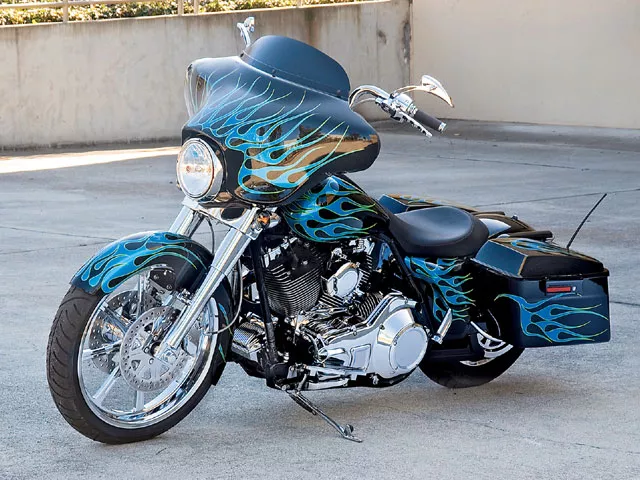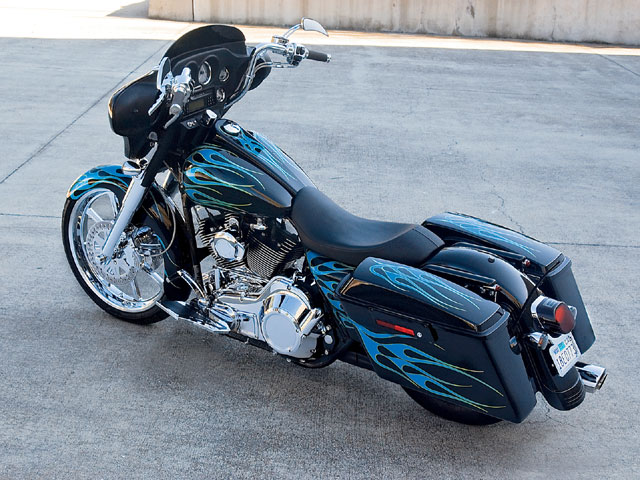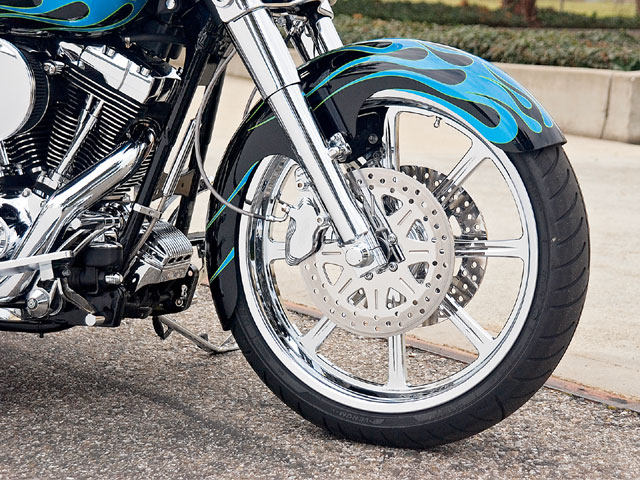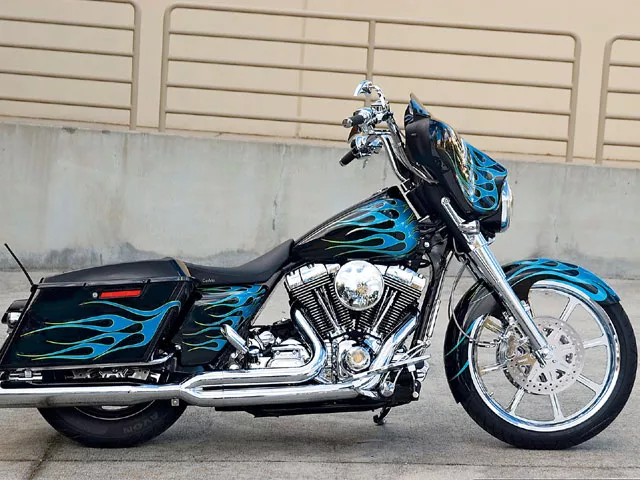 Usually when you make your own business card, it's a rectangular two-dimensional job with a few colors and some text on it. Rich Fulk's is a little different. He only has one card, it sits on two wheels, and he rides it 80 miles round trip to work each day. That's because his is an '06 Street Glide he bought in May of last year.
Rich figured if he was going to ride that far for work, he might as well go in comfort. He's a Product Line Manager for Custom Chrome (CCI) in Sunnyvale, CA, and that lets him ride to work in style. Why? Because there's no greater ad for bike parts than, well, a bike. With baggers being the hot trend these days, his employers were anxious to show off their dresser wares, so upgrading his Glide was win-win for everybody.
Rich built it over a six-week period and kept it as bolt-on as possible; he used stuff straight out of the CCI catalog. He wanted it to be something accessible to do-it-yourself builders. That said, he didn't change much with respect to the motor or frame.
The rest of the bike is not so stock. He started by swapping out the Harley wheels for a set of chromed RevTech Meridians shod in Avon tread with matching rotors and calipers. From there, he tossed the front fender and dash in favor of more stylish ones from CCI.
The mock-up was done as far as Rich was concerned, so he took the bodywork off and down to Kirk Taylor at Custom Design Studios in Novato, CA, where it was squirted with vivid black, set off by candy blue flames.
While Taylor was occupied with painting, Rich used the downtime to swap out the controls. He upped the style quotient at foot level with billet floorboards, then gave the handles an extreme makeover. Apes are usually a chopper thing, but in Rich's mind 13-inch ape hangers were just the ticket he wanted for his bagger. Although he kept the stock hand controls, he beautified them with new levers, braided cables, and routed the wiring internally to make the bars cleaner than their stock counterparts.
The hand controls weren't the only things that got rewired, though. So far all the details we've talked about are industry standard for customizing most bikes. What isn't, in this case, is the sound system. Loud pipes may save lives, but loud stereos save souls (or at least sound cool). Fulk's bike may not have surround sound, but it's damn close. He changed over to 5-1/4-inch speakers in the fairing, wired in two more 6×9-inch speakers into the saddlebags, and added a 250-watt amp to kick it up a notch.
Although Rich beefed up the sound, he toned down the seat by switching to a Corbin Hollywood solo in place of the stock two-up job. It was the final change before he called his daily rider a done deal, and it was all done in time for the Cincinnati V-Twin show. His ride was well received, but that's not nearly as fun as looking good on the 80-mile trip he takes to and from work everyday.
Looks inviting. Makes you want to ride & crank up the road tunes.
| | |
| --- | --- |
| SPEC SHEET | |
| GENERAL | |
| OWNER | Rich Rich |
| SHOP | Owner/Custom Chrome |
| PHONE | See your local CCI dealer |
| WEBSITE | www.customchrome.com |
| YEAR/MAKE/MODEL | '06/Harley-Davidson/Street Glide |
| FABRICATION | Rich Rich |
| ASSEMBLY | Rich Rich |
| BUILD TIME | Six weeks |
| | |
| --- | --- |
| ENGINE | |
| YEAR/TYPE/SIZE | '06/H-D Twin Cam/88ci |
| BUILDER | H-D |
| CASES | H-D |
| FLYWHEELS | H-D |
| RODS | H-D |
| PISTONS | H-D |
| CYLINDERS | H-D |
| HEADS | H-D |
| VALVES | H-D |
| ROCKERS | H-D |
| ROCKER BOXES | H-D |
| PUSHRODS | H-D |
| PUSHROD TUBES | H-D |
| CAM(S) | H-D |
| LIFTERS | H-D |
| CARBURETOR | H-D EFI |
| AIR CLEANER | Arlen Ness |
| IGNITION | H-D |
| EXHAUST | Freedom Performance |
| | |
| --- | --- |
| TRANSMISSION | |
| YEAR/TYPE | '06/H-D five-speed |
| CASE | H-D |
| GEARS | H-D |
| CLUTCH | Custom Chrome |
| PRIMARY DRIVE | H-D |
| | |
| --- | --- |
| FRAME | |
| YEAR/TYPE | '06/H-D Street Glide |
| RAKE | 29 degrees |
| STRETCH | None |
| | |
| --- | --- |
| SUSPENSION | |
| FRONT | H-D |
| LENGTH | 1-inch under |
| TRIPLE-TREES | H-D |
| REAR | |
| SWINGARM | H-D |
| SHOCKS | Hi-Lo Air Suspension |
| | |
| --- | --- |
| WHEELS, TIRES, AND BRAKES | |
| FRONT | |
| BUILDER/SIZE | RevTech Meridian/21×3.5-inch |
| TIRE/SIZE | Avon Venom/120/70/21 |
| CALIPER(S) | RevTech |
| ROTOR | RevTech Meridian |
| REAR | |
| BUILDER/SIZE | RevTech Meridian/16×3.5-inch |
| TIRE/SIZE | Avon Venom/140/{{{90}}}/16 |
| CALIPER | H-D |
| ROTOR | RevTech Meridian |
| | |
| --- | --- |
| FINISH/PAINT | |
| COLOR(S) | Vivid black with Candy Blue flames |
| PAINTER | Custom Design Studios |
| GRAPHICS | Blue flames by Kirk Taylor |
| MOLDING | None |
| | |
| --- | --- |
| ACCESSORIES | |
| FRONT FENDER | Modified Tombstone |
| REAR FENDER | H-D |
| GAS TANK | H-D |
| OIL TANK | H-D |
| GAUGES | H-D |
| HANDLEBARS | Cyclesmiths |
| MIRRORS | Custom Chrome |
| HAND CONTROLS | H-D/Custom Chrome |
| FOOT CONTROLS | Custom Chrome |
| FOOTPEGS | H-D |
| HEADLIGHT | H-D |
| TAILLIGHT | Custom Chrome |
| TURN SIGNALS | H-D |
| LICENSE MOUNT | H-D |
| SEAT | Corbin Hollywood |