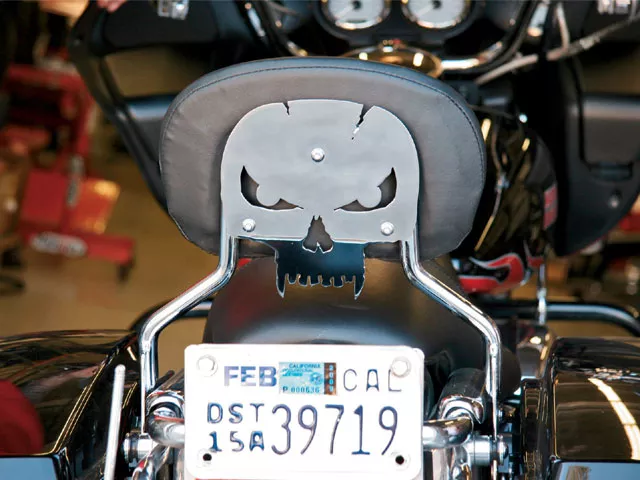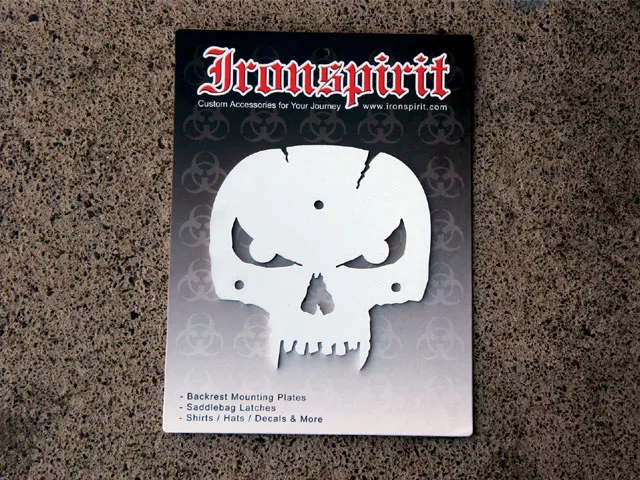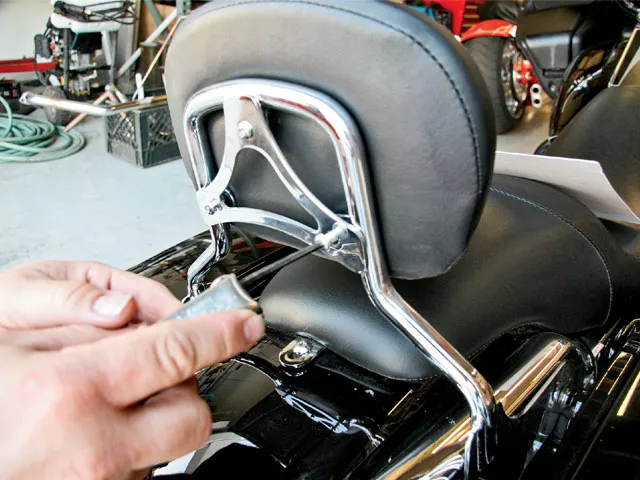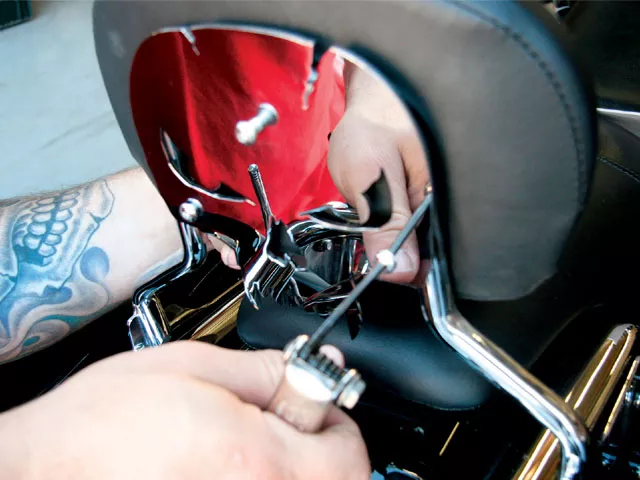 When it comes to customizing your motorcycle, even subtle changes can often make a difference in the look of your ride. If you have a Harley-Davidson touring model and want to spruce it up a bit, Ironspirit in Thousand Oaks, California, offers a backrest mounting plate to help personalize your bagger. Designed to replace the stock triangle mounting plate on your backrest, Ironspirit's plates will mount to '97 and later Road King, FLHT, FLTR, and FLHX models equipped with docking kit and detachable sissy bar upright.
Made from high quality 6061 aluminum and manufactured in the USA, Ironspirit's backrest mounting plates are then polished and chrome plated to look the best for your motorcycle. Available in Spade, Iron Cross, and Skull designs, the patented Ironspirit plate is a direct bolt-on replacement, and installation is quick and easy. We installed and snapped photos of the Skull backrest mounting plate (MSRP $127) being installed on an '05 Road Glide.
(1 & 2.) Here are before and after shots of our Road King with the stock triangle backrest mounting plate before the installation of Ironspirit's Skull mounting plate.
(3.) Installation is quick and easy with Ironspirit's backrest mounting plate-just install using an Allen wrench and the stock Allen head bolts from your existing backrest plate.
(4.) First we removed the three 5/32 Allen head bolts, spacers, and washers, followed by the stock backrest mounting plate.
(5.) After applying blue Loctite to the threads, we installed Ironspirit's mounting plate and wiped off any fingerprints. And here you have it-something custom to add to the look of the backend of the bike in about 10 minutes.