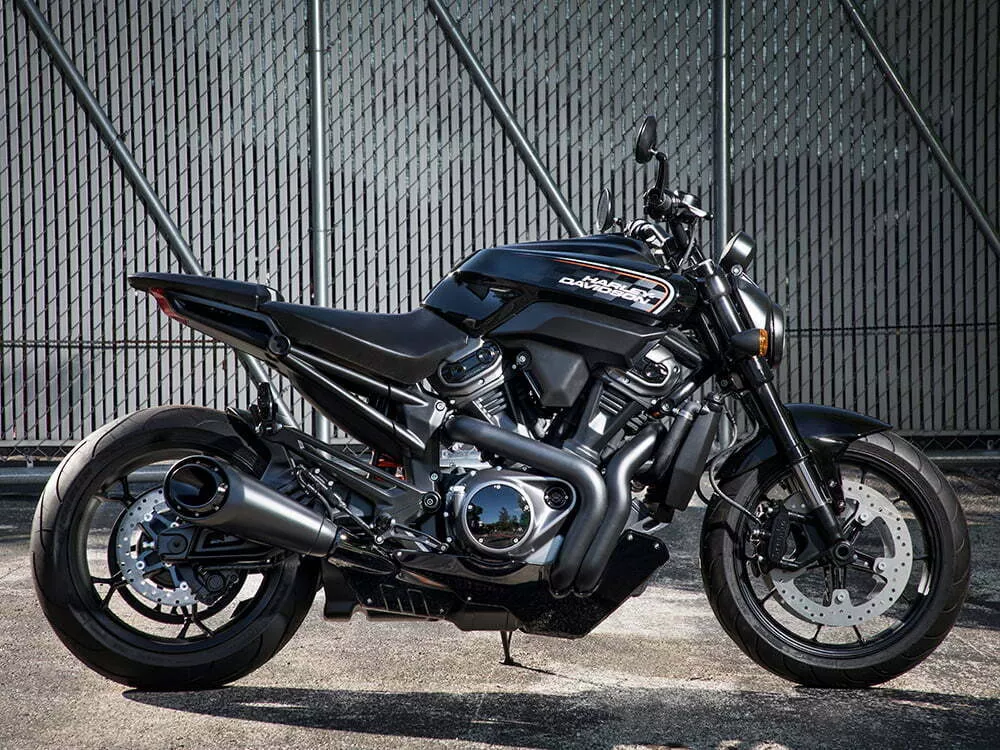 Now, we don't normally squawk about sporty stuff on these pages—in, fact, we never do. But this news is so big, we're just gonna drop it. Harley-Davidson has just announced that it will be producing a sportbike. Very soon. As in, the next year or so.
But all we can really confirm is that it's a new 975cc streetfighter-styled model that's planned to launch in 2020. Not since the now-defunct Buell sub-brand has Harley had a legitimate dog in the fight on the sportbike front. Obviously this is huge because A) it's a V-twin sportbike and B) it's being produced by Harley-Davidson. From the looks of the photos, it's got an upright, standard-ish stance, with relaxed ergos, clean lines, and a not-too-aggressive look. A deeper dive shows a radiator for liquid-cooling, dual-disc Brembo brakes up front, and a one-piece handlebar mounted on risers with a single, fairly robust shock out back. The footpegs are rearsets and the bodywork looks tight and sleek. Harley didn't even give us a spec sheet to dissect, but what we're hoping for is some top-end, rev-happy performance too.
Heck, this is even bigger than when Harley entered AMA Superbike racing with its dual-overhead cam, liquid-cooled VR1000 back in 1994. Anyone here remember Pascal Picotte? Didn't think so. Anyhoo, the VR—the first pure racing motorcycle Harley ever built—was a fine machine and helped the company develop its fuel injection and liquid-cooling technologies—and eventually, the V-Rod. But it just couldn't hang with its contemporaries, the Suzukis and Ducatis and Kawasakis of the day. The Motor Company recognized this and rightfully bailed.
So, here we are, with this new V-twin sportbike, which uses a modular engine platform that will, allegedly, eventually be offered in four different displacements. Um, should we be talking about the Sportster line at this point? Maybe. But the bottom line is, will this bike attract the kids, the younger riders, as Harley is aching to do? Guess we'll just have to wait and see.