Jeremy Cupp comes from a long line of builders and machinists. Years ago, he founded LC Fabrications in Grottoes, Virginia, to satisfy his love for tinkering and old bikes, mainly Triumphs and Sportsters. LC Fab makes beautiful customs, but this superb trail-ready Sportster grew not out of a desire for art but from a need to decompress.
The idea was simple: a stock Sportster with knobby tires and Stiletto shocks. Before long, the bike got pushed to a corner of the LC shop in favor of paying gigs, as personal projects do. But the Sporty in the corner kept catching Jeremy's eye.
"I'd seen a few Sportster dirt bikes floating around Instaface, but I hadn't really seen one done proper," he says. "Being a guy who typically makes everything from scratch, I wanted to see a modified Harley that actually looked like a modified Harley.
"I decided to redo the entire subframe and make a billet swingarm so I could convert to a monoshock rear suspension," he says. "I hadn't seen anyone do a true modern rising-rate linkage setup, so I set out to be the first." After a couple of tries, Jeremy sorted the linkage setup so that it both fit the frame and worked properly. By then, there was no turning back.
"My simple, quick dirt bike had grown into an actual custom project!" he says, laughing. And the rear end was just the beginning. Note the front suspension—that's a Showa fork from a Yamaha YZ250 motocrosser, chopped 3 inches.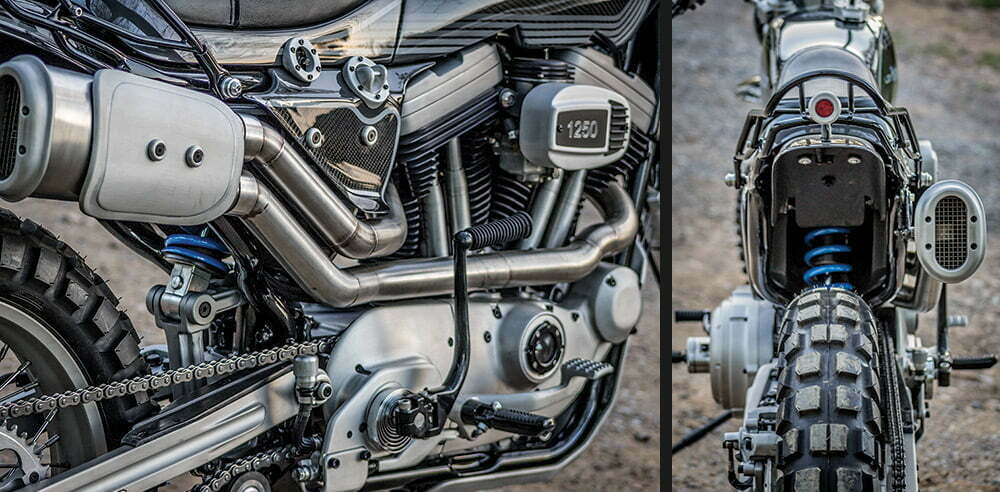 With the suspension dialed in, it was time to address the bodywork. After checking out Indian's FTR750 at the International Motorcycle Shows and noting its carbon-fiber setup, Jeremy had a revelation. "I never cared much for carbon fiber, but after seeing that Scout flat tracker, it occurred to me that I'd been looking negatively at a process I knew nothing about," he says. "So I decided to learn." Again, several attempts were made, and screwed up, before he finally got it right. "I have a new appreciation for well-done carbon fiber."
Next came the power plant. With limited resources for his pet project, Jeremy did what independent builders do: He scoured the shop. "The only engine that matched the frame was nothing more than an empty set of H-D cases," he says. "But I was also able to come up with a nice Keihin CV carb, Buell flywheel and heads, and a pair of S&S 1250 cylinders." Jeremy's Sportster had suddenly morphed into a monster.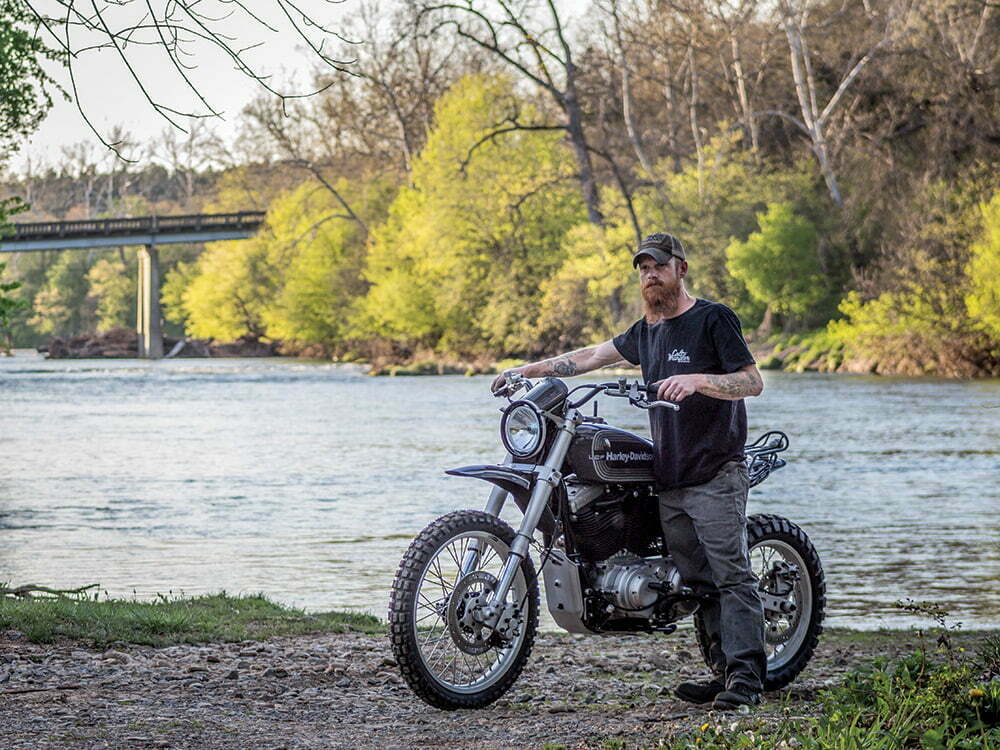 "I had no intentions of building a performance engine!" he says, laughing. "It's just what I had to work with." Not wanting to half-ass anything at this point, Jeremy completed the conversion by clipping off the starter nose while the cases were split and hooking up a Led Sled kickstarter unit he had lying around. He then machined a custom primary drive from billet and incorporated a hydraulic clutch slave, using the Rotax internals from a Buell 1125R. Jeremy made the exhaust himself as well, from 1-3/4-inch stainless, and even constructed a handmade muffler using the guts from a Harley exhaust.
While its intricacies are many and its details spectacular—the hand controls are off a freakin' Ducati—it's the Aermacchi/AMF-era paint scheme that really brings the Sportster together as a complete package. It took more than three years, but the final result is a dirt bike that's a showstopper and, yes, looks like a Harley-Davidson. You can check it out this summer at Fuel Cleveland in July and at the Brooklyn Invitational in September.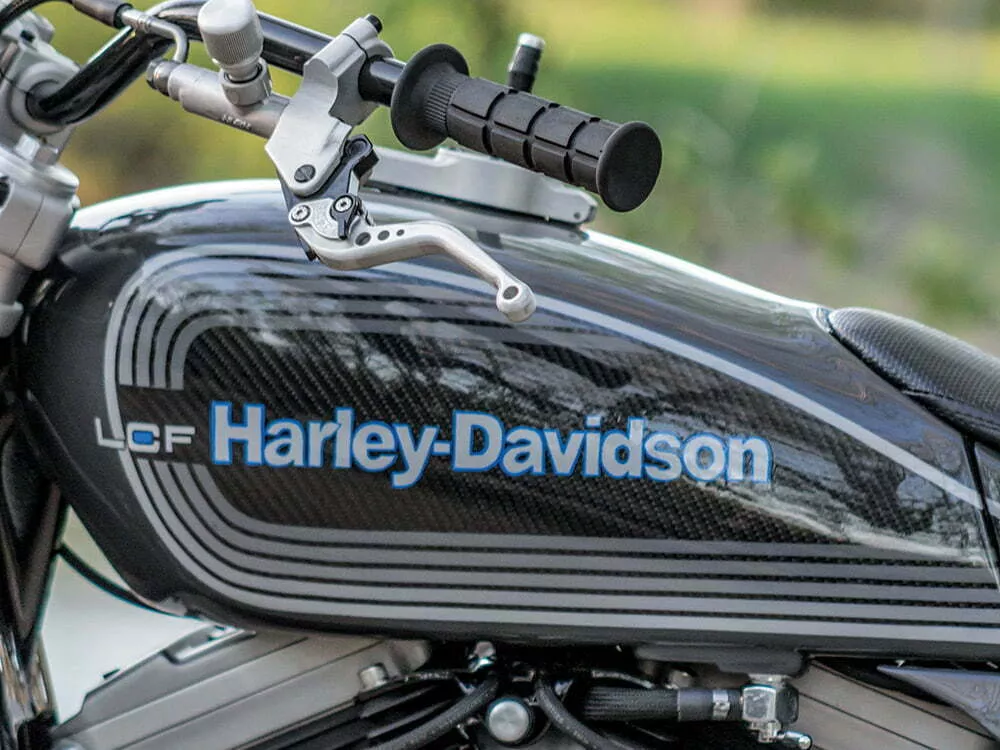 Specifications
| | |
| --- | --- |
| General | |
| Owner | Jeremy Cupp |
| Shop | LC Fabrications |
| Website | lcfabrications.com |
| Year/Make/Model | 2001 H-D XL883 |
| Fabrication | LC Fabrications |
| Build Time | On and off over three years |
| Engine | |
| Year/Type/Size | 2001/Sportster/1250cc |
| Builder | LC Fabrications |
| Cases | H-D |
| Cylinders | S&S |
| Heads | Buell |
| Rocker Boxes | H-D |
| Cams | H-D |
| Throttle Body | CV carb |
| Air Cleaner | LC Fabrications "mini ham can" |
| Exhaust | LC Fabrications/Cone Engineering |
| Transmission | |
| Year/Type | 2001/five-speed |
| Gears | Stock |
| Clutch | Barnett |
| Primary Drive | H-D |
| Frame | |
| Year/Type | 2001 Sportster |
| Rake/Stretch | Stock |
| Suspension | |
| Front end | Showa/YZ250 |
| Length | 33.5 inches |
| Triple Trees | LC Fabrications |
| Swingarm | LC Fabrications |
| Rear Shocks | 2015 Triumph Tiger monoshock |
| Wheels, Tires, and Brakes | |
| Front | |
| Builder/Size | LC Fabrications/21-inch |
| Tire/Size | Kenda Big Block 90/90/21 |
| Calipers | Yamaha random sportbike |
| Rotors | V-Rod/LC Fabrications centers |
| Rear | |
| Builder/Size | LC Fabrications/18-inch |
| Tire/Size | Kenda Big Block 150/70/18 |
| Caliper | GSXR |
| Rotor | V-Rod/LC Fabrications center |
| Pulley | LC Fabrications |
| Finish/Paint | |
| Manufacturer | DuPont |
| Colors | RAL Grey |
| Paint/Graphics | LC Fabrications |
| Powdercoating | Defensecoat, Richmond, Virginia |
| Accessories | |
| Front Fender | LC Fabrications, carbon |
| Rear Fender | LC Fabrications, carbon |
| Gas Tank | LC Fabrications, carbon over steel |
| Dash | LC Fabrications |
| Gauges | Motogadget |
| Handlebars | LC Fabrications |
| Grips | Oury |
| Hand Controls | Ducati/Motone switches |
| Foot Controls | Stock |
| Headlight | Hella |
| Taillight | LC Fabrications |
| Seat | LC Fabrications |
| Misc. | One-off billet monoshock swingarm with true rising-rate linkage; starter removed permanently; Led Sled kicker conversion; one-off billet primary cover with hydraulic clutch actuation |