As we roll up to the security gate, a stout polizei waves us over and asks to see our passports. A side arm on her hip, she gestures at my tattoo-covered companion and demands he "schow das handz! You schow me das handz!" In my head, I immediately go into panic mode, imagining being tortured in a dank cell. She demands that he remove his gloves. My new buddy is about to be cuffed in a foreign country. I haven't been in Deutschland for more than 24 hours and already have a case of fear-induced anal leakage.
"Vhere ist das tattoo?"
Confused, he lifts his sleeve to show the fresh ink of an Indian Motorcycle tattoo. Suddenly the officer goes full-on fan girl. "It's you! It's you! It's Carey Hart!" The security guard (it turns out, not police) starts taking selfies with my riding partner. Two more security folks show up, autographs are signed, and I desperately try to figure out when I'm going to have a chance to change my underwear.
For this year's Armed Forces Day, Hart teamed up with Indian Motorcycle and traveled to Germany to honor and celebrate with our active soldiers overseas in an event called Good Ride Salutes USAG Stuttgart. During the month of May, which is National Military Appreciation Month, Indian Motorcycle donated $20 per test ride, up to $30,000. But this ride was different, not a fundraiser, but a direct action to help lift the spirits of U.S. soldiers at Europe's largest base: U.S. Army Garrison Stuttgart.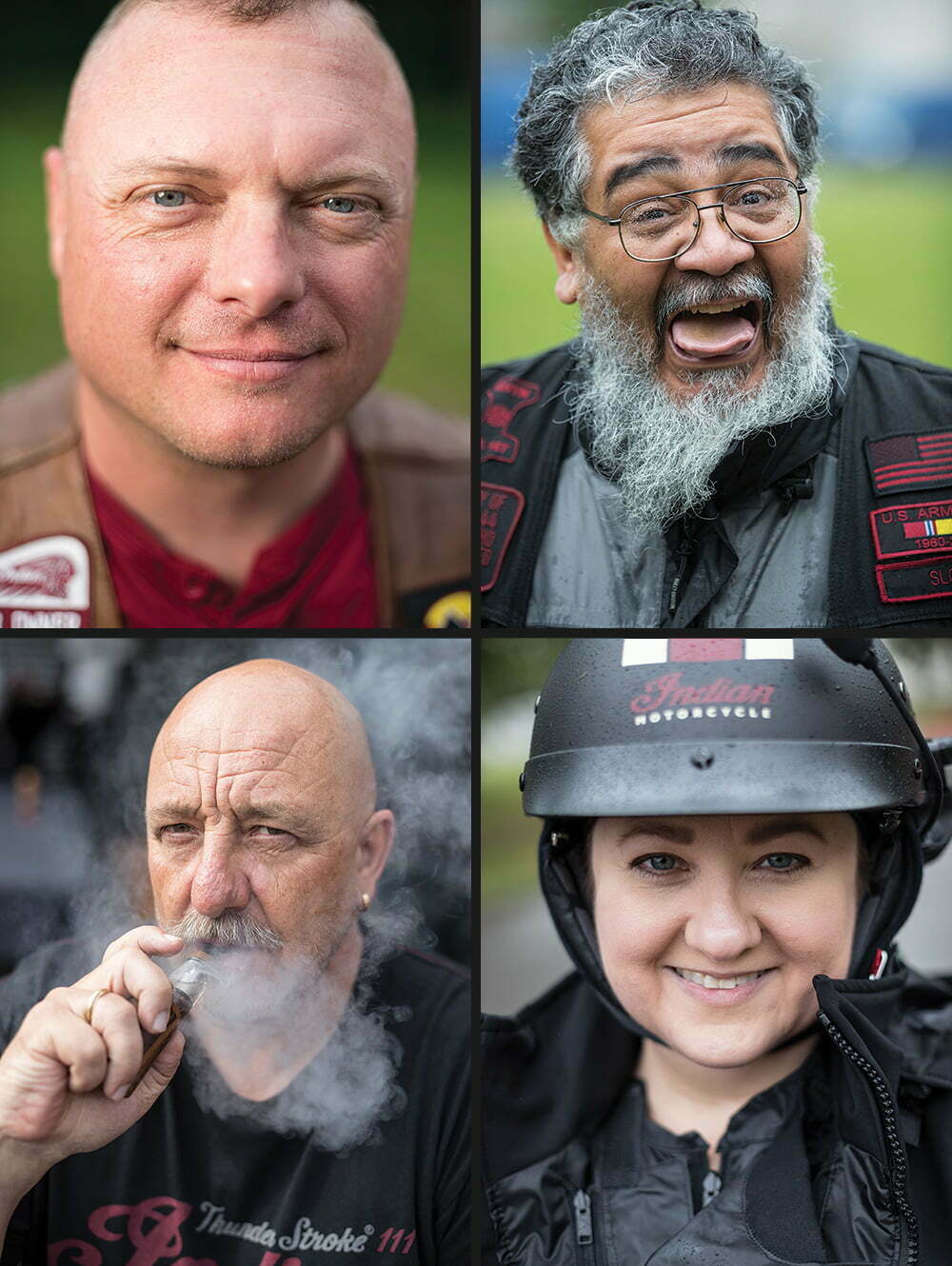 Good Ride is a nonprofit charity that was started by Carey Hart and Big B. In case you missed the memo, Carey is a freestyle motocross rider turned custom bike builder who happens to be married to pop superstar Pink. Big B is a rapper and entrepreneur. The two have been friends for a couple of decades, own businesses together (including a custom bike shop), and for the past three years, have run Good Ride as a way to give back to the military. All of the proceeds from Good Ride are funneled to the Infinite Hero Foundation, a military charity created by Carey's eyewear sponsor, Oakley. They fund programs that drive innovation and accessibility of effective treatments for military heroes and their families dealing with service-related mental and physical injuries.
"Big B and I have been friends for about 20 years," Carey says. "He put out a bunch of albums. He was part of my tattoo shop when I first started it. He helped me out with my race team. Over the past couple of years, when I got serious about V-twins and building bikes, he moved out to where I live, and we now do all of our builds together."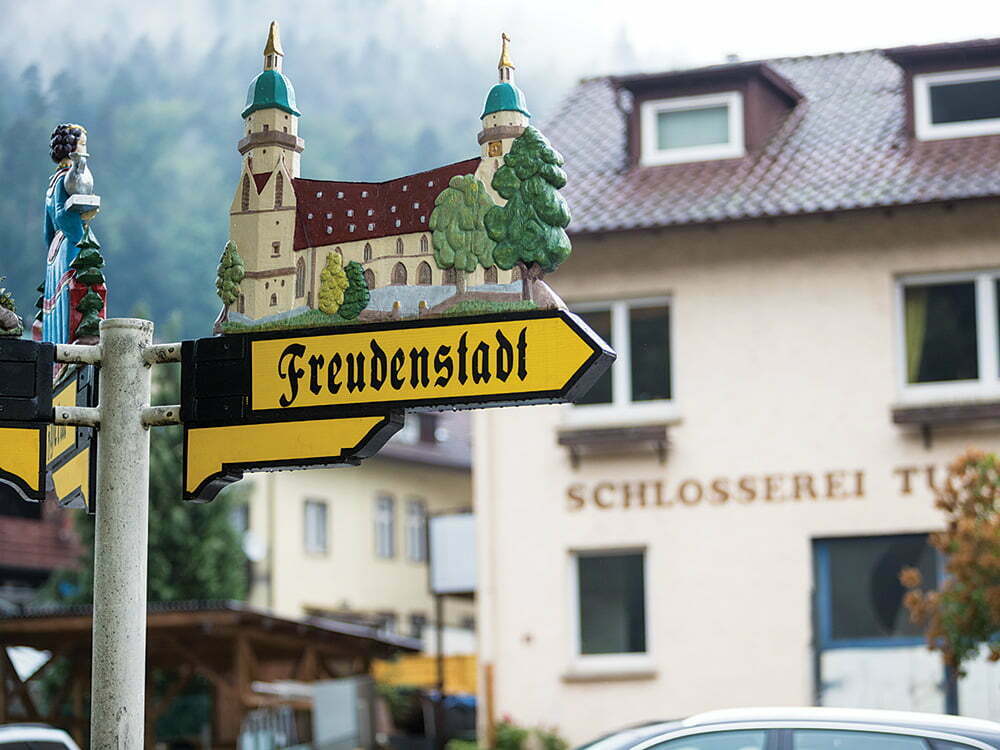 He tells me that while he doesn't "personally have any experience with the military, my wife's mom and stepdad served in the Vietnam War, and her brother is a lieutenant colonel in the Air Force." The effects of Agent Orange on Carey's father-in-law and "how the government throws people by the wayside when they come back home" sparked the idea to create the Good Ride.
Those tattoos the guards were so excited about? Those were like the final bonding ritual between Hart, Big B and Indian. Right there in the back of the Stuttgart Indian dealership, they got matching tattoos of the Indian logo, using ink made from a burnout. Last year, Carey did a long, smoky burnout on an Indian Scout—Indian dutifully collected the dust and used it in the pigment of a limited-edition ink. That's a true commitment, from both sides. Indian has supported Good Ride since inception. "Indian came to me and asked what I thought about taking it to Stuttgart, the largest base in Europe," Carey remembers. "And I said, 'Tell me when to book my flight.'"
Good Ride gave our active-duty soldiers and their families a day to escape from the stresses of military life. Many of the men and women stationed here are either coming back from a hostile situation or are preparing to go to one. Though both Carey and Big B had been to Germany several times each for music and motorcycle shows, they'd never stopped to tour the countryside, especially not on Indians. "It's one thing to see a country through airplanes and hotels and venues, but it is a whole nother thing to do it on two wheels," Carey says.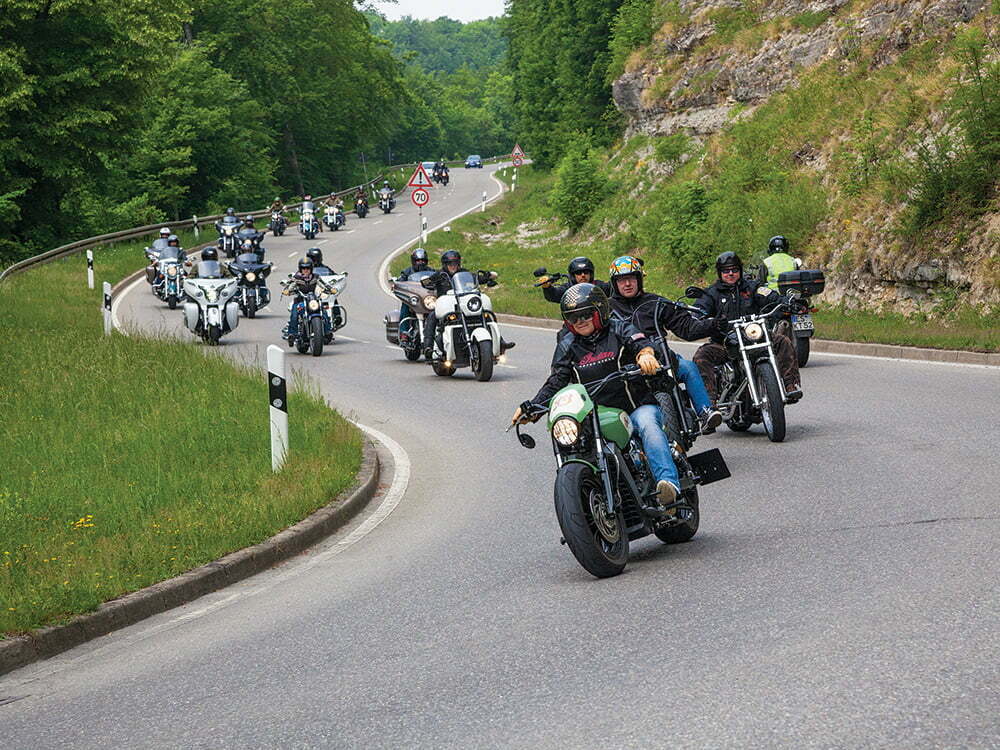 The American V-twin market is strong in Germany. Once you get out of town and on the open roads, they are the perfect way to cruise the countryside. Germans seem to love the style and soul of the bikes. It's a lifestyle. They don't want to go fast. They want to cruise—in style. Which is a little ironic in Stuttgart, home of Porsche and Mercedes.
The Armed Forces Day event with the military dudes was on Sunday, but we did a press ride on Saturday with a bunch of Germans invited by the Indian dealership in Stuttgart. Our ride was our first sampling of the amazing Bavarian roads. Every motorcyclist lusts for the rare freshly poured road. This is one of the reasons why riding in Germany is so rad. Every road we cruised on was in impeccable shape. I stayed an extra week after the event ended and didn't see one pothole or tar snake. The engineers must be bike enthusiasts who built the roads just for themselves. They are pure asphalt perfection. Even the highway exit signs are enjoyable. I giggled every time I read "Ausfart" as I tried to obey the flatulent command without s—tting myself.

On Sunday morning, the day of the poker run, the weather was rainy and dismal. That didn't stop more than 50 riders from showing up—not bad considering it would have been really easy to sit at home and watch soccer.
The base has more than 700 registered motorcycles, but many of them that had planned to go were recently deployed. That is the life of these warriors. It doesn't only affect them. They have families that have to deal with them having to leave without much notice. Imagine being one of their young sons or daughters. The kids know what is going on. They understand that Daddy might never make it back home. The event even had a bounce house and other fun kid stuff to help them have a taste of a stress-free day. Big B later tells me the event "wasn't just about motorcycles. It was about community. A break from stress. Just families. Raising morale and paying respects to the troops."
The command sergeant major (that basically means the head dude of the American military in Bavaria), Michael D. Sutterfield, and his wife met up with us for the poker run. He has more decoration than a Christmas tree. Once I figured out how important he is, I apologized for my lack of a vocal muffler. The command sergeant major smiled and told me he "is fluent in sarcasm."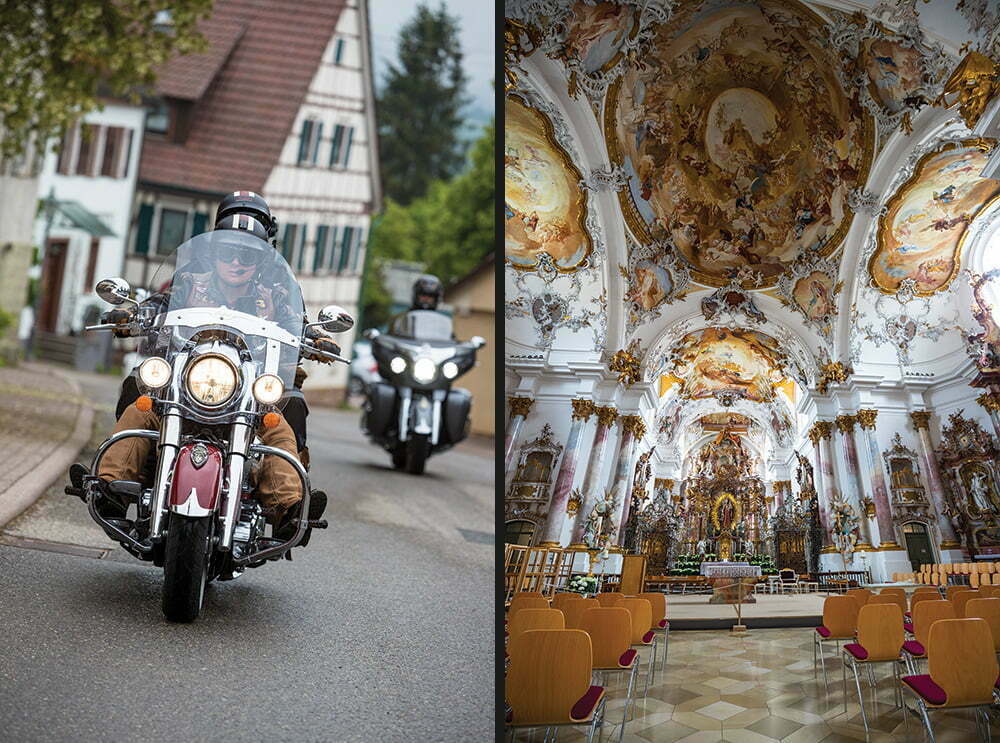 I asked around to borrow a pair of lederhosen for the ride. One of the German guys I met at the dealership almost hooked me up until he told me more about them. "People wear them during Oktoberfest to sit around all day and drink. They are hot and sweaty. When you are drinking all day you have to pee a lot. The buttons are a pain in the ass, and there is lots of splatter." The more I thought about it, the more I realized it was a bad idea.
Without the aforementioned leather breeches, I donned my rain gear, and we headed out to our first stop. I was lucky enough to get a Roadmaster with heated seat and grips. It was comfy and kept me dry. The route snaked through pristine roads in the Black Forest. I was glad I'd gotten to ride the day before, since I had to keep it tight in the bad weather.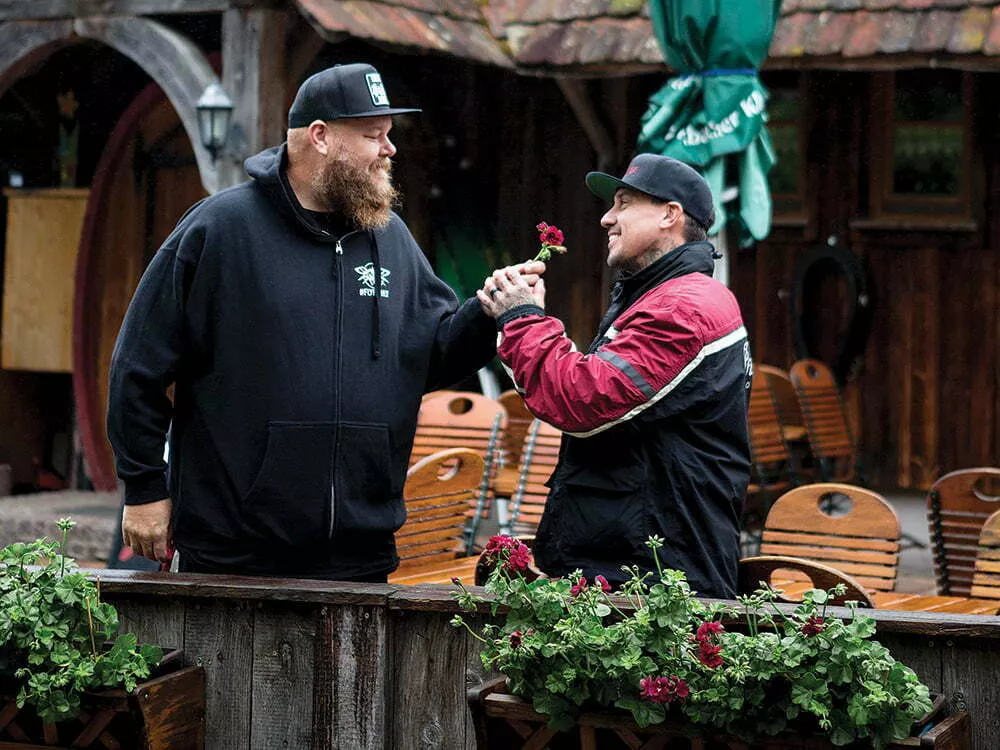 We spent way more time than planned at our first stop. The Brauhaus Schönbuch is a classic countryside drinking establishment, with a tree growing through it. It has its own whiskey still and bottled the brown hooch into motorcycle-shaped glass bottles. Naturally, we really wanted to try a taste, but that would have to wait until later. Everyone bought a bottle to take home. I took a page from the security guard's book and had Carey sign my bottle.
There were five stops total, which makes sense since a poker hand is five cards. Our third stop was a restaurant that served, you guessed it, more fried meat. We were low on time and only had a few minutes to sit down and chug some water before we had to go back to the base. No need to mention it, but none of us ended up winning the poker run.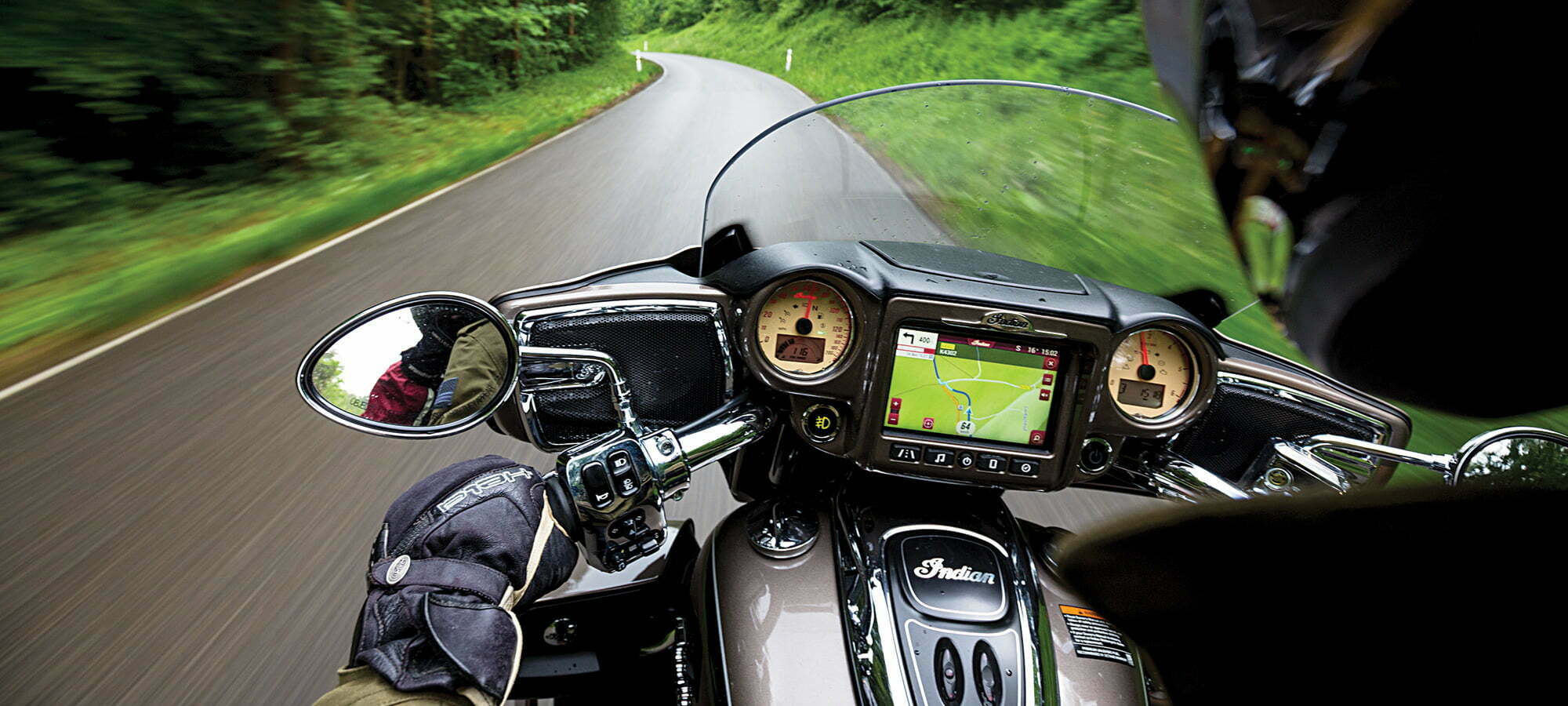 Back at the base, there was a barbecue featuring more encased meat and lots of smiles. Servicemen and their families thanked Carey for all he does with the Good Ride charity and took photos with him. A couple of veterans shook his hand and gave him challenge coins as a thank you. To someone like Carey, the sentiment goes a long way because he understands that a lot of them are "getting shipped to places with civil war and going to help keep the peace. These guys are in pressure-cooker situations."
There are always more people to reach, which is probably what keeps him going. There were even a few people who only knew him as the guy who is married to a pop star and not the person who invented the Hart Attack freestyle moto trick. A handful of non-motorcyclists even showed up to hang with Hart, B, and the rest of the veterans to help support the cause.

The good news is that Good Ride raised more than $100,000 last year for Infinite Hero Foundation. "This year, our goal is to write a $150,000 check to Infinite Hero. I hope as this thing grows we can put a zero behind the number," Carey says. "But you've got to crawl before you walk."
When it became clear that Pink wasn't going to show up, I knew it was time to go home. I had a great time and would have loved to spend another month riding throughout Germany, but I didn't have enough replacement underwear with me. The bacon strips in my underpants from eating pounds of encased meat were a hint that it was time to go home for a fresh pair of chonies.