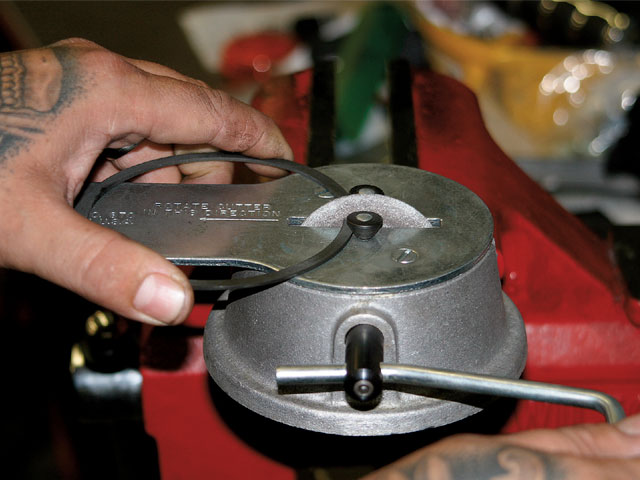 It seems like no matter how powerful and fast our motorcycles are, we just can't resist the urge for more. You can increase the compression, flow the heads, juice up the cams, add nitrous or a blower-you get the idea. Nobody should have to settle for what took the Factory engineers years, if not decades, to design, hone (no pun intended), and perfect on our beloved machines. Size matters to us, from the duallies we drive to the 24-ounce ribeye down at BeefBarn.
Aside from the simple pipe/airbox modification, probably no other job is easier to perform or gains the greatest bang for the buck than increasing the displacement of the motor. Many companies produce big-bore pistons that work well with most of the stock H-D components. Combine the increase in cubic inches with a slightly more aggressive cam design and the aforementioned pipes and air cleaner, and you can have yourself a very dependable, streetworthy motor. Streetworthy means the bike has the torque where you want it, most likely in that sweet 2-4,000 rpm midrange where we spend most of our time. Combine that with reliability and the bike is going to be fun to ride. On the flip side are motors built for peak (high rpm) power numbers that often give up power in the low rpm range while reducing reliability and possibly running poorly on pump-gas.
Kuryakyn has all the bases covered as far as motor hop-ups are concerned. Their individual components and motor kits range from mild to wild. As the parts get more aggressive (as in high lift cams, billet heads, larger throttle bodies, etc.) they yield more power, but at an expense, not the least of which is economic. We contacted Kryakyn to see what they had for the more budget-minded consumer that seeks more power but still wants to retain stock-like rideability and reliability. We were starting with a stock 96ci '07 Softail Deluxe that we wanted to bump up in size. They came up with the Cheap Thrills kit that fit the bill and in the process would increase displacement to 103 inches. Before we get into the specific parts, the following are the reasons we went with Kryakyn: gains in power and torque, a wide, usable powerbands easy starting without compression releases, quiet and smooth operation, can run on 91 octane pump gas without detonation (pinging), and performance-matched components.
The parts we received consisted of:
| | |
| --- | --- |
| • Wild Things 103ci Forged flat top pistons, rings, pins, clips #458 | $329.99 |
| * Wild Things TC-2D cams #460 | $349.99 |
| * Fast Times Pushrods # 438 | $124.99 |
| * Pro "R" Hypercharger # 9322 | $309.99 |
| * Bluegrass Breather # 9932 | $49.99 |
| * Catch Tank (for Bluegrass Breather) # 9931 | $49.99 |
| * Top End Gasket set # 480 | $89.99 |
| * Cam Service Gasket set # 481 | $29.99 |
| *.040-inch MLS Head Gaskets # 485 | $36.99 |
| * Wild Things Copper Exhaust Gaskets # 482 | $7.99 |
| Parts totaled | $1,379.90 |
The previous Big Bore Cylinder Honing story in this issue showed you how we took the stock 96-inch cylinders and bored and honed them to accommodate the larger 103 pistons. Once that was finished we took the Cheap Thrills parts to Harley-Davidson of Anaheim-Fullerton to have tech Matt Cortez rebuild the motor and install a set of Vance and Hines Long Shot pipes, along with a Power Commander. Once the bike was put back together, we put 1,000 miles on the bike before dyno-tuning the EFI to gain maximum power.
Check out how what can be done in a day's worth of wrenching.
| | | | | | |
| --- | --- | --- | --- | --- | --- |
| Wild Things TC-2d Cam specifications | | | | | |
| | Lift | Opening | Closing | Duration | Lobe Center |
| Intake | .510 | 18 | 50 | 248 | 106 |
| Exhaust | .495 | 48 | 14 | 242 | 107 |
Squish and You:
Setting the squish is one of the most often overlooked procedures in building a performance engine. Squish is the clearance between the piston and the quench area around the combustion chamber at top dead center. More simply put, piston to head clearance.
When the piston approaches the head on the compression stroke, the air fuel mixture in the cylinder is squeezed out of the quench area towards the center of the combustion chamber. This creates a great deal of turbulence in the chamber. Turbulence is a good thing here keeping the fuel in suspension and creating a more homogenous mixture in the combustion chamber. These two things will result in a more complete burn and because the air fuel mixture is more consistent throughout the chamber, there is much less of a chance detonation will occur. Other benefits are increased power, better fuel mileage, and a crisper feeling and sounding engine.
The tighter your squish is set, the more benefits you will receive from this process. On the other hand, if your squish is set too loose, you can end up with a bike that performs poorly and has severe detonation (pinging) problems.
So how tight is too tight and how loose is too loose. For most Harleys .030-inch to .035-inch is the ideal piston to head clearance. Any closer and you run the risk of the piston hitting the head. Looser than .040-inch and the benefits of squish are lost.
Kuryakyn has raised the deck on their Wild Things pistons .015-inch to make getting that perfect .030 to .035-inch squish setting easier. Your cylinders won't need to be shortened and/or the have need for super thin head gaskets.