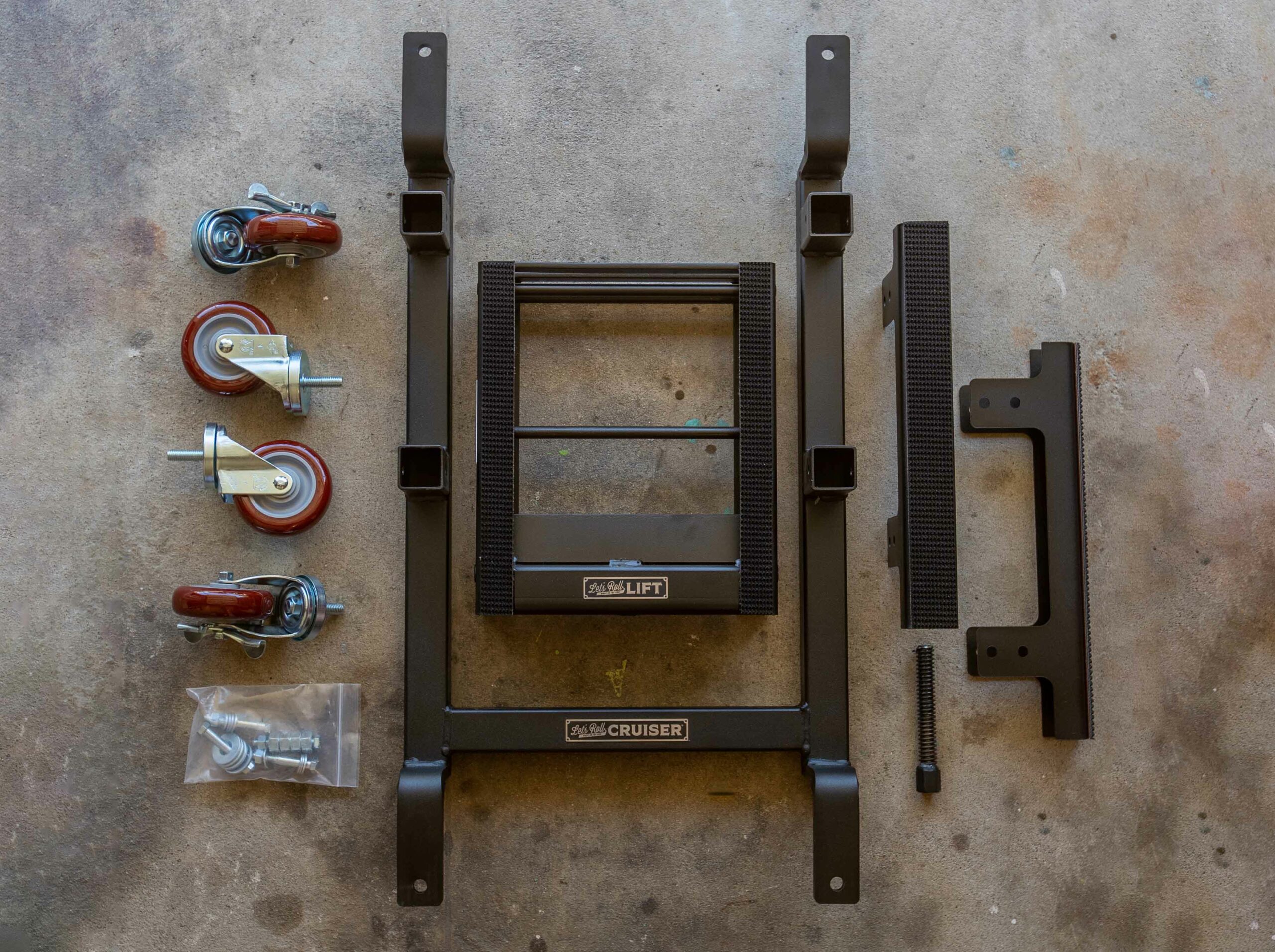 We're always 0n the lookout for products that make sense. Since we all have too much going on with our daily lives, it's helpful when we can tackle projects efficiently. I was eyeing the Let's Roll Cruiser Lift and Dolly via the 'Gram and wondered if it was as legit as what I was looking at… Well, it is.
The Let's Roll setup is made in the good old US of A and its construction is nice because I can get the bike hoisted up via the scissor lift and onto the dolly all by myself (I'm a big boy now!). Once I get it on the dolly, it's pretty damn easy to spin it around. Their proprietary design was built for one-man operations or garage-builder types, so they're not out a six-pack of suds because they had to call in a favor. It's also great for stowing your motorcycle in tight spaces (one-car garages like mine). For Harley-Davidson owners, you're going to want to jack the bike up from the kickstand side (primary side). This makes it so you don't need help. You'll simply position the scissor lift in your sweet spot to where you can get the dolly underneath without impeding the kickstand location. It took a minute to get it just right, but once we did, it all worked pretty well.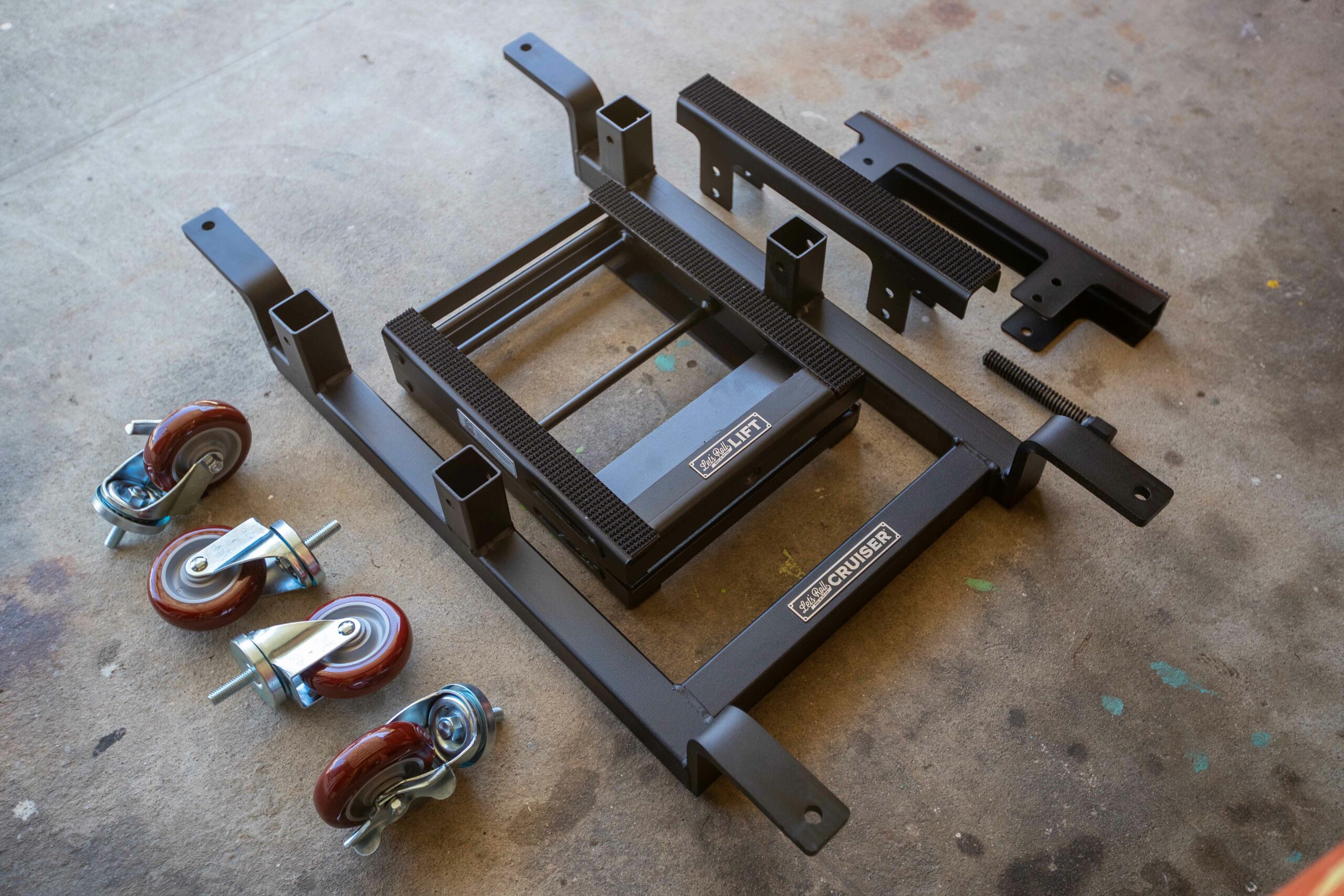 Let's Roll Dolly
The heavy-duty motorcycle dolly offers 1,200-pound capacity allows for easy movement for precise storage of your motorcycle without having to struggle to balance it. It keeps your bike stable and upright and doesn't require tie-downs. It's also not a hydraulic-operated device, so no worries on leaks or stains. The Dolly is also pretty compact, which makes for a smaller footprint so it's relatively easy to store. I hang mine up on the wall studs in my garage.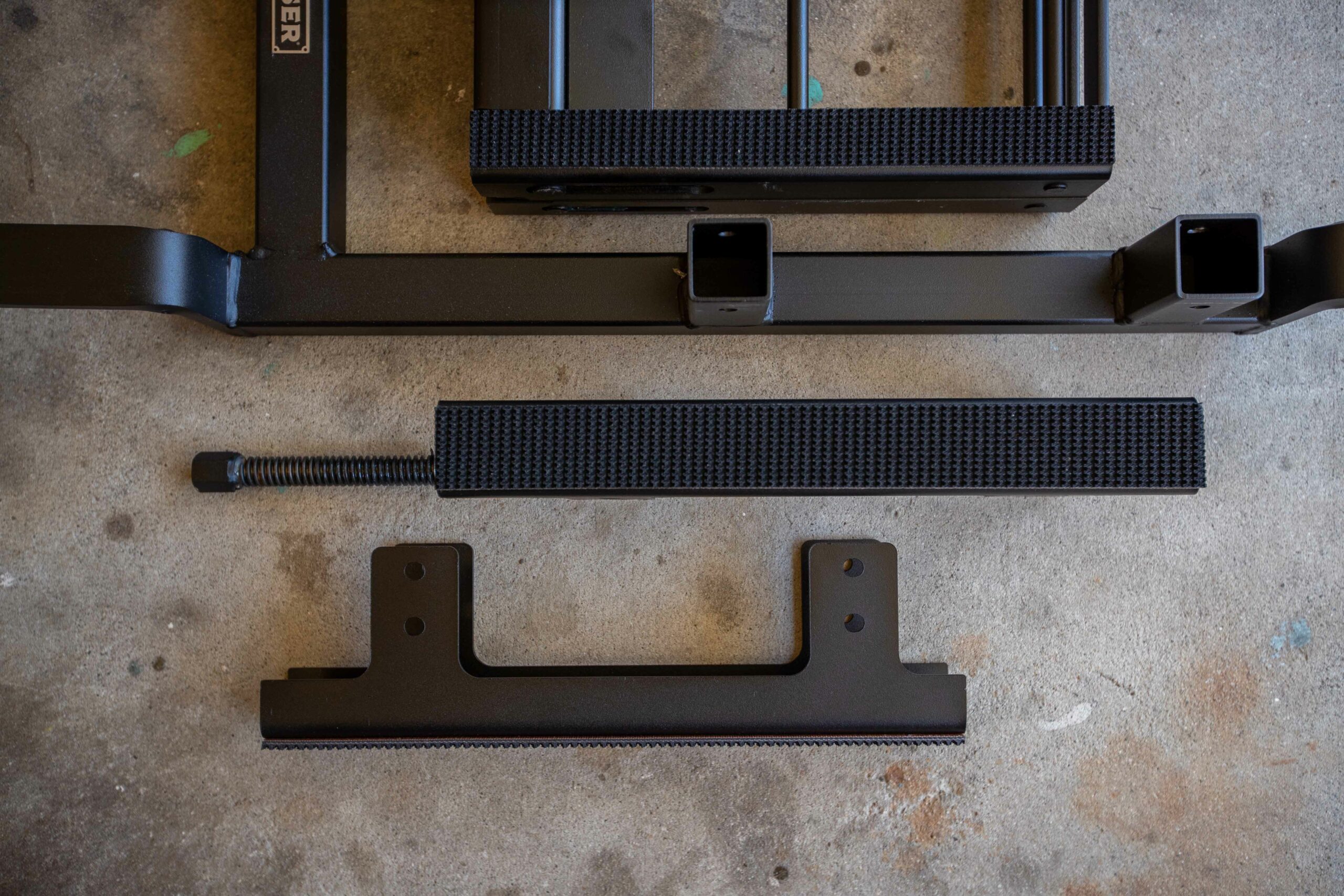 Let's Roll Lift
The Let's Roll Lift works with any motorcycle that can be lifted from underneath between the wheels. A center stand will most likely interfere with the dolly. Especially great for large cruiser and touring models. Does not work for trikes. Caster components are imported and assembled in Texas. Note: You'll need a scissor lift in order to use this on your motorcycle.
The lift has 1,100-pound capacity featuring industrial, durable, rubber that protects the bottom of your bike. The rubber barrier also keeps your bike from sliding on the lift. The lift is low enough to slide under your bike and lift while it is resting on the kickstand. I used a ⅞-inch deep well socket and swivel head ratchet as directed and the lift was easy to operate. (Does not need to be a deep well or swivel head).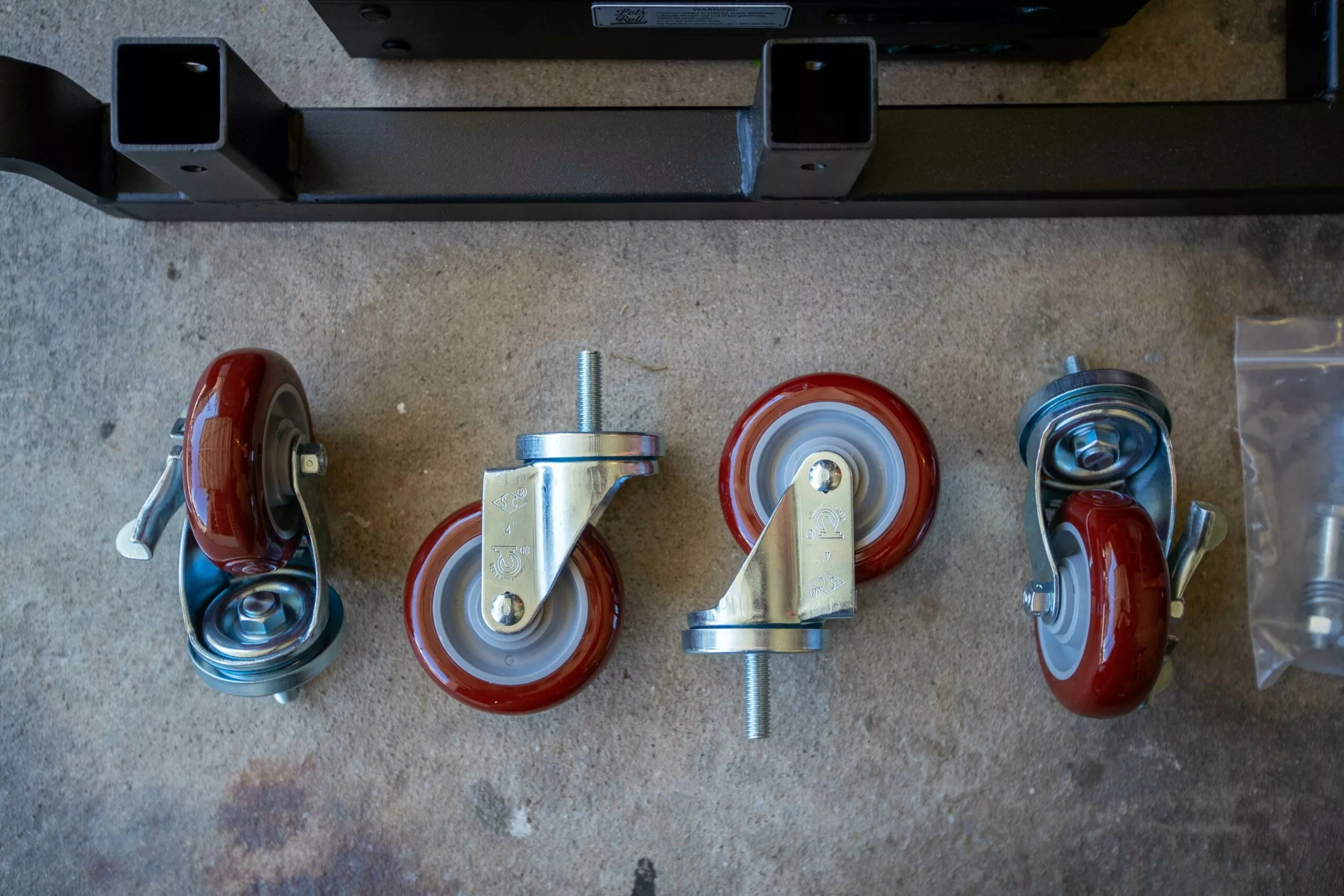 If you're ready to drop the hammer on a Let's Roll Cruiser Lift and Dolly, click HERE to purchase.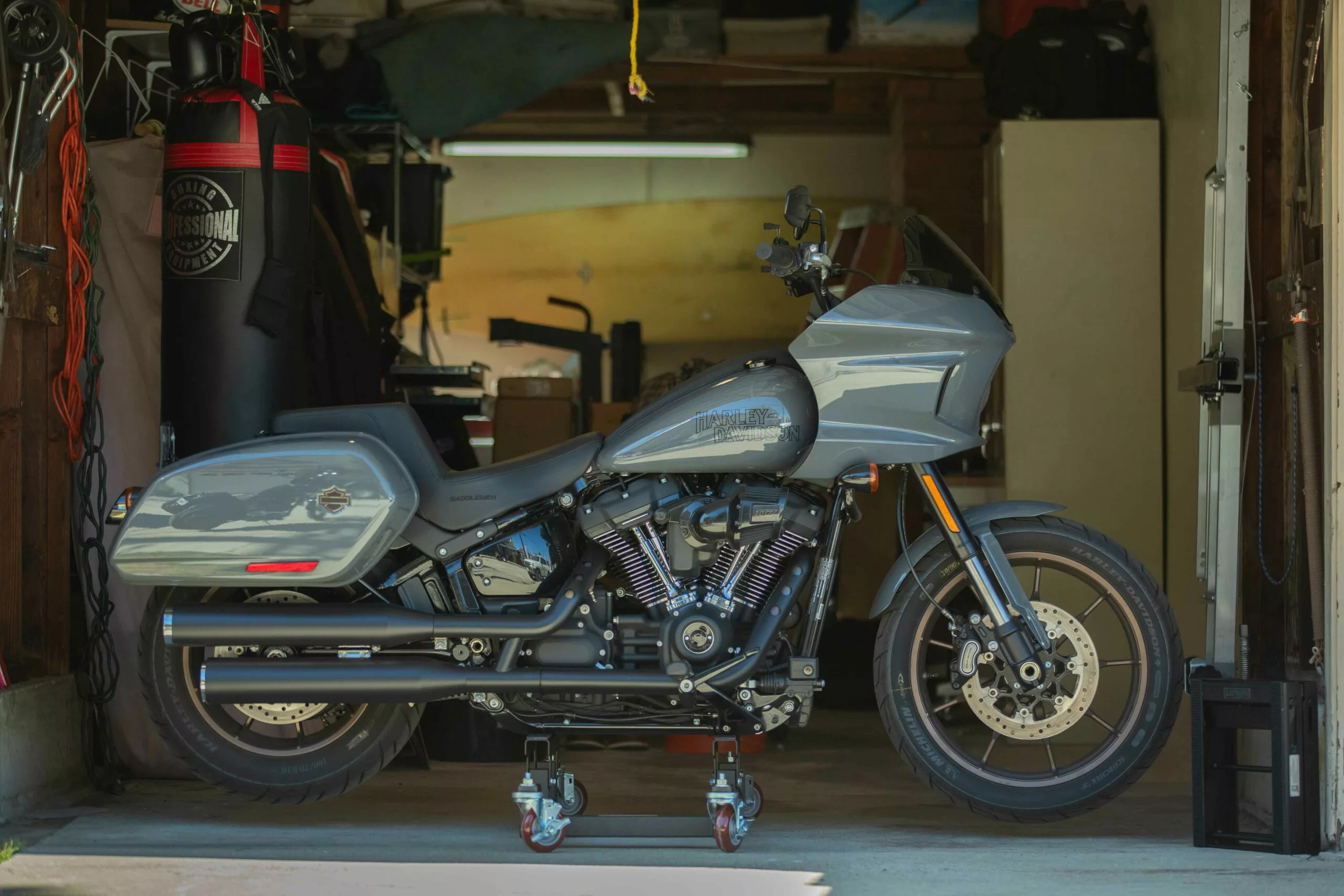 Proprietary Design for 1-person with 2-minute setup

Small Footprint

No additional hidden fee for repair kits, velcro or tie-downs

Zero-scuff, 4" urethane wheel design

No hydraulic system, which means no leaks, stains, or clean-up

Dolly and Lift Made in the USA

Every shipment comes with your Certificate of Authenticity and our Exclusive Lifetime Warranty

Super easy to move and doesn't get hung up on concrete seams

Bike tires are off the ground and the weight is off the suspension

The bike is upright, resting on the frame, not the kickstand

No tie-downs required to secure your motorcycle

Two casters have brakes already installed. There are ball-bearings on the casters

Lift comes standard with felt on the bottom to protect your painted or epoxy floor and your lift from being marred