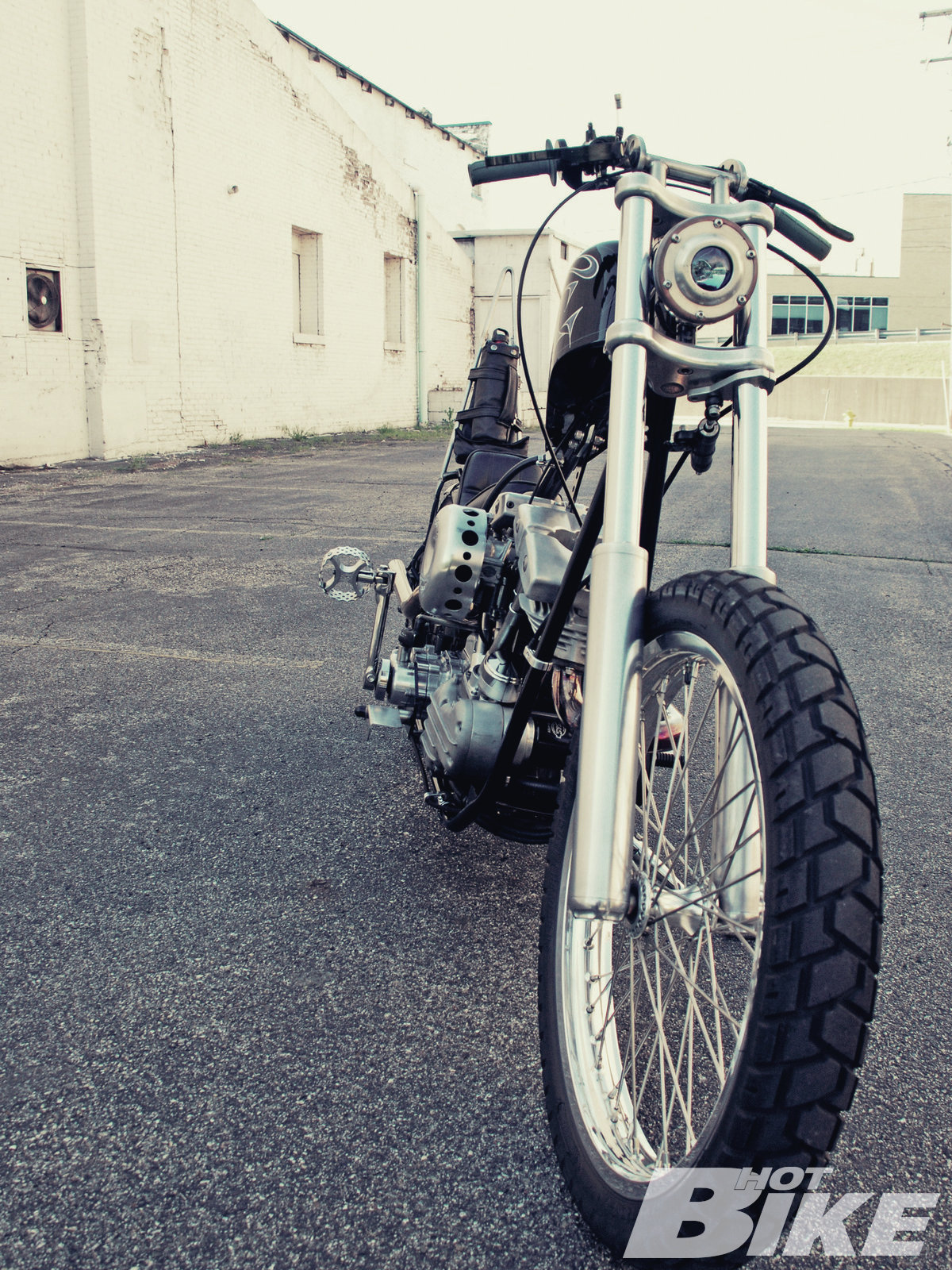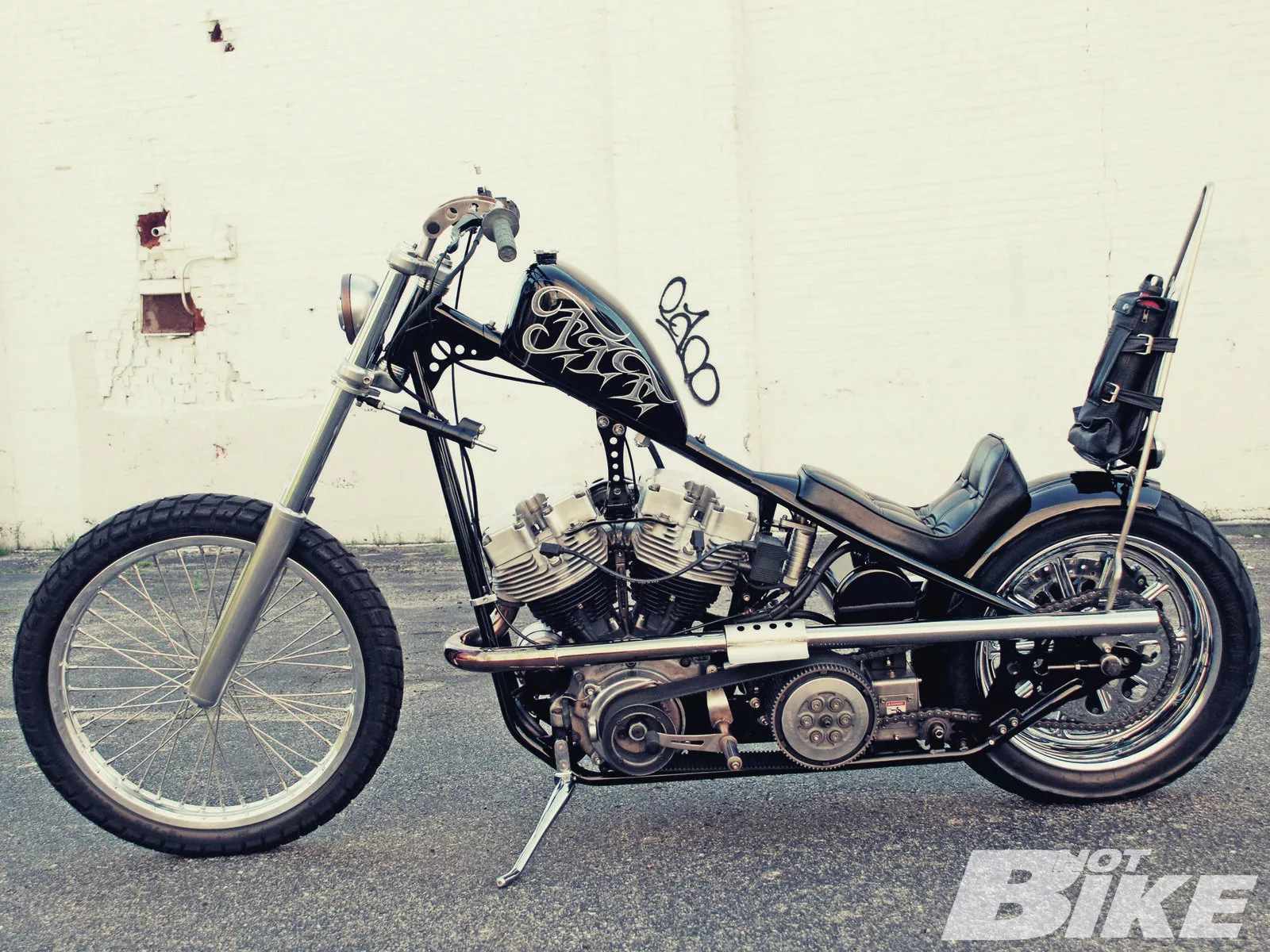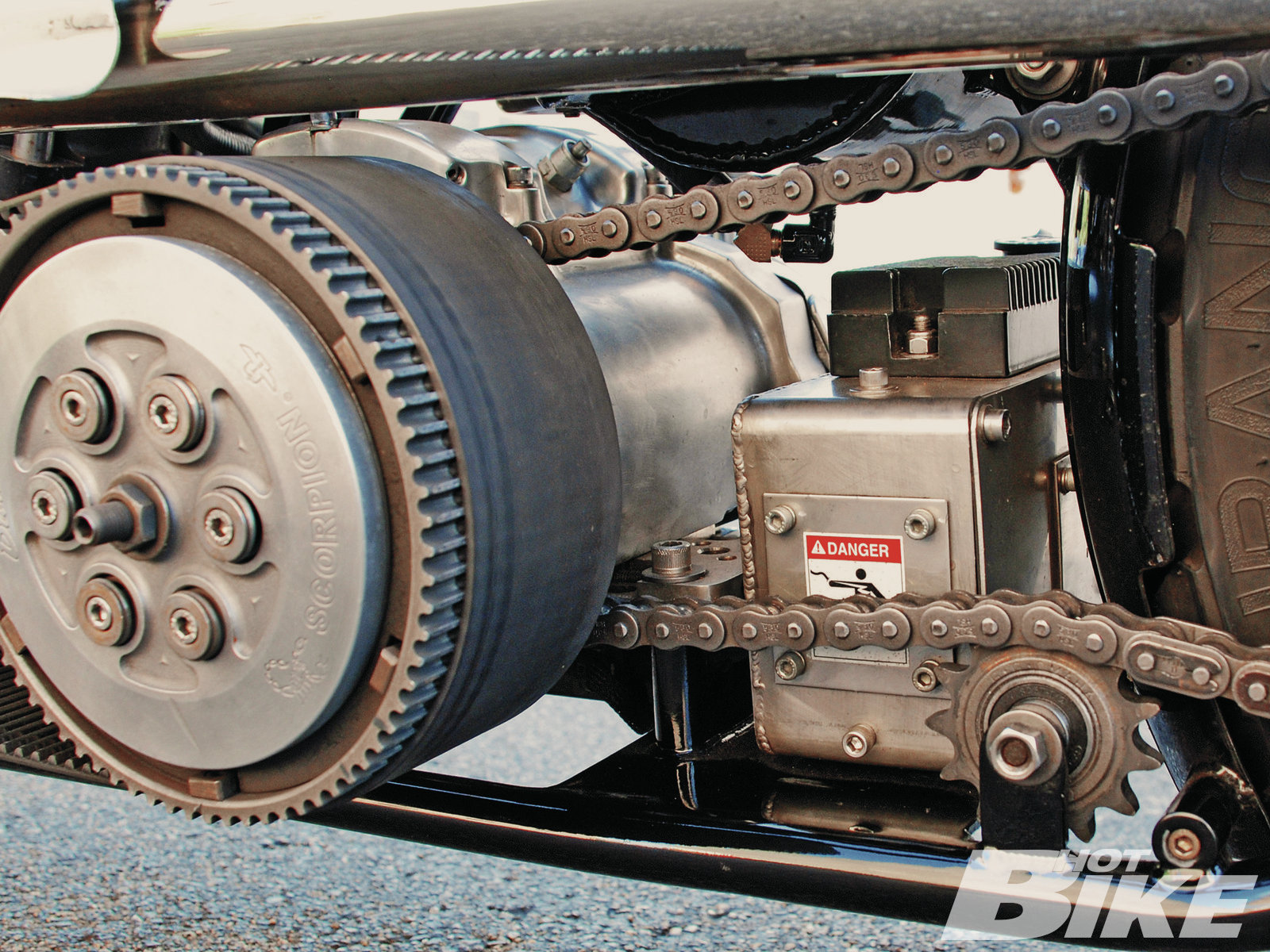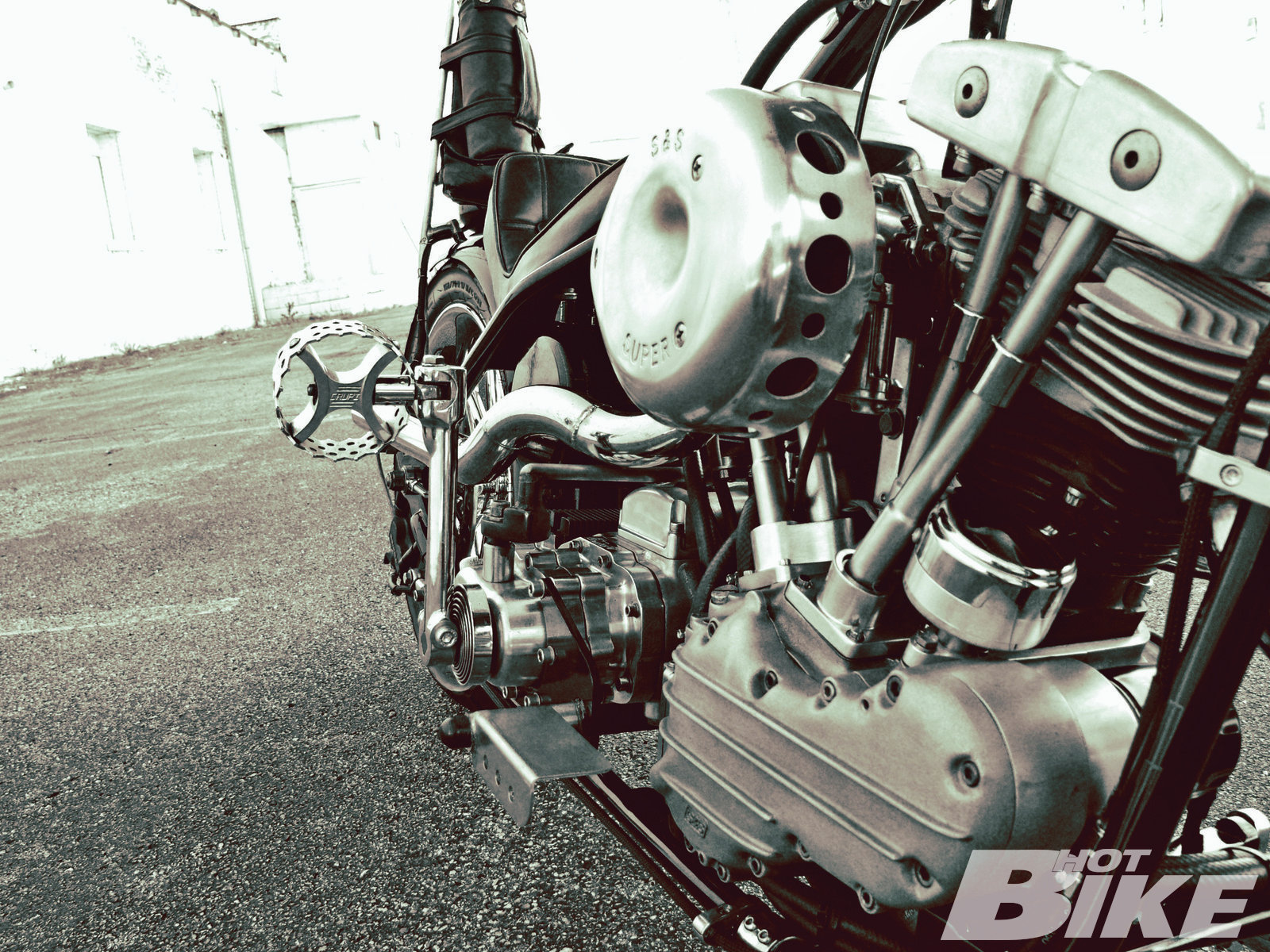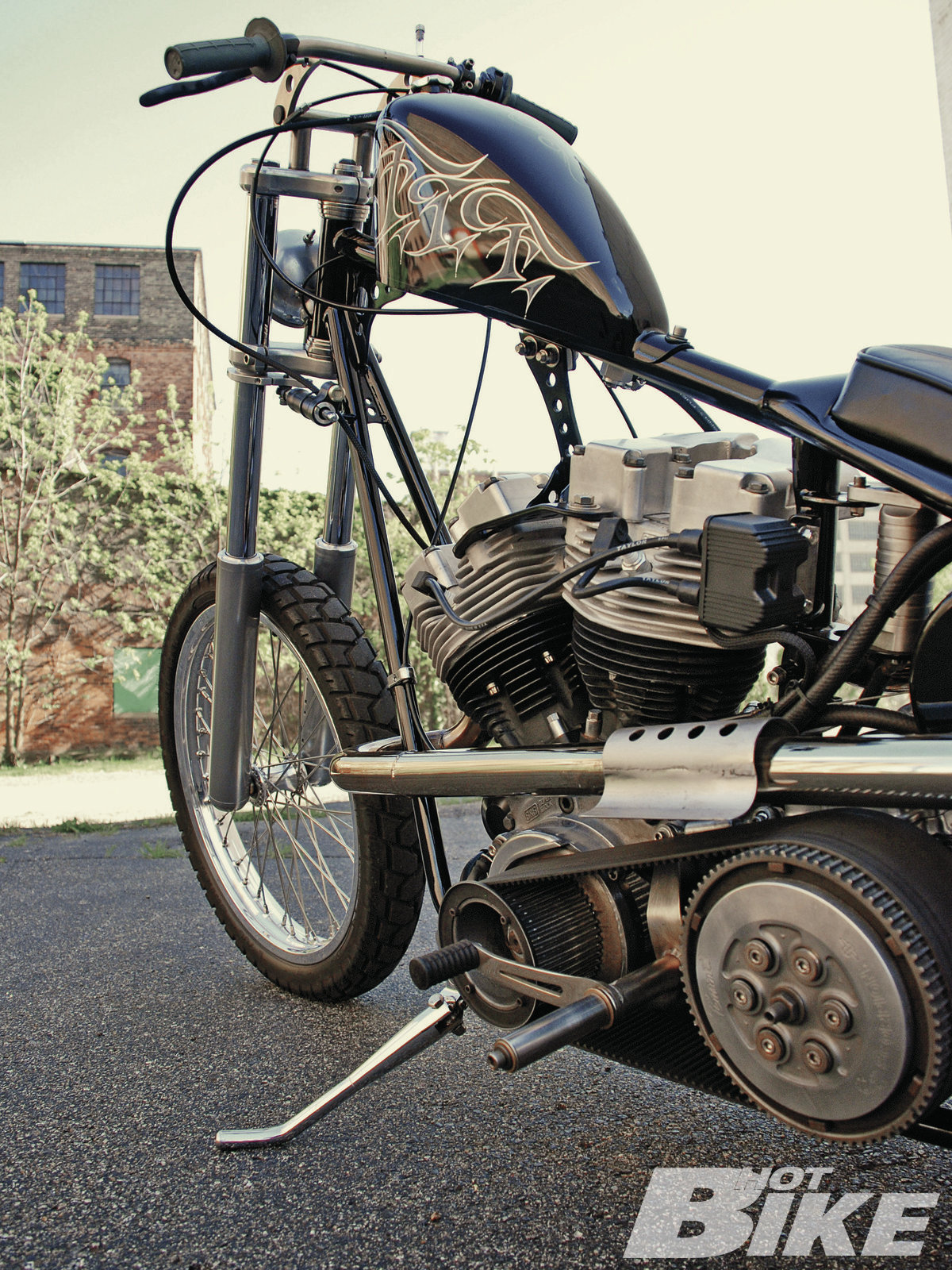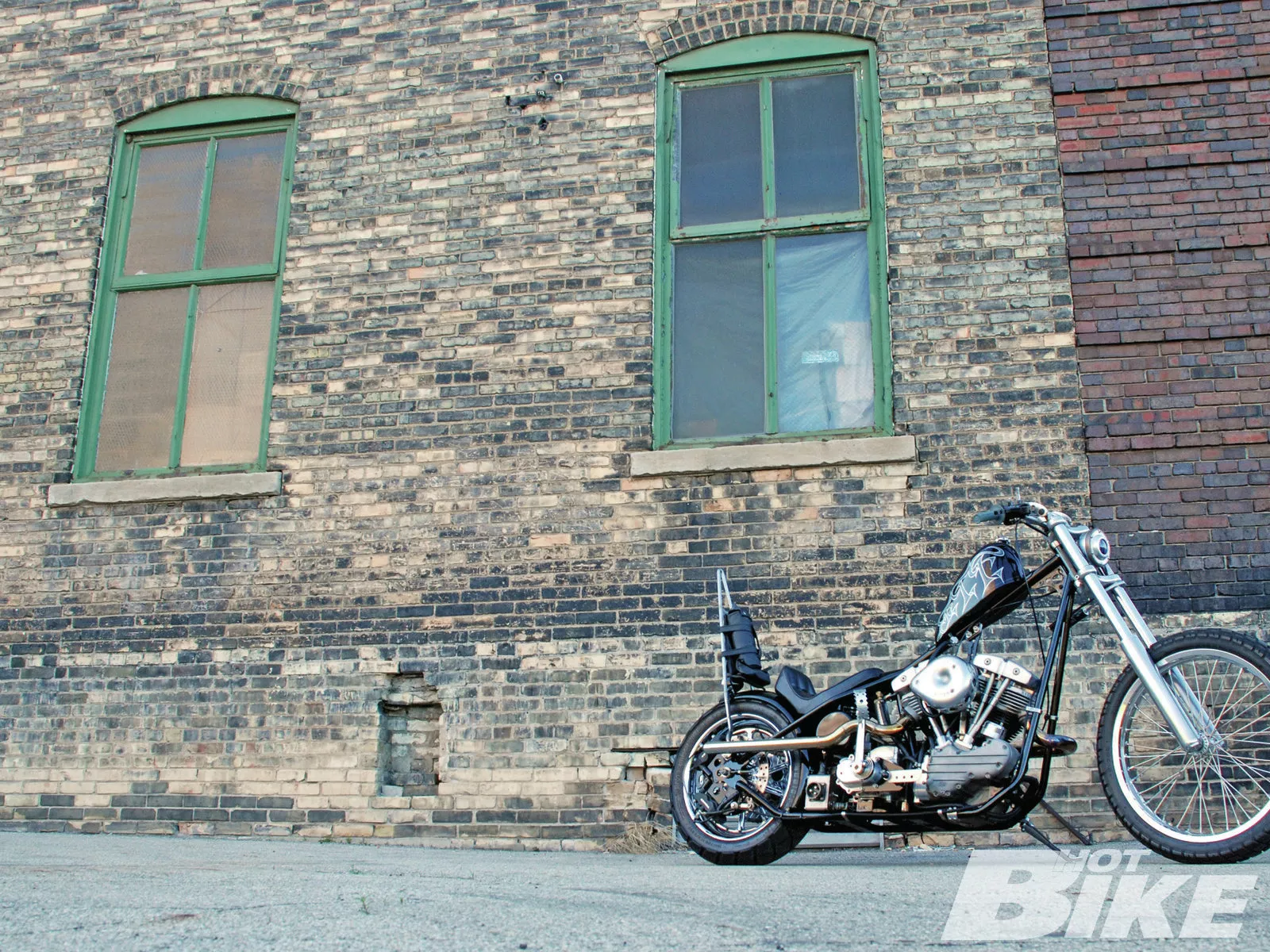 Believe it or not, this bike really just started from a phone call. My ol' Michigan riding buddy now in California, Scout (formerly of Baker Drivetrain) called me up one day asking if I knew of anyone who might be interested in the powertrain out of his bike dubbed the Damn Vandal. We worked out some details and he crated everything up and sent it up to Michigan.
For a backyard builder such as myself, I'm pretty fortunate to have a engineering degree in welding and to have years of experience as a product prototype fabricator around Detroit. I also spend most of my time away from work building hot rods in my garage, so in the spirit of the choppers, I wanted to craft something just a little against the grain. My sights were set on something with goofy proportions that handled well, and no real off-the-shelf parts. In lieu of period-correctness, I built the bike for durability to handle our explosive and reckless local riding styles during the very short summers we have in the Midwest.
I built the frame starting with an old hacked up Paugcho job that I used the engine and trans cradle from, and then I scratch-built the rest. I didn't have a frame jig per se, so I worked off an old welding fixture plate from work. The frame dimensions ended up being a radical 6 inches up, 2 inches out, with 29 degrees of rake and 4 inches of stretch in the backbone. I also wanted a ton of ground clearance since I laid down my last chopper when my kickstand tab hooked a manhole cover going around a turn. One thing that I like about this bike is the rear dimensions of the frame. It's really narrow in the back, so narrow that I had to notch the frame out for chain clearance. Yup, I built it this way because I just may need to ride it through doors and hallways—ya never know.
The tank started as a raw Sportster deep draw that I narrowed, flat-bottomed, and reshaped the top curvature. Think of it as a Detroit-style Frisco tank. I then used a small Pro-Werks aluminum cap to crown it off. I then scratch-built the bars, exhaust, controls, and sissybar out all out of stainless steel. The brakes are take-offs from a, '09 GSXR 1000, so you know the thing is going to stop when needed. The rear fender is a Front Street Cycle, wrapped around a 17×4.5-inch Harley-Davidson late-model Revolver wheel with a Metzler 150 tire out back. The front wheel is a 40-spoke spool hub laced with Buchanan stainless spokes to a vintage Akront 21-inch rim with a re-pop Shinko tire. Up front, the forks were pieced together with a set of Mullins Chain Drive narrow 41mm triple trees, with 4-inch-over tubes and Gard Hollinger from L.A. County Chop Rods made the super-beefy lowers by hand.
I've got such a paradox of fat parts mashed into a skinny configuration that I had to shave the side of the tread on the front tire to get it to even fit between the lowers. I hacked up a used Coyote Gear spun aluminum tank to clear the final drivechain. The seat is a NOS butt bucket from the '70s.
The headlight is a stock Harley spotlight bucket with a high-powered PIAA driving light mounted in it. The taillight is a '40s guide turn signal off of some old vehicle of some sort. The stainless electrical box was once a transformer enclosure from work, now modified to hold a small dirt bike battery, relays, switches, etc. The steering stabilizer is off an '09 Kawasaki B-King.
The motor is one of the first 93-inch S&S; Generator Shovels made and the trans is a kick-only Baker Drivetrain six-speed that has had quite a few abusive miles on it, so I took the trans over to Nate Zarnosky and had him check everything out. This golden boy also did all the paintwork to the frame and tins. The motor went over to James Simonelli, formerly of S&S; cycles, and he went through the motor and freshened things up a bit. James also bumped the compression up to around 10:1. The primary is a Karata 3-inch belt with Scorpion Clutch…also neglected and abused until I gave it the TLC it begged for.
The result is a single-kick Michigan pothole shredder seen here. HB
Specifications
| | |
| --- | --- |
| Owner | Josh Whitford |
| Shop | My Garage |
| Year/Make/Model | 2011 Custom |
| Fabrication | Garage built by Josh Whitford |
| Build Time | Six months |
| | |
| **Engine | H-D** |
| Year/Type/Size | S&S; Gen Shovel 95" |
| Builder | James Simonelli |
| Cases | S&S; |
| Cylinders | S&S; |
| Heads | S&S; |
| Rocker Boxes | S&S; |
| Cams | S&S; |
| Throttle Body | S&S; |
| Air Cleaner | S&S; |
| EFI Controller | N/A |
| Exhaust | Josh Whitford |
| | |
| Transmission | |
| Year/Type | Baker 6-4 Kick only |
| Gears | Baker (N1 drum) |
| Clutch | Scorpion |
| Primary Drive | Karata |
| | |
| **Frame ** | |
| Year/Type | Josh Whitford |
| Rake/Stretch | 29 degrees (approx 6 up, 2 out) |
| | |
| Suspension | |
| Frontend | 41mm |
| Length | 4 over |
| Triple Trees | Mullins Chain Drive |
| Swingarm | N/A |
| Rear Shocks | My Back |
| | |
| Wheels, Tires, and Brakes | |
| Front | |
| Builder/Size | Harley Obzut |
| Tire/Size | Shinko 21 |
| Calipers | None |
| Rotors | None |
| Rear | |
| Builder/Size | HD |
| Tire/Size | 17×4.5 |
| Caliper | 2009 GSXR |
| Rotor | Stainless |
| Pulley | |
| | |
| Finish/Paint | |
| Manufacturer | Nate Zarnosky |
| Colors | Black |
| Paint/Graphics | Lettering by Mad Max |
| Plating/Polishing | |
| Powdercoating | |
| | |
| Accessories | |
| Front Fender | None |
| Rear Fender | Front Street |
| Gas Tank | Josh Whitford |
| Dash | None |
| Gauges | None |
| Handlebars | Josh Whitford |
| Grips | Pro Taper |
| Mirrors | None |
| Hand Controls | Buell/GSXR |
| Foot Controls | Josh Whitford |
| Floorboards | None |
| Headlight | H-D/Josh Whitford |
| Taillight | Guide |
| Turn Signals | None |
| License Mount | Josh Whitford |
| Seat | NOS 70's |
| Amplifier | Shovelhead Crackle |