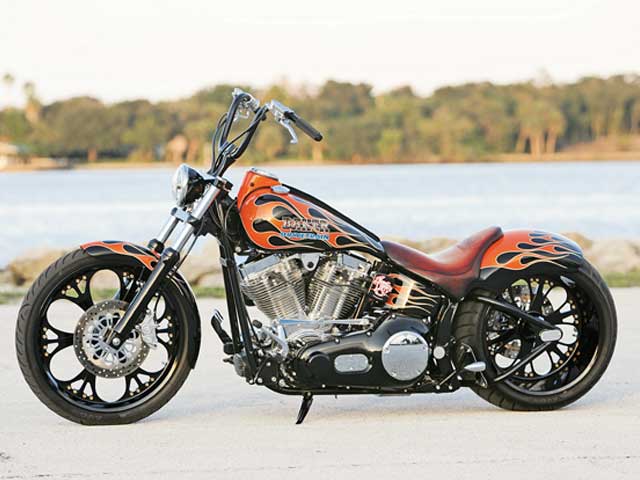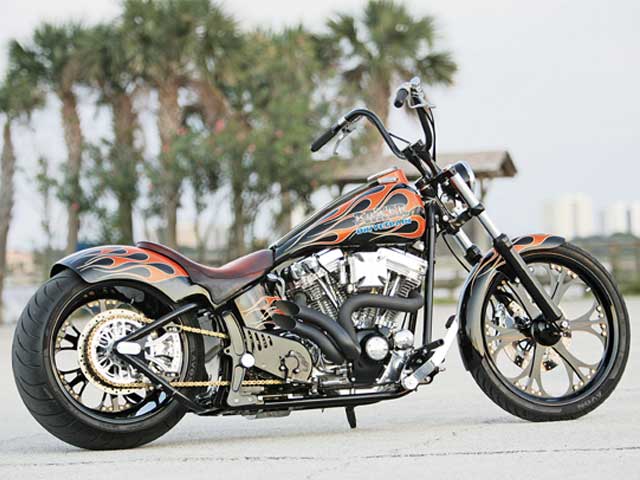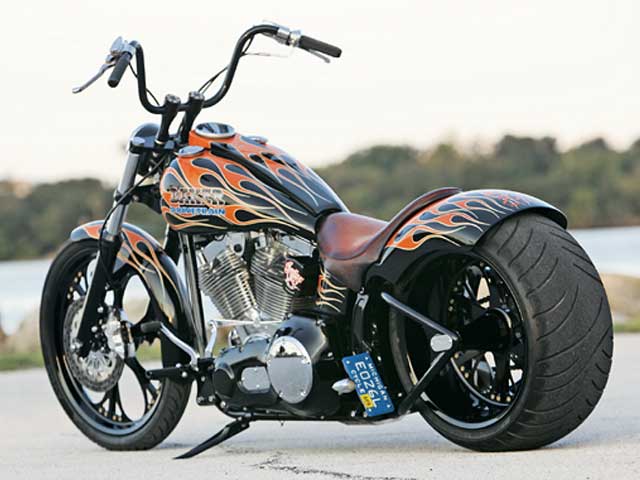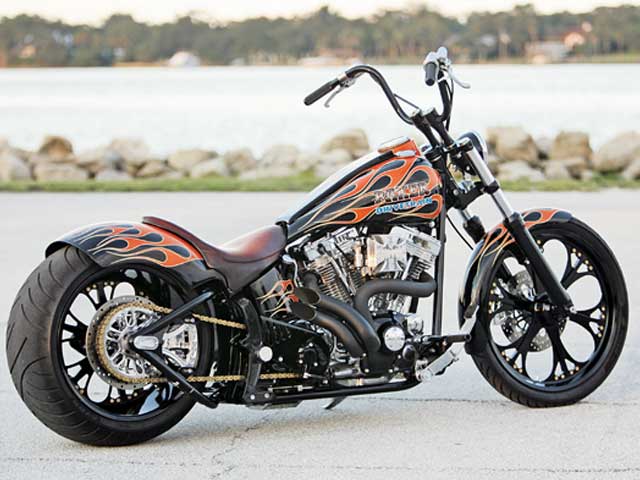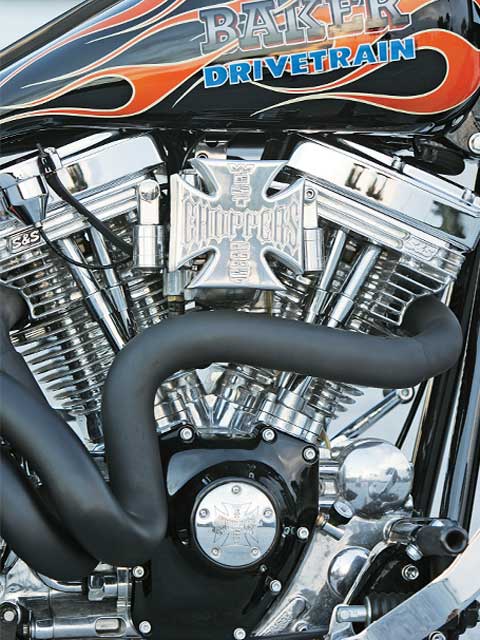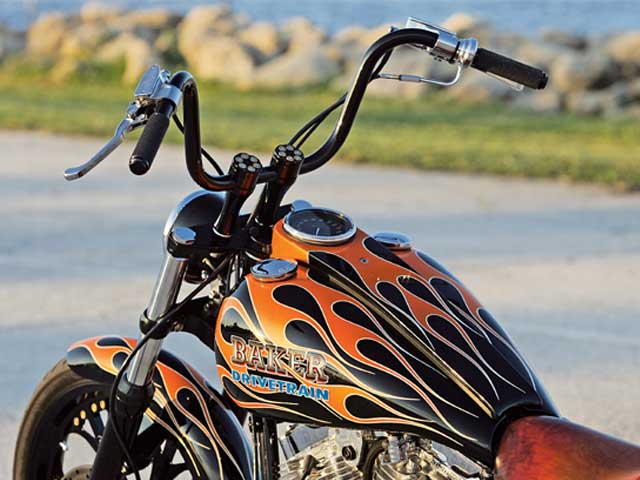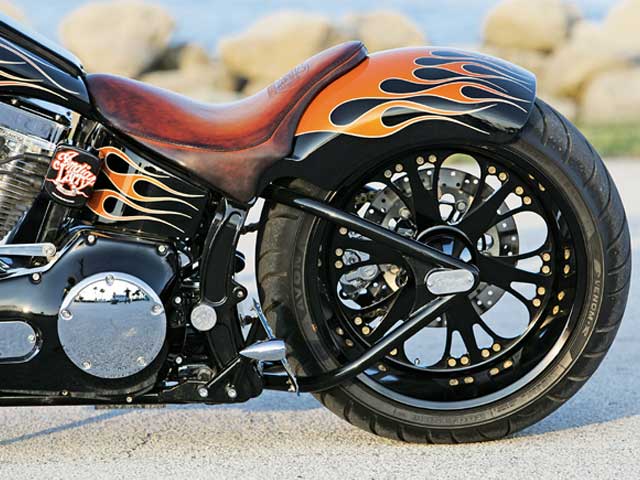 There's a lot of truth to that old expression, "It's who you are and where you left your house keys." A good example is the '05 Harley-Davidson Softail Standard on the pages before you. It's no secret that someone in search of a famous motorcycle shop to build their custom bike is usually going to have to wait like a dog with its tail stuck in a vat of Elmer's instant glue. To put it in simpler terms, take for example West Coast Choppers (WCC) of Long Beach, CA. The rumor is (and please don't sue us if we're wrong) that Jesse and his guys have a waiting list two years long, full of famous rich guys trying to get themselves a bike built. So when we found out this fat-tired black beauty was in and out of West Coast Choppers in only two months, we figured there had to be a good story-and there is.
The bike was built to showcase Baker Drivetrain's Baker 300 Wide Tire Kit, and it belongs to Adam "Stretch" Sanderlin of Haslett, MI, home of Baker Drivetrain. We asked Stretch to explain to us some of the beneficial features of the Baker 300 Wide Tire Kit. He said it works right out of the gate because you don't have to look to numerous different sources to gather up a bunch of parts and then hope they're all compatible.
The heart of the Baker 300 kit is the company's DD6R six-speed transmission. The DD6R WCC installed in Stretch's Softail was ordered in silver with a wrinkle-black finish; show chrome is available on request. Aft of the Baker RHD transmission resides another key component to the 300 kit: the TIG-welded swingarm that's engineered specifically to solve all of the problems normally associated with this major modification. It wasn't really necessary, but the WCC crew decided that the black powdercoating applied (unless a customer specified chrome) to all Baker 300 swingarms, along with the stock Harley-Davidson frame, should be sandblasted down to the bare metal.
From there, little elves were rounded up at the local Home Depot parking lot, hired, given a crash course in die-grinder safety, and then turned loose to buzz smooth every single weld and casting on the frame and swingarm. Actually, that's not true, but we thought it was more entertaining than saying one of WCC's artisans sculpted it into a piece of art.
From there, the two parts, plus a lot of smaller pieces, were loaded into WCC's laid-out Astro van and transported to Primo Powder Coating in Huntington Beach, CA. Meanwhile, the Softail's stock 88-inch Twin Cam motor was busy getting its top end pulled down while a set of S&S; heads was sent out for some performance work by Baisley Hi-Performance in Portland, OR. Dan Baisley, known for his super-trick and quite effective flow work on Harley-Davidson cylinder heads, didn't skip a beat and extracted a bunch of extra horsepower to light up the super-fat 300mm Avon Venom rear tire.
With the top end back from Baisley's and the frame and swingarm returned in glossy black powder, the WCC crew was ready to make things happen. The Harley-Davidson motor and Baker trans were stuffed back in, and then the Baker 10-plate clutch was assembled, along with the rest of the primary drive. Things were starting to shape up. Bill Dodge was busy putting the finishing WCC touch on the front and rear fenders, while Pete Finland (aka "Hot Dog"), WCC's in-house master painter, had the Harley-Davidson gas tank coated in deep gloss black and ready for flames. In the early days, cool fenders were one of the things people thought about when the name "West Coast Choppers" was mentioned. The rear fender WCC used on the Baker 300 bike is the one that comes with the Baker 300 kit, but the front fender is from WCC. In fact, there are a lot of West Coast Choppers parts on this bike, such as the WCC air cleaner and exhaust system. Other details include a WCC license-plate mount with taillight.
Pete Finland finished pulling the stripes on the flames and blazed the Baker logo on the gas tank and rear fender. There are two things West Coast Choppers bikes are really known for: a badass stance and bicycle-clean details. By "bicycle clean" we mean that everything is hidden so well it looks as if the bike won't run. The stance on this West Coast Choppers bike is thanks to Legend Air Ride and the Baker 300 kit.
One might be able to go to K-Mart and buy a West Coast Choppers T-shirt or hat just like Jesse wears, but if you want a set of WCC Lawless wheels like the ones on the Baker 300 bike, you gotta have West Coast Choppers build your bike.
Fortunately, it's not quite as tough to get a seat like the one on the Baker 300. Although you can't get one just like it, you can get the same quality. We called Paul Cox, the person responsible for crafting this seat, and asked him a little bit about it. It was 9:30 p.m. New York time when we called. The plan was to leave a message and hope Paul would call us back. When we were halfway through recording our phone message, Paul picked up the receiver, saying he thought he heard the answering machine while he was in the back of the shop doing some fabricating. After laughing about the long hours he had to keep, Paul described his work. First, Paul explained that the type of leather he uses comes in from 1- to 20-ounce weights. Weight indicates the thickness of the leather. Beginning with a vegetable-tanned leather hide of 6-ounce weight, he used oil-based dye, starting with black that fades into orange and ends up yellow where it meets the Baker logo he hand-tooled into the seat's center. Paul went on to explain that, due to the large size of this particular seat, he felt a simple top stitch would look best. If you're interested in having Paul Cox do a custom seat for you, don't be shy; it says right on his website that he does work for the everyday wrench as well as all of the famous guys.
Before we forget, the hand controls and brakes on the Baker 300 bike are from Performance Machine. Look at the left rear side of the Baker 300 kit swingarm, and you'll notice a clean, open expanse. This is thanks to Performance Machine's drive-side rear-disc-brake setup. On the front the balance shifts to the left side with a single-disc front brake, also from PM.
Although the '05 Harley-Davidson Softail Standard built by West Coast Choppers for Baker Drivetrain is a one-off custom, it illustrates how radically the Baker 300 kit transforms a production motorcycle without drastically altering the inherent dependability engineered into a mass-produced motorcycle.
Perhaps a better description of the Baker 300 kit would be to quote directly from Baker Drivetrain's website: "The rear fender is 13 inches wide and made of 13-gauge steel with internal strut supports; this sucker is strong. You can fly off curbs with your 300lb stripper girlfriend on back, no problem, and it will take the punishment."
And if that isn't tough enough, folks, what is?