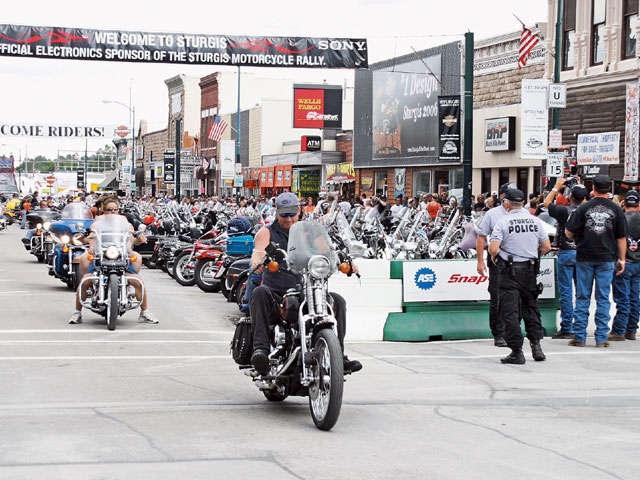 When the Sturgis rally turned 66 this year, it was the usual weeklong (longer or shorter for some) party packed with the usual activities: meet up with friends and family, shop, eat, ride, have a good time, and make lasting memories.
Whether you go every year or just every couple of years, it's good to know that while some things may change, pretty much everything stays the same-for the most part. For example, you can always find Main Street lined end to end with bikes and bars such as One Eyed Jacks or The Loud American. And if you head down one block, all the major vendors, including Drag Specialties, J&P;, PM, Barnett, JIMS, Ness, Corbin, Samson, and more, will be displaying their latest and greatest on Lazelle Street. Craving some rocking live music? Wind your way east along Lazelle past the original Broken Spoke (a new Spoke opened this year), and you're bound to hear the Buffalo Chip, Glencoe's Rockin' the Rally, or the Full Throttle Saloon trying to one-up each other with live concerts from top-name artists. This year's acts included Saliva, Blue Oyster Cult, Billy Idol, Lynyrd Skynyrd, Sammy Hagar, Steppenwolf, and Kid Rock.
Across the street from the Full Throttle Saloon and just outside the Glencoe entrance, you can find more vendors, along with the hottest bikes in town at the various bike shows that take place inside the Thunderdome at Thunder Road. This year the venue held the AMD World Championship of Custom Bike Building and the Rat's Hole Show, as well as Michael Lichter's School's Out motorcycle art exhibit, which was an examination of the terms "old school" and "new school" as they pertain to motorcycle design. The exhibit featured Lichter's photos and bikes from some of the biggest names in the industry.
On the other side of town at the Jackpine Gypsies Short Track, you can catch the events that originally started the rally years ago: the flat-track races and hill climb. Darting out east to Rapid City, you can do even more shopping with the vendors set up at Rapid City Harley-Davidson. You could also run down to the Rushmore Plaza Civic Center and check out just about everything Harley has to offer and even test ride some of the latest models, or enter your bike in the Harley-Davidson Ride-In Bike Show. But let's not forget about the sightseeing. From Crazy Horse to Mount Rushmore, Devil's Tower to Deadwood, no matter what road you take, you're guaranteed beautiful scenery.
Not everything was exactly the same this year; there were some new events that took place. The Grease Monkey Mayhem lot at 8th and Lazelle was a party in itself, with Indian Larry Legacy, Exile Cycles, Bling Cycles, Paramount Custom Cycles, Voodoo Choppers, and Young Choppers and Hot Rods leading the chaos. As stated before, Jay Allen, the owner of the legendary Broken Spoke, purchased a large parcel of property on the outskirts of town and opened the doors to his new Broken Spoke (aka Sturgis County Line Campground). Running out of space for his Legend Top 50 Show, Jesse Jurrens of Legend Air Ride moved the annual Top 50 bike show from his Rapid City headquarters to a new location. Located just off I-90 between Sturgis and Rapid, the Legend Top 50 Park was a freshly paved piece of land with plenty of room for show bikes and vendors. The Top 50 Park was also where the Biker Build Off finale between Dave Perewitz and Paul Yaffe was held.
With 66 years of history and an entire city behind the annual planning of the event, the granddaddy of all motorcycle rallies is nowhere near ready for retirement. So if you were unable to make it this year, don't worry-it will still be there next year and even years from now. Just remember this: For every year you're unable to attend the rally, you're missing out on years of lasting memories.