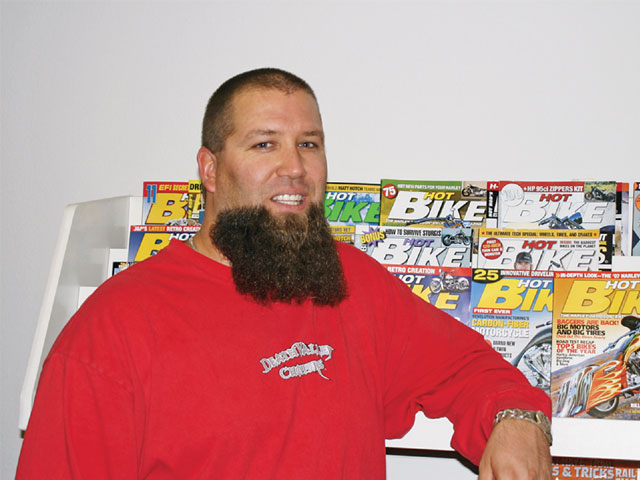 OK, so it's been a couple of months, and things are finally starting to settle down around here at HOT BIKE HQ. This ragged chair that's been passed down to me from the previous editors is finally starting to mold to the shape of my ass. Now, if I can just remember to get up and exercise once in a while so I don't blow out what's left of these damn plastic wheels.
A while back I asked you to send in your comments, and the people have spoken. Just about everyone wants to see more real-world bikes, ones that are attainable by the average Joe. OK, we're working on that, and in fact we have several in this issue, including the "Pick of the Pen" hot rod V-Rod and the flamed Deuce from Anaheim-Fullerton H-D. Moving up the customization ladder, we've got Efram Mah's Hogs on the High Seas giveaway bike, a beautiful representation of the bobbers of the past. Then we have the long, wide-tired drop-seat bike that Brad Ilse of Outlaw Customs built for his wife Sherry. Lastly, we have "All In" from A-1 Cycles in Florida. Ernie found this bike last year while in Daytona and nearly tripped over the massive front tire. Now, it's not as if we've never featured a bike with dual wide tires before, but dual wide tires, dual motors, and dual turbos? From the frame to the triple-trees, this is about as custom as you can get.
We realize that these high-dollar, one-off customs are way out of the price range of the average motorcycle enthusiast. However, we still feature them because they help give people ideas for future projects, parts they'd like to put on their bikes, or just inspiration to turn that stocker in their garage into a mild version of something they saw in the magazine.
When it comes to tech, we understand that practically everyone is on a budget when building, rebuilding, or just maintaining their bikes. That's why we set a $500 price limit on our Exhaust Buyer's Guide-everyone wants to get a new set of pipes, but no one wants to break the bank doing it. Budget horsepower? Sure, it's only an air-cleaner kit, but it still made about 6 hp for $120. Got carb? We've got several pages on quick and easy hop-ups for your CV or S&S; units. Want to quickly transform your Softail for a long road trip? Cycle Visions has two options, and they are both very easy to install.
As I said at the beginning, things are starting to fall into place. We're getting great feedback from our readers, but the only way we can get better is if you keep sending in your comments and suggestions. For instance, drop us a line and tell us what you think of the piece we did on Arlen Ness, Paul Yaffe, and Roland Sands and their first bikes. If it's a hit, each month we'll continue to highlight three new builders and their first bike memories.
Until next time,
Eric