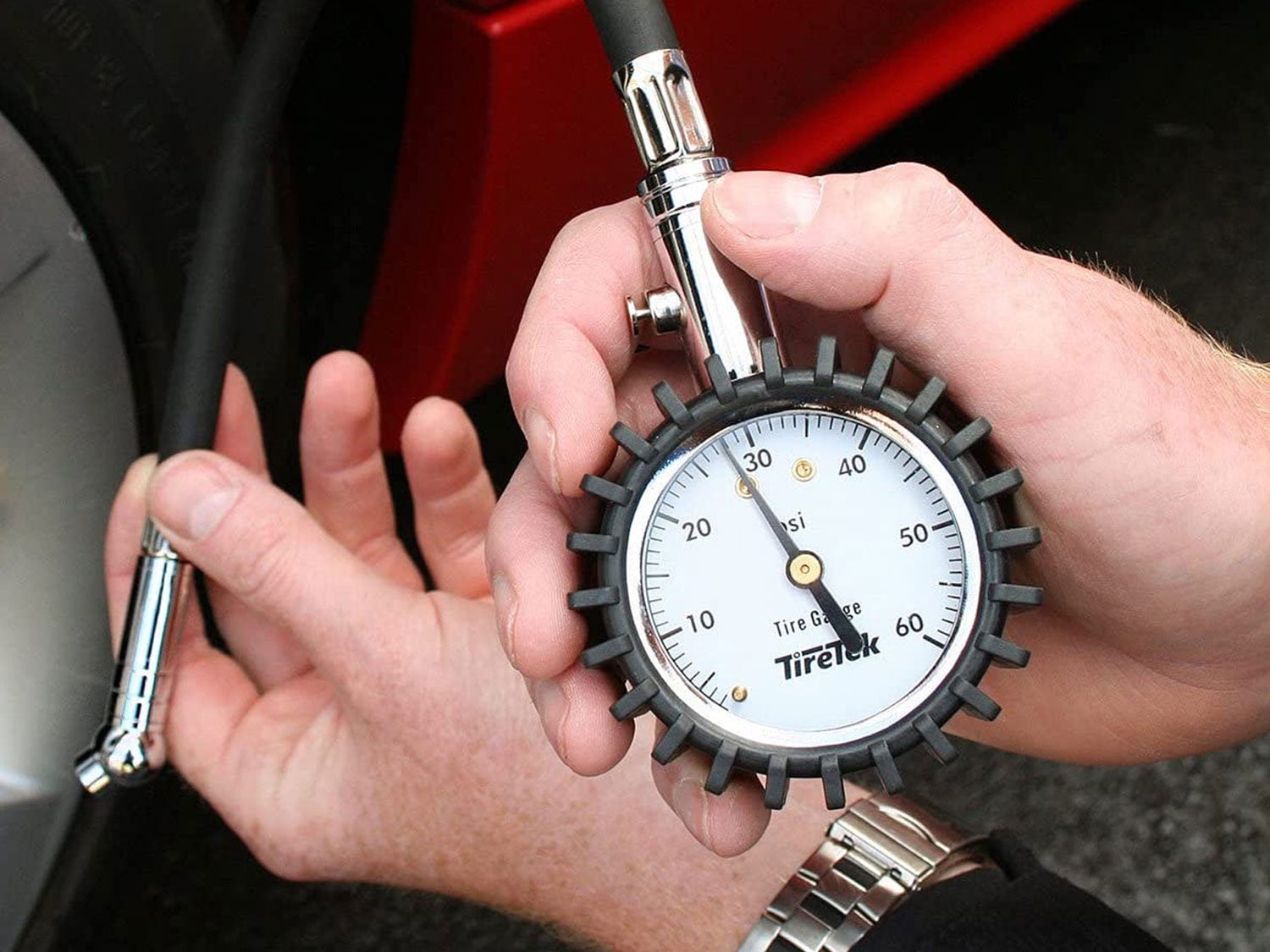 Round, dark, and usually dirty and hidden in the nether regions of our bikes—beneath fenders and in between suspension components—our tires are often taken for granted. But that's wrong, because tires are just about the most important component of our bikes, as the tire patch (or footprint) is where all of the work actually takes place. When tires are new and inflated properly, all's bliss in our riding universe. But get a small nail or screw in the carcass, or just forget to check them for too long, and the pressure can drop and drop, causing the tire to heat up, lose grip, or introduce wobbles, a front-end push, or other weirdness to the handling. All of this can be avoided by checking your tire pressures before each ride, or at least weekly. Here are some gauges that will help do it.
Burly Enough For Bikers
Motorcyclists are optimistic, goal-oriented people, and we don't like wimpy products getting in the way of what we love to do—go riding. Thus, the TireTek Flexi-Pro Tire Pressure Gauge lines up perfectly with our needs. The gauge body is steel, protected by a rubber cover to dissipate shock if you should drop the unit—or drop a tool on top of it! The flexible rubber hose has a swivel head that allows aligning with awkwardly placed valves, and a bleed valve allows quickly lowering over-pressure tires to the right spec. The unit reads from 0–60 psi.
Simple And Compact Pressure Gauge
For budget- and space-conscious riders, there's no beating an old-school pencil-type pressure gauge. It's even got a pocket clip, for crying out loud, so you can look like one of those Mad Men-era gas jocks serving up ethyl at the pumps for 39.9 cents per gallon. But back to the Milton Pencil Tire Pressure Gauge: It's more than just an air-pressure gauge, as it also handily features a tread-depth gauge and a built-in Schrader valve deflator that allows airing down tires to spec—or even fully depleting air when it's time to change a tube or tire.
Precise Digital Readout
After using different analog tire-pressure gauges for long enough, you'll likely notice variations in their readouts. The AstroAI Digital Tire Pressure Gauge adds confidence here by displaying pressures down to 0.5 psi. To use the gauge, just hit the On/Unit/Off button, press the nozzle onto the tire valve, and then read the display. An LED illuminates the valve to help in low-light conditions, and the LCD readout is also backlit. Making the AstroAI Digital Tire Pressure Gauge more universal, it can display in 0–150 psi, 0–10 bar, 0–10 Kgf/cm² or 0–1,000 kPa, at the user's discretion.