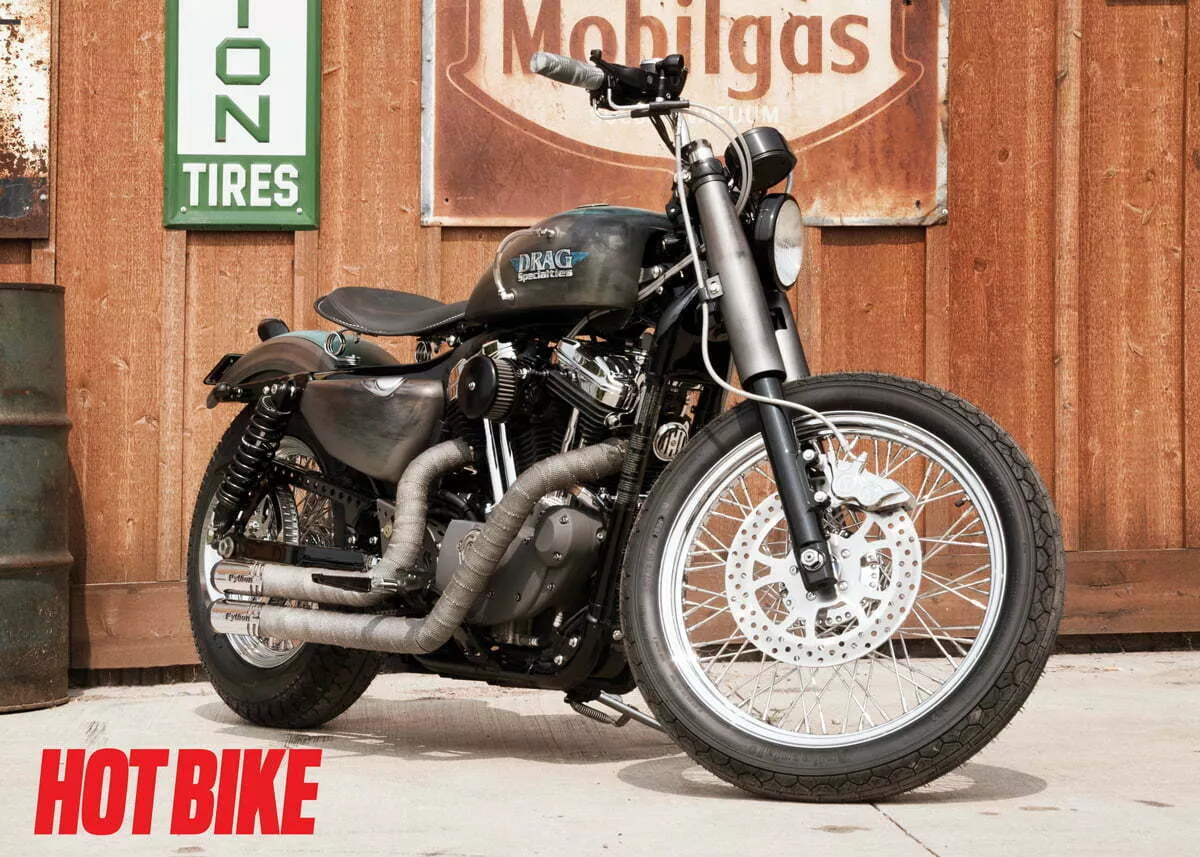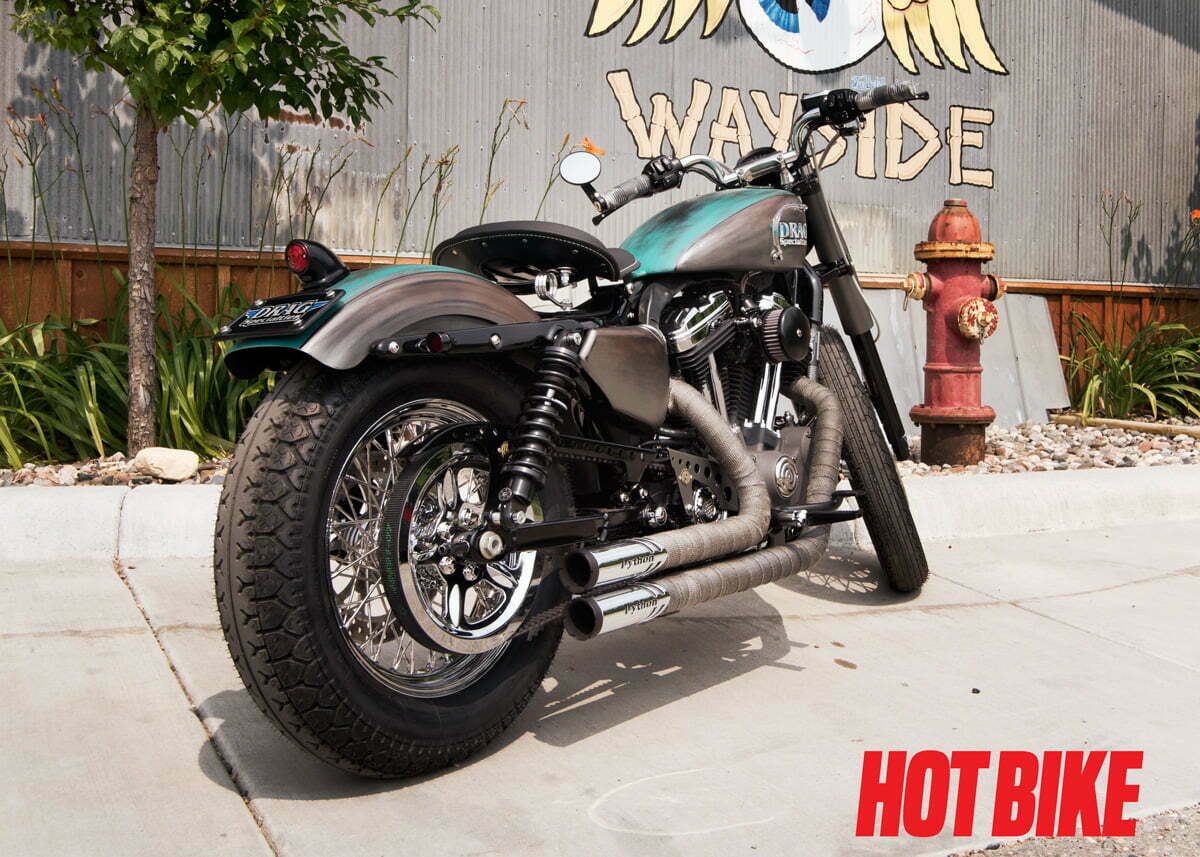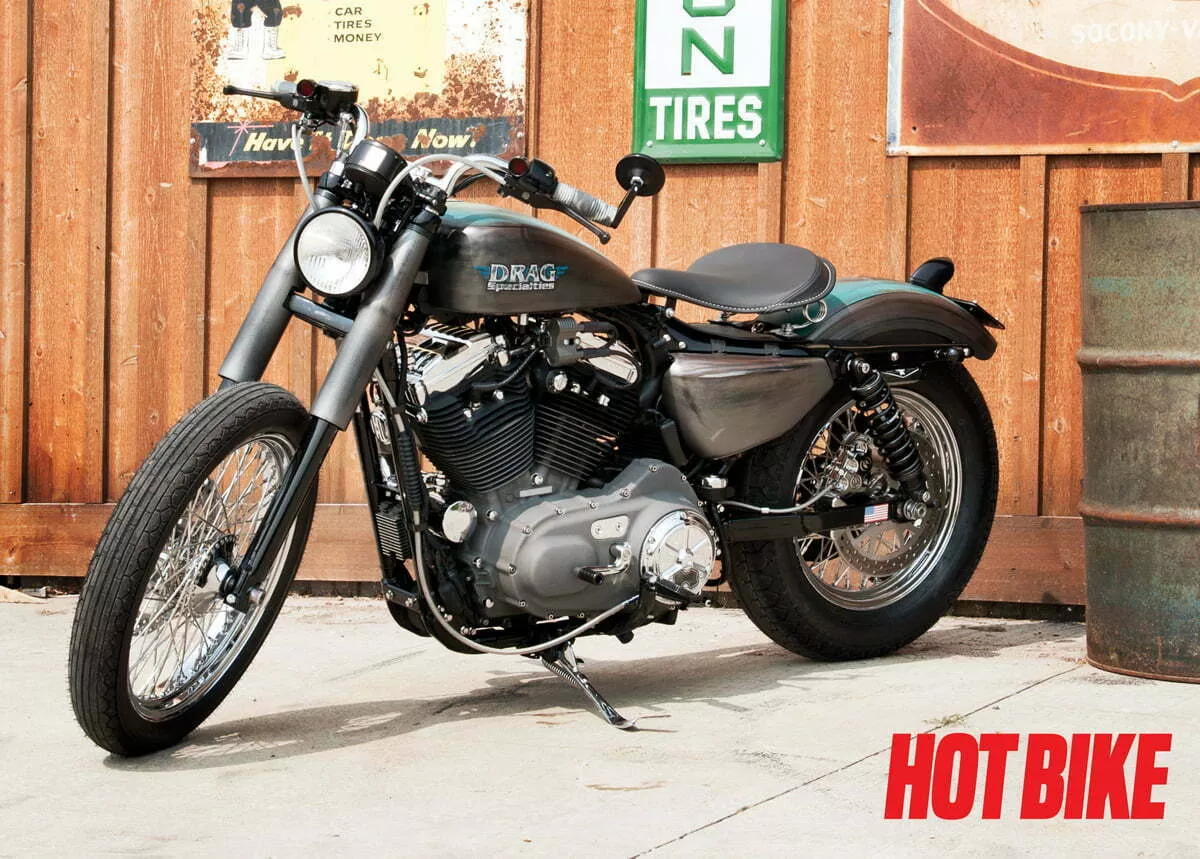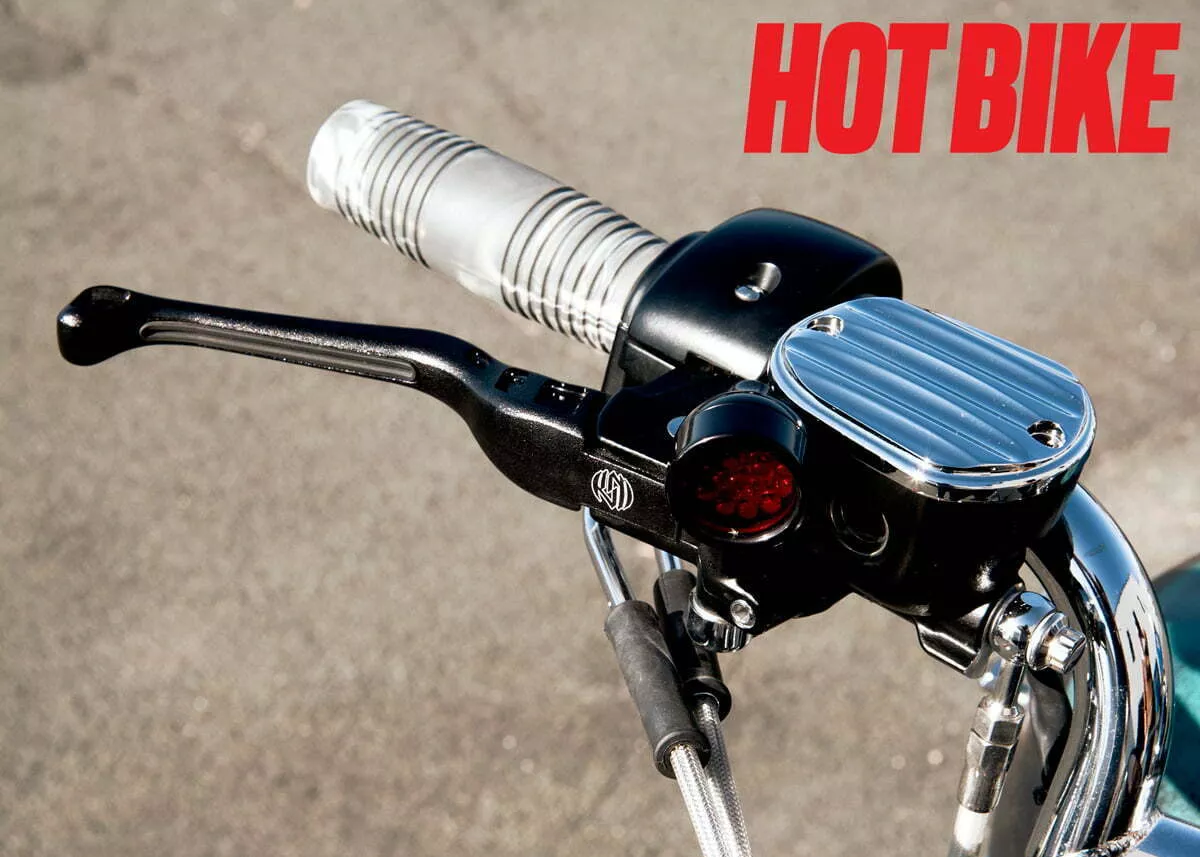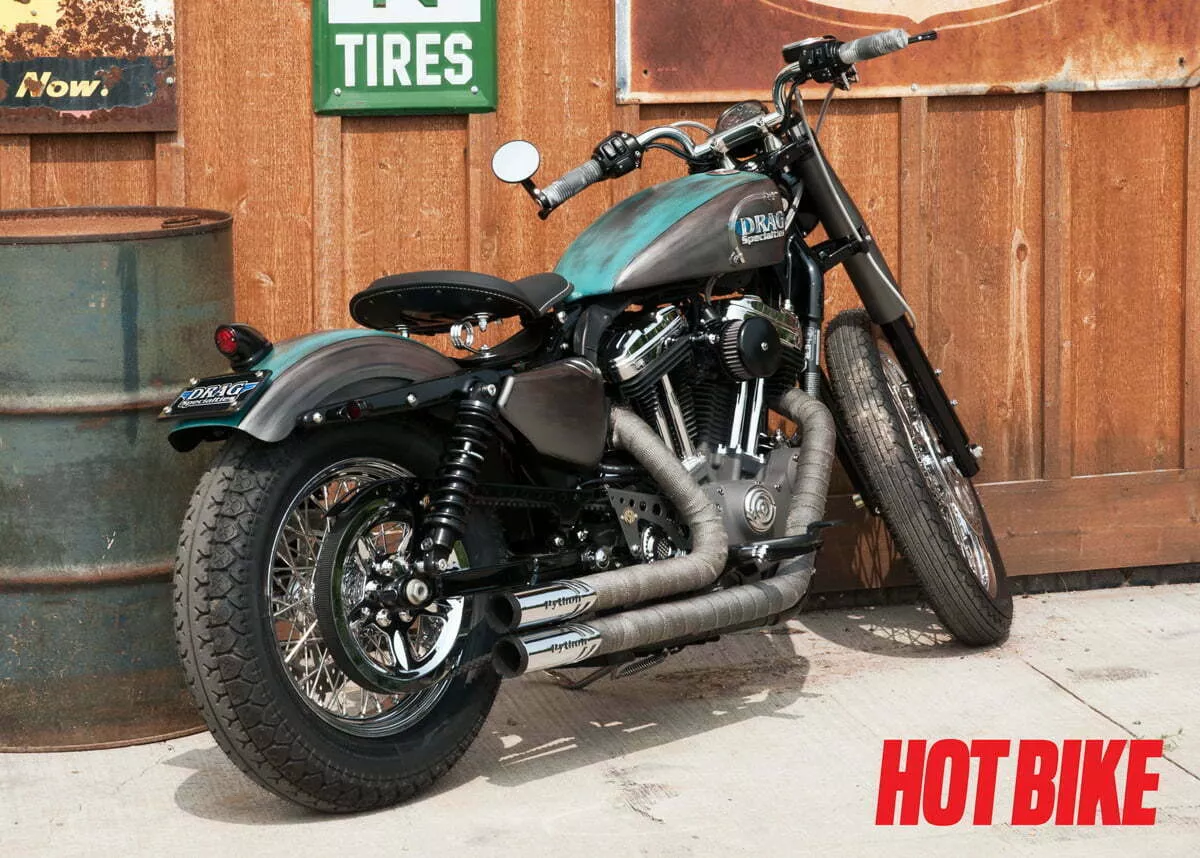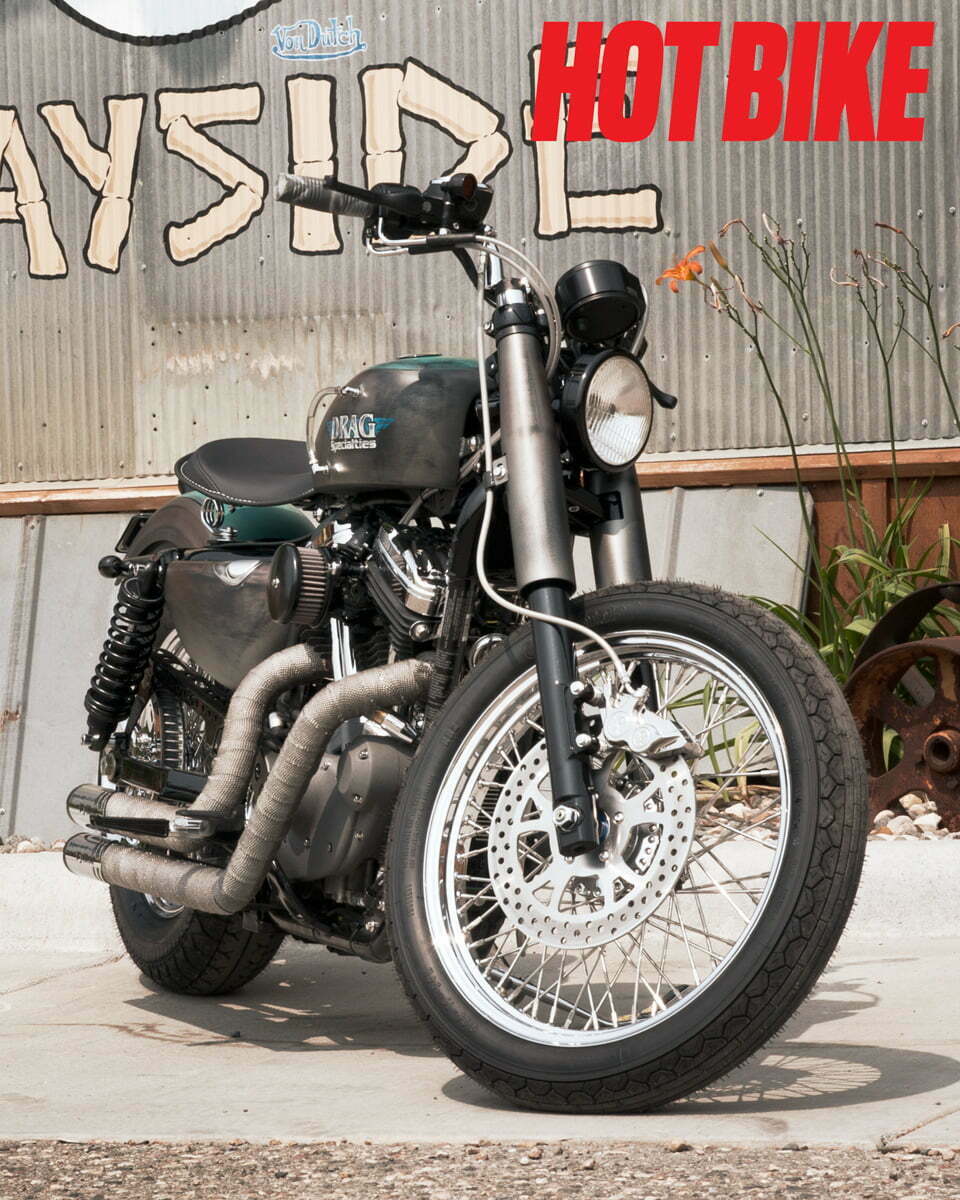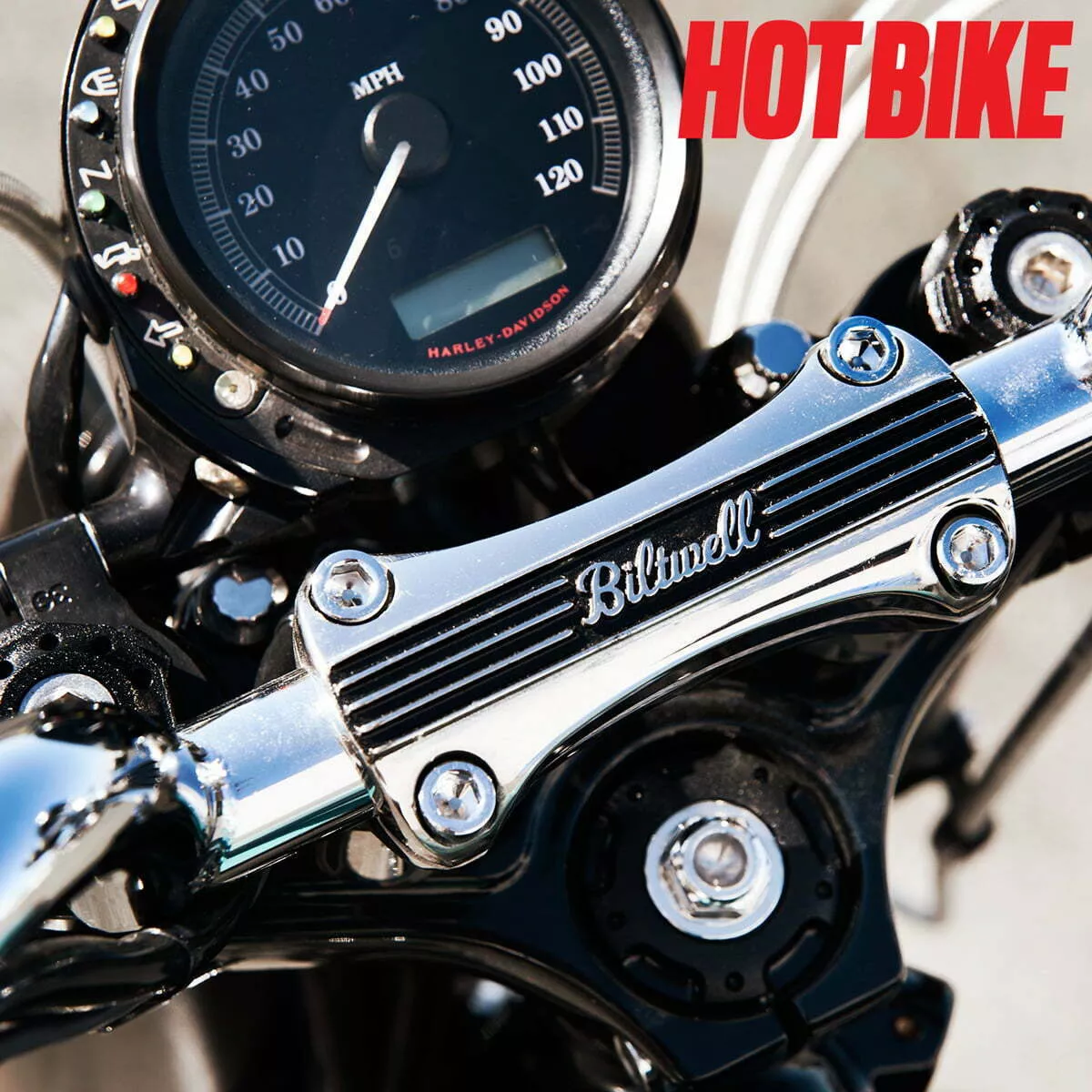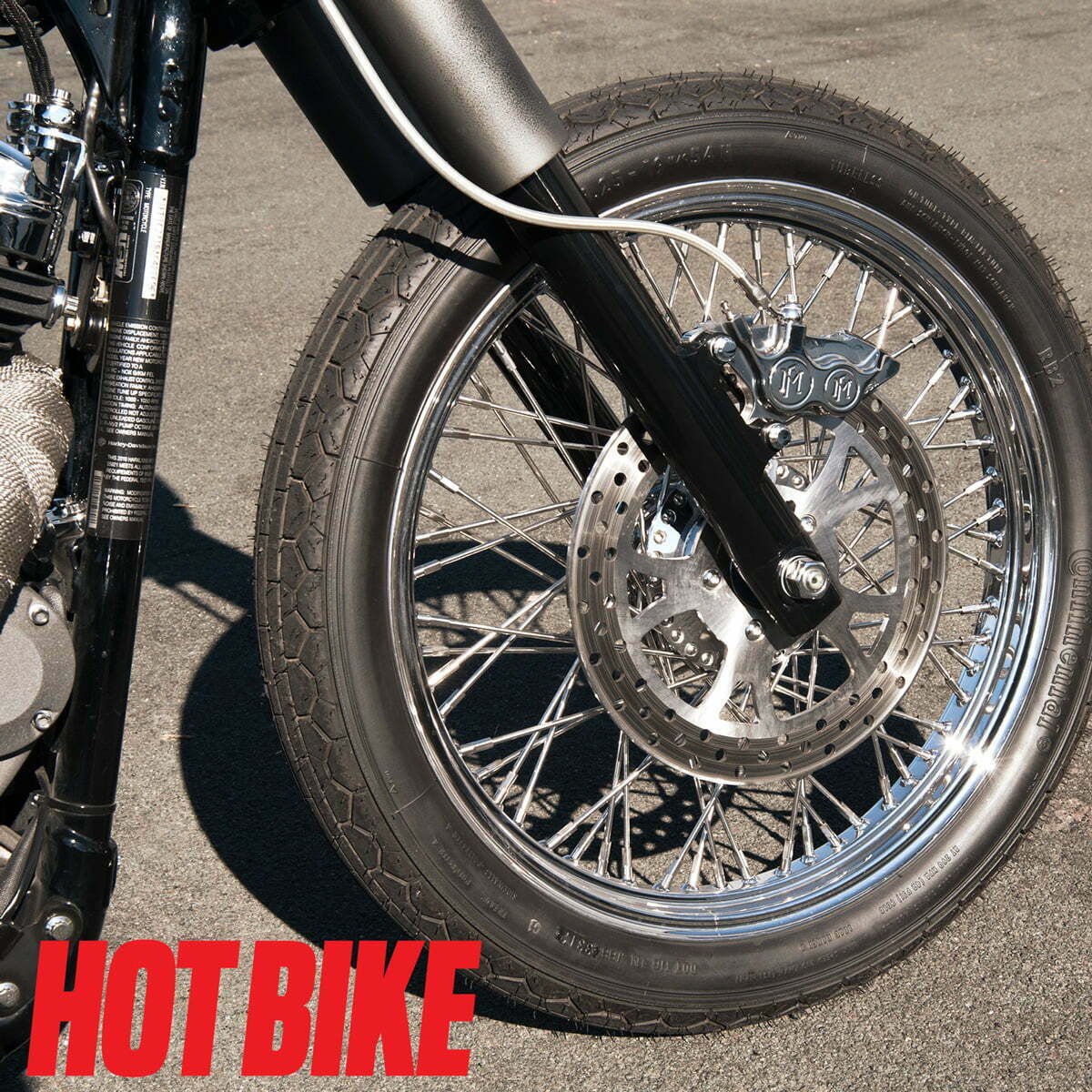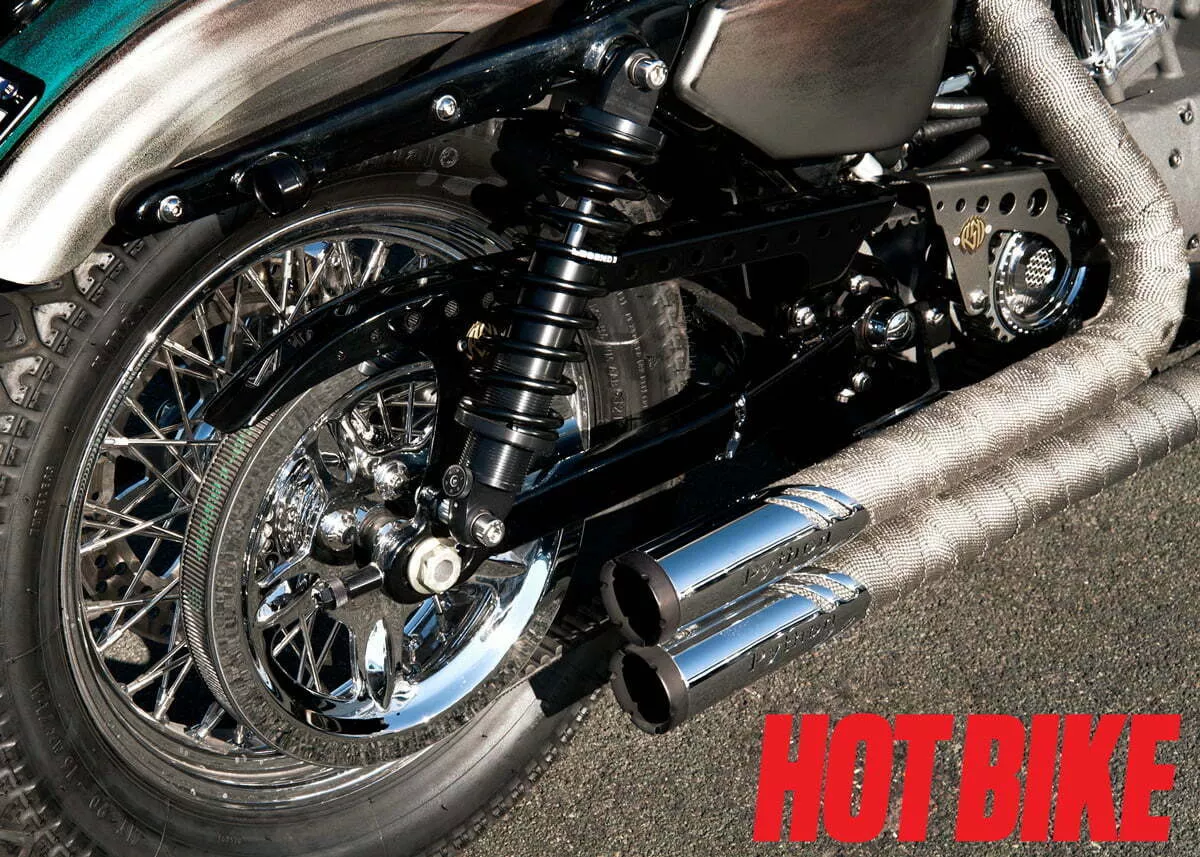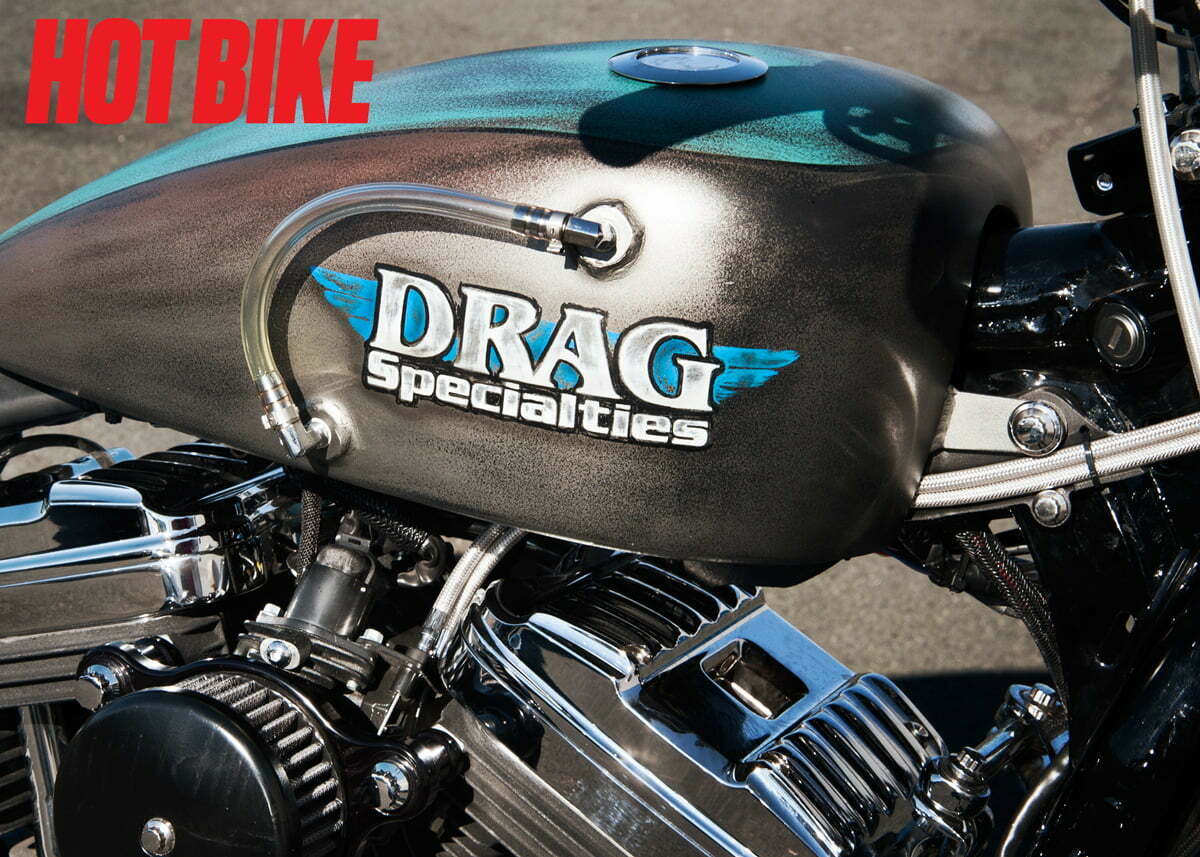 Normally I'm not too fond of writing up rolling business card bikes. One editor even called them "big ad whore stroke job" bikes back when I was a staffer (in his defense, this was back when every custom bike on the market had a 300mm rear tire). These are the custom jobs showcasing a big parts company's latest offerings to the general public. I don't have a problem with that part; it's just good business sense on the company's part and a great way to draw in customers. It's the story behind those motorcycles that gets to me: We made it to show off our parts. That's it. Nothing more. The upside to this extremely short story is that it's honest. On the downside, I'm sometimes left shoveling enough literary horseshit over those eight words to knock a buzzard off a shitwagon on smell alone.
Not in this case. See, not all of those machines are so painfully straightforward. Over the last couple of years, I've gotten some that were pretty interesting—like this one from Drag Specialties. This Fatbook cover bike broke a lot of the parts mule rules for me.
<div class="st-block quote text-
Notice: Undefined index: st_text_align in C:laragonwwwhotbike-importblocksquote.php on line 1
">
This Fatbook cover bike broke a lot of the parts mule rules for me.
While it fits the basic definition (show off what we carry so people will want to buy it), it really breaks away from the unspoken rule (in the flashiest, most expensive way possible). Even the base platform was on the cheap side of the Harley spectrum.
You're ogling a 2010 Harley Nightster 1200 made over into a really sweet, clean custom. Drag Specialties decided the time had come to showcase a homegrown hot rod you could build in your garage without annihilating your life's savings. Drag's own Tom Motzko, a standup guy who really knows his iron, filled us in on this cool Sporty.
HB: What drove this project?
TM: Honestly, the bike was driven by the parts themselves or by the vendors. Meaning, we developed it trying to use newer companies and vendors—young people's products, you could say. The idea behind any of these bikes is for people to get inspired, that you could do it in your garage, and don't have to do it all at once. Real-world people don't identify with the La La Land customs. They want bolt-ons to customize their bikes to their tastes. This is the epitome of that. All the people that work at Drag are riders, so we understand. We want customers to have fun with their bikes. This is the sort of bike where you don't have to spend a bazillion dollars on paint or components. We wanted a bike you could fit your personality to without emptying your bank account. That was really the premise behind this. I'll call it old school without being old school.
HB: That usually means new parts, old look. How did Drag achieve that?
TM: Flipping the caliper around like we used to with old Super Glides in the '70s. When you flip that fork leg, the lines run down nice and clean. The paint on that cycle gave it the correct distressed look. Then there are the wire wheels and Continental tires. When was the last time you saw Continentals on a bike?
HB: Talk to us about that Softail gas tank.
TM: One of the cool features is that it's one of Roland Sands' Softail tanks and gives the Sportster kind of a flat-track look. It practically fell into place on this bike. When you set it on the frame, the rear mounting tab lays on top of frame. I tapped and drilled the rear of the frame to mount the tank. I also removed the two tabs up front on the tank and welded Lowbrow's tabs in different location to where a Sportster tank would normally have them. The Lowbrow fuel gauge was added just for fun. I never told Roland about all of this because I didn't want him to do it laughs.
HB: What do you like most on this bike?
TM: I like the paint. Love it. I'd do it on my own bike. Tank at Tuff Cycle painted it. He's in Ohio. I just love the trimmed-down attitude of the whole bike. It's like lipstick and high heels. And it's a blast to ride.
HB: What was the hardest part?
TM: To obtain the overall look and visual feel. There wasn't anything mechanically difficult. The little things that are going on, like flipping those fork legs, getting rid of the other components on it. I wanted it to be something Biltwell or Lowbrow would have done. What the Limpnickie Lot guys would have done. It's such a departure from what mainstream customs are right now. You wouldn't want to go cross-country with it, but the fun factor on this bike is factor 10. Just throw a leg over and go.
Gas Tank
RSD's EFI Gas-It tank fit the backbone practically to a T. You'll need to do a little welding to secure it though. Drag used Lowbrow mounts for that. The Lowbrow gauge is strictly for shits and giggles.
Front End
Drag Specialties flipped the script with the legs à la '70s Super Glide. Drag's own wire wheels and Continental Tires complete the trip in the Way Back Machine.
Seat
Drag Specialties' Reflective Large Solo Seat blends classic style and fits with the chopped motif.
Headlight
Todd's Cycle's 5.75-inch Martini headlight streamlines the profile up front.
Handlebars
You'll find Biltwell products littered throughout this machine. One of the more prominent ones is this Mustache handlebar and its 1.75-inch risers.
Belt Guard
Drag also gave the patient a healthy dose of RSD covers, like the one on this belt guard. Roland loves to blend himself some dirt bike and sportbike funk with his cruiser parts. That style really lends itself well to a late-model EFI Sportster like this one.
Exhaust
Drag Specialties' 2-into-2 Throwback wrapped exhaust fit the bill for raw nakedness.
Taillight
Biltwell's Mako taillight: minimally invasive, vintage styling.
Turn Signals
Todd's Cycle Small Red Martini signals are a great match to the headlamp.
Paint
While Tom didn't really talk about this, I'm of the opinion that the "distressed" paint looks post-apocalyptic. Especially when you take those wrapped pipes into account.
| Specifications | |
| --- | --- |
| General | |
| Owner | Drag Specialties |
| Shop | Drag Specialties |
| Shop Phone | Contact your local dealer |
| Website | dragspecialties.com |
| Year/Make/Model | 2010/Harley-Davidson/Sportster 1200N |
| Fabrication | Tom Motzko |
| Build Time | 5 months |
| Engine | |
| Year/Type/Size | 2010/H-D Sportster/1200cc |
| Builder | H-D/Drag Specialties |
| Cases | H-D |
| Cylinders | H-D |
| Heads | H-D |
| Rocker Boxes | H-D |
| Cams | H-D |
| Throttle Body | H-D |
| Exhaust | Drag Specialties |
| Air Cleaner | Joker Machine |
| Transmission | |
| Year/Type | 2010/H-D |
| Gears | H-D |
| Clutch | Muller Power |
| Primary Drive | H-D |
| Frame | |
| Year/Type | 2010/H-D/Sportster| |
| Rake/Stretch | Stock |
| Swing Arm | H-D |
| Suspension | |
| Front end | H-D, Lowbrow Customs, Roland Sands |
| Rear | Legends 12-in. Revo A adjustable shocks |
| Wheels, Tires, and Brakes | |
| Front | |
| Builder/Size | Drag Specialties/19 in. |
| Tire/Size | Continental/19 in. |
| Calipers | Performance Machine 4-piston |
| Rotors | DP Brakes |
| Rear | |
| Builder/Size | Drag Specialties/16 in. |
| Tire/Size | Continental/16 in. |
| Caliper | Performance Machine 4-piston |
| Rotor | DP Brakes |
| Finish/Paint | |
| Colors | Distressed |
| Paint/Graphics | Tank at Tuff Cycle |
| Accessories | |
| Front Fender | H-D |
| Rear Fender | H-D |
| Gas Tank | Roland Sands |
| Gas Cap | Drag Specialties |
| Handlebars | Biltwell |
| Grips | Lowbrow/Cole Foster |
| Mirrors | Joker Machine |
| Hand Controls | Roland Sands/Drag Specialties |
| Foot Pegs | Biltwell |
| Headlight | Todd's Cycle |
| Taillight | Biltwell |
| Turn Signals | Todd's Cycle |
| License Mount | Biltwell |
| Seat | Drag Specialties |
| | |