In Italian biker jargon, a "trap" is a motorbike that is somewhat dangerous to ride, due to its complexity in being ridden. Only crazy bikers dare ride these monsters!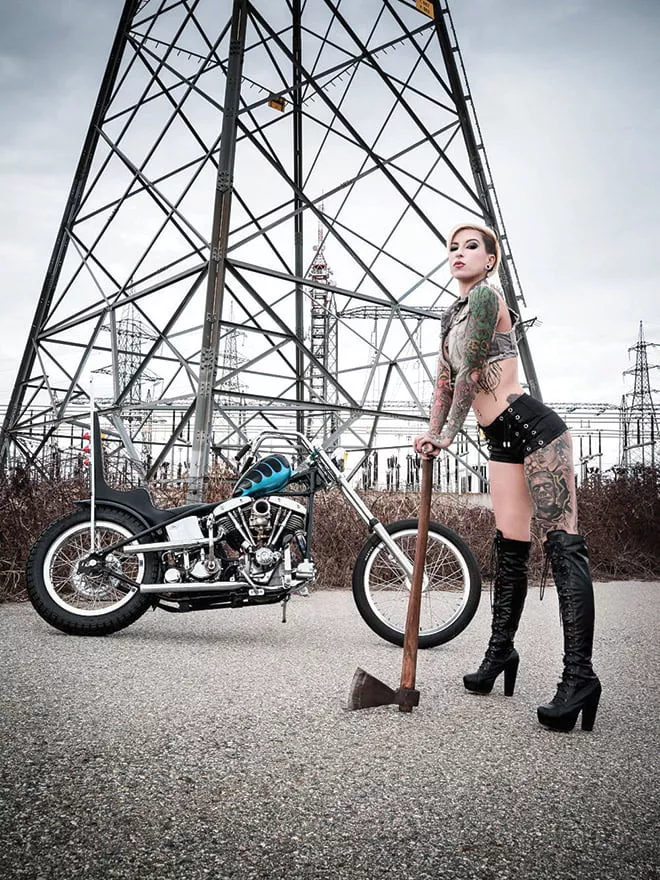 One day my customer asked me, "How can I make a trap bike with his FX Shovelhead?" My answer was, "Remember when sex was safe and choppers were dangerous? When cruising on an outlaw motorbike was a way to escape reality?" This spirit lives on in the Chop Works garage, where we continue to try and escape the future.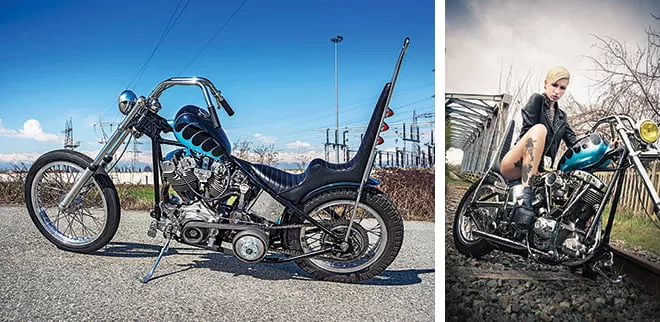 With this 1976 Harley-Davidson Shovelhead, we took ourselves back to California in the late '60s. We're not in San Francisco here, but Turin, yet we wanted to have the look of super-narrow pullback bars but still be super strong. Next, I had to figure out how I was going to use the Edlund framework with an FX 4-inch-over front end. I fabricated a sissy bar with three brake lights built in from an old Italian car, added a king and queen seat, both of which were perfect pieces needed for creating and riding a Frisco-style chopper. Once it all came together, I stood back and admired the work. I think I totally nailed my client's request!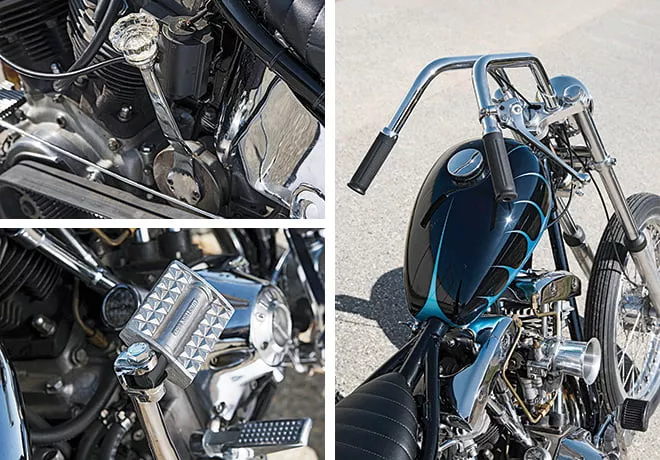 After two kicks to the kick-only starter, the fun began. Surprisingly, it rode pretty easily. I cracked open the throttle on the frontage road to Turin and took off over the bridge that leads into town where I found the closest scenery I could to the Bay Area. As I approached, I passed some cars, stomped on the suicide clutch, shifted gears, and was now riding this trap chopper like it was child's play.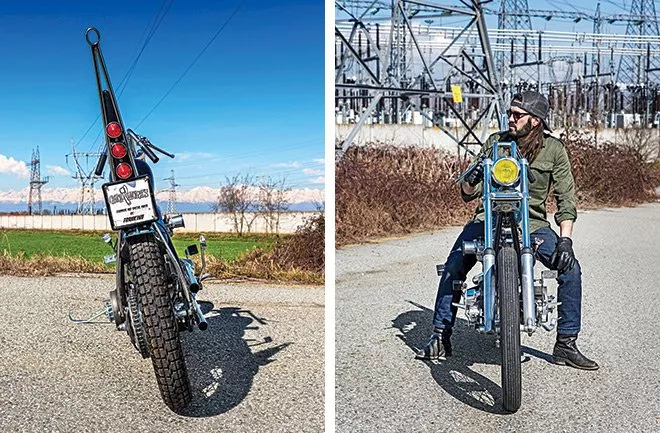 Waiting at a traffic light, I realized the endless line of caged drivers were staring at me as if I were some ultra-intricate contraption from hell. I looked behind to see how many cars I had overtaken and thought to myself, "Yep! This is definitely a trap, but I'm happy to feel free on this trap!"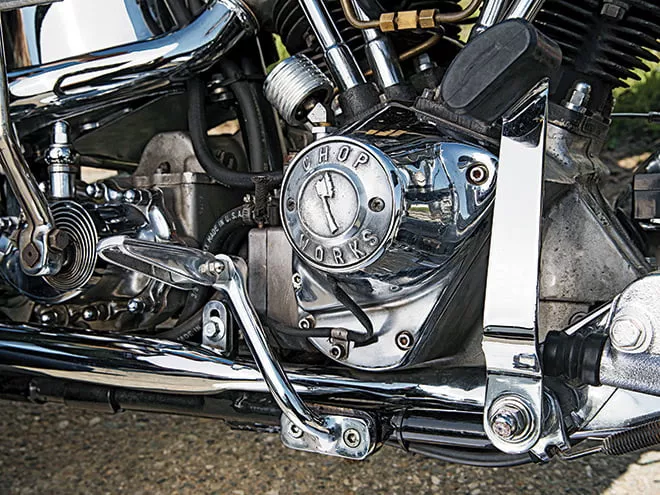 | Specifications | |
| --- | --- |
| General | |
| Owner | Alessandro Masci |
| Shop | Frankino/Chop Works |
| Website | chopworks.it |
| Year/Make/Model | 1976/Harley-Davidson/FX |
| Fabrication | Frankino/Chop Works |
| Build Time | 5 months |
| Engine | |
| Year/Type/Size | 1976/H-D/1200cc |
| Builder | H-D |
| Cases | H-D |
| Cylinders | H-D |
| Heads | H-D |
| Rocker Boxes | H-D |
| Cams | H-D |
| Carburetor | S&S Super E |
| Air Cleaner | Customs |
| Exhaust | Chop Works |
| Transmission | |
| Year/Type | 1976/H-D |
| Gears | 4-speed |
| Clutch | H-D |
| Primary Drive | 1-1/2 in. Primo |
| Frame | |
| Type | Modified Edlund rigid |
| Rake/Stretch | 33°/Stock |
| Suspension | |
| Front End | Frankino/Chop Works-modified FX |
| Length | 4 in. over |
| Triple Trees | H-D |
| Swingarm | Rigid |
| Rear Shocks | Rigid |
| Wheels, Tires, and Brakes | |
| Front | |
| Builder/Size | H-D/3 x 21 |
| Tire/Size | 3 x 21 |
| Drum | Mini |
| Rear | |
| Builder/Size | H-D/4 x 18 |
| Tire/Size | 4 x 18 |
| Drum | H-D |
| Finish/Paint | |
| Colors | Blue and Black Pearl |
| Paint/Graphics | Custom Design Roberto La Rogna |
| Molding | Custom Design Roberto La Rogna |
| Accessories | |
| Rear Fender | British style |
| Gas Tank | Modified peanut Wassel Chop Works |
| Oil Tank | H-D |
| Handlebars | Chop Works |
| Headlight | Hella |
| Taillight | 3-cup auto |
| Sissy Bar | Chop Works |
| Seat | King and Queen Chop Works/Sellerie Viano |