The Indian Chief is an American icon that has become one of the most recognizable motorcycles throughout the world. With its long valanced fenders, classic Indian script logo, and signature V-twin pumping power to the pavement, even in stock form it's hard not know what it is upon first sight, even for the most novice enthusiast. Enter John Shope, formerly known as Sinister industries, now known as Dirty bird concepts. John needs no introduction and his motorcycle rap sheet is as long and varied as they come. From fire-breathing baggers to lean and mean choppers, Dirty bird isn't exactly what you would call "classic." So what happens when the simple lines of a bike that has stood the test of time collide with one of the most radical builders in the country? A Dirty Bird is born.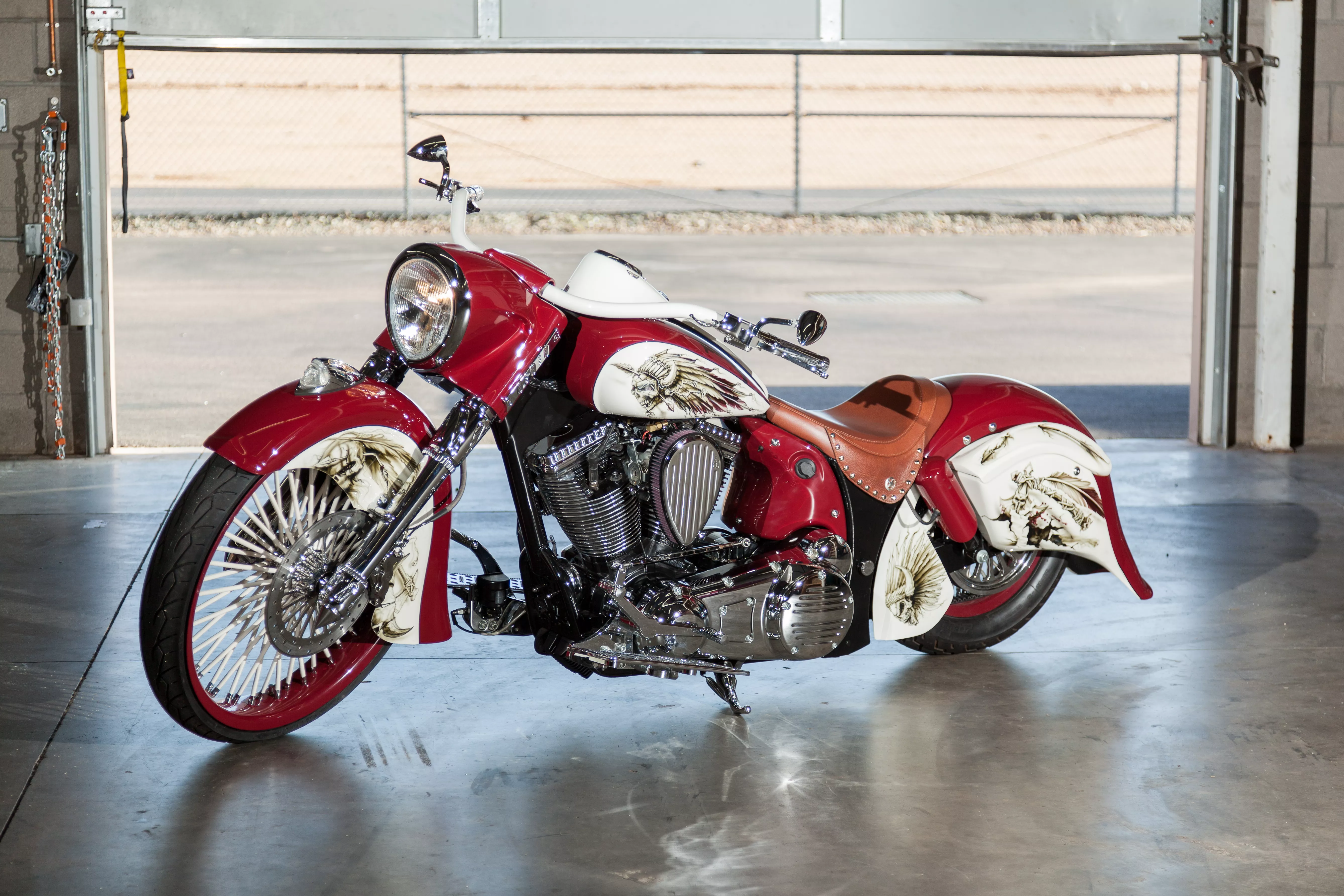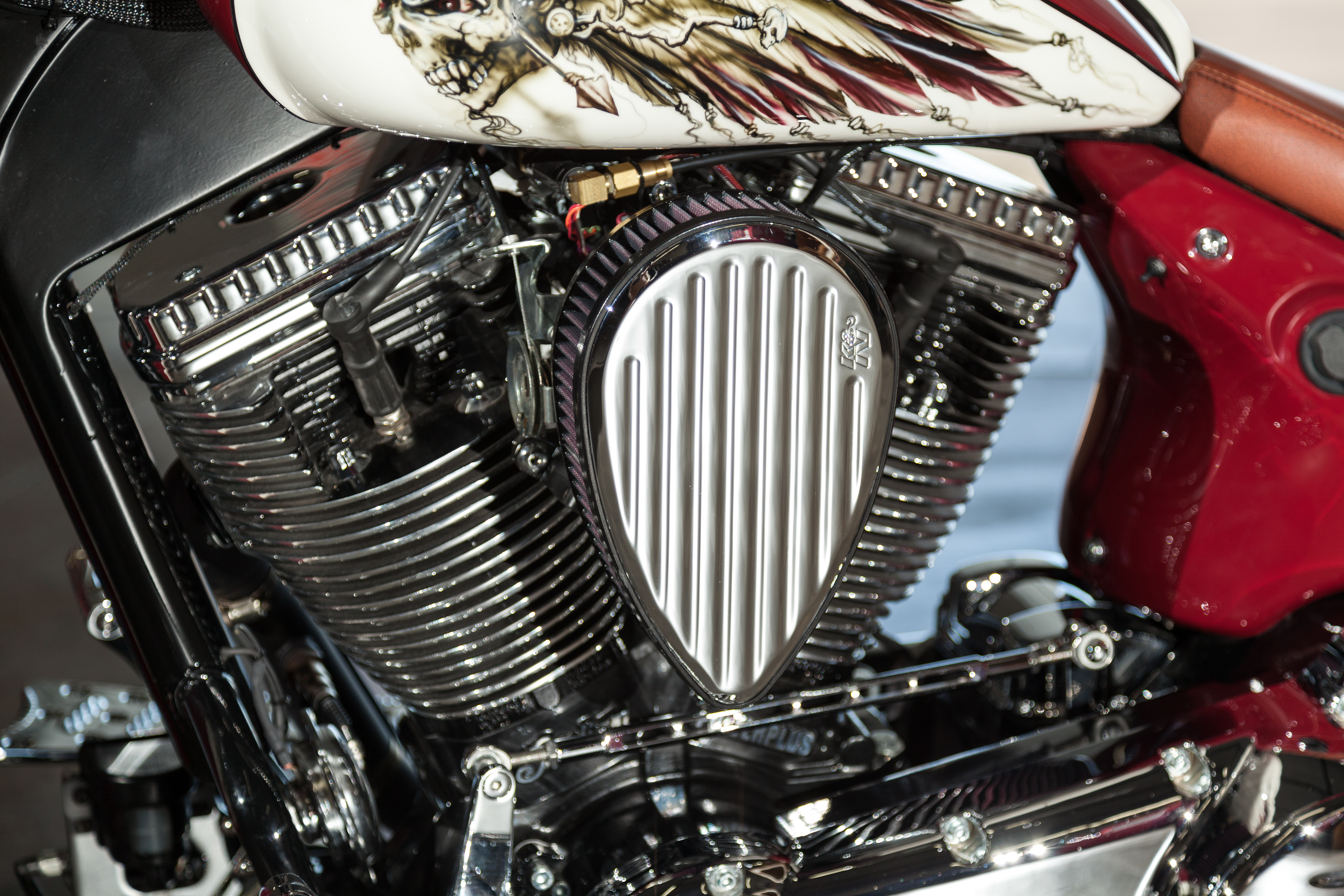 So who would dare mix this unlikely duo in a bike-building death match?
John explains how this all came about: "A crazy South African wanted to have the first custom indian with a 26-inch wheel with my ideas and feel, but still keeping it traditional. i loved the idea and took on the challenge." So with little more than a blank check and a short set of marching orders, John got to work on this unlikely candidate.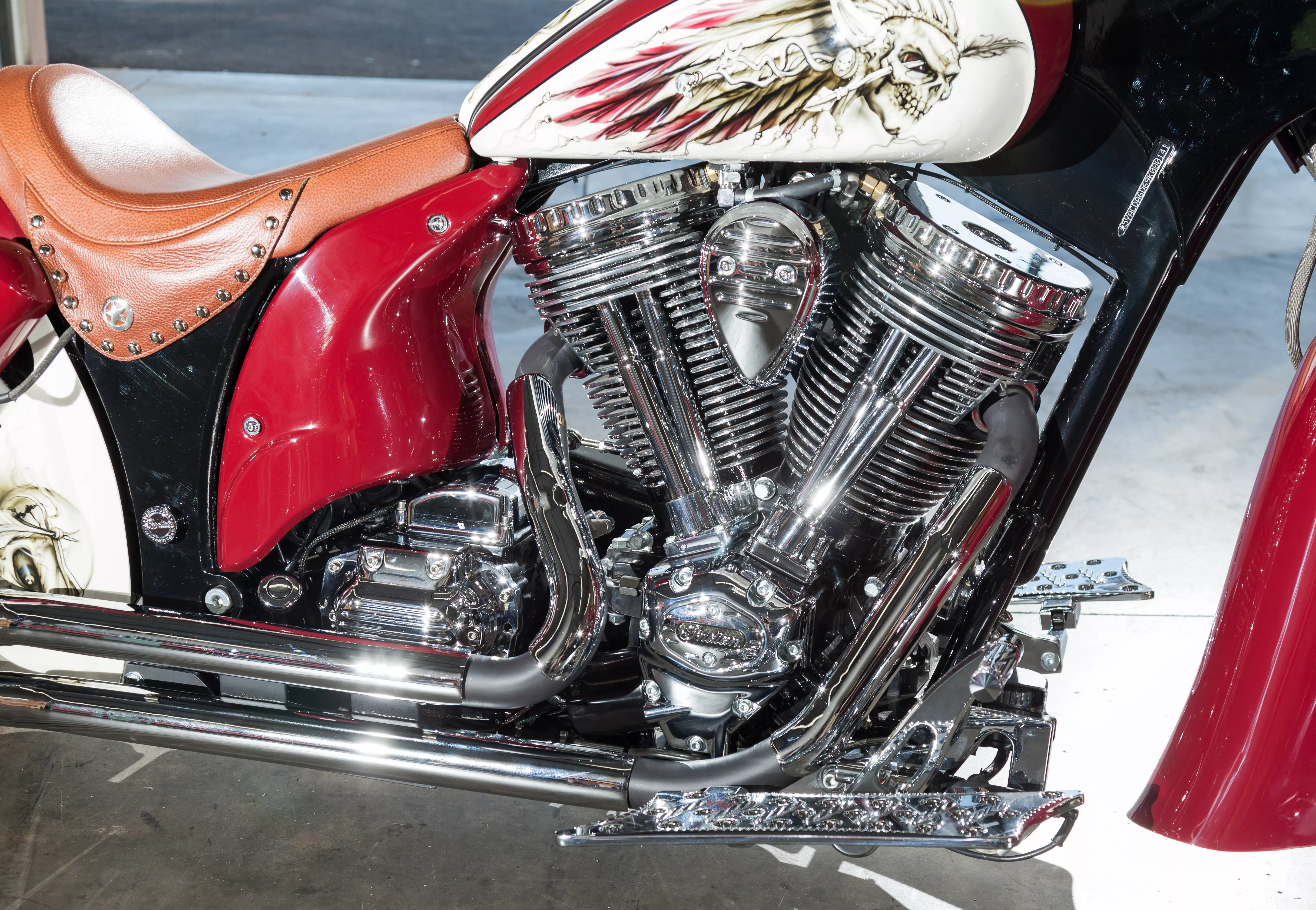 For starters, most of the body- work was reworked, remolded, and repainted but not to the point of no return. The new front and rear fenders, headlight, and taillight have all the looks of a modern bagger, while still retaining the vintage indian lines. The paint retained a classic burgundy and cream scheme with more modern im- ages of skulls and indian graphics laid throughout. A modern-sized rolling 26-inch ride wright wheel was chosen for its classic spoke design. Upswept fishtail exhausts complete the old look on a new bike. Finally, it was slammed to ground for that mean-and-lean stance versus the goody-two-shoes mailman look of the original up-and- at-'em suspension.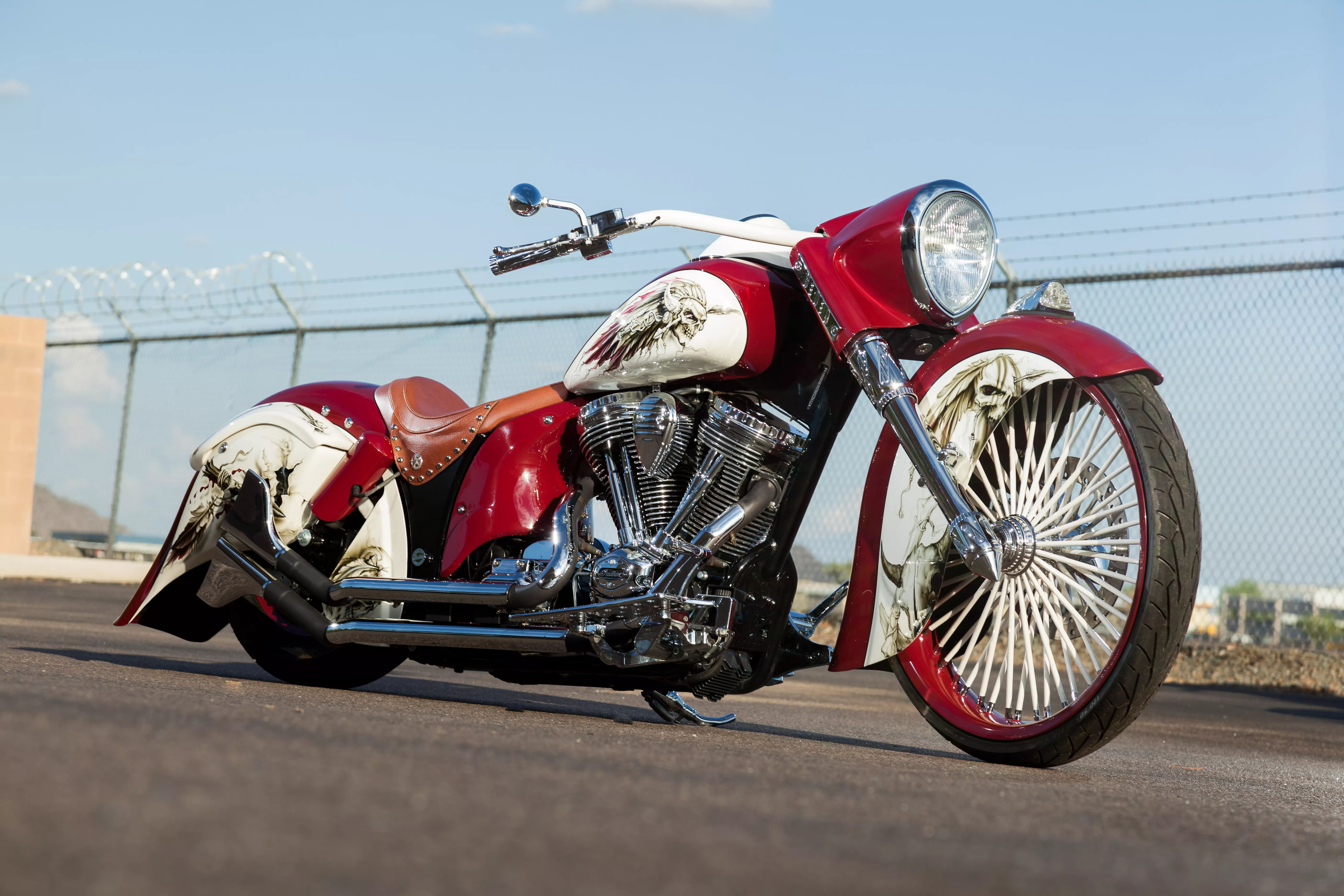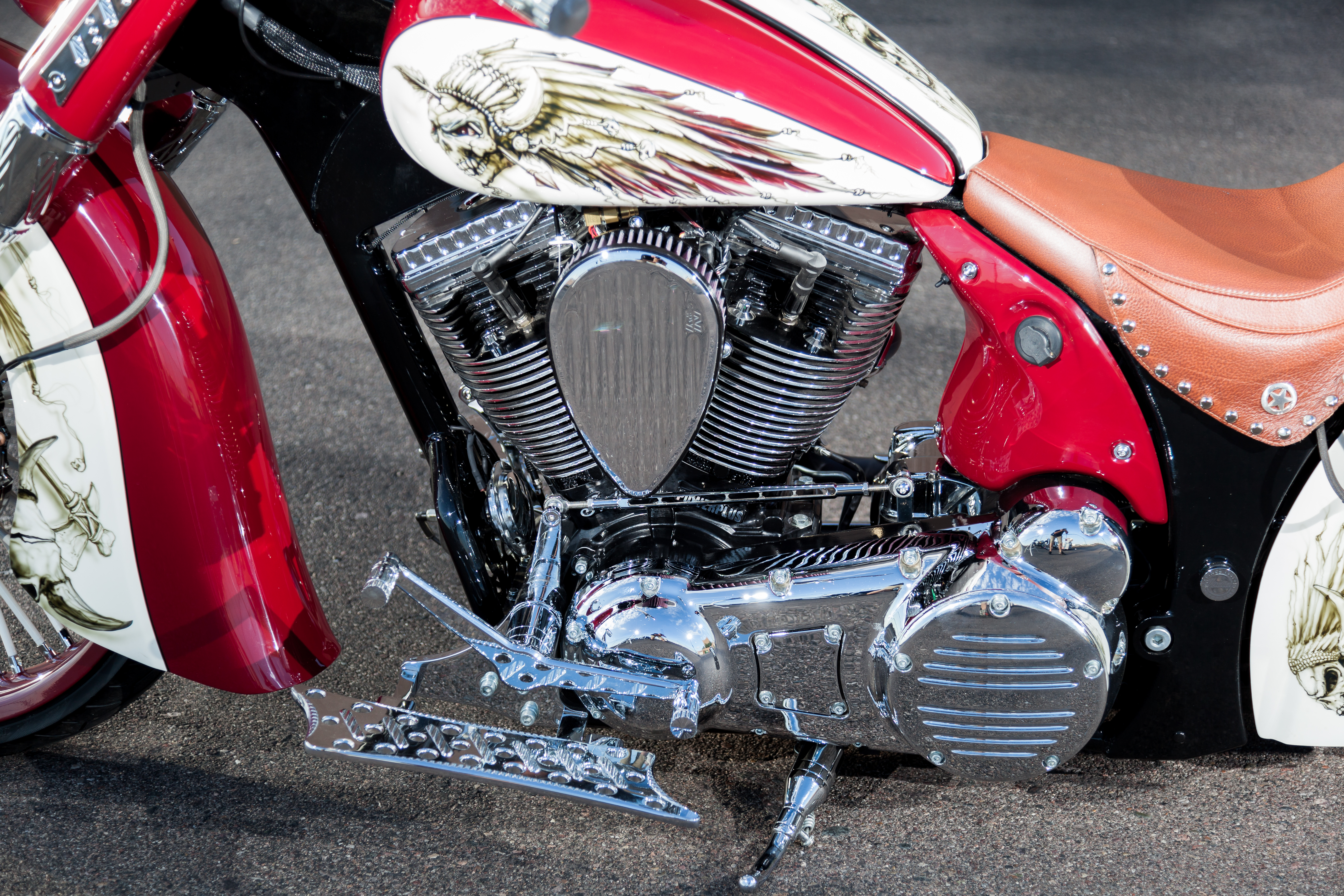 The final result took on a look all its own. From far off, it definitely looks in- dian. As you approach it, a modern-style bagger is born. when John was asked what he thought, he had this to say, "The end result speaks for itself. i liked this bike so much that i am currently doing another indian completely the way that i envision, so stay tuned." You can bet we'll be watching to see what comes next out of the mastermind of a mad man. hopefully this build will also serve as a challenge to others to look beyond the everyday base of a custom build and bring back the new indian chief to its rightful place atop the tribe.