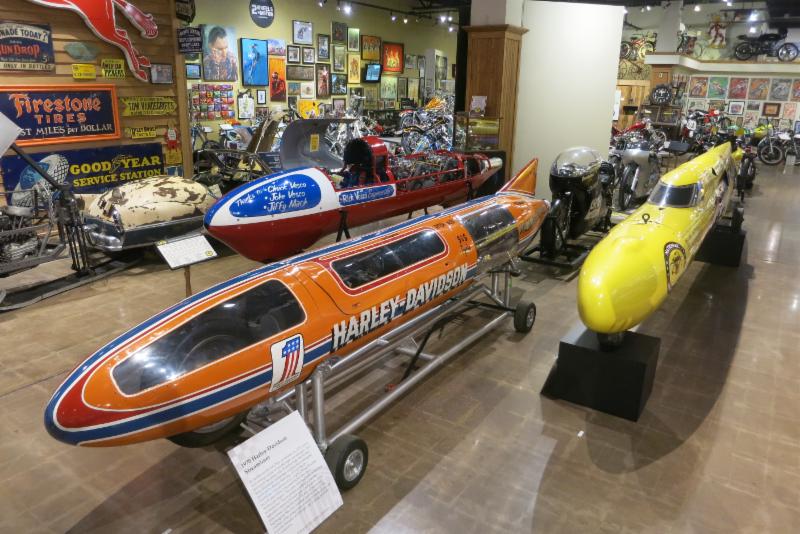 The great Vincent tuner Rollie Free taught us that in Land Speed Record runs, streamlining is of the utmost importance even if that means simply "tucking in" one's head, torso, arms and legs. Land Speed Record competition is focused on top speed. Eclipsing Rollie's roughly 150mph run in 1948, unlimited class big guns are now knocking on the 400mph door. But watching the 50cc machines can be almost as exciting.
To help you learn the history of Land Speed Record competition, the technology involved, what it is like to squeeze into a land speed record motorcycle and hurtle down the salt at 200, 300 or more miles per hour, the National Motorcycle Museum is in the research and planning phase for a new exhibit entitled Allstate Motorcycle STREAMLINERS presented by J&P Cycles. The exhibit is set to open June 4, 2016.
The machines pictured are among many already committed for display, but the Museum is looking for additional LSR bikes, riding gear, film footage, models, photos, fine art, stories from tuners and riders and land speed record parts like engines, wheels, frames and more to help tell this exciting story. These items would be on loan for the exhibit, returned afterward.
Bikes recently confirmed for the show include Salt Ghost from Lowbrow Customs, the Rick Vesco Yamaha twin XS650 powered streamliner, Tina, a Vincent single from the Big Sid and Matthew Biberman collection, the World's Fastest Bagger from Klock Werks Kustom Cycles, the J&P Cycles Streamliner, the Bakker Motorsports Hyabusa sidecar rig, an un-faired pre-unit supercharged Triumph, plus interesting Howard Allen Knuckle and Panhead Harleys. A machine powered by a pre-War Plymouth flathead six-cylinder engine, Monster, and Tramp III from the S&S Cycle Museum are also expected to be part of the exhibit. And there are more land speed record bikes coming on line.
The STREAMLINERS exhibit will be curated by John Stein, expert on straight line motorcycle competition and author of two books; WORLD'S FASTEST MOTORCYCLE and MOTORCYCLE DRAG RACING; A HISTORY.
If you have Land Speed Record bikes, items to loan or a story to tell you can be included in this one year exhibit running from June 2016 to May 2017. Please contact them at [email protected], or call 614-551-0960.
"We appreciate the support of our sponsors, Allstate Motorcycle Insurance and J&P Cycles. And we wish Allstate Motorcycle HAPPY ANNIVERSARY; as of this year Allstate has been insuring motorcycles for 50 years!" Mederski says.
Make plans to see this exhibit during the National Motorcycle Museum's June 4 Vintage Rally 2016 event or any time through May 2017 when the 12 month temporary Allstate Motorcycle STREAMLINERS exhibit presented by J&P Cycles will be dismantled.
Find more history and racing stories.