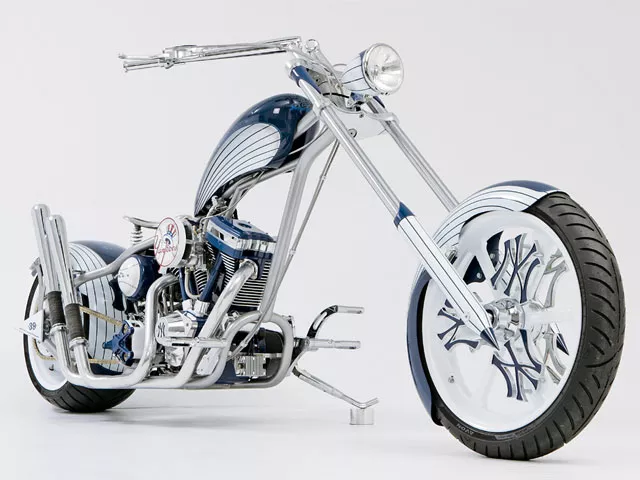 Ordinarily a custom bike feature begins with a clever hook (we hope) and then introduces the folks involved in crafting the bike into the rolling art that appears within the magazine's pages. Sometimes this format will even extend into explaining to readers what the bike is. For example, a chopper magazine might ignore its core audience and hook the story with an explanation of what a chopper is and why someone would want to ride one. This style of story can tend to be a little insulting to those in the know, but what the heck-beginners have to learn from somewhere.
Thanks to their hit TV show American Chopper on the Discovery Channel, we don't have to introduce the crew from Orange County Choppers. These guys are probably as recognizable to most of the world as President George W. Bush or Shaquille O'Neal.
The OCC bike gracing these pages is known as the "Yankee Bike." It was during the research process of our story that we became aware there was more than one Yankee bike custom built by OCC. The bike in question, also known as "Yankee Bike 1," was commissioned by New York Yankees All-Star catcher Jorge Posada to be auctioned to benefit his nonprofit organization, aptly named the Jorge Posada Foundation. After watching an episode of American Chopper while out on the road, Jorge imagined it would be great to have the OCC boys create one of their unique one-off choppers based on the Yankee theme. When Jorge called the Teutuls and explained he would like to auction the bike off to help support his foundation, the words had hardly left his mouth before the OCC guys were all over it.
In our effort to bring HOT BIKE's valued readers an insider's look at the build, we called ace photographer Dino Petrocelli and asked if he could hook us up with someone who had actually worked on the bike, as opposed to just speaking with a PR person. Dino didn't skip a beat and forked over Rick Petko's cell number. We called Rick on a Saturday afternoon (no, he wasn't in the Bahamas playing a round of miniature golf or bungee jumping at the Grand Canyon as part of an upcoming American Chopper episode), and he had just arrived at home after working his usual weekend half-day gig at OCC's Rock Tavern, NY, shop. Watching the show, one might get the idea that everyone is just a hop, skip, and a jump away from each other. The reality is that Rick commutes 95 miles each way, every day, to hold down his job. He wasn't complaining-he just said he hoped to be able to buy a house closer to work.
Rick said the 6-up, 10-inch-back rigid frame for Yankee Bike 1 was manufactured for OCC by Racing Innovations in Oklahoma City, OK. Straight out of its shipping box, the frame was placed on a lift, and then it was time to rock and roll. He told us, "The deadlines are real, but you get used to it. There are only two weeks for the build and then one week for Nub to paint it.
Immediately after the two-week build (while Mikey was fast asleep on the couch), Vinnie, Paul Jr., and Rick blew the Yankee Bike apart and designated which parts would be shipped where. The bulk of the parts were powdercoated by Sumax in Oriskany, NY. Almost 20 years ago, in 1987, the guys at Sumax were the first powdercoaters to specialize in custom-finishing motorcycles. The folks at Chrome Masters in Nashville, TN, are another trusted source for Orange County Choppers' sublet work. Anyone who's ever built a bike can tell you that chroming can be a major-league pain in the ass if you use the wrong chrome-plater. Thankfully, Paul Sr. is not the kind of the guy who would start screaming and yelling at everyone if something ever did go wrong with the chrome.
The Racing Innovations Yankee-blue powercoated frame came back from Sumax right on time. The next step was to drop in the 131-inch monster motor from Thom and his crew at H&L; Performance in Wallingford, CT, without skipping a beat (well, maybe some screwing around was involved). The beautifully chromed billet six-speed transmission from Bert Baker and his boys at Baker Drivetrain, located in Haslett, MI, was then positioned down for its final time. Step three involved stuffing in the primary drive and then capping it off with an incredible CNC sculpted-billet primary cover with the image of Yankee Stadium gracing its length. No Orange County Chopper is complete without a radical frontend. A set of 14-over forks from Meanstreets spans the gap between a custom billet spool wheel swinging a triad of Yankee logos whittled out on the same Haas CNC mill that OCC billet master JQ used to create the wheels. For the Yankee Bike's handlebars, Vinnie turned down billet aluminum on a manual lathe, then welded them with his trusty Miller welder to T-braced downpipes, creating a pair of riserless bars. It was "Miller time" again when bell-tip mufflers were cut down to create baseball bats for the exhaust system, using exhaust wrap to detail the handles. The Yankee Bike's braking chores are handled by a single rear-mounted disc-brake unit from Hawg Halters that's operated by a hand lever, normally associated with a front brake. For forward motion, a chain drive was used on the right side to spin the Yankee Bike's matching rear wheel. For wiring, Vinnie started from scratch with a handful of wire spools and then soldered the lengths of wire from its Arlen Ness headlight to wherever they hid the taillight on this bike.
For Nub and Rick and perhaps the rest of the crew at OCC, the Yankee Bike's pice de resistance is the hand-formed gas tank Rick made. Nub matched the Yankee Bike's dark blue powder paint with a custom mix of PPG products. The very minute Nub plucked the PPG-cleared tank from his spray booth, Mikey was placed in a first-class seat on a jet headed to Milwaukee, WI, where the Yankees were playing. While there, Mikey had the entire team autograph the tank with a silver Sharpie and then hopped back on a plane. Nub told us Mikey showed up at his shop with the signed tank at around midnight. For those of you not familiar with shooting clear urethane over a Sharpie's metallic ink, there is a significant risk the clear will melt and drift the Sharpie's fine lines into a dirty silver blur mixed into the clear. No TV retakes here-Nub was under tremendous pressure to get it right on the first attempt.
On the final day of the Yankee Bike build, Jorge Posada was scheduled to arrive with his family and view the Yankee Bike for the first time. Paul Sr. and crew jumped into his H2, headed out to the Orange County Airport, and waited for the Posada family to arrive. Once the entourage had returned from the airport to Orange County Choppers' shop, Jorge got his first look at the Yankee Bike. When he spotted the beauty he was all smiles. Mikey poured in the gas, and Paul Sr. yelled, "Fire in the hole!" The mighty 131-inch H&L; motor lit up like a nitro-burning dragster on a record pass.
The night wasn't over, though-the Teutuls still had one more mind to blow. The boys went to their 87-year-old grandmother's house and picked her up. Grandma Teutul is a rabid Yankees fan, so it was easy to get her to come check out the Yankee-themed bike. What she didn't know was that she was about to meet Jorge Posada. She was absolutely delighted, crying, "Oh, my God! George Posada!…Oh, George Posada! I can't believe this. I can't believe this!"
Since the build of Posada's Yankee Bike, the OCC crew has created additional versions of the Yankee Bike for other team members.
| | |
| --- | --- |
| SPEC SHEET | |
| OWNER | Jorge Posada |
| SHOP | OCC |
| PHONE | (845) 457-1992 |
| WEBSITE | www.orangecountychoppers.com |
| YEAR/MAKE/MODEL | '05/OCC/Yankee Bike |
| FABRICATION | OCC |
| ASSEMBLY | OCC |
| BUILD TIME | 3 weeks |
| ENGINE | |
| YEAR/TYPE/SIZE | '05/Evo/131ci |
| BUILDER | H&L; Performance |
| CASES | S&S; |
| FLYWHEELS | S&S; |
| RODS | S&S; |
| PISTONS | ROSS |
| CYLINDERS | H&L; |
| HEADS | H&L; |
| VALVES | H&L; |
| ROCKERS | Landmark |
| ROCKER BOXES | Landmark |
| PUSHRODS | S&S; |
| PUSHROD TUBES | S&S; |
| CAM | S&S; 640 |
| LIFTERS | S&S; |
| CARBURETOR | S&S; |
| AIR CLEANER | OCC |
| IGNITION Crane | HI4 |
| EXHAUST | OCC |
| TRANSMISSION | |
| YEAR/TYPE | '05/RHD Six-speed |
| CASE | Baker |
| GEARS | Baker |
| CLUTCH | Primo |
| PRIMARY | DRIVE Primo |
| FRAME | |
| YEAR/TYPE | '05/Racing Innovations/Rigid |
| RAKE | 40 degrees |
| STRETCH | 6 inches up, 10 inches out |
| SUSPENSION | |
| FRONT | Meanstreets |
| LENGTH | 14 inches over |
| TRIPLE-TREES | Meanstreets |
| WHEELS, TIRES, AND BRAKES | |
| FRONT | |
| BUILDER/SIZE | OCC/21×3.5 |
| TIRE/SIZE | Avon/120/70/21 |
| REAR | |
| BUILDER/SIZE | OCC/18×10.5 |
| TIRE/SIZE | Avon/{{{300}}}/18 |
| CALIPER | HHI |
| ROTOR | HHI |
| FINISH/PAINT | |
| powdercoat | Sumax |
| COLORS | PPG Yankee Blue/Pearl White |
| PAINTER | Nub Grafix |
| GRAPHICS | Nub |
| ACCESSORIES | |
| FRONT FENDER | OCC |
| REAR FENDER | OCC |
| GAS TANK | Rick Petko |
| OIL TANK | OCC |
| HANDLEBARS | OCC |
| MIRRORS | OCC |
| HAND CONTROLS | PM |
| FOOT CONTROLS | Accutronix |
| FOOTPEGS | OCC |
| HEADLIGHT | Arlen Ness |
| SEAT | Danny Gray |