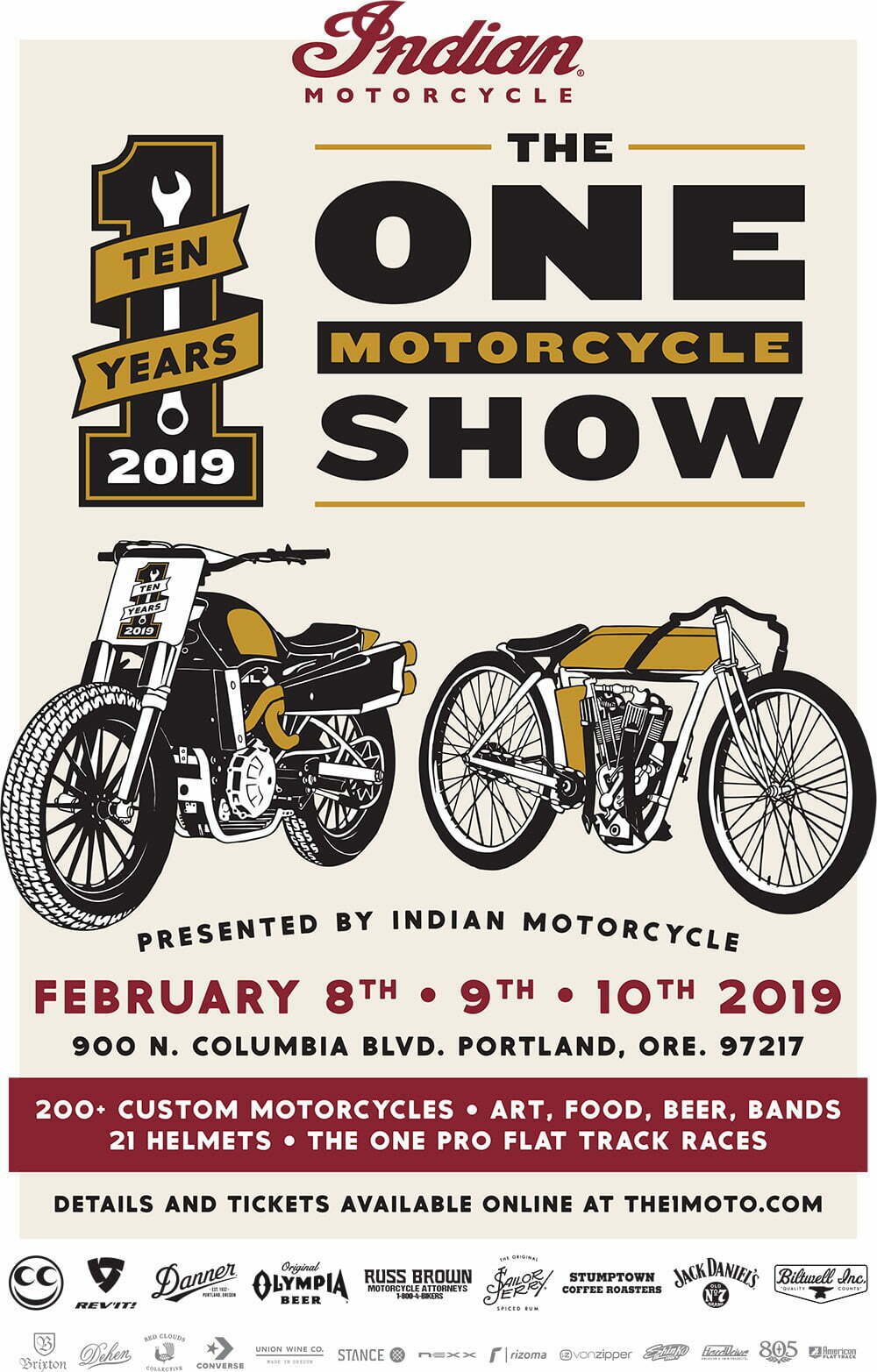 The new year is here, and with it comes the unofficial start to custom bike show season. Kicking things off for 2019 will be The One Moto Show, marking its 10th showing in drizzly Portland, Oregon. This year's title sponsorship of the 10th annual One Moto Show is switching over to Indian Motorcycle, and to kick off the new partnership, show founder Thor Drake is set to take the wraps off an Indian FTR 1200 he designed and customized just for the occasion. And it's not just a show queen; the bike will also be raced at The One Pro Super Hooligan Race later in the weekend against the likes of RSD's Super Hooligan race team (which will also be mounted on FTR 1200s).
It was Drake who dreamed up The One Show 10 years ago as a way to hang out with his like- minded buddies. The owner of See See Motor Coffee Co. grew the event from humble beginnings to a one-of-a-kind gathering known for its way-out bike designs and welcoming vibe. Since Indian Motorcycle is the title sponsor, naturally there will be a display, with the anticipated FTR 1200 and the stripped-down, blacked-out Scout Bobber along with a pile of customs by builders like Roland Sands, Carey Hart, and more. And there's always some kind of high jinks happening at this gig too; don't miss the electric minibike races, stunt shows, and live band jams while you're there. The PBR will be flowing for sure.
---
Related: Roland Sands Design's FTR 1200 Super Hooligan
---
Needless to say, Drake is stoked to be involved with the FTR 1200, stating: "It's exciting to work with such a progressive company. I'm thrilled to have the chance to get my hands on the FTR 1200 to create a special custom build in celebration of the 10th anniversary of The One Show."
If it's anything like past shows, this year's version of The One Show should be number one on your to-do list in February.
The One Moto Show Presented by Indian Motorcycle is this February 8–10, 2019. For more info about the Show and The One Pro Race, visit the1Moto.com. For more on Indian Motorcycle, see indianmotorcycle.com.