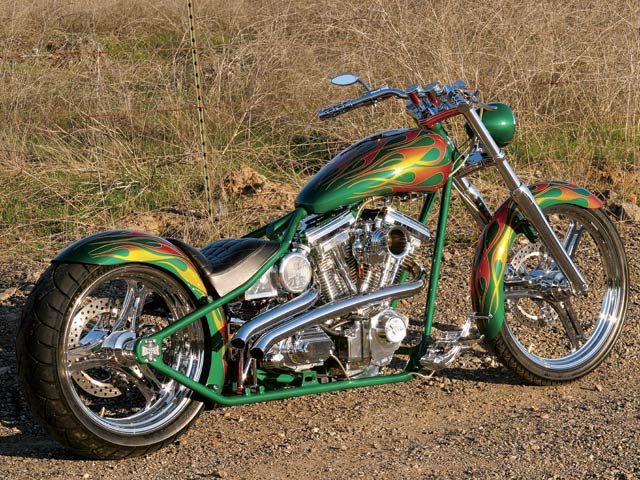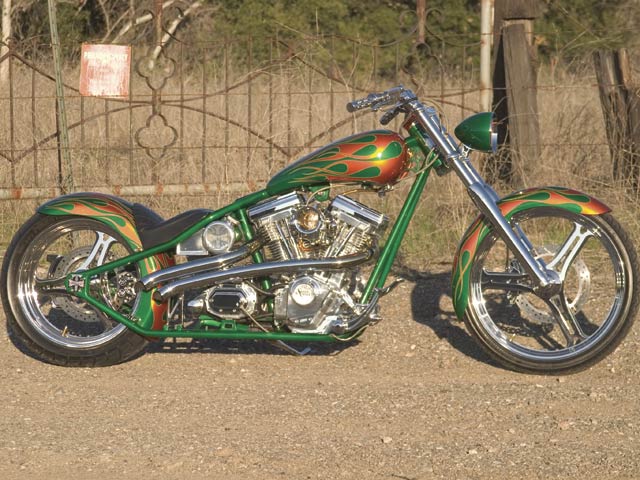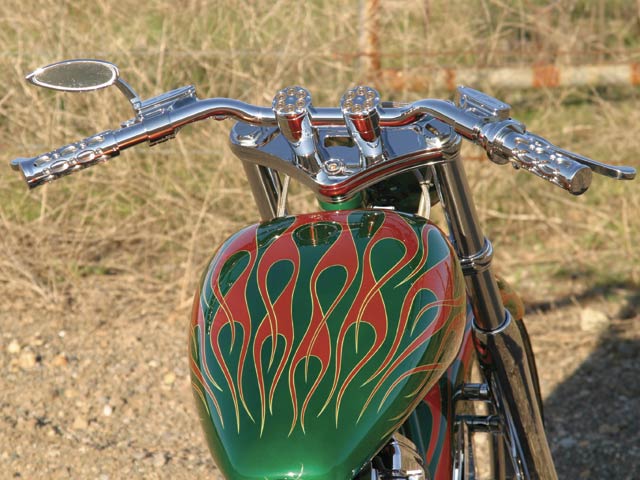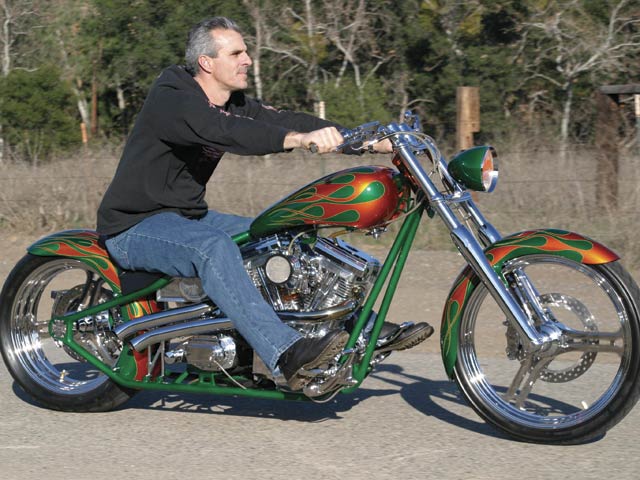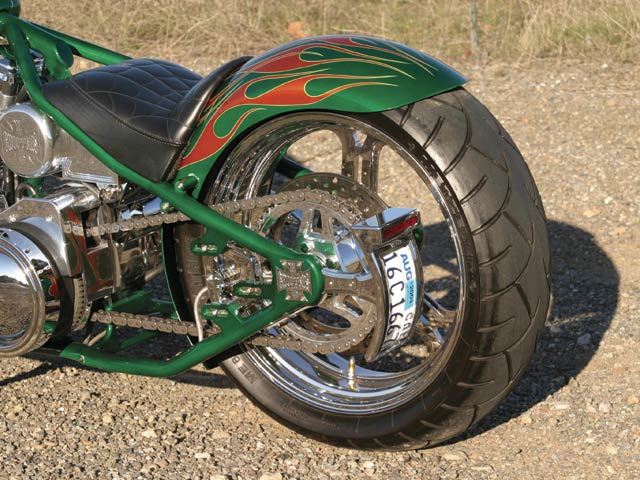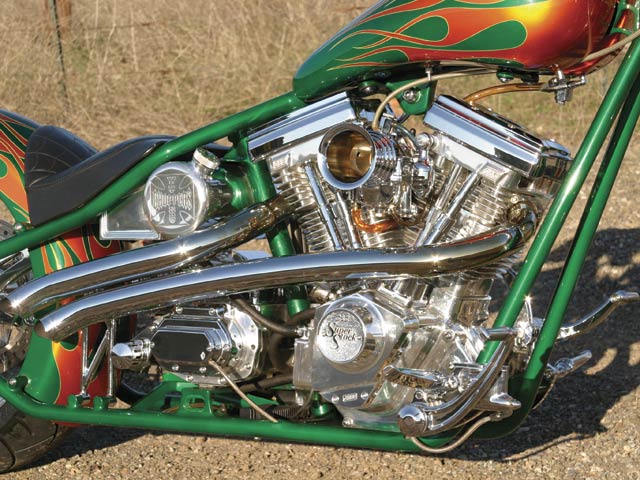 Royce Roberts of Antioch, California, has been into motorcycles ever since he was a kid. Like most of us, his interest started with dirt bikes and progressed into a passion for American-made, V-twin-powered machines. It was a little more than a year ago while he was at a show that Royce realized something. Although the bikes in the show were beautiful creations, they weren't daily riders, probably not even once-a-month riders. It was at that point that he decided he wanted to build a bike worthy of First Place in any show, but still use it as a daily rider, and even abuse it over at the local dragstrip every once in a while.
Before he started on his build, Royce took a trip to Concord, California, to talk about it with his good friend and hot-rod madman, Greg Westbury, of Westbury Hot Rods. For the past few years, Greg and his shop have dabbled in custom motorcycle circles and created some very cool bikes. Greg gave Royce some advice and tips on how to make the build a smooth and successful one, and Greg even ordered him all the parts necessary to get Royce started.
As soon as the parts began arriving at his house, Royce cleared out a space in his garage so he could get started. Since this bike was going to be a daily rider, show, and drag bike, Royce figured that a rigid frame would be more than capable of handling the triple-duty tasks. So, he had Greg order him a West Coast Choppers CFL frame. The frame featured 38 degrees of rake in the neck, 2 inches of stretch in the backbone with 2 more in the downtubes. To give the bike some suspension, he bolted a set of Ness triple-trees to the neck and then slid in a set of 41mm tubes with Deuce lower legs.
Next, he got the frame rolling with a pair of PM Trespasser wheels. The 21-inch front and 18×5.5-inch rear were both covered in Metzeler rubber, with the rear supporting one of the company's 200-series tires. In the braking department, matching PM Trespasser rotors were used along with PM calipers, with the rear running a drive-side assembly for a clean look.
Royce had spent quite a bit of time at the dragstrip and had met master motor-builder Tim Johnson of American Custom M/C Parts there. Royce noticed that anything Tim got his hands on was consistently coming in with the fastest times. So, when it came to assembling a motor for his do-it-all bike, Royce knew exactly whom to call. Tim started with an unassembled S&S; mill that he hopped up by adding a Crane cam and sending the heads over to BC Gerolomy for headwork. When the motor was completely assembled, Royce went to pick it up. He realized that he had a race-ready motor but not a show-ready motor. So, the motor was torn down and shipped to Sherms Custom Plating in Sacramento, California, for a show-polished finish. Once the motor was all shined up and set in the frame, the driveline was finished off with a RevTech five-speed set inside a Delkron case, a BDL 3-inch open beltdrive, and a Barnett clutch.
Once he had a roller established, it was time for Royce to dress it up with sheetmetal. Greg had set Royce up with fenders and tanks, but as Royce began hanging it, he realized it didn't really sit well with the lines of the bike. Knowing that he didn't have the tools or skills to accomplish the look he was going for, Royce loaded up the roller and drove it over to Greg's shop so that he could do the fab work. Greg started by trimming up a pair of Fat Katz fenders to show off the Metzeler rubber that was at either end of the bike. He then reworked a Fat Katz gas tank to rest low on the backbone, and installed a HotMatch flush mount gas cap for a nice, clean look. The WCC barrel-style oil tank was the only piece of sheetmetal that didn't need any modifications, so Greg mounted it up under the seat.
With the mock-up complete, it was time to add some color. The bike was torn down, and the frame and sheetmetal were sent to Riff Raff Painting in Pleasanton, California, where Scott Hultquist doused them in a thick coat of emerald green. To make sure that Royce's bike would stand out in a show, Scott highlighted the fenders and gas tank with some orange pearl flames.
For the final assembly, Royce decided to leave the task up to Greg and his Westbury crew. The front of the bike received a set of WCC 2-inch risers holding Drag Specialties handlebars. PM hand controls were mounted on the ends of the bars, along with PM forward controls down below. To keep things well lit, a Headwinds headlight was bolted between the triple-trees, and out back, a Paul Yaffe side-mount taillight/license mount was installed on the left side of the bike. When it came to a seat for his ride, Royce wanted something different. He had Sid Shaffer make a seat that only filled in half of the seat pan area, leaving part of the frame, the top of the rear rocker box, and the oil tank exposed for a more industrial look.
When all was said and done, Royce had accomplished his goal. His bike has since won several awards at various shows. He rides it every chance he gets, and once or twice a month he takes it over to the local speedway and tears up the competition on the drag strip.
| | |
| --- | --- |
| SPEC SHEET | |
| GENERAL | |
| OWNER | Royce Roberts |
| YEAR/MAKE | '02/Special construction |
| FABRICATION | Westbury Hot Rods |
| ASSEMBLY | Westbury Hot Rods |
| BUILD TIME | One year |
| ENGINE | |
| SIZE/TYPE | 113ci S&S; |
| CASES | S&S; |
| FLYWHEELS | S&S; |
| RODS | S&S; |
| PISTONS | S&S; |
| CYLINDERS | S&S; |
| HEADS | S&S;/BC Gerolomy |
| CAM | Crane |
| CARB | S&S; |
| IGNITION | Crane |
| PIPES | Westbury Hot Rods |
| TRANSMISSION | |
| YEAR/TYPE | '00/Five-speed |
| CASE | Delkron |
| GEARS | RevTech |
| CLUTCH | Barnett |
| PRIMARY DRIVE | Belt Drives {{{LTD}}}. |
| FRAME/SUSPENSION | |
| YEAR/TYPE | '00/WCC CFL |
| RAKE | 38 degrees |
| STRETCH | 2 out, 2 up |
| FORKS | H-D Deuce |
| TRIPLE-TREES | Arlen Ness |
| WHEELS, TIRES, AND BRAKES | |
| WHEELS | Front: PM / Rear: PM |
| TIRES | Front: Metzeler / Rear: Metzeler 200 |
| BRAKES | Front: PM / Rear: PM |
| FINISH | |
| MOLDING | Delux Customs |
| PAINTER | Riff Raff Painting |
| COLOR | HOK Green/Orange |
| GRAPHICS | Riff Raff Painting |
| CHROME PLATING AND POLISHING | Sherms Custom Plating |
| ACCESSORIES | |
| BARS | Drag Specialties |
| RISERS | WCC |
| HAND CONTROLS | PM |
| HEADLIGHT | Headwinds |
| TAILLIGHT | Paul Yaffe |
| GAUGES | None |
| ELECTRICAL | Mike Baker |
| FUEL TANK(S) | Fat Katz |
| OIL TANK | WCC |
| FRONT FENDER | Fat Katz |
| REAR FENDER | Fat Katz |
| FENDER STRUTS | Internal |
| PEGS | PM |
| FOOT CONTROLS | PM |
| SEAT | Sid Shaffer |