One Way Machine is no stranger to Hot Bike readers. Its Singapore Sun Softail was Hot Bike's top pick from Art of Speed Malaysia, One Way Machine's Julian von Oheimb is also no stranger to the AMD World Championship podium either. The custom shop from Germany grabbed top honors in the Modified Harley-Davidson class this year with its custom 2001 Harley-Davidson Deuce, earning a spot on the AMD stage for the fourth year running.
"World champion 2018 (Mod H-D Class) and four times in a row on the podium! It feels so good! A big thanks to the AMD for another great show!" posted One Way Machine to Facebook, upon learning of the win. And you can see why it'd be stoked its streamlined machine won.
Deuces are definitely wild in this custom: Its rear has been chopped down to practically nothing, its tidy bars have been narrowed, and it sports a much slimmer, racier profile than before. Sandwiched between two tall Firestones is a Twin Cam 88B capped with RSD Clarity rocker box covers. The build features RSD's Clarity cam, derby, and clutch cable covers as well, allowing a behind-the-scenes look at the engine's inner workings. One Way went so far as to carefully route the custom pipes around the RSD Clarity cam cover so it's not obstructed. The high sheen of the oil and gas tanks is the result of chrome paint instead of elbow grease. The wicked cool gas cap has been polished though, injecting new life into a radiator cap salvaged from a 1929 Chevy. The seat, meanwhile, is a one-off piece stitched by Spirit Leather.
On the back end, von Oheimb did away with the bulky stock rear fender, a move that accentuates the slope of the Softail frame. Single-sided fender struts bend around the chain, then stretch up to the tire-hugging rear fender, and it's fine details like this that separates world champions from competitors. As does the Beringer brake and rotor built into the rear sprocket, a conversion that included swapping out the Deuce's stock belt for chain final drive. With its new solo seat sitting virtually on the frame rails, the revamped Deuce looks more hardtail than ever, but for the most part, the original Softail frame remains the same.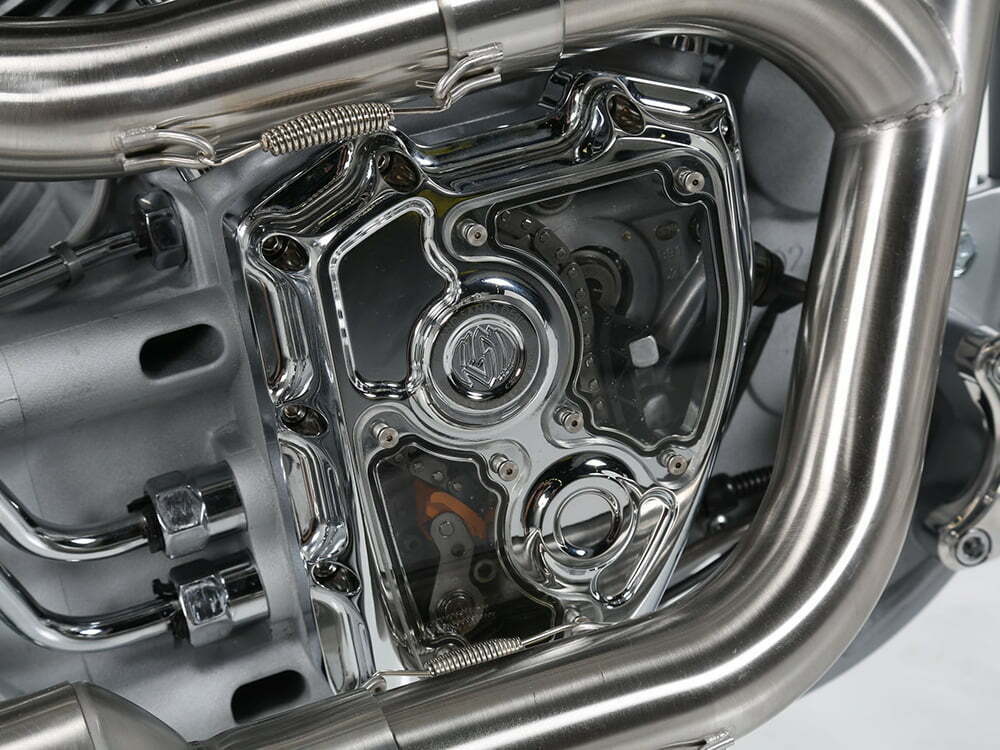 Called "Silver Storm," it's easy to see how the mostly monochromatic motorcycle got its name. One Way Machine's custom 2001 Softail Deuce did indeed storm over its competition in the Mod Harley finals at the 2018 AMD World Championship of Custom Bike Building, giving von Oheimb his second Mod Harley title in the last four years. Lord Drake Kustoms of Spain captured second place in the class with its "Speedster," a speedy café spin on a 2007 Harley Sportster 883R.
2018 AMD World Championship Mod Harley Class Winners
| | |
| --- | --- |
| Business: | One Way Machine Staufenberg, Germany |
| Bike Name: | Silver Storm |
| Builder: | Julian von Oheimb |
| Owner: | One Way Machine |
| Year/Model: | 2001 Harley-Davidson Softail Deuce |
| Engine Make: | Size OEM / 1450ccm (Twin Cam 88B) |
| Frame Make: | Type OEM modified |
| Trail: | OEM |
| Front End: | Modified 48 / Deuce |
| Swingarm: | OEM modified |
| Drivetrain: | OEM / chain final drive |
| Front Wheels: | 1.85 x 21 in. |
| Rear Wheels: | 2.15 x 18 in. |
| Front Tires: | Firestone |
| Rear Tires: | Firestone |
| Front Brakes: | Beringer |
| Rear Brakes: | Beringer |
| Painter: | BK Lack GmbH |
| Chroming/Plating: | MEA |