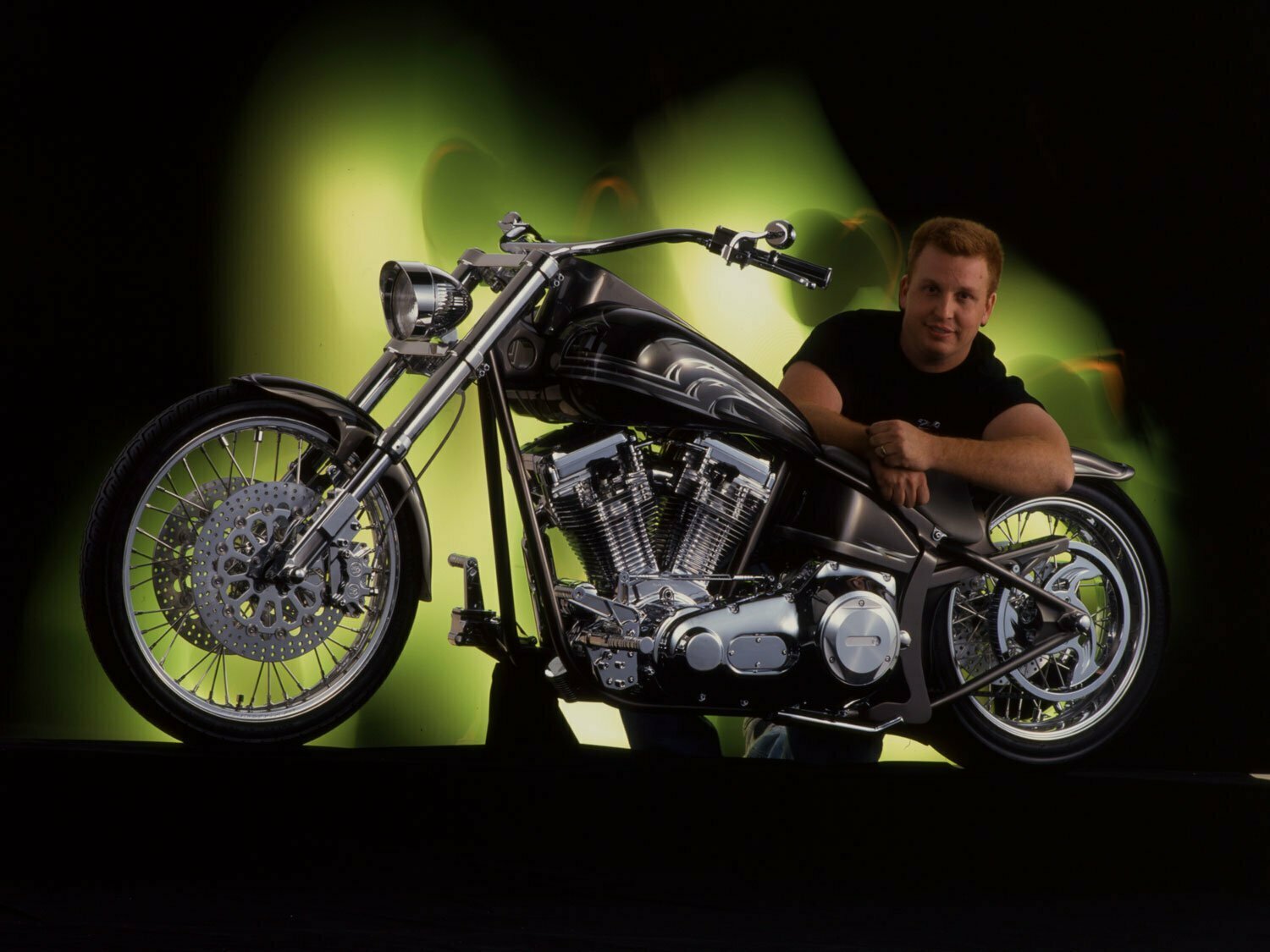 This article was originally published in the February-March 1999 issue of Cycle World's Big Twin magazine.
Style is like beauty: Even if they don't possess it, most people still recognize it when they see it.
Paul Yaffe not only recognizes style, he knows how to create it. Yaffe is one of the country's most talented builders, having crafted nearly 100 customs in his relatively short career. Many of those creations have been show winners, and the two customs seen here are not the first to appear in this magazine: Another of Yaffe's bikes, called "Deco Deluxe," was featured on the cover of our April-May, 1997 issue.
Yaffe works out of his self-named Paul Yaffe Originals, a small but well-equipped operation that serves as both a retail outlet and the final assembly point for his customs. The 34-year-old builder also owns a complete fabrication shop in nearby Scottsdale where all the cutting, milling and welding takes place, along with just about anything else involved in the making of his stylish masterpieces.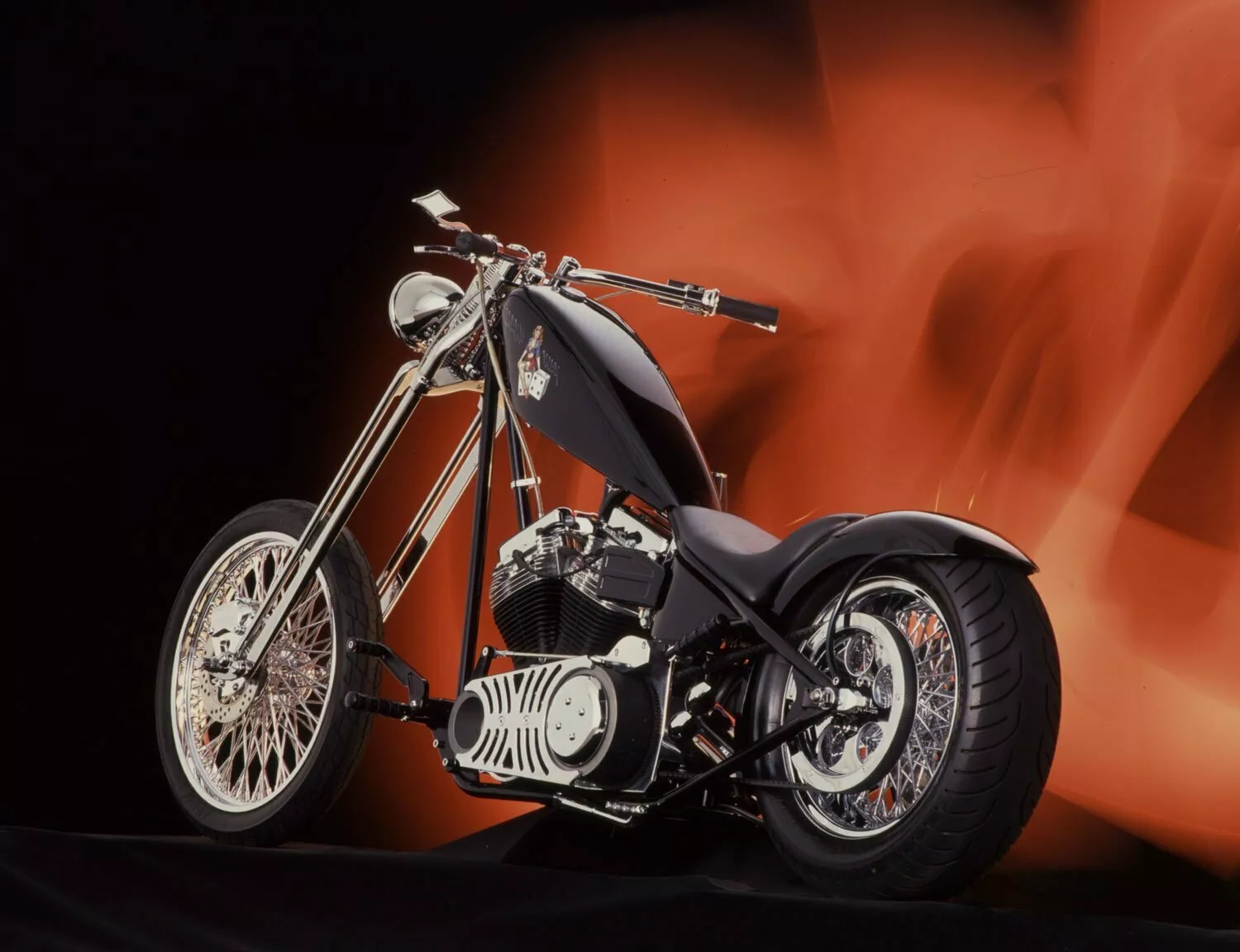 If you've never heard of Yaffe's company, that's probably because it has a brand-new name. Actually, the business formerly had two different names: The bike-customizing part of the operation was known as American Legend Motorcycle Company; the firm also marketed a line of Yaffe-designed billet Harley accessories under the Beyond Bolt-On label. Yaffe launched the line a couple of years ago with a side-mount taillight/license-plate holder, and the collection has since expanded into more than 100 separate items. But after buying out his partner a few months ago, he re­named the entire operation Paul Yaffe Originals. "It's the same location, the same people, the same products," he says. "The only thing new is the name."
A diehard rider since his mid-Teens, Yaffe began building custom Harleys in his native Southern California when he was 21. They were strictly his own bikes at first, but people soon started noticing something different, something special—something stylish—in his work. Next thing he knew, he was customizing other people's bikes.
In 1991, Yaffe moved to Phoenix to attend the Motorcycle Mechanics Institute's Harley-Davidson technician program. He put himself through school by buying old California Highway Patrol Harleys, customizing them, and selling them at a reasonable profit. One of those buyers, realizing he had just met a young man with extraordinary talent, offered to partner with Yaffe in a full-fledged custom-building business. Thus, in 1992, the American Legend Motorcycle Company was born.
Though Yaffe learned the mechanical in­tricacies of Milwaukee Iron through formal schooling, his skills as a fabricator are self-taught. He is fully capable of bending and forming sheetmetal into the desired shapes, and he has become a capable machinist, as well. He has even learned how to program the CNC milling machines that carve many of his parts from billet.

Not that he does it all alone; to the contrary, Yaffe has assembled a small group of skilled professionals to help him turn blue-sky ideas into rolling reality. His three main fab-shop employees are Brian Landry, who does all of the polishing and most prototyping of billet pieces; "Mac Daddy," responsible for the greater majority of the sheetmetal work; and Kevin Bailey, an apprentice who is quickly learning to be a jack-of-all-trades. Wayne Adams, a local painter, handles all of Yaffe's molding, and does all the base- and clear-coat paintwork.
While Yaffe clearly has a sense of style when creating his customs, he has never lost sight of the primary reason motorcycles exist in the first place: to ride. As a consequence, one of his top priorities is to produce bikes that offer just as much function as form. To that end, he uses as many stock Harley parts as he can—either original equipment or from H-D's parts and accessories catalog. "I think this makes my bikes more practical for the average rider," says Yaffe. "They're much easier to register with the DMV, a lot easier to ride, and more reliable, too."
---
---
Although his bikes are stylish, Yaffe insists he doesn't prefer any one particular "style" of bike. "I like all kinds of customs," he says, "choppers, retro style, the fat look, whatever. But no matter the style, I prefer clean, flowing lines on a bike that looks like everything works together and was designed by the same person."
He also has a high disregard for splashy paint and complicated graphics. "No Jet Ski paint jobs on my bikes," he proclaims. "I like to use neutral colors and earth tones. I try to provide visual excitement by giving tanks, fenders and sidecovers interesting shapes, rather than trying to make plain, ordinary shapes interesting with elaborate paint jobs."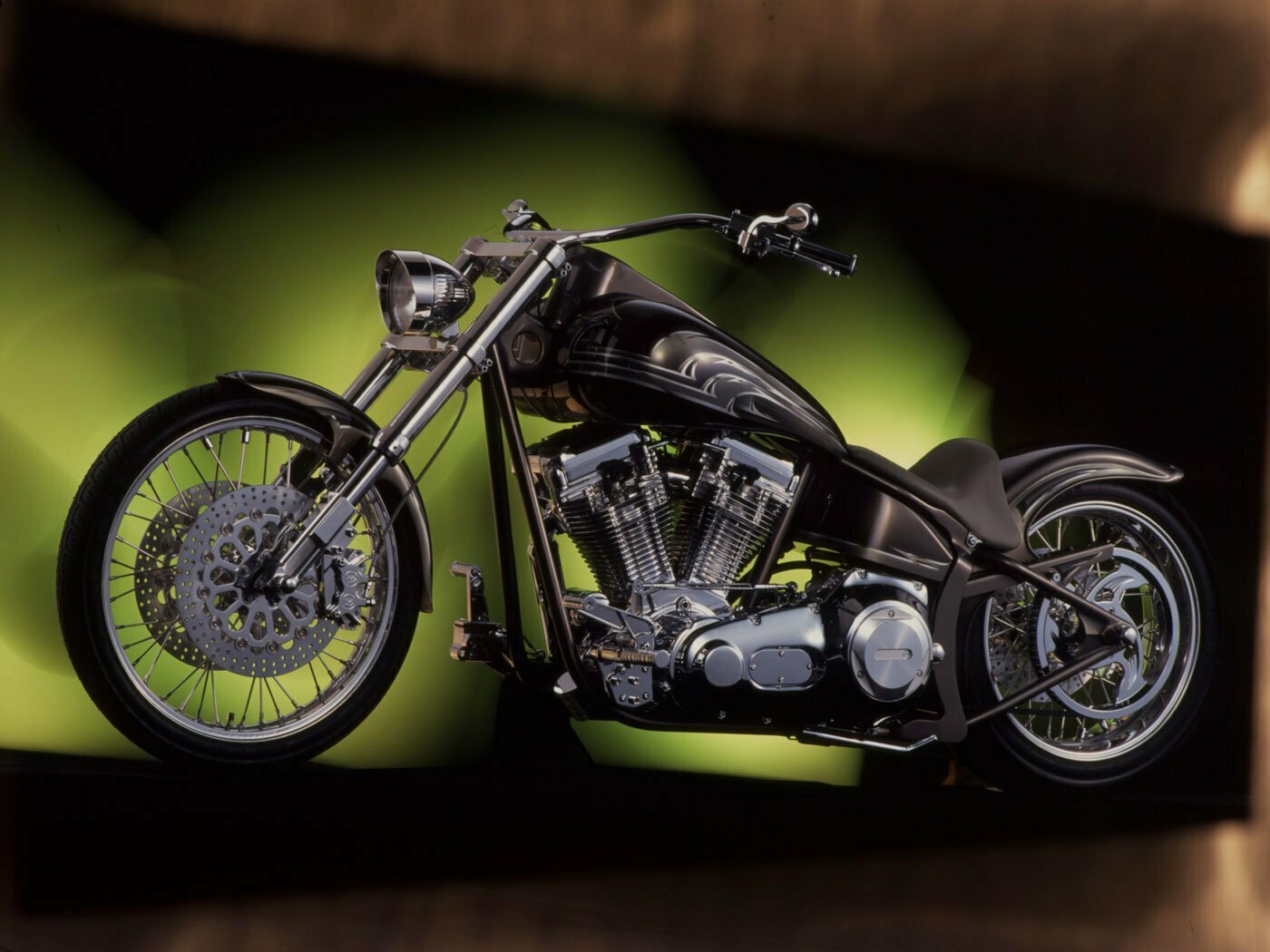 These days, Yaffe relies almost entirely on acclaimed airbrush artist Dawne Holmes ("Artist In Motion," February-March, '98 Big Twin) for graphic design. "Dawne's amazing," he says. "She always comes up with something that complements a bike's basic shapes even better than I or the owner expect. Her work is absolute perfection. She's the best."
That's high praise from Yaffe, a man who knows a little about perfection himself. He often challenges judges at custom shows to inspect every nook and cranny of his bikes, to take things apart, remove covers, probe the undersides. He has resolute confidence in the finished quality of the entire motorcycle, not just the parts you see as you stroll past. This stands in sharp contrast to so many customs that exude high-quality workmanship on the outside, but are nightmares of shoddy construction and careless assembly behind the sidecovers or under the seat—kind of like what you usually see on the under­side of an upholstered chair or car seat.
Two of Yaffe's latest creations, seen here, exemplify not only that overall level of quality, but the broad range of his talent as a stylist. The black chopper is a lean, mean, no-nonsense machine with a truckload of attitude, while the silver-green bike is more of a classic, laid-back cruiser that's long, low and wiiiide! Both machines are very stylish, but both are also very different.
And the stories about how both were created further illustrate their builder's exceptional sense of style—and lack of egotism. When conceiving the black chopper for its owner, Vince Heppler of Phoenix, Yaffe made drawings of the proposed bike as he envisioned it; but Heppler insisted on having it built according to his own vision. Yaffe—a firm believer in the philosophy that the customer is always right—agreed. But when the machine was finished, Heppler hated it so much that he had the bike almost entirely redone—according to Yaffe's styling concept.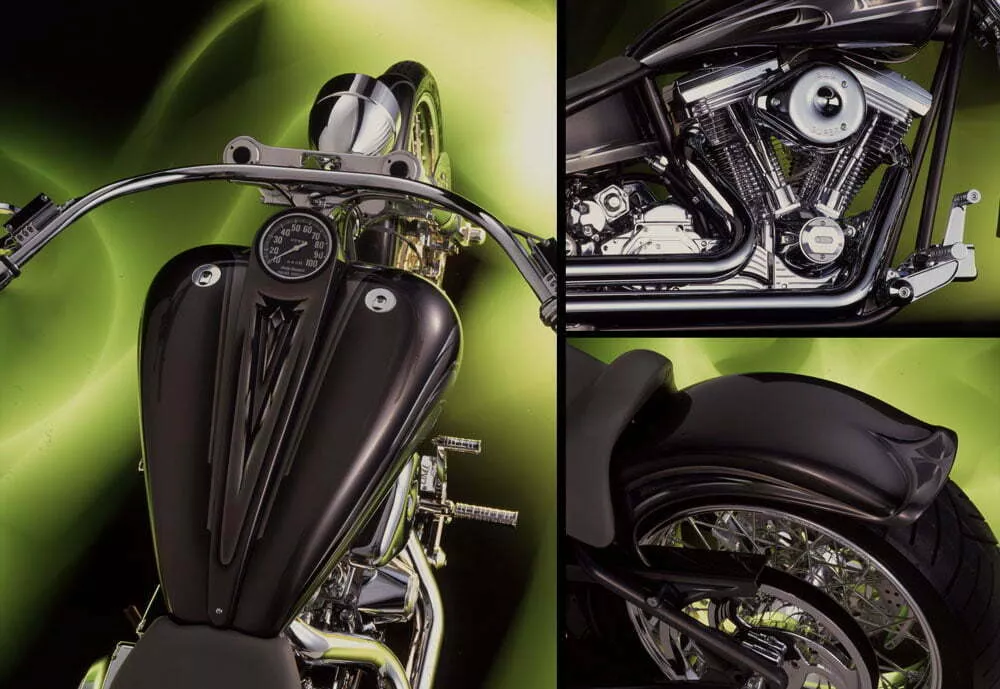 A similar set of circumstances led to Yaffe's involvement in the silver-green bike, which he calls "Moonstone," the name of the '98 Cadillac paint color on the bodywork. Construction of that machine was begun by its owner, Bevin Westin of Scottsdale, an accomplished engineer who builds sophisticated racing transmissions for Indy cars. Westin got hung up on several aspects of his custom project and, out of frustration, took the work-in-progress to Yaffe. Not only was the bike completed to Westin's high standards, but Yaffe was able to add his own flair to the finished design.
When asked what his plans are for the future, Yaffe modestly says that he'd like to see his PYO line of billet accessories become successful enough to provide all the financial support he needs. He then would be able to enjoy the luxury of building one-of-a-kind bikes at a more leisurely pace, rather than on such tight schedules.
Not that Yaffe dislikes customizing work; to the contrary, he loves it. But he'd like to have a little more freedom to build bikes for himself instead of just for customers; to let his creativity run wild; to please only his mind's eye rather than that of someone else.
If such a thing were ever to happen, who knows what imaginative kinds of customs might result? But we're sure of one thing: They'd have style.
Specifications
Bike Name: Black Chopper
| | |
| --- | --- |
| GENERAL | |
| Owner | Vince Heppler, Phoenix, AZ |
| Designer/Fabricator | Paul Yaffe, Paul Yaffe Originals |
| PAINT AND CHROME | |
| Molding | Wayne Adams |
| Paint | Wayne Adams |
| Graphics | Nose Art, by Dawne Holmes |
| Chroming | Don Unrien, Chrome Tech |
| Polishing | Molten Metal |
| ENGINE | |
| Year | 1998 |
| Model | Evo |
| Builder | Paul Yaffe |
| Displacement | 80 cu. in. |
| Cases | H-D |
| Lower end | H-D |
| Rods | H-D |
| Pistons | JE |
| Heads | H-D/Kevin Cooksey |
| Cam | S&S 561 |
| Valves | Baisley |
| Lifters | Jims |
| Pushrods | Crane |
| Ignition | Crane Hi-4 |
| Coils | Crane |
| Wires | RevTech |
| Carb | Stock, blue printed by Bob Woods |
| Air cleaner | Force Products |
| Pipes | Yaffe/Mac Daddy |
| Other mods | Xzotic rockers in tall Panhead covers by Yaffe |
| TRANSMISSION | |
| Year | 1998 |
| Type | H-D 5-speed |
| Clutch | Primo |
| Primary drive | Primo 3" open belt |
| FRAME | |
| Year | 1998 |
| Make | Atlas Precision |
| Type | 8" over rigid |
| Modifications | Custom upper motor mount and passenger peg mounts by Yaffe |
| FRONT FORK | |
| Year | 1998 |
| Make | Paughco 18" over |
| Type | Springer |
| Modifications | 8.5" caliper mount by Yaffe |
| REAR SUSPENSION | |
| Type | None—rigid rear |
| FRONT WHEEL/TIRE | |
| Wheel | American Wire Wheel |
| Tire | Avon |
| Tire size | 90/100-21 |
| Rim width | 2.15" |
| Brake | RevTech 4-piston |
| REAR WHEEL/TIRE | |
| Wheel | American Wire Wheel |
| Tire | Avon |
| Tire size | 200/55-16 |
| Rim width | 5.5" |
| Brake | RevTech |
| ACCESSORIES | |
| Handlebar | 2-piece by Mac Daddy/Yaffe |
| Risers | Mac Daddy/Yaffe |
| Grips | H-D |
| Mirrors | Diamond with Snake Arm by Paul Yaffe Originals |
| Gas tank | Mac Daddy/Yaffe hand-formed aluminum |
| Oil tank | Yaffe |
| Front fender | None |
| Rear fender | West Coast/Mac Daddy |
| Headlight | Paughco |
| Taillight | LED Diamond Eye by Paul Yaffe Originals |
| Turnsignals | None |
| Tachometer | None |
| Speedometer | None |
| Instruments | None |
| Seat Top | Notch Upholstery |
| Foot controls | UMI |
| Rider pegs | UMI |
| Pass. pegs | UMI |
| Other | Pistol Grip Levers, Sidemount License Bracket by Paul Yaffe Originals |
Specifications
Bike Name: Moonstone
| | |
| --- | --- |
| GENERAL | |
| Owner | Bevin Westin, Scottsdale, AZ |
| Designer/Fabricator | Westin/Yaffe/Mac Daddy, Paul Yaffe Originals |
| PAINT AND CHROME | |
| Molding | Wayne Adams |
| Paint | Wayne Adams |
| Graphics | Dawne Holmes |
| Chroming | Don Unrien, Chrome Tech |
| Polishing | Molten Metal |
| ENGINE | |
| Year | 1995 |
| Model | Evo |
| Builder | Kevin Cooksey |
| Displacement | 80 cu. in. |
| Cases | H-D |
| Lower end | H-D |
| Rods | H-D |
| Pistons | Wiseco |
| Heads | H-D/Kevin Cooksey |
| Cam | S&S 561 |
| Valves | Baisley |
| Lifters | Jims |
| Pushrods | Crane |
| Ignition | Crane Hi-4 |
| Coils | Power Arc |
| Wires | RevTech |
| Carb | S&S "E" |
| Air cleaner | S&S |
| Pipes | Samson |
| Other mods | Shift linkage by Paul Yaffe Originals |
| TRANSMISSION | |
| Year | 1995 |
| Type | H-D 5-speed |
| Clutch | H-D/Kevlar |
| Primary drive | H-D  |
| FRAME | |
| Year | 1995 |
| Make | Daytec |
| Type | Softail |
| Modifications | Reverse torsion bar rear suspension & porthole in neck by Yaffe |
| FRONT FORK | |
| Year | 1995 |
| Make | Ceriani |
| Type | Upside-down, cartridge |
| Modifications | Fully polished |
| REAR SUSPENSION | |
| Year | 1998 |
| Type | Torsion bar |
| Make | KT Components |
| Swingarm | Daytec |
| Modifications | Reversed torsion bar with adjusting link under transmission by Yaffe |
| FRONT WHEEL/TIRE | |
| Wheel | PM |
| Tire | Metzeler |
| Tire size | 90/100-21 |
| Rim width | 2.15" |
| Brake | Dual PM with 13" floating rotors |
| REAR WHEEL/TIRE | |
| Wheel | PM |
| Tire | Metzeler |
| Tire size | 180/55-16 |
| Rim width | 5.5" |
| Brake | PM with 13" floating rotor |
| ACCESSORIES | |
| Handlebar | White Bros. |
| Risers | Yaffe |
| Grips | Jaybrake |
| Mirrors | Oval with Snake Arms by Paul Yaffe Originals |
| Gas tank | 6-gallon by Yaffe/Mac Daddy |
| Oil tank | Daytec |
| Front fender | Westin |
| Rear fender | Westin/Mac Daddy |
| Headlight | Headwinds |
| Taillight | LED Sidemount by Paul Yaffe Originals |
| Speedo | H-D Police |
| Tach | None |
| Instruments | None |
| Seat | Top Notch Upholstery |
| Foot controls | UMI |
| Footpegs | UMI |
| Other | Flush-mount hand controls & internal brake lines by Yaffe |