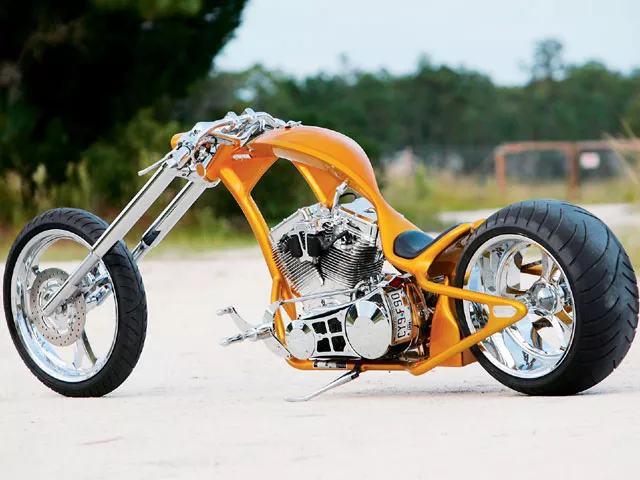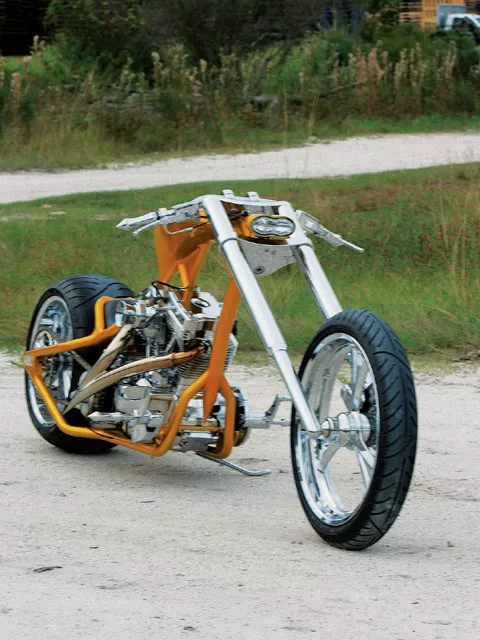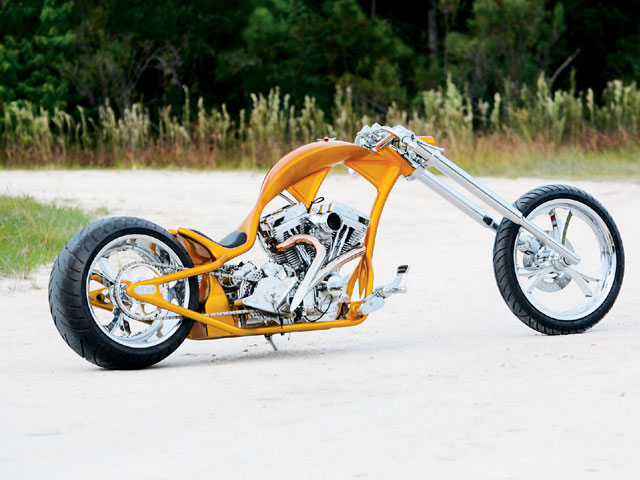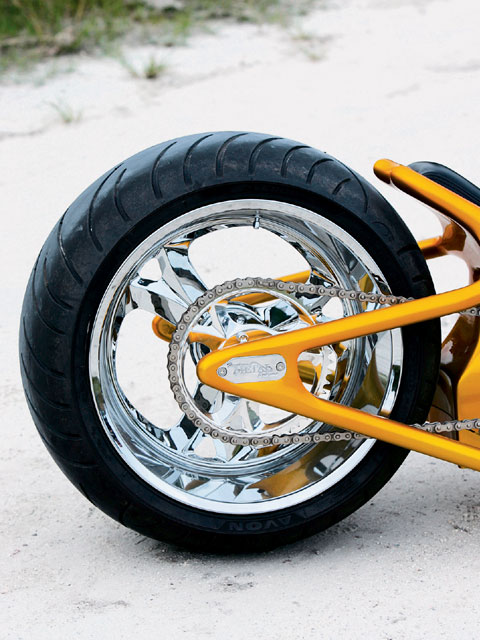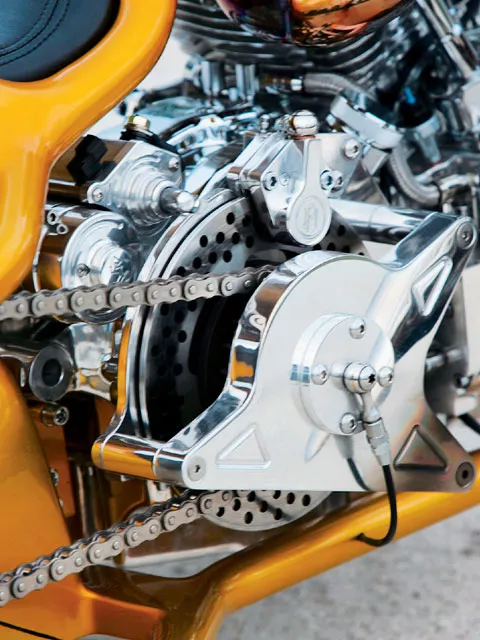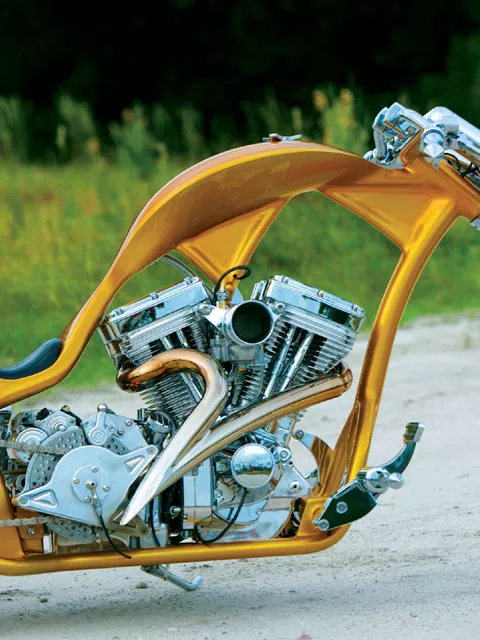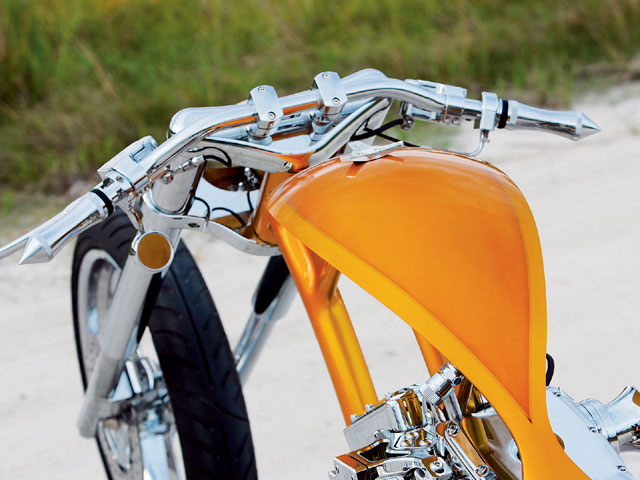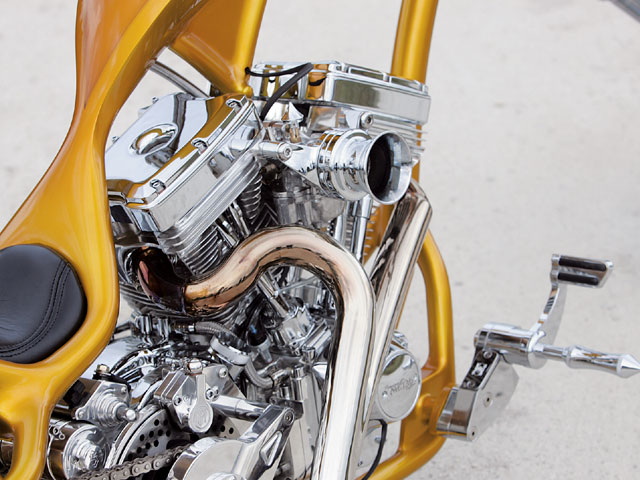 For many people, there is a point in their lives that has a major impact on defining who they are and what they are going to do with the remainder of their days. This sign can be something quite obvious, such as an event, but it can also be a moment far more subtle, yet no less defining. For Russ Austin, this event came early in his life-back in 1990, when he was 15 and out on a ride with his dad. It seems the old man had been riding Harleys for quite some time and wanted his wife to ride, so he picked her up a Honda Rebel 250. One day while he was out in the garage, Russ' dad saddled up and told Russ the two of them were going out for a ride-with Russ riding solo on the Rebel. Not having a motorcycle license (or any license, for that matter), Russ mounted the bike with some trepidation, but in short order the pair found themselves winding their way through the local streets. While sitting at a red light, Russ heard a tremendous rumble. He looked around and spotted about a dozen or so Harleys surrounding both him and his dad. Not knowing just what to do, he put on the best tough-guy face a 15-year-old could manage and looked around. All he saw were menacing stares from a bunch of scary-looking guys-until he spotted a hot-looking chick riding her own bike. As Russ caught her attention, she flashed him a big smile and gave him the thumbs-up. That was Russ' defining moment. As he told us, "Getting approval from a beautiful woman piloting her own bike lit the fire inside me"-and he hasn't looked back since.
The years that followed were filled with high school, college, cars, and motorcycles. Russ spent every spare moment building different projects, both with his dad and on his own. Never one to settle for the status quo, Russ made sure that whatever he was working on was different from what everybody else was building at the time.
It wasn't until 1999 that Russ opened Precious Metal Customs. The Woodstock, GA, shop would become like a second home-actually, more like an extension of his own home (the shop is located on the same property as his house), thus allowing him to build beautiful machines while still keeping a strong connection with his wife and 3-1/2-year-old son, with one more on the way.
The impetus for the bike you see here actually had its beginnings with our sister title STREET CHOPPER and its editor, Greg Friend. A while back Greg shot one of Russ' bikes for a feature in STREET CHOPPER. A few months later the pair met up at a rally, where Russ showed Greg his latest creation. While he liked the bike, Greg challenged Russ to build a bike that would break the mold of the bikes he had built in the past. Russ was grateful when it came to Greg's suggestion to do something different. Russ told us "how building this was like a new beginning for him, and how it opened his eyes to the possibilities." He went on to tell us "how so many builders out there get pats on the back for doing what it is they do, and they never seem to go beyond where they are and what they are doing." This was a scenario in which Russ did not want to find himself.
After flipping through the pages of a STREET CHOPPER, Russ became mesmerized by a '70s-vintage Donnie Smith bike. As with many bikes from that era, the molded gas tank appeared to be part of the frame. Russ took this concept, along with the idea of a curved backbone (which he had never tried before), and blended these ideas with a much shorter version of one of Precious Metal Custom's spoon-style rigid frames. Paramount to the aggressive look of the motorcycle would be the selection of an American Suspension 12-inch-over Phantom frontend. Hidden inside the massive 63mm inverted forks is a well-thought-out system that routes the front brake line through the leg, exiting just above the well-hidden two-piston caliper. Russ tethered the forks to a set of Hawg Halters 7-degree trees, which pivot from the 46-degree neck.
One concept Russ has always tried to keep constant is something he calls the "simplicity of bikes." By this he refers to keeping the bike as clean as possible with the least amount of sheetmetal he can get away with. What this has translated into is a style he won't stray far from-bikes without fenders, front or rear. Russ feels they are unnecessary and interrupt the flow of the bike's lines.
The only sheetmetal to adorn the bike is a small but graceful-looking gas tank (which is actually welded to and built off the backbone), and an enclosure used to keep the battery under wraps just ahead of the rear tire. Other than that there are just a couple of gussets and a bit of plating in the seat area.
Extreme Machine Edge wheels play host to Avon rubber-a 300/18 out back and a 120/70/21 up front. Russ has been going with this combination for a while now and feels it gives his bikes much better manners than going with a narrower front tire. Following the rules of simplicity, a chain final drive is utilized, thus allowing very little componentry to block the view of the rear wheel. Instead of mounting a matching Edge pulley to the rear hub, the bike takes advantage of a USA Cycle transmission braking system. We hear the setup works well with a Performance Machine two-piston caliper applying pressure to an 8-inch rotor.
In the past, Precious Metal Customs has had great success installing and selling the El Bruto motor package put out by Mid West. Previous builds utilized the 110-, 113-, and 120-inch powerplants, but this was the first time Russ had built one of his own bikes with the 120-inch motor. Once the polished powerplant was secured in place and tethered to the Rodman 3-inch open primary, it was finished off with the addition of an S&S; Super G carb, DM Customs stack, Crane ignition, and a set of Lethal Injection by 25 to Life stainless-steel exhaust pipes. Russ can help you out if you just can't live without a set. Finishing off the drivetrain is a six-speed hydraulically operated tranny from Baker.
As Russ was getting down to the last few details, he realized he had completely forgotten to order a set of handlebars. With Daytona coming up soon, he needed to make a decision and make it fast. After rummaging around the shop, he came up with a pair of Flanders flat bars that he flipped from side to side and rotated 180 degrees. He loved the look, but how would they feel as he reached for them from the seat? In short order he had his answer-great. After he mounted the Excel Components hand and foot controls, the bike was ready for paint. Russ loaded the frame and the battery enclosure and made the nine-hour drive to Liquid Illusions in St. Louis, MO, where Darren skillfully molded the frame prior to slathering on the House of Kolor Pagan Gold paint-which, through no coincidence, matches Russ' dad's '36 Cabriolet.
The first time we saw the bike we were all over it. Russ had outdone himself once again. He just said, "Thanks for the help, Greg."