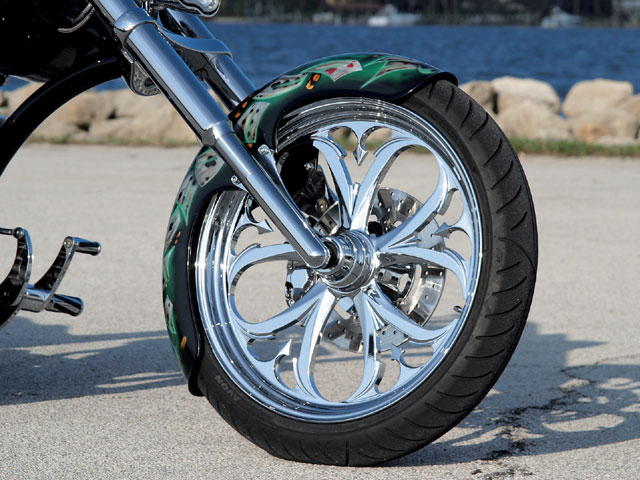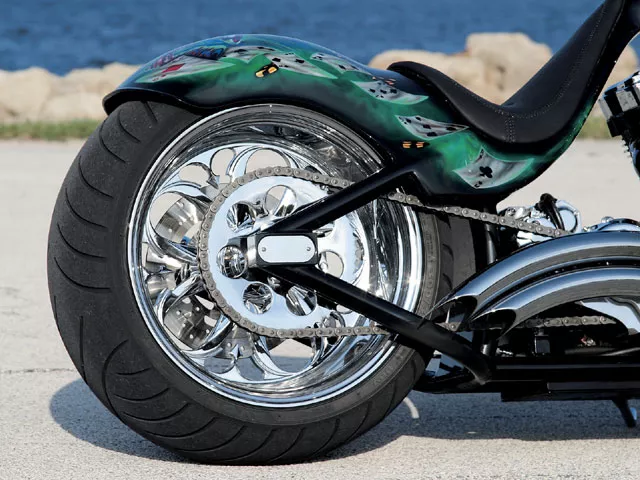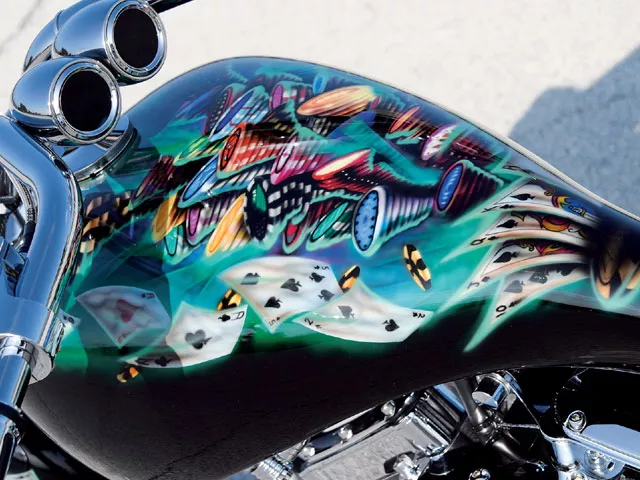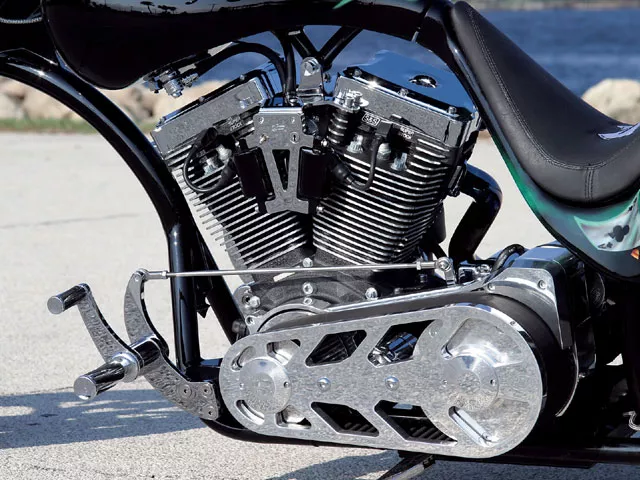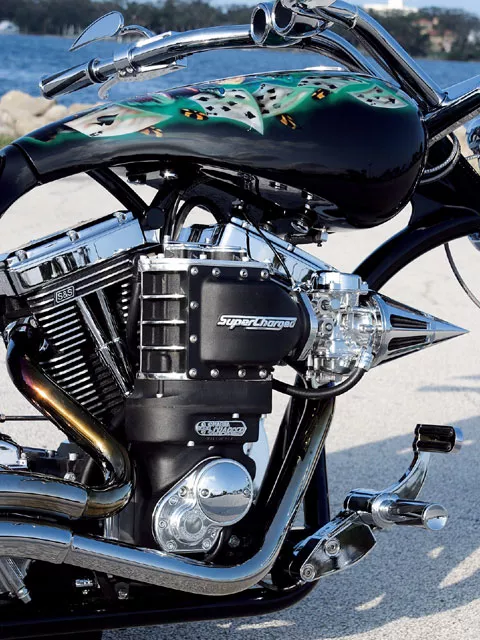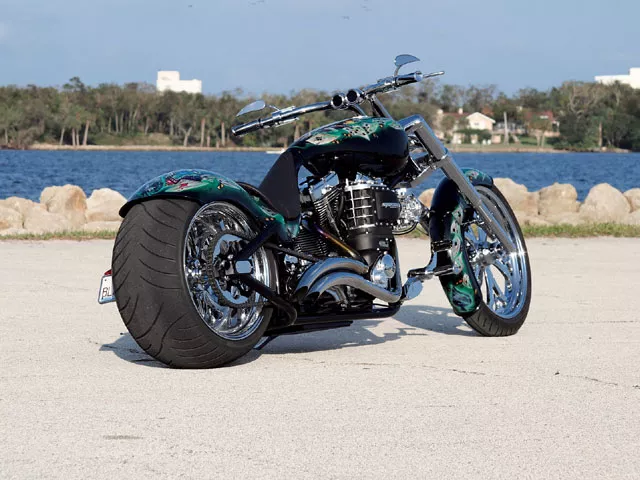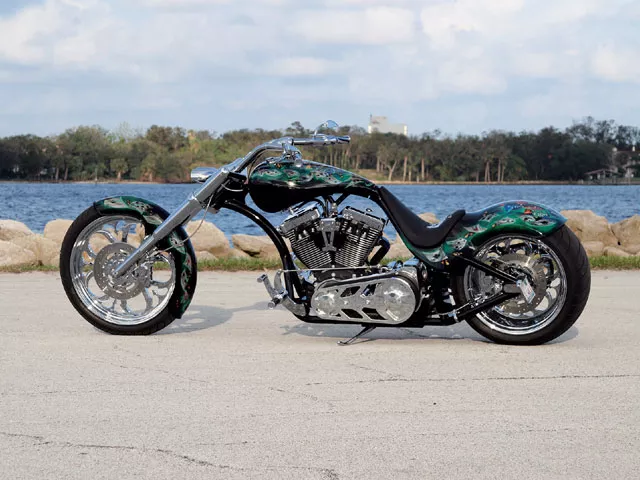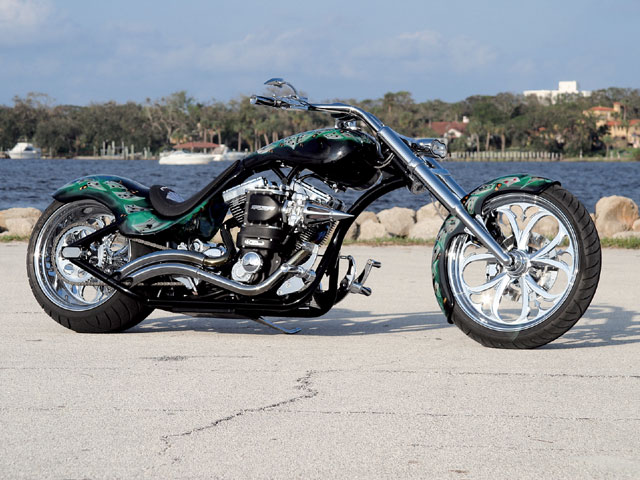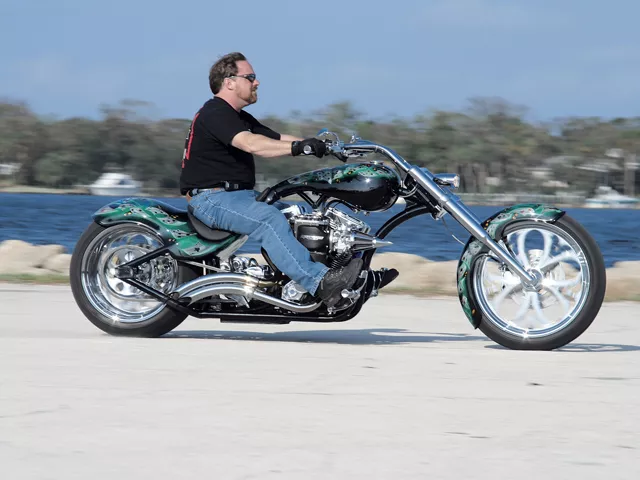 People build custom bikes for a lot of different reasons. Some do it as an homage to the old school they used to attend-kindergarten or wherever. Others might build one as a tribute to their mom's favorite cake mix-decorating the bike is the fun part, they say.
For Dan Griffin, owner of the bike you see here, it was simply a matter of basic transportation…basic for Dan, that is. You see, Dan is involved in NASCAR racing, and he needed something to get around the track's surrounding areas while his team is campaigning its Red Cactus Salsa Racing '05 Chevy Monte Carlo in the Nextel Cup and the Busch Series. The car is No. 73, and it has been driven by Jimmy Spencer, Stuart Kirby, Kerry Earnhardt, and Jorge Gotters.
About his '04 Exxxtreme Custom, Dan said, "We load it into the race-car hauler and haul it to the track. Once there, I use it for relaxing, take a ride to cool off, or go out on the town." Dan went on to say Homestead, FL, was the best place he had ridden his bike, with Miami next in line. While in Miami, Dan rode his bike on a poker run, with his bike placing first in a bike show the next day.
Dan named his '04 Exxxtreme Custom after Texas Hold 'Em, his "biggest hobby next to NASCAR and riding motorcycles." He said he's planning on riding Texas Hold 'Em to play in the 2006 World Series of Poker in Las Vegas later this year.
The creation of Texas Hold 'Em saw its beginnings in 2004 during a trip to Daytona Bike Week with a group of Dan's friends from Hot Bike of Quincy (HBQ), IL. Dan and John Poppe, heads of HBQ's Exxxtreme Customs division, spotted a Brighton Bike Works Comet Pro-Street frame, and the wheels were soon put into motion. John called down to Boynton Beach, FL, and ordered a frame configured to run a 300 rear tire. All Comet Pro-Street frames come standard with an extra-deep seat pocket and include an integral oil tank. The oil tank functions additionally as a splash apron beneath a custom-fabricated rear fender by HBQ. Perched atop the frame's 1020 DOM carbon mechanical-steel-tubing backbone is an Independent gas tank modified by HBQ. Gas tank finishing touches include a polished stainless-steel Tormentor gas cap from Landmark Manufacturing and final bodywork details by Mark Easton of Gorin, MO. Mark is also responsible for working the frame and fenders before he laid on the bike's deep gloss-black House of Kolor basecoat. The poker-themed graphics represent Dustin Hobert's first attempt at airbrushing a complete bike. Dan decided to commission Dustin to do the art after Dan saw Dustin's HOK custom-painted helmets with wild artwork on display at HBQ.
John Poppe told us he entrusted all of the bike's custom powdercoating to Eric at Powdercoat Plus in Quincy. When we commented to John that Dan's bike has a lot of really nice chrome work, he replied that it was thanks to Dick at Precision Plating, also of Quincy.
Rigid-framed bikes are not famous for a comfortable ride, but Dan claims his doesn't ride all that badly. Likely it is due to a custom seat pan and covering by Kai Schutte at HBQ. On the other hand, maybe Dan is preoccupied with the gobs of horsepower coming from the MagnaCharged 96-inch motor that Kai built.
On a stock Harley motor it isn't necessary to change any of the internal parts to install a MagnaCharger, but for Dan's 96-inch S&S; a few changes were made.
Since blowers like lower compression numbers, the compression was dropped to 8.5:1 by stuffing in a pair of dished JE pistons listed for turbo applications. Kai installed a Weed W6 cam with more overlap than cams intended for normally aspirated V-Twins. In keeping with MagnaCharger's advice, Kai used a HI-4 ignition system from Crane to control the spark. Gasoline atomization is handled via a highly modified Keihin carburetor placed in a straight forward position. Spent gases dump into a modified Martin Brothers exhaust system…one might call that a "Texas dump 'em." A 14mm BDL Top-Fuel primary drive connects the S&S; motor to an RHD six-speed Baker transmission. Exxxtreme Custom relies on brake calipers from Hawg Halters of Dahlonega, GA, to clamp Spade-style rotors and wheels from Xtreme Machine in Jacksonville, IL-they're about an hour or so away from Quincy.
It's no secret that big V-Twin-powered American-made motorcycles are popular amongst NASCAR drivers today. HBQ sponsors a pair of circle-track cars. Could it be that both bikers and NASCAR fans alike enjoy the country-sweet taste of Red Cactus Salsa and have formed an impromptu alliance? If you would like to discover the answer for yourself, race to your local Wal-Mart and pick up a bottle of Red Cactus Salsa today.