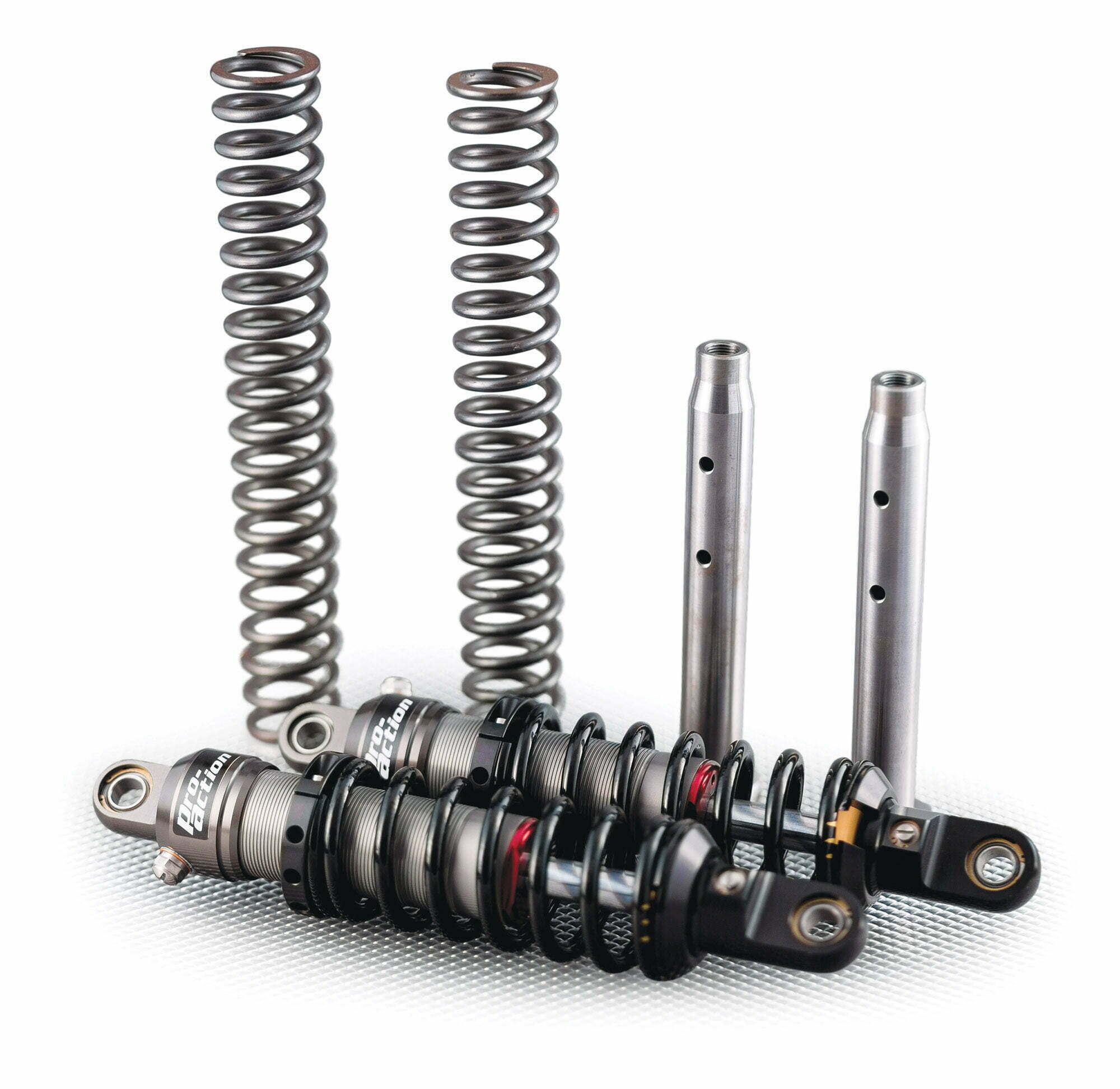 There is always room for improvement when it comes to a bone-stock bagger. Most riders are quick to bolt on products that are designed to increase horsepower and performance, and maybe make a little more noise in the process, yet sometimes overlook the true definition of performance. When a suspension system is tuned to match motor performance, there is a superior level of ride quality that can be attained, and it is simply tough to beat.
To get a better perspective on just what improvements in handling that we're alluding to, let's make an example out of this 2015 Harley-Davidson Road Glide Special owned by our pal Rogie, of Black Flys Eyewear. We reached out to George Quay, founder of Pro-Action Suspension, to see just how their new Street Series products could make a positive difference. Pro-Action has a longstanding history within the world of motocross, supercross and off-road, two-wheeled applications, so we were very interested to see just what it had developed for those who prefer to ride on paved roads.
"We've had our fork cartridge and Street Series rear shocks designed and produced for a while now," Quay says. "We just haven't had the front-end kit available to the public until January of 2018. We have had them installed in our bikes for two years or so for the sake of testing and note taking. We love them."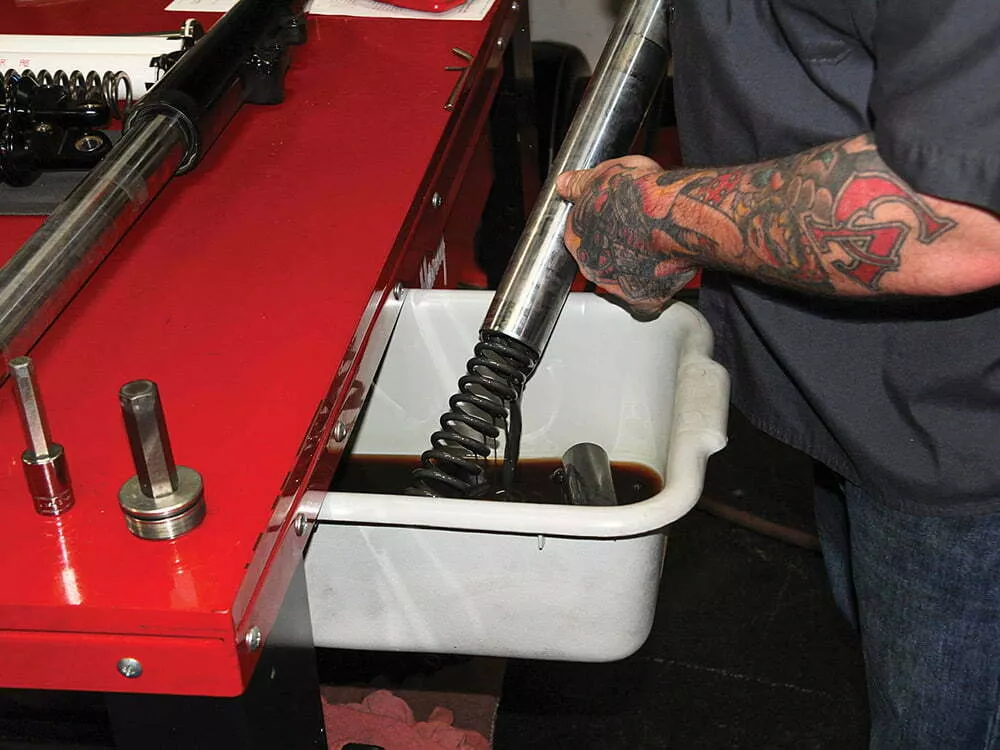 The developers at Pro-Action have been designing suspension components catering to action sports since '77, and Quay has been there to grow his company alongside the ever-evolving technology that goes into creating the best-performing motorcycle suspension system—for all terrains and situations. Quay goes on to say, "We, as motorcycle riders, have now entered the era of the 'performance bagger.' This is exciting for us as most guys who used to race motocross are now riding Harley-Davidson bikes. I think it's through our experience in racing that we were able to dial in better-performing suspension products for the H-D platform. When most of us parked our motocross bikes and hopped on touring motorcycles, the difference in ride quality was instantly noticeable—it felt terrible. For years, we knew what a stiffer, more responsive suspension setup should feel like, and I think that we addressed how we could alleviate that difference with our fork cartridges and Street Series rear shocks."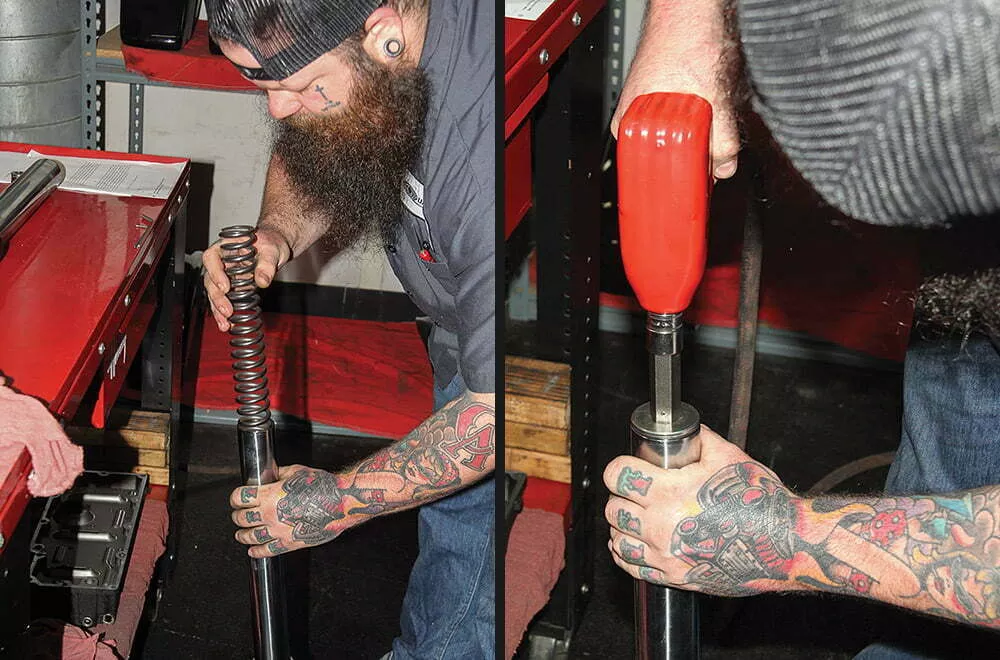 The development that went into designing the fork cartridge kit was inspired by George's experiences with the racing motorcycles he spent so much time with in the company's early days. "When putting the fork cartridge kit together, we were really trying to emulate the front end of Maico bikes, which were very successful in the motocross arena during the '70s and into the early '80s." The front-end suite drops right into place and features a replacement spring and Pro-Action's own damper rods that utilize OEM piston bands and negative springs. Provided preload tubes are also utilized when repacking the fork tubes. These upgraded parts vastly stiffen the front end, and increase the feel and handling of a mass-produced machine based on the individual rider's unique height and weight. This is information Pro-Action requires its customers to provide upon checkout in the effort to deliver the most finely tuned components possible.
Speaking of rider size, this particular Road Glide belongs to a gentleman who stands at 6 feet 3 inches tall and weighs in at 280 pounds, so it goes without saying that he has had to sacrifice his own comfort while riding around on a stock setup. With the front end of the bike taken care of, it was time to address the rear.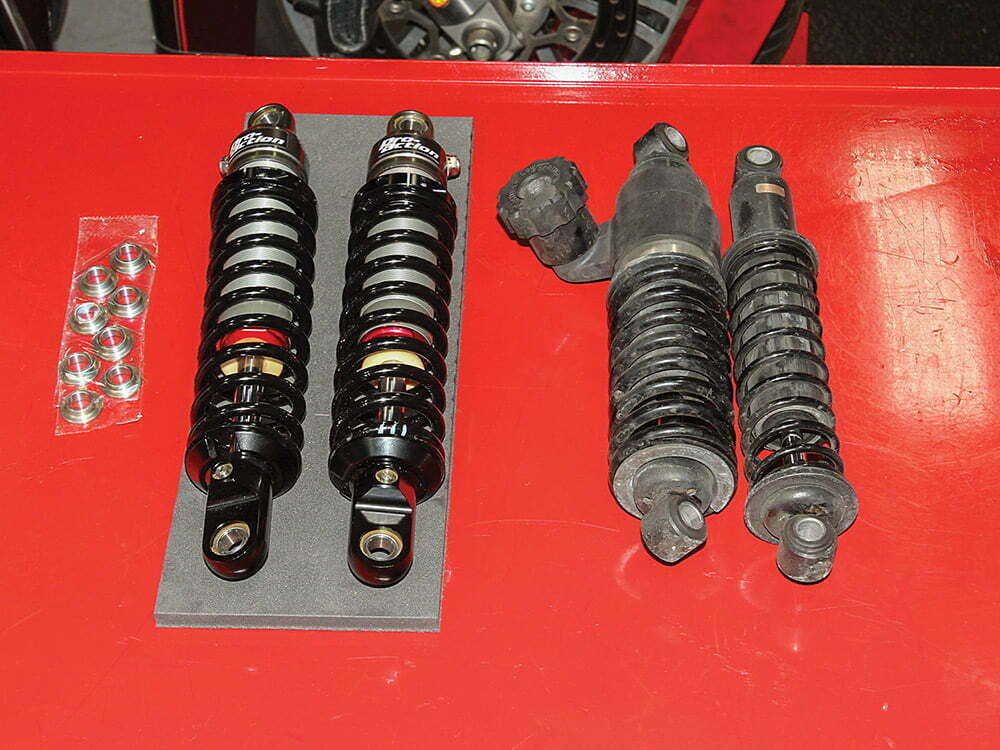 The increase in rear shock performance is largely due to the three-stage incrementally pressure-sensitive, self-adjusting compression valving and two-stage pressure-sensitive rebound system. Add that to the shock's long-travel design, and what is left is a performance response throughout the rpm range from low to top speed. Looking closer at the shock, Quay reassures that the combination of oil and nitrogen, and the use of a coil-over, was done so with the foresight of making bottoming out a nonissue. A spherical bearing was also utilized at the eye of the shock to allow it the ability to twist and give without worrying about binding problems.
And the materials used for construction? Only the best were selected, and the entire product is proudly made in the United States—Beaver Falls, Pennsylvania, to be exact. The CNC machined T6061 aircraft-quality billet aluminum housing has been hard-coat anodized, and the chromoly shaft can take a hard beating and then some. The shocks also feature a hand-adjustable preload knob that has 40 clicks through which to cycle to find the best possible feel. Rogie, the owner of the Road Glide, only needed to make a couple of turns' worth of adjustments to get the feel he was after, which goes to show that there is more than enough adjustment left to be made to compensate for a larger rider, luggage, and a possible passenger. "The ride is awesome," Rogie says. "No more mushy front end going into tight turns. It's nice and rigid, which allows me to maintain a faster speed through turns. I enjoy canyon riding, so this is huge for me. The factory components were definitely not designed for someone my size."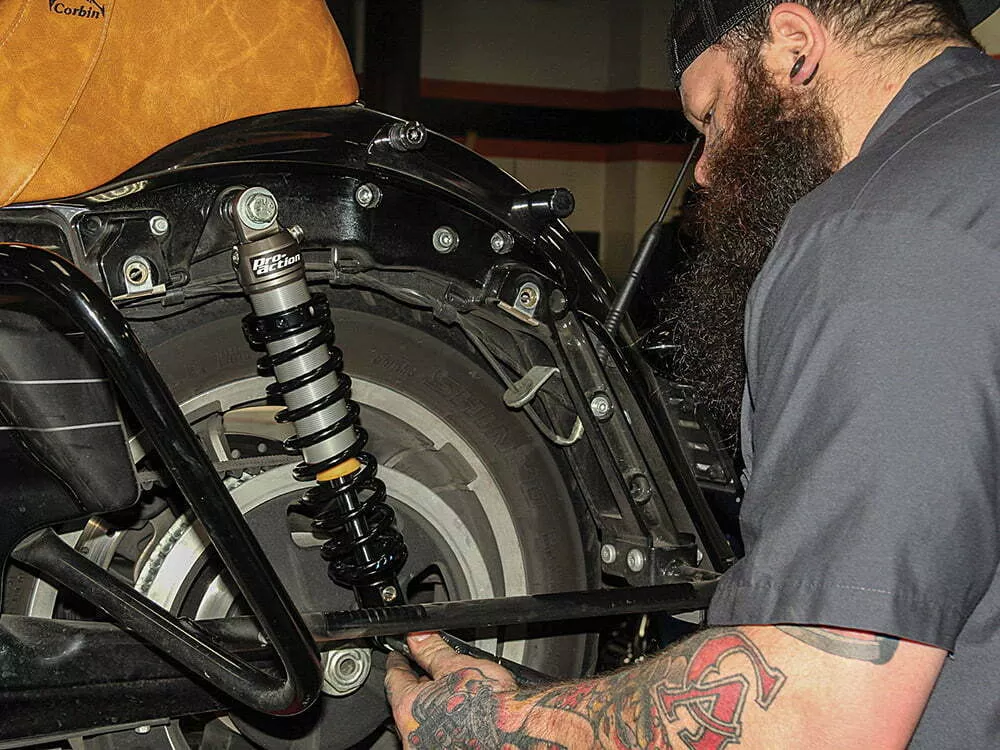 From riders who have more aggressive tendencies on the road to those who enjoy touring the highways at maximum comfort level, Pro-Action's front fork cartridges and Street Series rear shocks will definitely have you questioning why you waited so long to swap out your bike's factory components. Both developer and rider confirm that making the change to a strategically designed suspension system based on decades' worth of research and development in the field of high performance is an absolute no-brainer.
Follow along as we take a trip to Quaid Harley-Davidson in Loma Linda, California, to forever improve the way this 2015 Road Glide Special battles the road.