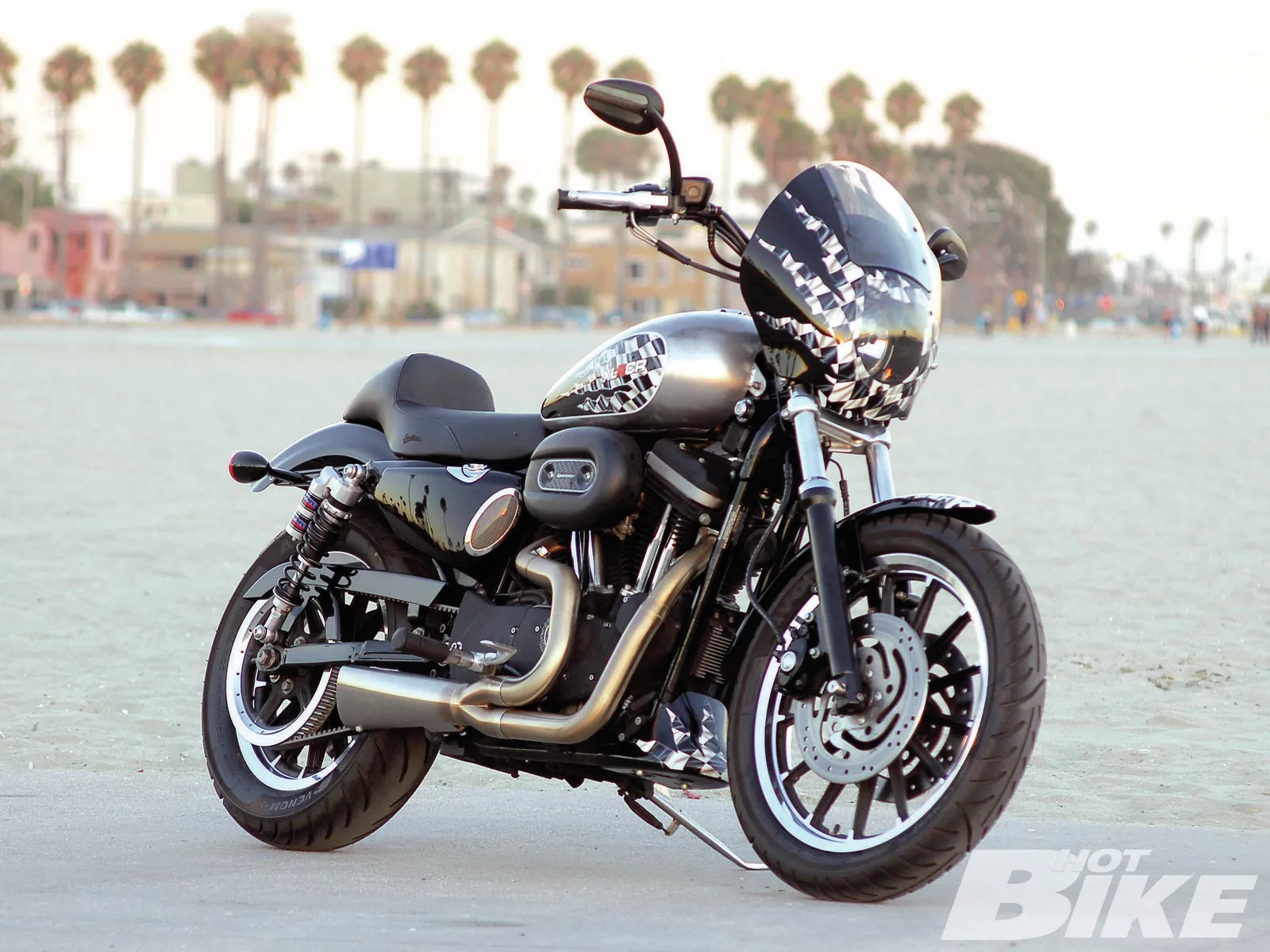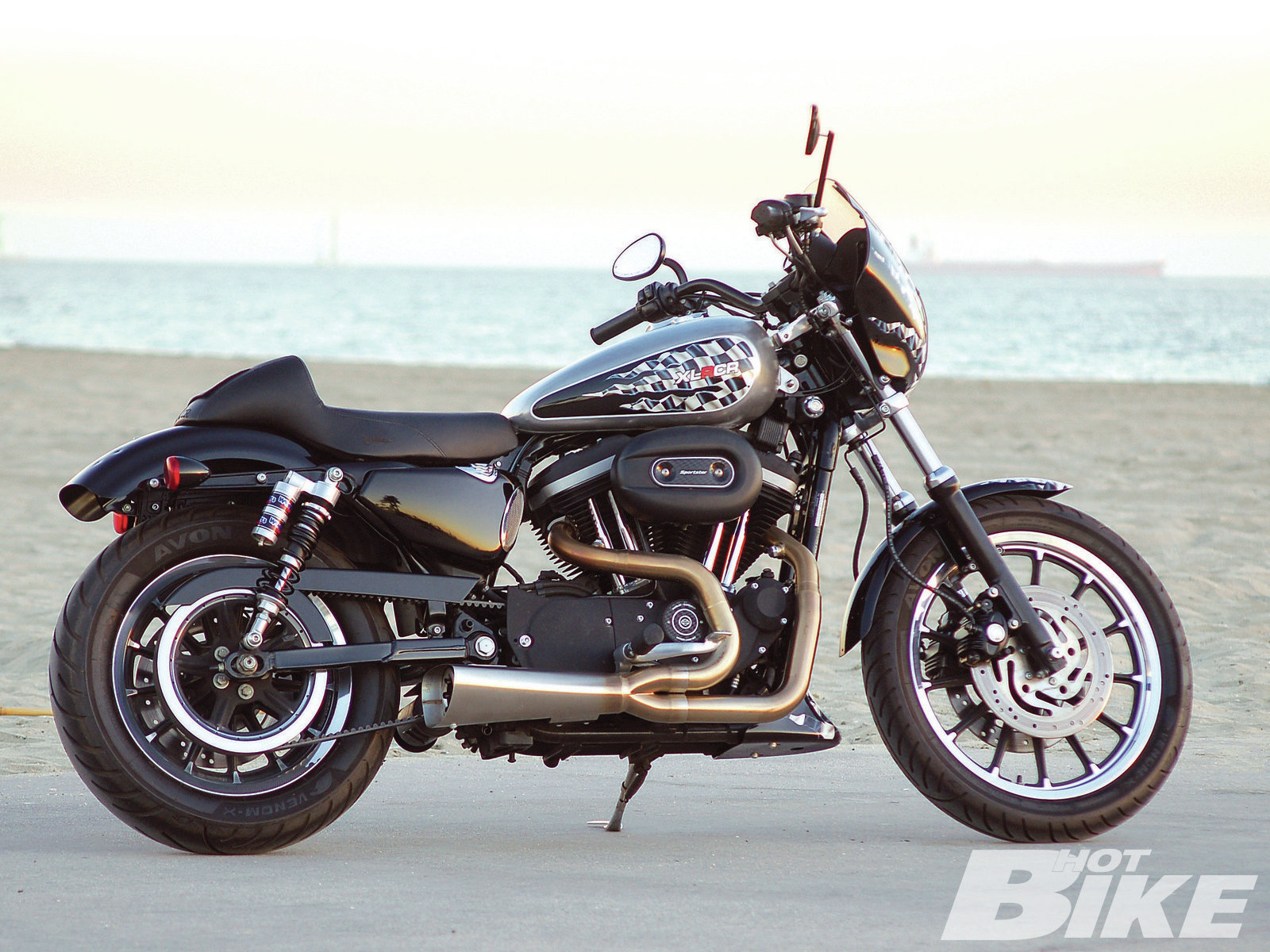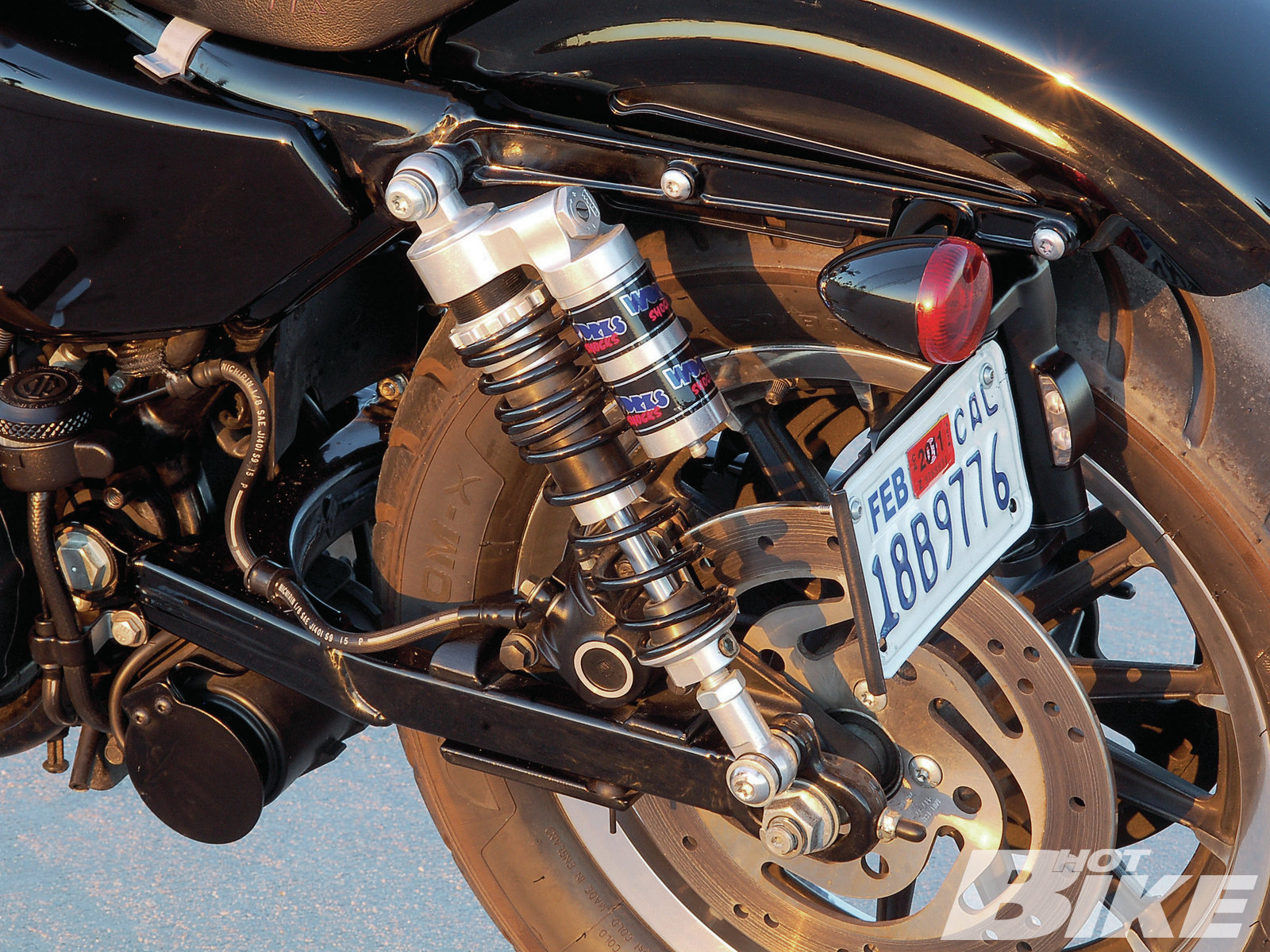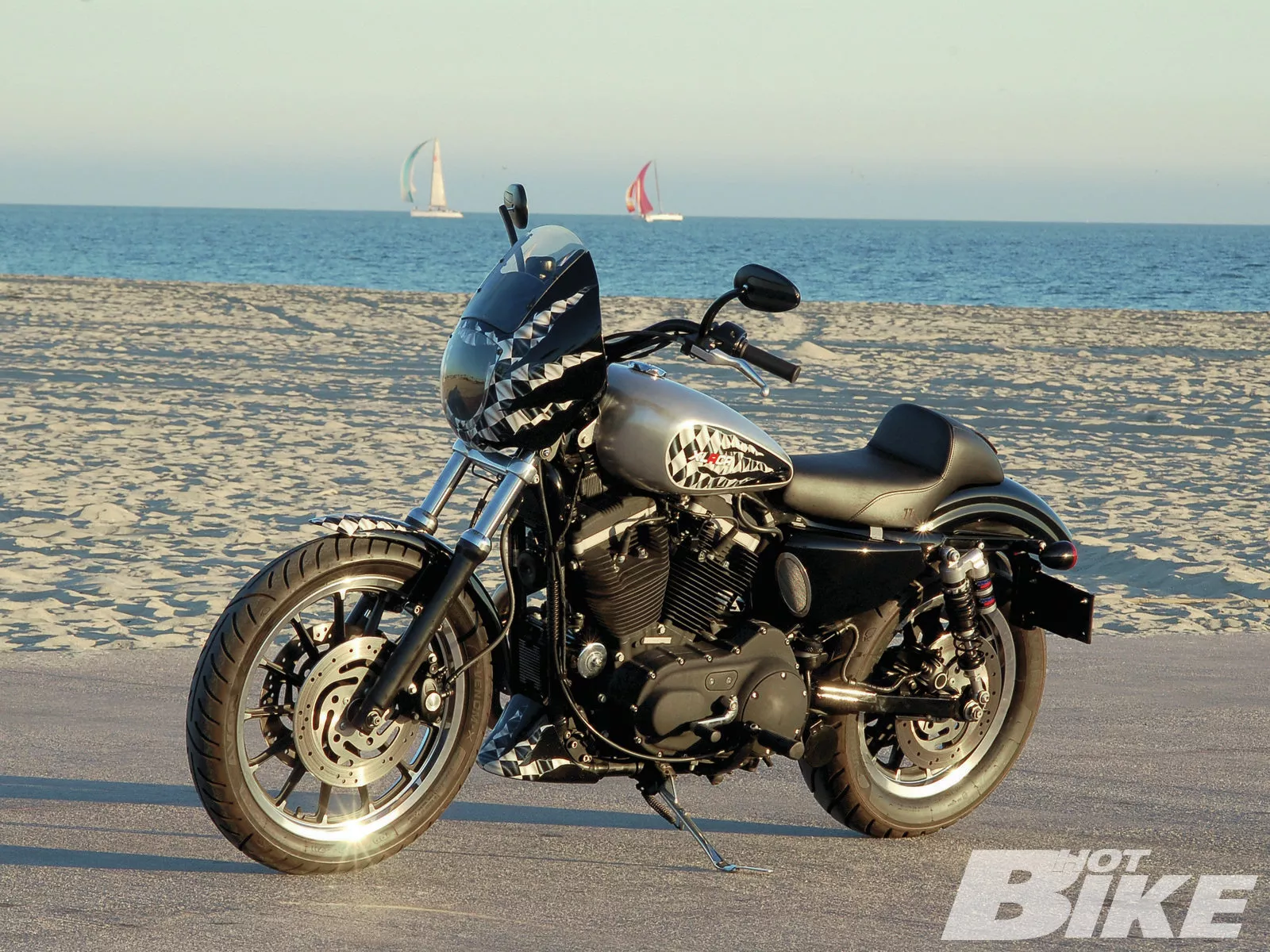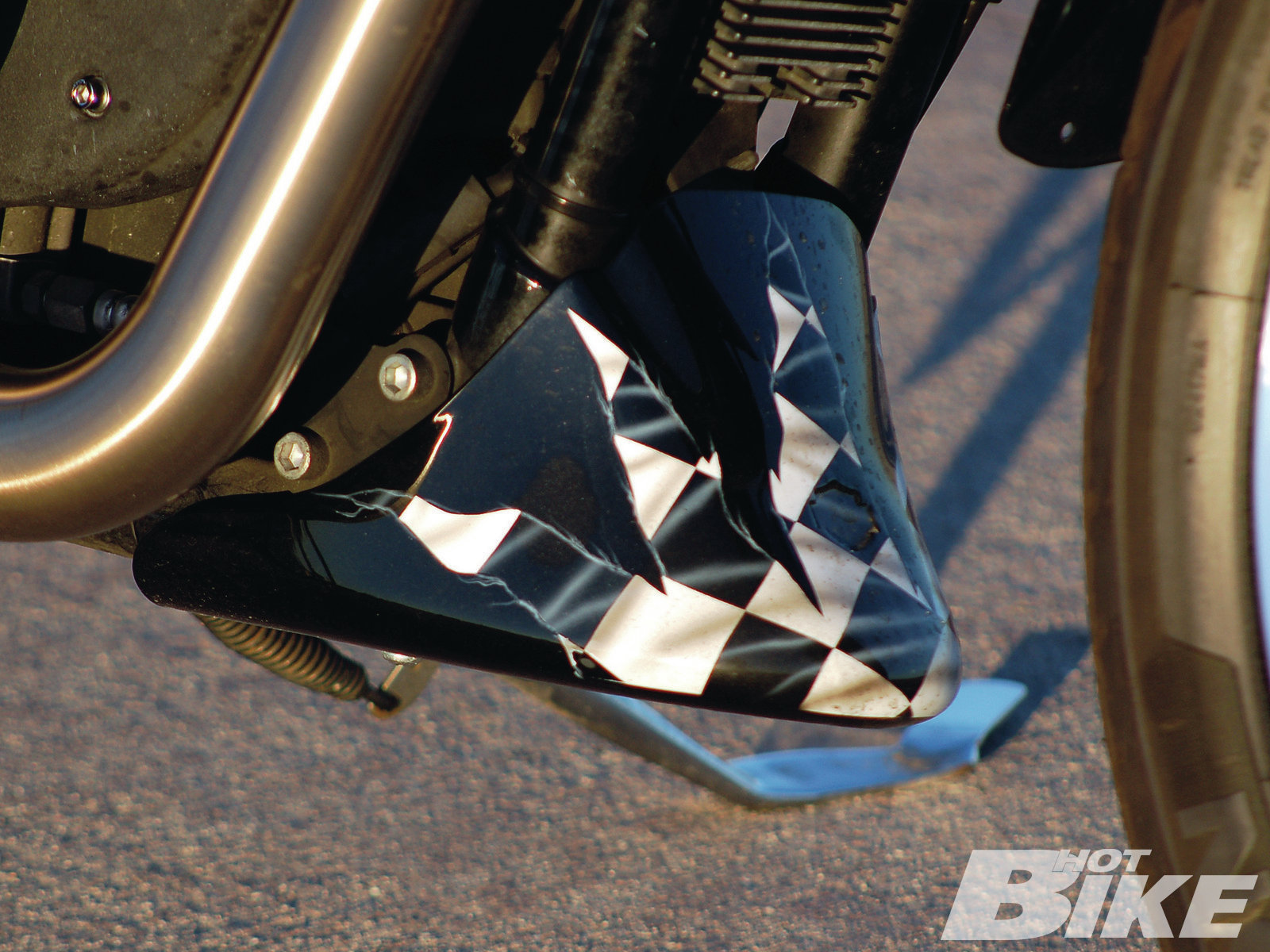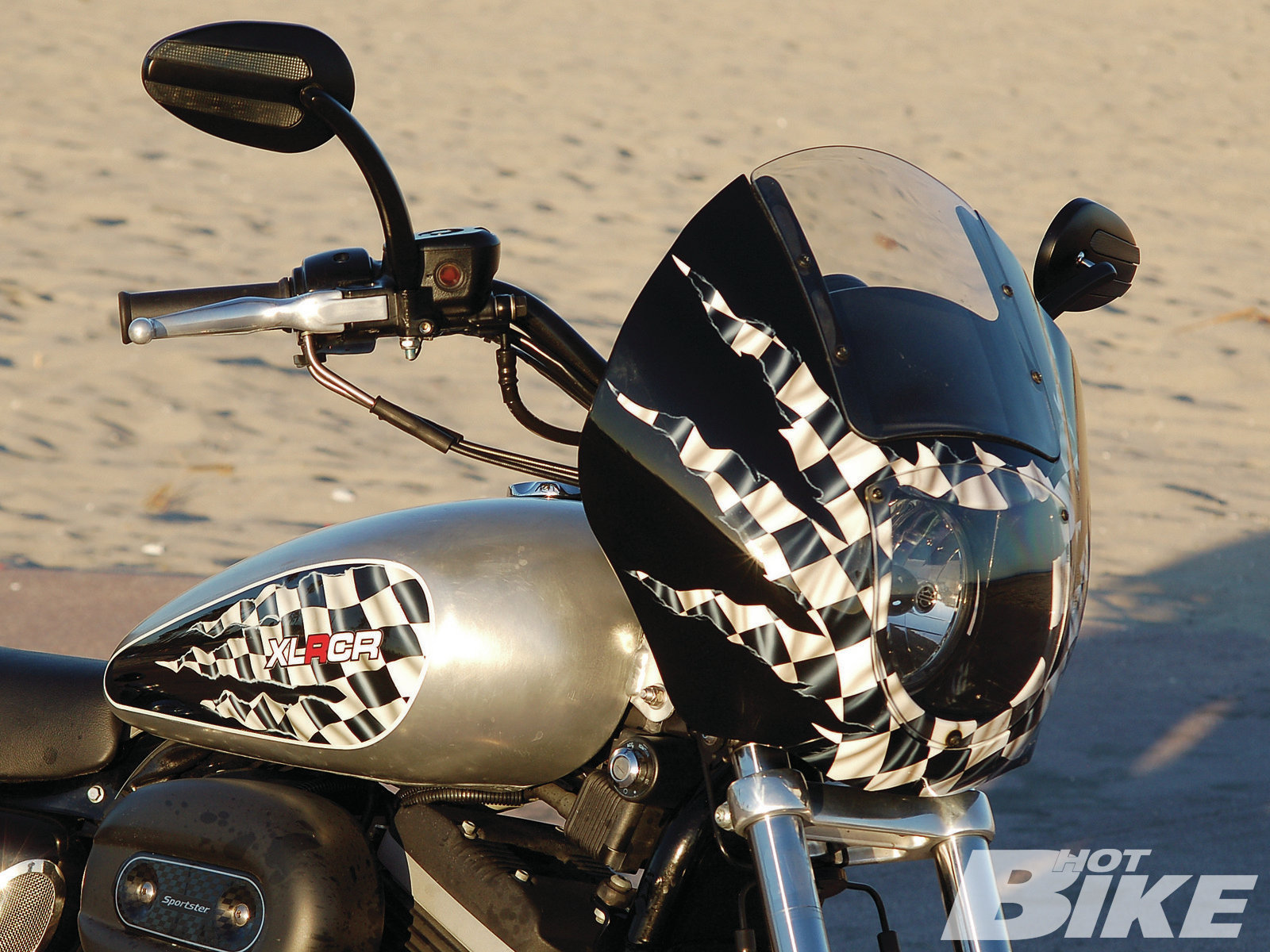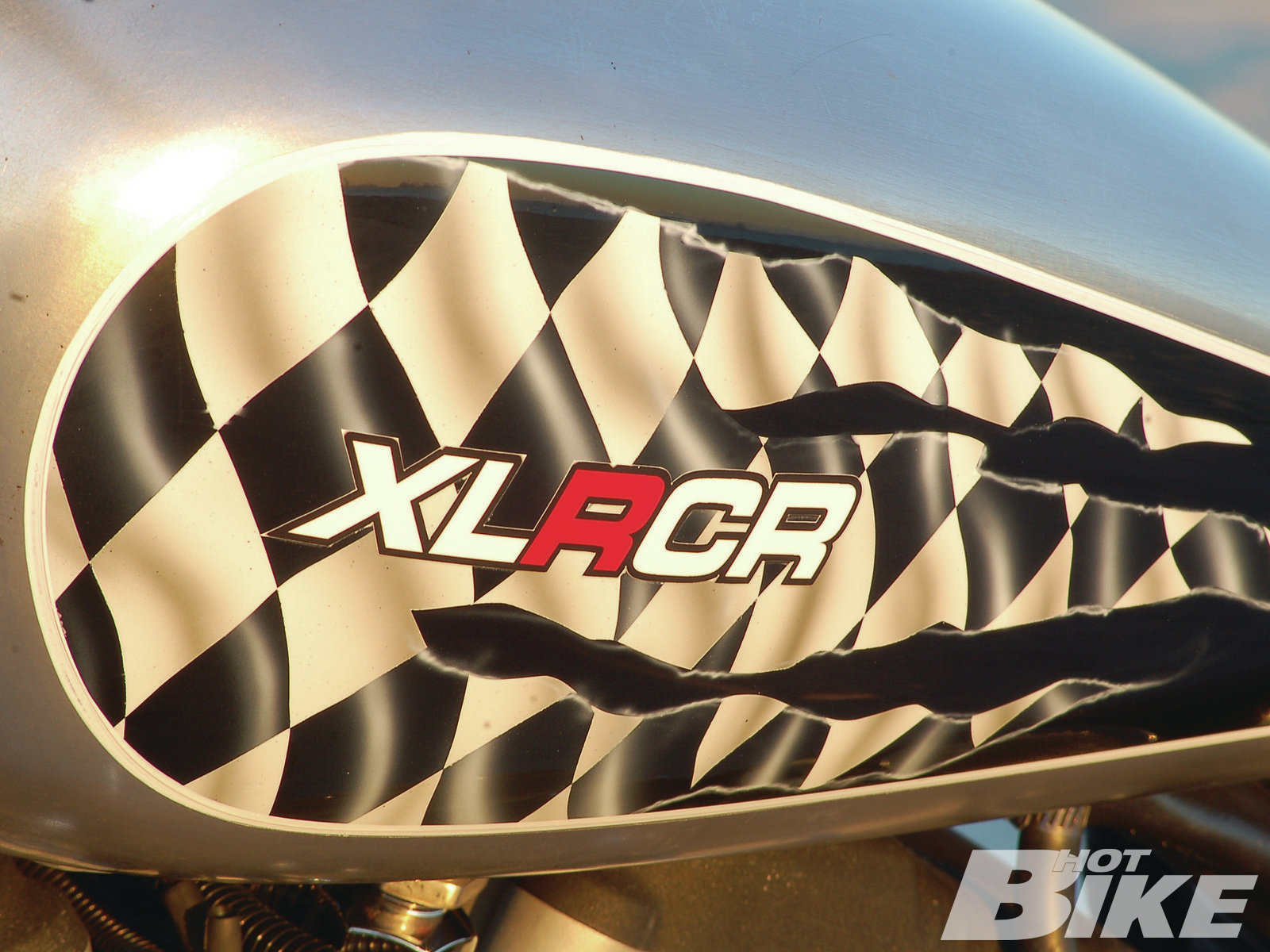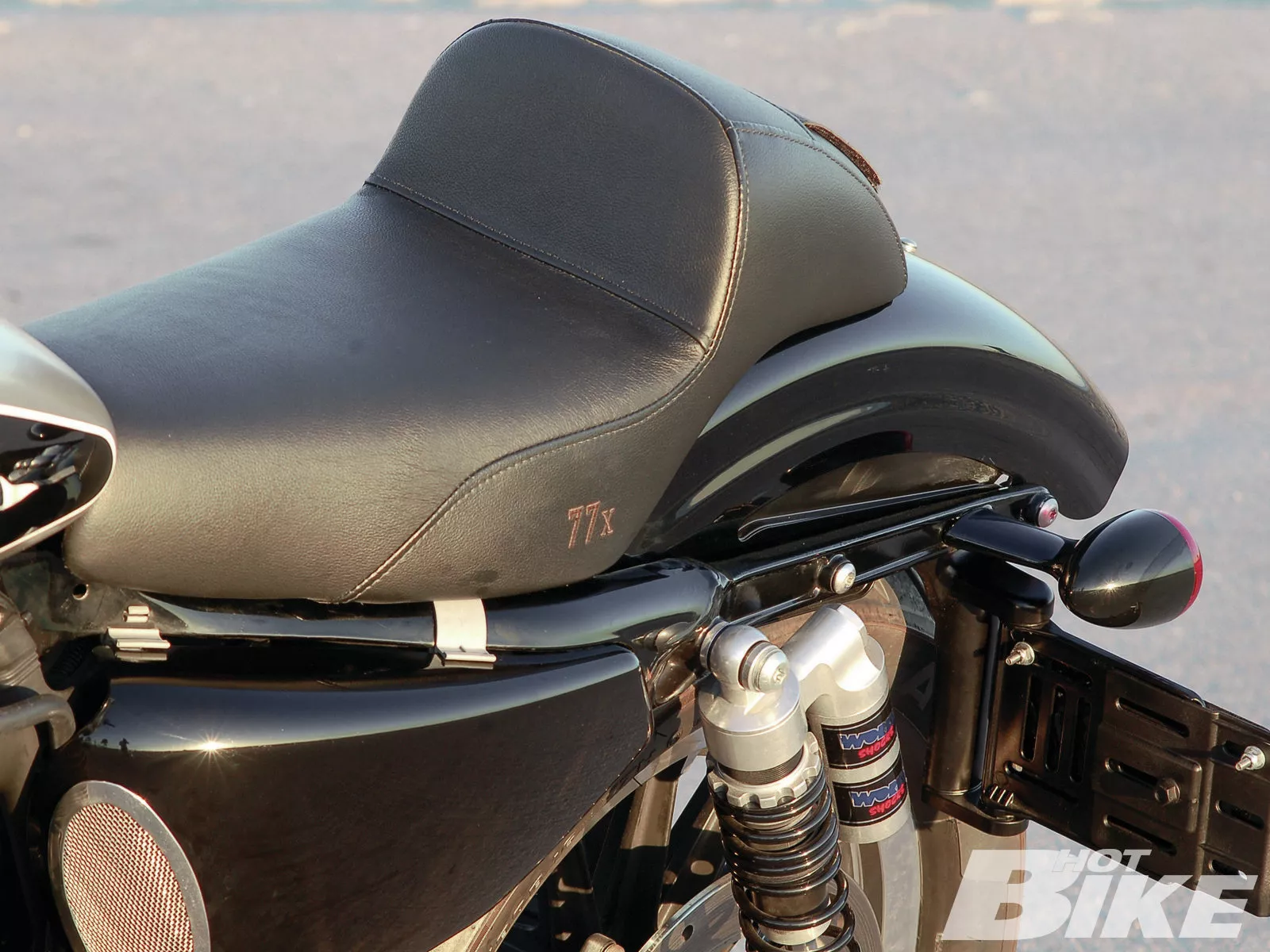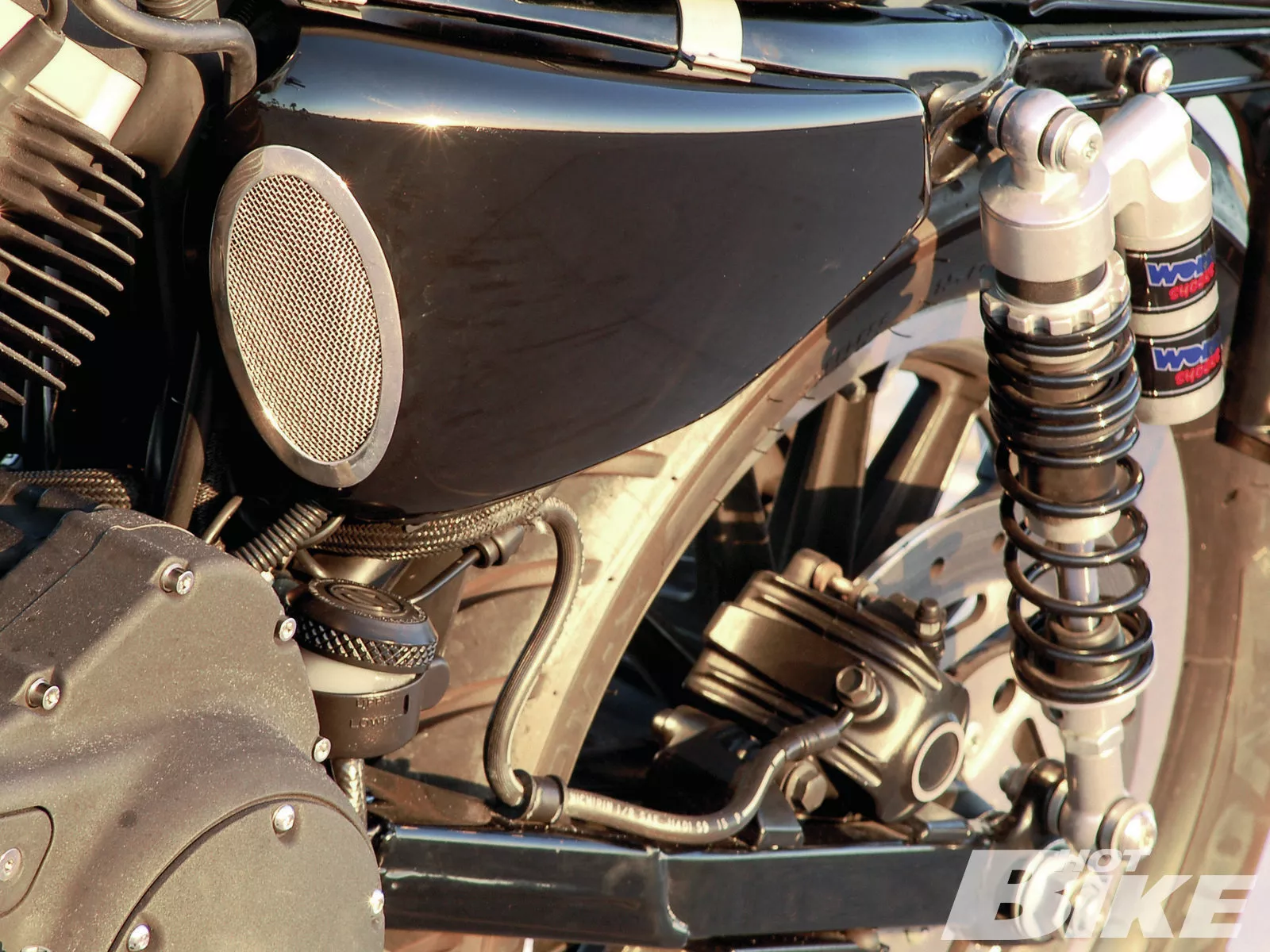 "I wanted to pay homage to the original caf racers from England where it's common to see a lay-down bike sporting an alloy gas tank."
As I pointed out in part one and two of this project, the purpose behind XLRCR was to resurrect the spirit of Harley-Davidson's '77 XLCR Caf Racer. I noted in part one that the XLCR's Achilles' heel was its suspension, and so my focus for this project not only was a bike with caf racer styling, but one that offered respectable handling performance.
Make no mistake though, I had no intention of making an award-winning show bike. My goal was to show how Harley-Davidson could, if marketing wags so chose, reintroduce a modern version of the classic XLCR using existing components from its parts and accessories inventory to do so. Indeed, most of XLRCR's styling components, with exception of a few parts like the Saddlemen seat, Patriot shocks, and Vance & Hines pipe are from the Genuine Motor Parts & Accessories catalog. I took the liberty to finish them with a mild custom paint scheme and aluminized coating; certainly Willie and the boys in H-D's styling studios could do similar treatments, should they elect to do so.
About the paint and aluminized finish on XLRCR: as I explained in part two, I steered away from an excessively flashy paintjob because I wanted XLRCR to represent a bike that you might see on a dealer's showroom floor. Randy Morton at Rock & Roll Custom Paintworks did an excellent job translating my thoughts onto the bike's fairing, front fender, and chin spoiler.
As for the gas tank, I wanted to pay homage to the original caf racers from England where it's common to see a lay-down bike sporting an alloy gas tank. Most of those tanks are prohibitively expensive, so as chief stylist (call me Dain G.) for the project, I considered a more cost-effective solution: using the same aluminized treatment found on exhaust systems to coat the tank for a faux alloy finish. The guys at H.M. Elliott came through, and I was so pleased with the results that I later sent them a spare front fender and Nightster belt guard to coat as well. I got the inspiration to use two different front fenders and belt guards for the project from the detachable quarter fairing. Allow me to explain.
Removing the fairing gives the bike a completely different look. The metric-bike manufacturers discovered this with their naked bike styling treatments, using the same basic platform from their full-on sportbikes to create hooligan street fighters. By coating the fender and belt guard, XLRCR, you might say, acquired a dual personality. As you can see, the effect creates a completely different motorcycle.
I'll confess that I had a tough time determining how to dress the gas tank with graphics. Without graphics the tank looked like raw metal in need of paint. Phill Whetstone of Miracle Design helped me here. We toyed with several ideas, finally settling on graphics similar to what Rock & Roll applied, keeping them within side panels that mimicked those on British caf racer tanks of the '60s. Phill created the XLRCR logo inside the panel-my only stipulation was that it not be overly custom in appearance because I wanted the bike to represent a production model.
But to help set XLRCR from mainstream Sportsters, I asked my friend and fabricator Tommy Leonardo Jr. to modify the side covers. The faux vents, made from stainless steel that he polished, give the bike a distinct appearance; another small yet interesting feature to gaze at.
I also dressed the engine with a few chrome fasteners that are part of Harley's vast P&A; inventory. This treatment highlights the wrinkle black engine cases, yet the elegant touch is interrupted by the masculine Vance & Hines Pro Series collector exhaust system. The pipe's brushed stainless steel finish lends to the bad boy image of a caf racer, and you just can't beat the sound that emanates from its triangulated muffler section. Other subtle styling cues include H-D mirrors with integrated turn signals to reduce clutter up front, and the Nightster rear fender and license plate assembly to help emphasize the bike's caf racer lines. Caf racer purists might scoff that there are no rear-set foot controls or Thruxton-style handlebars. Not my worry because this is a caf racer intended for the masses. And besides, 45 years of riding every kind of bike imaginable, including 13 years road racing Yamaha two-strokes, has taken its toll on my bones! I want a more sit-up riding position, thank you very much.
Speaking of riding, setting my butt on the custom-made Saddlemen seat and settling in behind the quarter fairing is a blast. Sure, that 883 engine begs for more beans, but I can't help but grin every time I point XLRCR to the apex of a turn. The original XL883R on which this bike is based has decent, yet slow, initial turn-in for corners, but once I aim for the apex XLRCR feels right at home. The Patriot Suspension fork springs and Works Performance shocks soak up the bumps in the road so that the Avon Venom tires maintain maximum grip. Arcing that little bike through the turn becomes a real treat. It's at that moment that I realize XLRCR is a success because not only does it reflect the spirit of the original XLCR's styling, it boasts the snappy handling that you expect from a bike that carries the name Caf Racer. Okay, how far to the next caf? HB
| | |
| --- | --- |
| Specifications | |
| Bike Owner | Dain Gingereli |
| Shop Name | Lifestyle Cycles, Anaheim, California |
| Shop Phone | (714) 490-0155 |
| Shop Website | lifestylecycles.com |
| Year/Make/Model | '06/H-D/Xl883r |
| Assembly | Lifestyle Cycles/Mike Weber & Crew |
| Build Time | Four Months |
| | |
| --- | --- |
| Engine | |
| Year/Manufacturer | '06/H-D |
| Type/Size | Sportster/883cc |
| Builder | H-D |
| Cases | H-D |
| Cylinders | H-D |
| Heads | H-D |
| Rocker Boxes | H-D |
| Carburetor | Keihin |
| Air Cleaner | K&N |
| Exhaust | Vance & Hines Pro Comp |
| | |
| --- | --- |
| Transmission | |
| Year/Manufacturer/Type | '06/H-D Sportster |
| Case | H-D |
| Clutch | H-D |
| Primary Drive | H-D |
| | |
| --- | --- |
| Frame | |
| Year/Manufacturer | '06/H-D |
| Rake | Stock |
| Stretch | Stock |
| | |
| --- | --- |
| Suspension | |
| Manufacturer Front | Stock/Patriot Suspension Springs |
| Length | Stock |
| Triple Trees | Stock |
| Manufacturer Rear | H-D |
| Swingarm | Stock |
| | |
| --- | --- |
| Wheels, Tires, And Brakes | |
| Manufacturer Front/Type | H-D/Polished Rim |
| Size-Height | 19-Inch |
| Tire/Size | Avon Venom X / 100/90-19 |
| Calipers | H-D |
| Rotors | H-D |
| Manufacturer Rear/Type | H-D/Polished Rim |
| Size-Height | 16-Inch |
| Tire/Size | Avon Venom X / 150/80-16 |
| Caliper | H-D |
| Rotor | H-D |
| | |
| --- | --- |
| Finish/Paint | |
| Color | Aluminized Tank/Black Tin |
| Painter | H.M. Elliott Coatings/Rock N Roll Customs |
| Graphics | Rock N Roll Customs/Phill Whetstone |
| | |
| --- | --- |
| Accessories | |
| Front Fender | Xl/Lowered By Brad Von Grote |
| Rear Fender | Xl Nightster |
| Fender Struts | Xl |
| Gas Tank&Cap | H-D |
| Oil Tank | Stock/Modified By Tommy Leonardo |
| Handlebars | Xl883r |
| Hand Controls | Stock |
| Foot Controls | Stock |
| Footpegs | Stock |
| Headlight | Stock |
| Taillight | Xl Nightster |
| License Mount | Xl Nightster |
| Seat | Saddlemen |