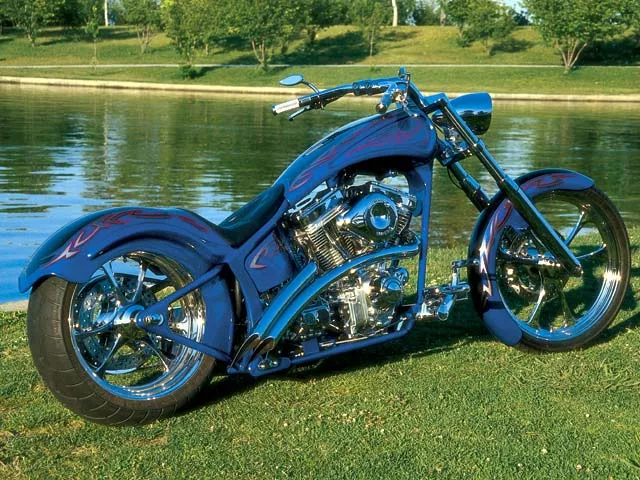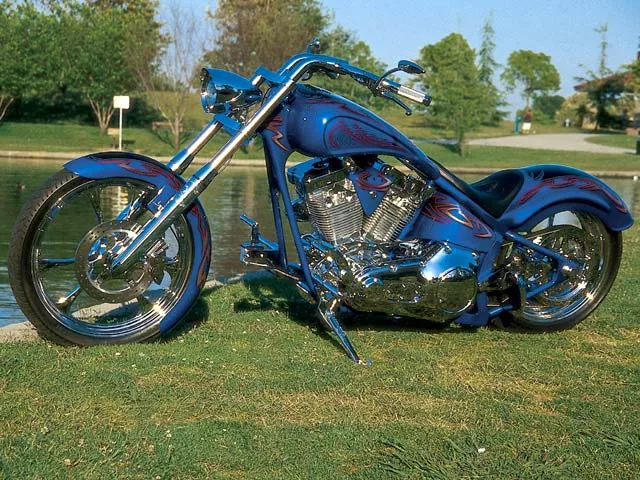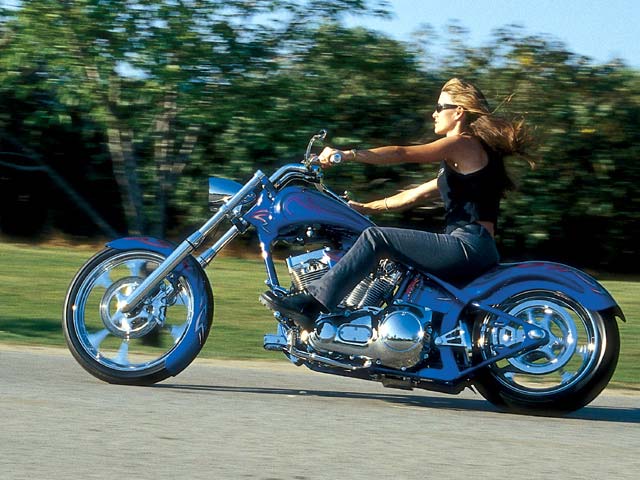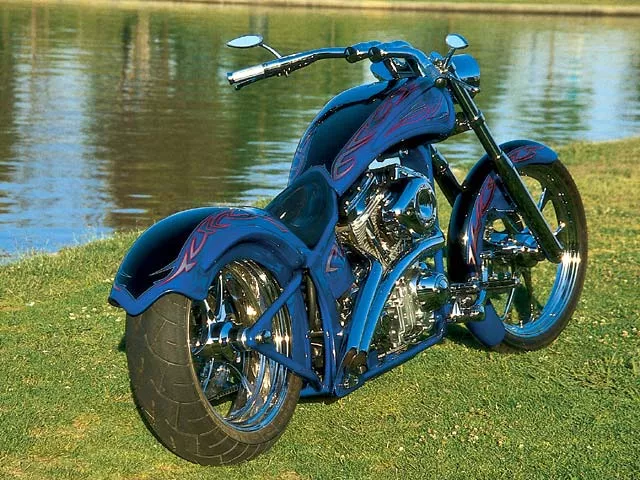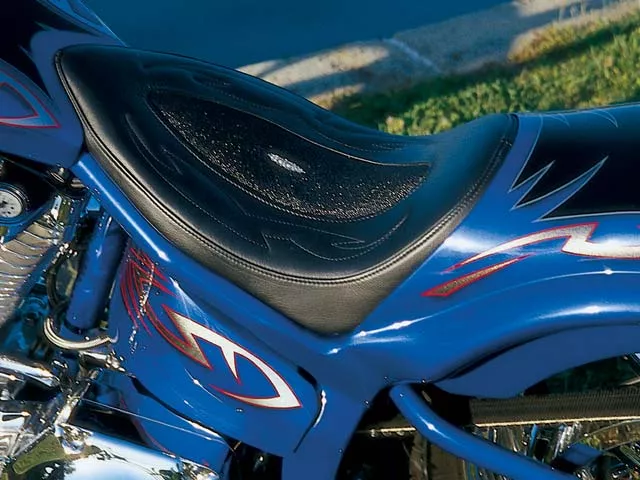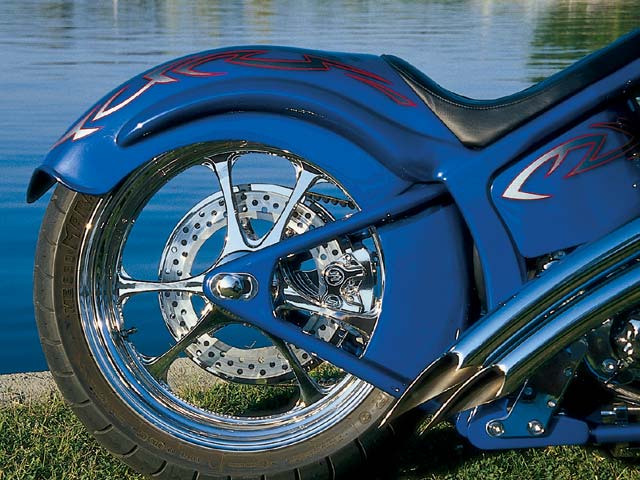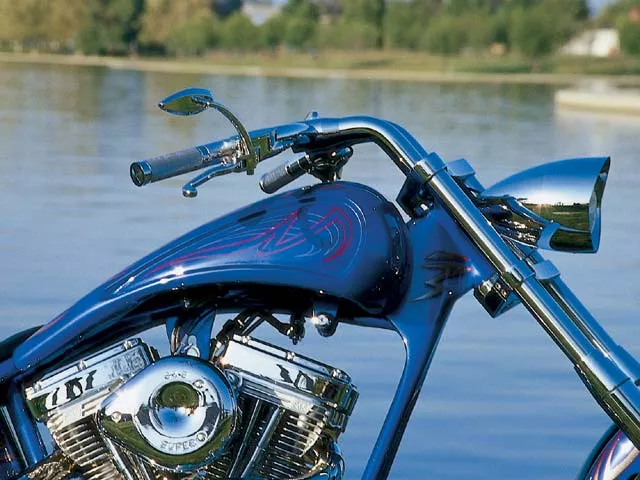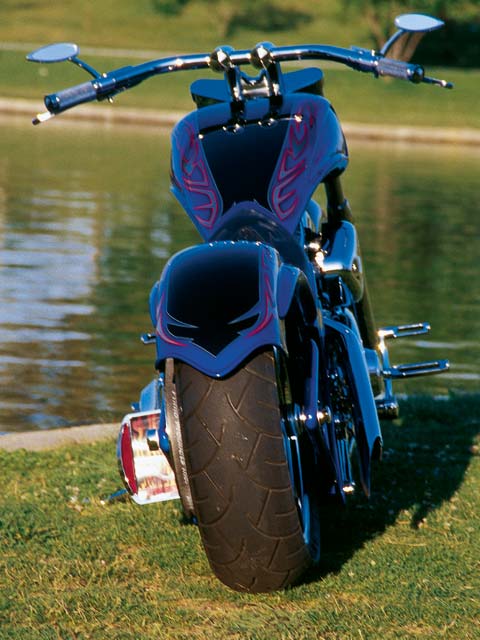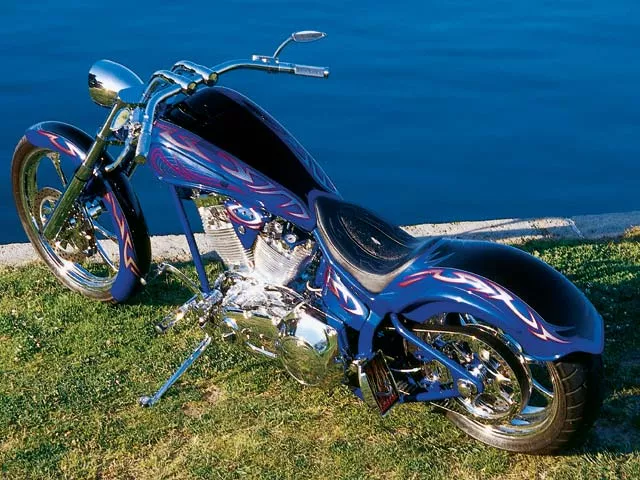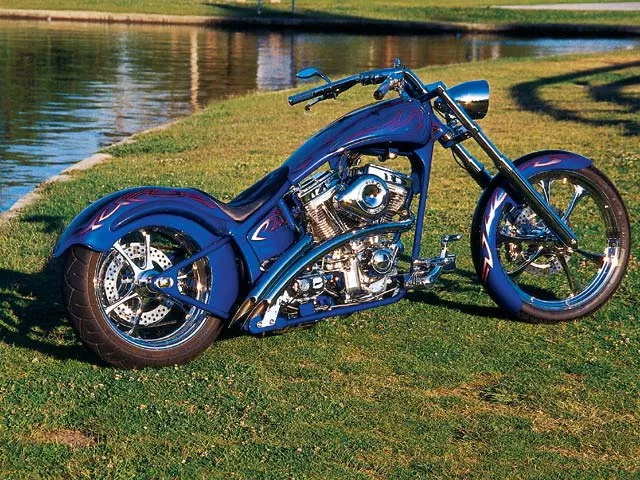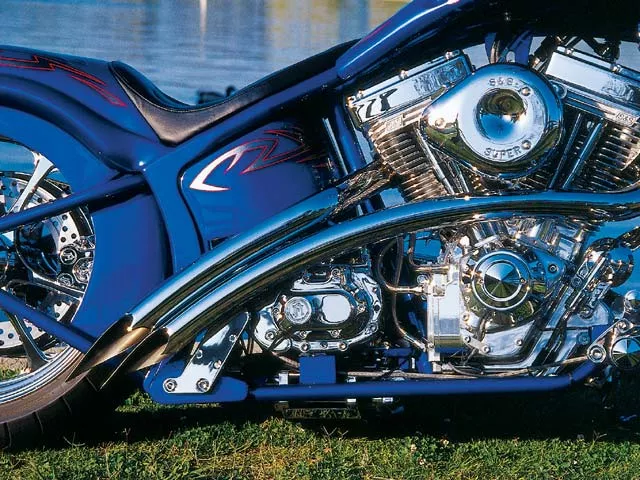 More often than not, starting your own business means making some major sacrifices in terms of time, money, or in the case of Mike and Paula Stafford, selling off their personal rides for the venture capital needed to start up MGS Custom Bikes in Lancaster, California. Since then, MGS has gone on to build some pretty unique bikes, noted for its elaborate metalwork.
But what about building bikes of their own? Not only did the couple miss motorcycle riding, the fact that they were around other people's bikes all day, every day was a constant reminder of what they were missing. So, bit-by-bit, parts were gathered until Mike was able to finish this blue Softail for his wife, with (hopefully) his own custom to follow.
A Santee chassis with 35 degrees of rake and 3 inches of backbone stretch was called upon to give shape to Paula's new machine. Next, a Mean Street frontend and triple-trees were connected to it at the neck. Out back, a Legend Air suspension lets Paula raise her bike up or slam it down as she sees fit.
The task of rolling the bike around fell to a set of Player wheels from P.M. The 21-inch front relies on a Metzeler tire for traction, as does the 18-inch rear with its 180, making it fun to lean the bike into a turn. Matching P.M. brake setups greatly contribute to the clean look of the wheels, but the drive-side conversion in the rear really helps to show off the back wheel.
Goodie's in Pasadena, California, was called upon to build the 100-inch all-S&S; motor, giving the bike plenty of power to keep the lady happy. With the addition of a Crane cam and Spyke ignition, the big motor was ready for the MGS pipes that curve elegantly from the motor to the rear wheel of the motorcycle. Tucked in just behind the S&S; is a RevTech six-speed connected to a Primo clutch and primary.
When the bike was ready for skin, MGS went to town on the tanks and fenders with a vengeance. They fabricated a long, lean gas tank with recessed walls and a tire-hugging front fender that adds a cool dash of style to the front wheel. Mike also made a pointed rear fender that is a pretty major piece of work. It's a two-piece unit, the bottom of which slides inside the top whenever the rear suspension has to deal with a bump in the road. On top of that, the struts were welded and frenched into the fender as well. Molding was next, and when that was done, the bike came apart for paint. The frame and sheetmetal took a trip to Paintworx, where a Pearl Blue basecoat was laid down and followed up with red and silver graphics.
A short time after the paint had cured, MGS resumed the build. Mike had met with Dan Molnar at Accutronix, and the two had developed the Invisible bars that hide the cables and hold an internal throttle to keep Paula's ride looking clean. The hand controls and mirrors came from P.M., while Accutronix provided the foot controls and pegs. A lot of people get into riding to see and be seen. While this isn't necessarily true in Paula's case, a Headwinds headlight and CCI taillight let her do both. MGS made the solo seat, then turned to Jerry Noone Upholstery for covering.
All told, it took three years of off-shop time to build this custom machine, and Paula enjoys every bit of it from the sleek style to the user-friendly handling, comfortable fit, and powerful motor. Now Mike just needs a bike for himself so they can start riding together again.
| | |
| --- | --- |
| Spec Sheet | |
| GENERAL | |
| OWNER | Paula Stafford |
| YEAR/MAKE | '03/MGS Special Construction |
| FABRICATION | MGS Custom Bikes |
| ASSEMBLY | MGS |
| BUILD TIME | Three years |
| ENGINE | |
| SIZE/TYPE | 100ci S&S; |
| CASES | S&S; |
| FLYWHEELS | S&S; |
| RODS | S&S; |
| PISTONS | S&S; |
| CYLINDERS | S&S; |
| HEADS | S&S; |
| CAM | Crane |
| CARB | S&S; |
| IGNITION | Spyke |
| PIPES | MGS |
| TRANSMISSION | |
| YEAR/TYPE | '03/RevTech Six-speed |
| CASE | CCI |
| GEARS | CCI |
| CLUTCH | Primo |
| PRIMARY DRIVE | Primo |
| FRAME/SUSPENSION | |
| YEAR/TYPE | '00/Santee |
| RAKE | 35 degrees |
| STRETCH | 3 inches in the backbone |
| SWINGARM | Santee |
| REAR SUSPENSION | Legend Air |
| FORKS | Mean Street |
| TRIPLE-TREES | Mean Street |
| WHEELS, TIRES, AND BRAKES | |
| **WHEELS ** | |
| Front: | P.M. Player |
| Rear: | P.M. Player |
| **TIRES ** | |
| Front: | Metzeler |
| Rear: | Metzeler 180 |
| **BRAKES ** | |
| Front: | P.M. |
| Rear: | P.M. |
| FINISH | |
| MOLDING | CMMC |
| PAINTER | Cole's Custom Cycles |
| COLOR | Green & yellow |
| GRAPHICS | Cole's Custom Cycles |
| CHROME PLATING | Valley Plating |
| ACCESSORIES | |
| BARS | MGS |
| RISERS | Accutronix |
| HAND CONTROLS | P.M. |
| HEADLIGHT | Headwinds |
| TAILLIGHT | CCI |
| ELECTRICAL | Harold Kent and John |
| FUEL TANK(S) | MGS |
| OIL TAN | K MGS |
| FRONT FENDER | MGS |
| REAR FENDER | MGS |
| FENDER STRUTS | MGS |
| PEGS | Accutronix |
| FOOT CONTROLS | Accutronix |
| SEAT | MGS and Jerry Noone Upholstery |