Both Sturgis and Daytona trace their roots back to the early days of racing in the 1930s. Daytona Bike Week became known for it with this little event called the Daytona 200, but Sturgis doesn't have a big ol' fancy-schmancy stadium like its Floridian counterpart. There are, of course, hill climbs, the Sturgis Dragway, the Jackpine Gypsies, and tons of other opportunities for us to get our speed jones handled during rally week. With the increasing popularity of flat-tracking, racing is becoming even more of a presence at the Black Hills moto mecca, especially this year.
Pappy Hoel Speed Classic
The event set for August 3–5, 2017, in downtown Sturgis kicks off a full week of racing during this year's rally. "For Sturgis Rally founder JC 'Pappy' Hoel, the focus for the rally was always on racing," says Tigra Tsujikawa, marketing and development director for the Sturgis Motorcycle Museum & Hall of Fame. "From Johnny Spiegelhoff's win on an Indian back in 1938 until today, flat-track is an integral part of Sturgis history. We are honored to partner with the White Plate Motorcycle Club and Steve Nace Racing Promotions to present The Pappy Hoel Speed Classic, sanctioned by the American Motorcyclist Association."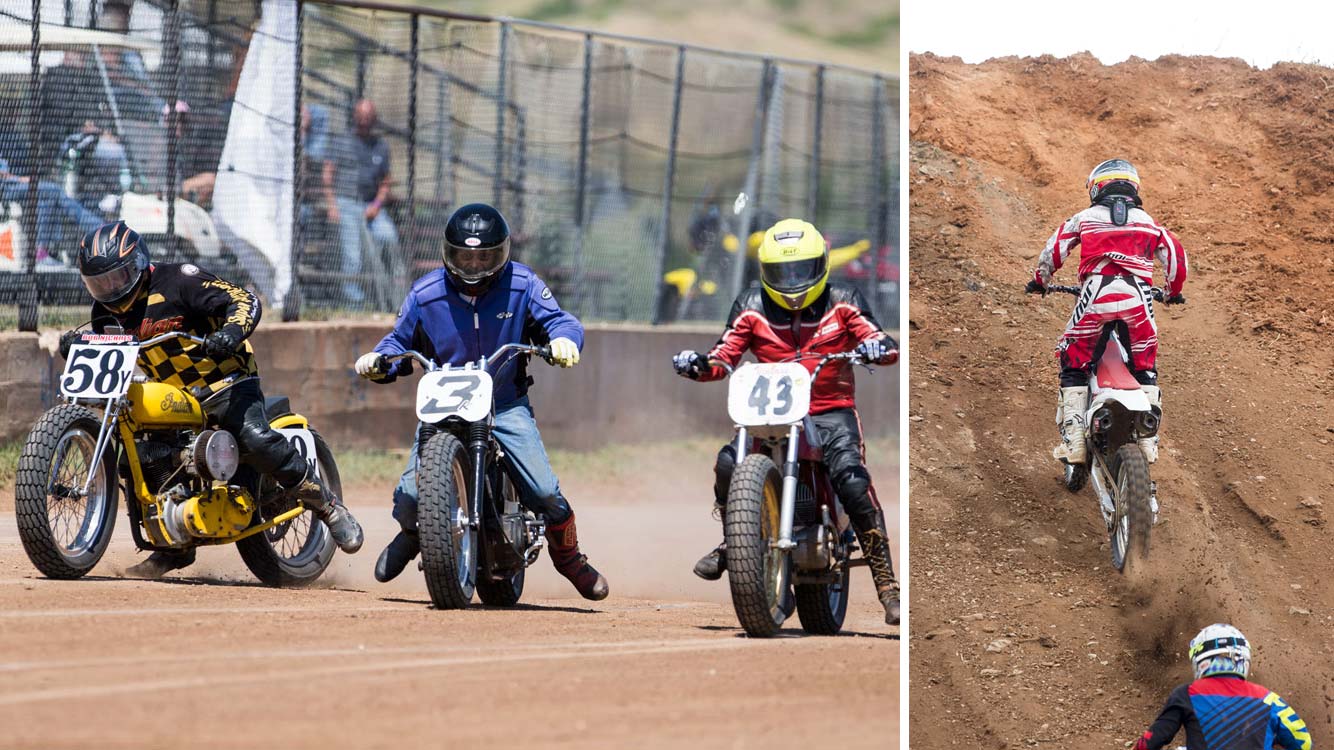 Sturgis Dragway and BHDRA
The 77th annual rally is getting closer than we think, and this will be the 12th anniversary of Black Hills Drag Racing Association (BHDRA) operating Sturgis Dragway. Here's what's going down when at the dragway:
| Date | Race | Time |
| --- | --- | --- |
| Saturday, Aug. 5 | Move In and Test & Tune | 1 p.m.–4 p.m. |
| | "Run What Ya Brung" | 5 p.m.–10 p.m. |
| Sunday, Aug. 6 | Qualifying | 1 p.m. – 5 p.m. |
| | Gamblers Races | 6 p.m. – 8 p.m. |
| Monday, Aug. 7 | Eliminations and Finals | 1 p.m. – 6 p.m. |
| | "King of Sturgis Drags" Prior to Top Fuel Finals | |
| Tuesday, Aug. 8 | Drag Racing School | 9 a.m. – 12 p.m. |
| | Afternoon held open for Rain Make-Up Day | |
| Wednesday, Aug. 9 | The Baker "All-in To Go All-out" | 6 p.m. – 11:30 p.m. |
| Thursday, Aug. 10 | S&S Cycle Demo Rides | 8 a.m. – 12 p.m. |
Additionally, the BHDRA will be hosting some special events later in the week. Anyone who participates in the drag races, together with their pit crew, will be allowed to continue to camp in the pits for the entire week and will only be charged a nominal fee to cover the cost of cleaning of the portable toilets, garbage service, showers, and so forth.
Moto Stampede
More adrenaline-packed racing events have been added this year to the Sturgis Buffalo Chip Moto Stampede race series. Six of the motorcycle and music festival's nine days offer thrilling racing from American Flat Track and RSD Super Hooligan to street drags, Dirt Riot Off-Road, and AMA Supermoto. Audiences will have an up-close viewing experience with concert pairings they won't find in any other venue in the world. One pass includes access to Moto Stampede races, all concerts, and events held within the campground and tent camping.
| Date | Race | Time |
| --- | --- | --- |
| Friday, Aug. 4 | Dirt Riot Off-Road Trials | 1 p.m. – 5 p.m., 6 p.m. qualifying, free to the public |
| Saturday, Aug. 5 | Dirt Riot Off-Road Racing | 12 p.m. – 5 p.m., separately ticketed $20 |
| Sunday, Aug. 6 | American Flat Track Buffalo Chip TT Races presented by Indian Motorcycle | |
| Tuesday, Aug. 8 | Sportster Showdown presented by Led Sled and Biltwell | |
| Wednesday, Aug. 9 | Street Drag Invitational with Crazy John | 1 p.m. |
| | RSD Super Hooligan Races presented by Indian Motorcycle | 3:30 p.m. |
| Friday, Aug. 11 | AMA Supermoto Racing practice | 11 a.m. |
| | AMA Supermoto Racing heat races | 3 p.m |
| | AMA Supermoto Racing main races | 5 p.m. |
| Saturday, Aug. 12 | AMA Supermoto Racing practice | 10:30 a.m. |
| | AMA Supermoto Racing heat races | 2 p.m. |
| | AMA Supermoto Racing main races | 4 p.m. |