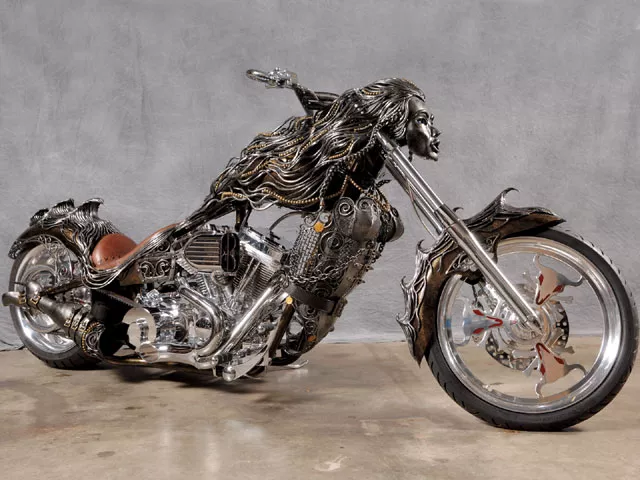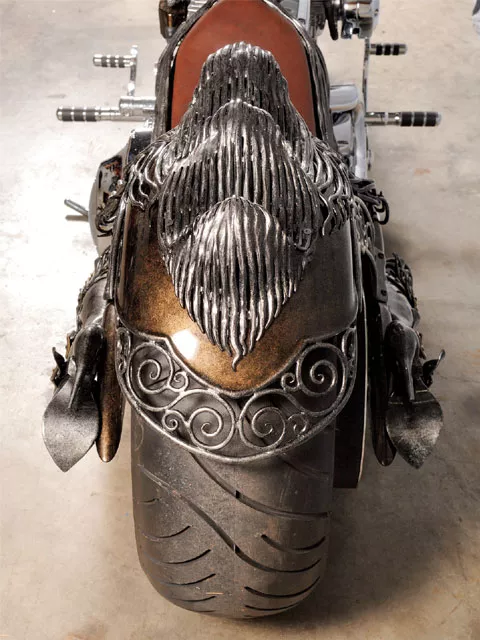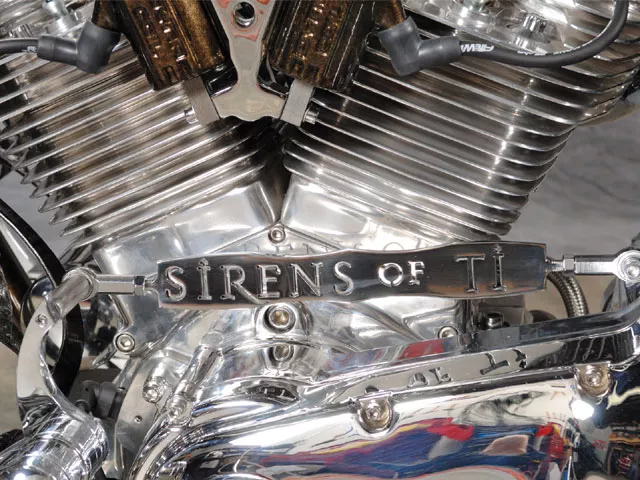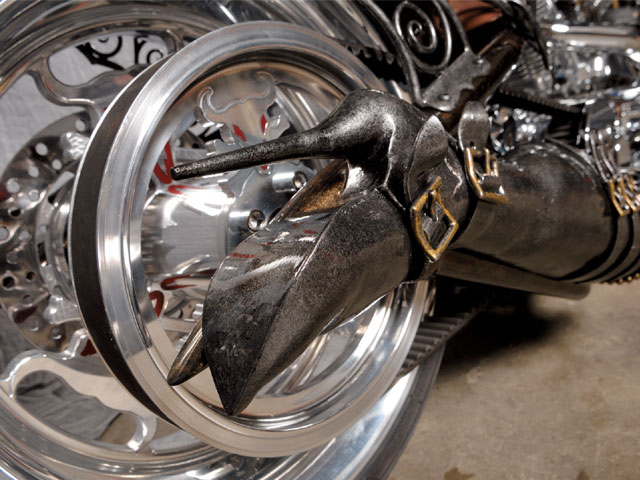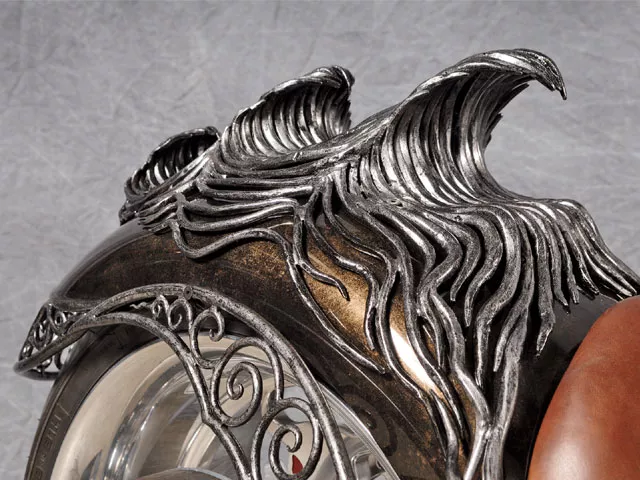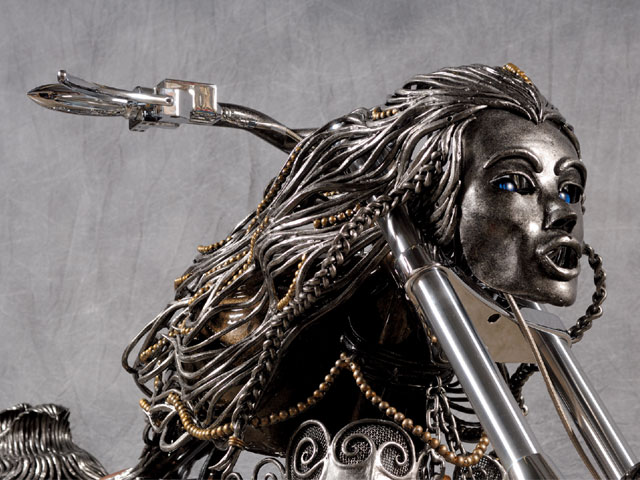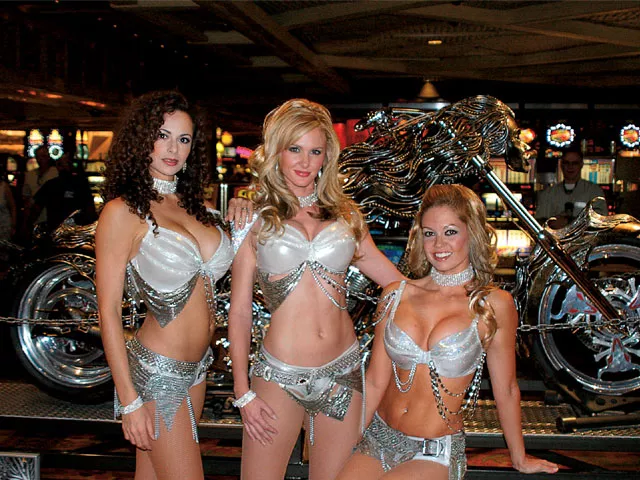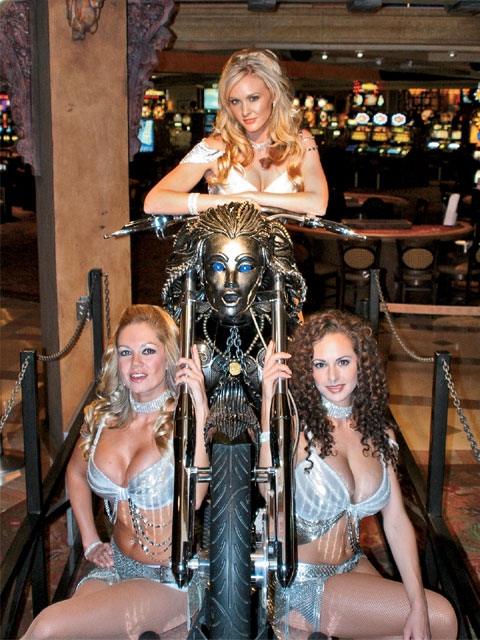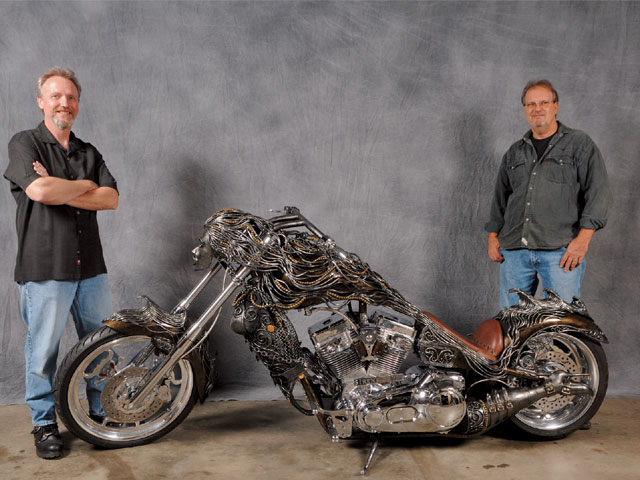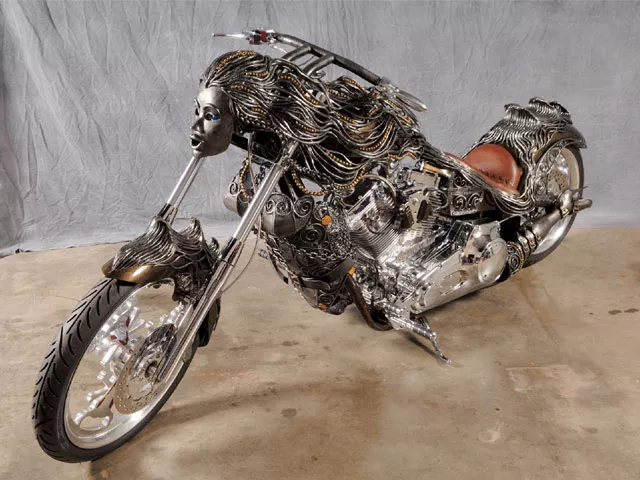 Look at Western art throughout the ages and you'll find all kinds of images from Greek mythology. Naked people, battles, big monsters; everything you need for a blockbuster epic. This fact wasn't exactly lost to the folks at the Treasure Island Casino (or TI, for short) when they started the Sirens of Treasure Island show four years ago. Vegas is all about big and flashy, so the fit came pretty naturally.
Nor was it lost information for Metropolitan Choppers when they pitched building a series of four bikes to the casino. Gambling houses offer cars as grand prizes all the time; some also offer custom bikes. TI liked the idea and let them run with it. The siren you see here, though, isn't a prize bike; it's a permanent player in TI's siren show. And it's all about the art.
The project didn't start that way, though. At first all Dan Kessinger had to work with was a blank canvas. "When you think about TI, you think about what you see out front when you're walking by-the Sirens show. So we thought, 'Let's turn the bike into a siren.'"
"Coming up with the concept took some time because it was all so elaborate," said Dan, chief builder at Metropolitan Choppers. "After coming up with the initial concept it was a lot of hard work to get all of the intricate details and specifics integrated into the design."
It was a two-part project that ate up eight months' time. Metropolitan Choppers built the platform and enlisted metal sculptor Scott Cawood's help for the big finish. "After seeing the Sirens stage show, I couldn't get the idea of a prone woman's gracefully flowing figure becoming the bike's structural form out of my mind. Our main goal was to bring that overall concept to life," said Rick Hill, Founder and CEO of Metropolitan Choppers. "We worked with Scott to get the flow of the motorcycle's movements, since he has no previous motorcycle experience. Dan would tweak what Scott would design and we were blown away when it started looking like the siren we envisioned." Scott specializes in transforming scrap metal into artwork, so the siren bike was right up his alley.
Dan exaggerated the fenders and tank somewhat; that gave them plenty of canvas for turning the chopper into a siren. Dan dropped the rough bike off at Scott's studio, and then they worked together to make it functional and artistic (the bars turn, and so on). After that, Dan worked with Cawood as he shaped, cut, torched, and bent by hand for hours until they had everything how they wanted. The pictures tell you that Metropolitan Choppers went to town on the details, but what they don't show you is exactly how far. Those handles on the treasure chest actually work.
You can see this amazing bike along with the beautiful real-life Sirens by visiting Treasure Island Hotel and Casino in Las Vegas. In fact, the siren bike has seduced four new customers for Metropolitan Choppers, all wanting something similar. The shop's most recent bike? A theme machine commemorating the Philadelphia Eagles' 75th Anniversary. Unfortunately, this one doesn't look like a cheerleader.
Spec Sheet
| | |
| --- | --- |
| OWNER | Treasure Island Hotel & Casino |
| SHOP | Metropolitan Choppers |
| PHONE | (301) 663-8388 |
| WEBSITE | www.metropolitanchoppers.com |
| YEAR/MAKE/MODEL | '06 Special Construction |
| FABRICATION | Metropolitan Choppers |
| ASSEMBLY | Metropolitan Choppers |
| BUILD TIME | 8 months |
| | |
| --- | --- |
| ENGINE | |
| YEAR/TYPE/SIZE | '06 Ultima/113ci |
| BUILDER | Ultima |
| CASES | Ultima |
| CYLINDERS | Ultima |
| HEADS | Ultima |
| ROCKER BOXES | Ultima |
| CARBURETOR | S&S; |
| AIR CLEANER | Hypercharger |
| IGNITION | Crane Hi-4 |
| EXHAUST | Lake Pipe |
| | |
| --- | --- |
| TRANSMISSION | |
| YEAR/TYPE | '06 Ultima/six-speed |
| CASE | Ultima |
| GEARS | Ultima |
| CLUTCH | Primo |
| PRIMARY DRIVE | Ultima |
| | |
| --- | --- |
| FRAME | |
| YEAR/TYPE | '05 Speed and Custom rigid |
| RAKE | 43 degrees |
| STRETCH | 4 inches up, 6 inches out |
| | |
| --- | --- |
| SUSPENSION | |
| FRONT | Mean Street |
| LENGTH | 6 inches over |
| TRIPLE TREES | Mean Street |
| REAR | |
| SWINGARM | None |
| SHOCKS | N/A |
| | |
| --- | --- |
| WHEELS, TIRES, AND BRAKES | |
| MANUFACTURER FRONT/TYPE | American CNC Machining |
| SIZE-HEIGHT | 21×2.15-inch |
| TIRE/SIZE | Avon Venom 21-inch |
| CALIPER(S) | HHI |
| ROTOR | HHI |
| REAR | |
| MANUFACTURER REAR/TYPE | American CNC Machining |
| SIZE-HEIGHT | 8.5-inch |
| TIRE/SIZE | Avon Venom/250mm |
| CALIPER | HHI |
| ROTOR | HHI |
| | |
| --- | --- |
| FINISH/PAINT | |
| COLOR(S) | Bronze and Silver Marble |
| PAINTER | Mondello's Auto Body |
| | (Kenny Mondello) |
| GRAPHICS | Kenny Mondello |
| MOLDING | None |
| | |
| --- | --- |
| ACCESSORIES | |
| FRONT FENDER | Metropolitan Choppers |
| REAR FENDER | Metropolitan Choppers |
| GAS TANK | Metropolitan Choppers |
| OIL TANK | Metropolitan Choppers |
| HANDLEBARS | Metropolitan Choppers |
| HAND CONTROLS | Arlen Ness |
| FOOT CONTROLS | Wicked Image |
| FOOTPEGS | Wicked Image |
| HEADLIGHT | Metropolitan Choppers |
| | Scott Cawood |
| SEAT | John Longo |