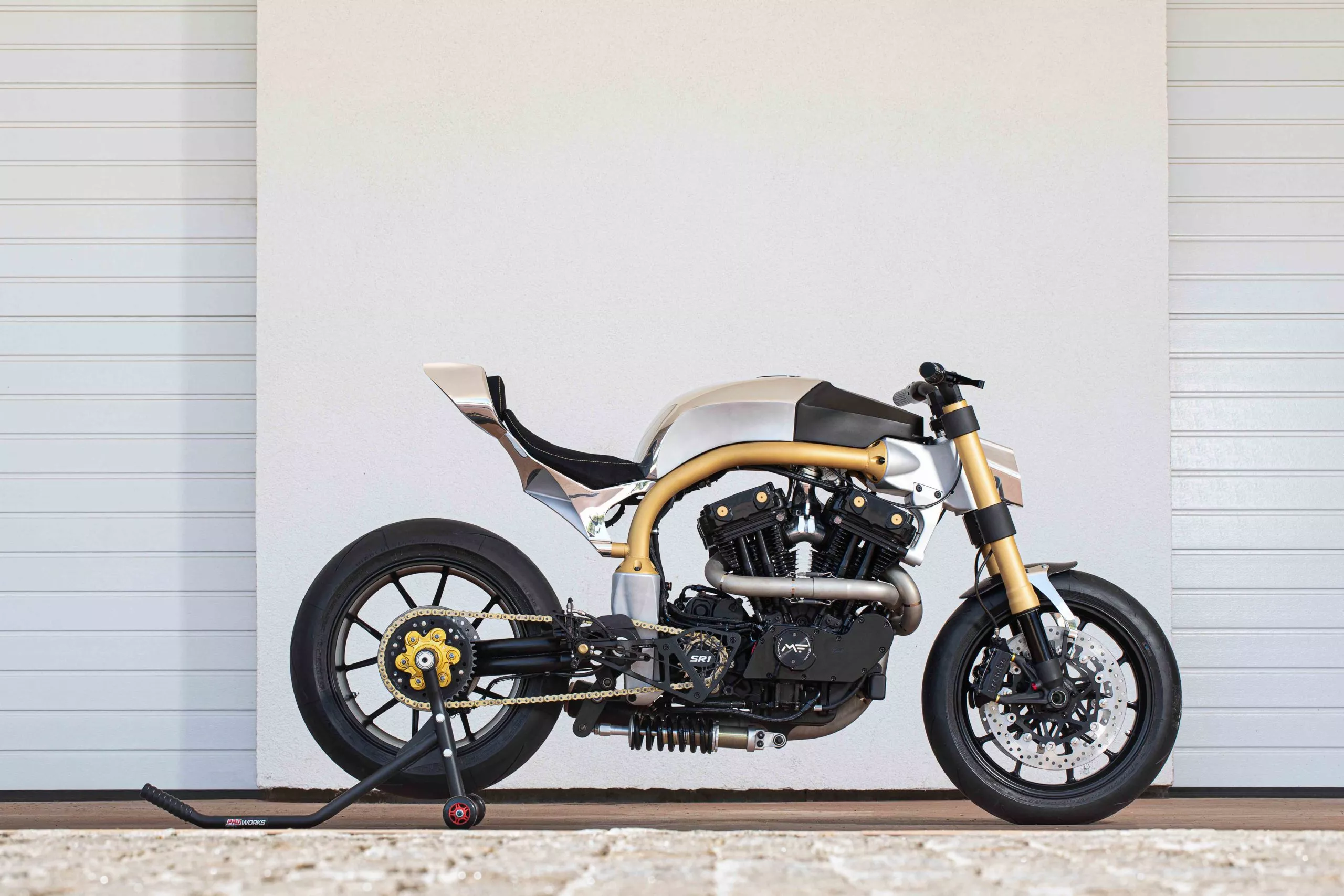 Editor's Note: We received some beautiful photos from RD Kustom. Father-and-son owners Michel and Jimmy Messina built their company's first prototype, the 2022 MMC SR1, in France. Michel's story was so well told, we felt it best for you to hear it straight from the cheval's mouth. 
I just wanted to do a father and son project by putting a Harley engine inside a Voxan (1995-2009 French Motorcycle Manufacturer) frame. I bought a Voxan and a Buell S1 engine, but considering the challenges, my son Jimmy proposed to design and build the frame from scratch. He is a mechanical engineer and race mechanic, so I was confident and gave him the green light.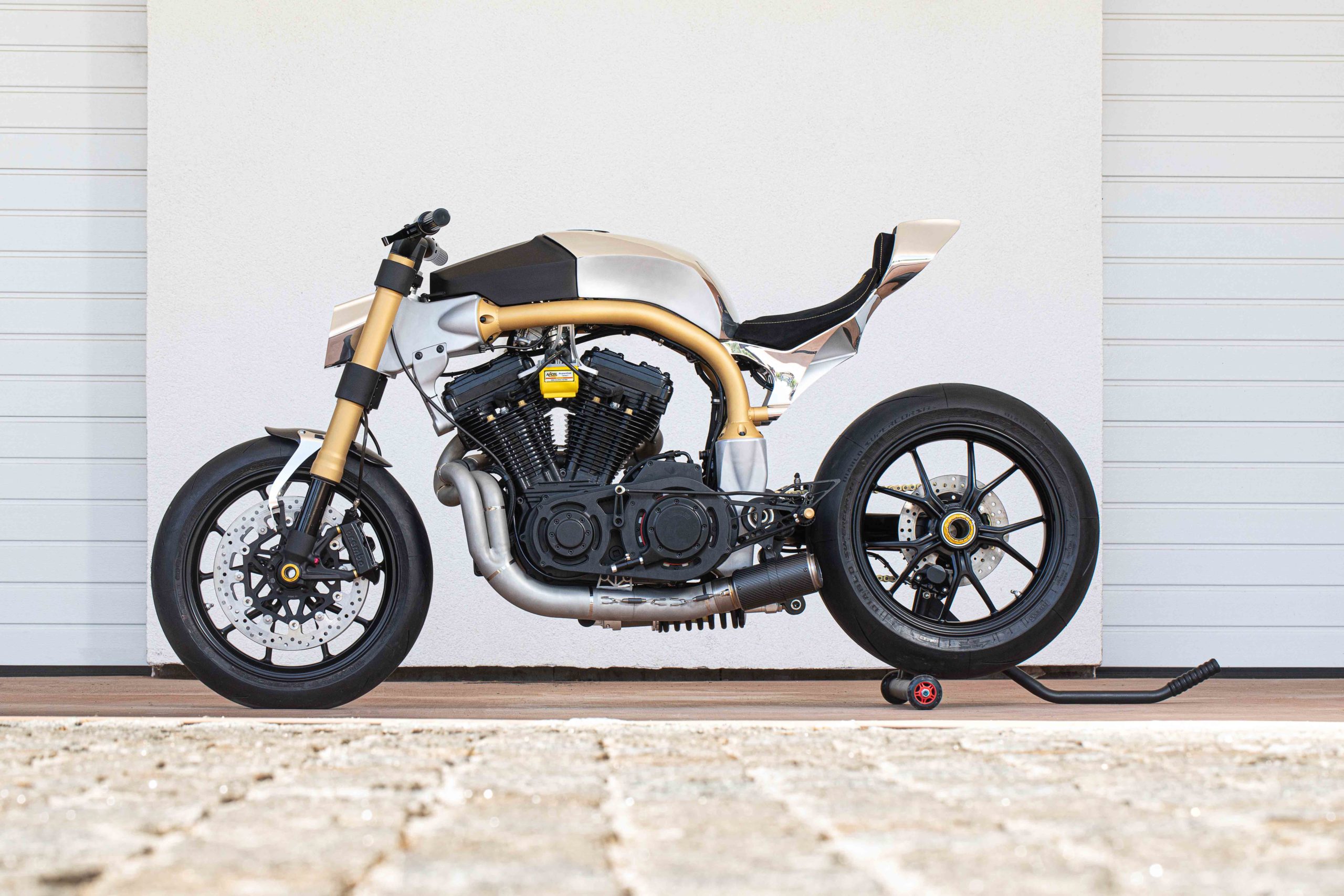 In 2019, Jimmy was diagnosed with lung cancer and because of chemo constraints had to leave his job. What was a weekend project became a life project for him.
The main goal was for me to develop a prototype in view of manufacturing the bike in small series in the USA and in a way live the American Dream. For info we ride vintage Harleys and drive hot rods. My goal became also the life project of my son whose real passion is to design, engineer and build performance parts.
We started the RD Kustom project with the engine only and made a photogrammetric scan in the garage with a cell phone. Everything around had been designed and engineered by Jimmy up to some bolts and nuts. I've provided a quick overview of the main parts:
–   AL 7075 T6 frame front block that contains the air cleaner and of course the column with the air inlet in the front around it
–   AL 7075 T6 rear block that serves as oil tank but also engine, swingarm and shock mount
–   AL 7075 T6 column and rear wheel axle
–   AL 7075 T6 triple trees
–   4130 frame tubes bolted to the front and rear blocks
–   4130 single sided swingarm
–   6061 subframe, headlight, foot control brackets, etc.
–   Under Engine compression rear shock absorber
–   Handmade Aluminum air box, gas tank and rear seat
–   Electronic ignition
–   Primary belt drive
–   Motogadget box
–   CCC hidden controls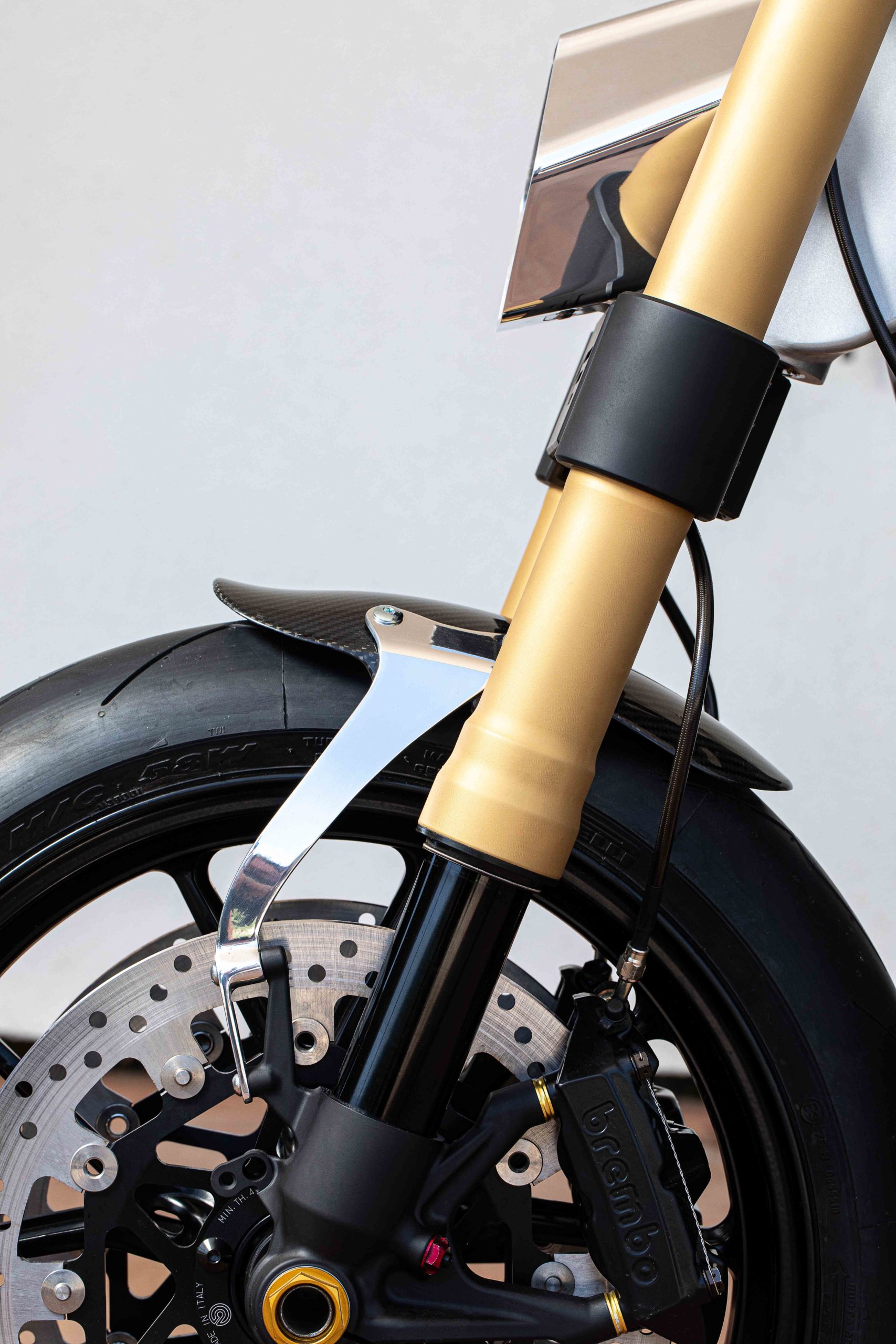 The whole bike was a challenge as we started from scratch with a scan which was far from accurate. Designing parts like the frame blocks with multiple functions was really challenging and it took a lot of time to get the style and shape we wanted and integrating technical functions like oil tank, air filter, air intake, mounts, etc.
After designing the parts, we had to 3-D print a lot of them several times in order to test them and make adjustments before machining the final one. Even using this technique, we had to machine the front engine mount three times. We challenged all our partners, too.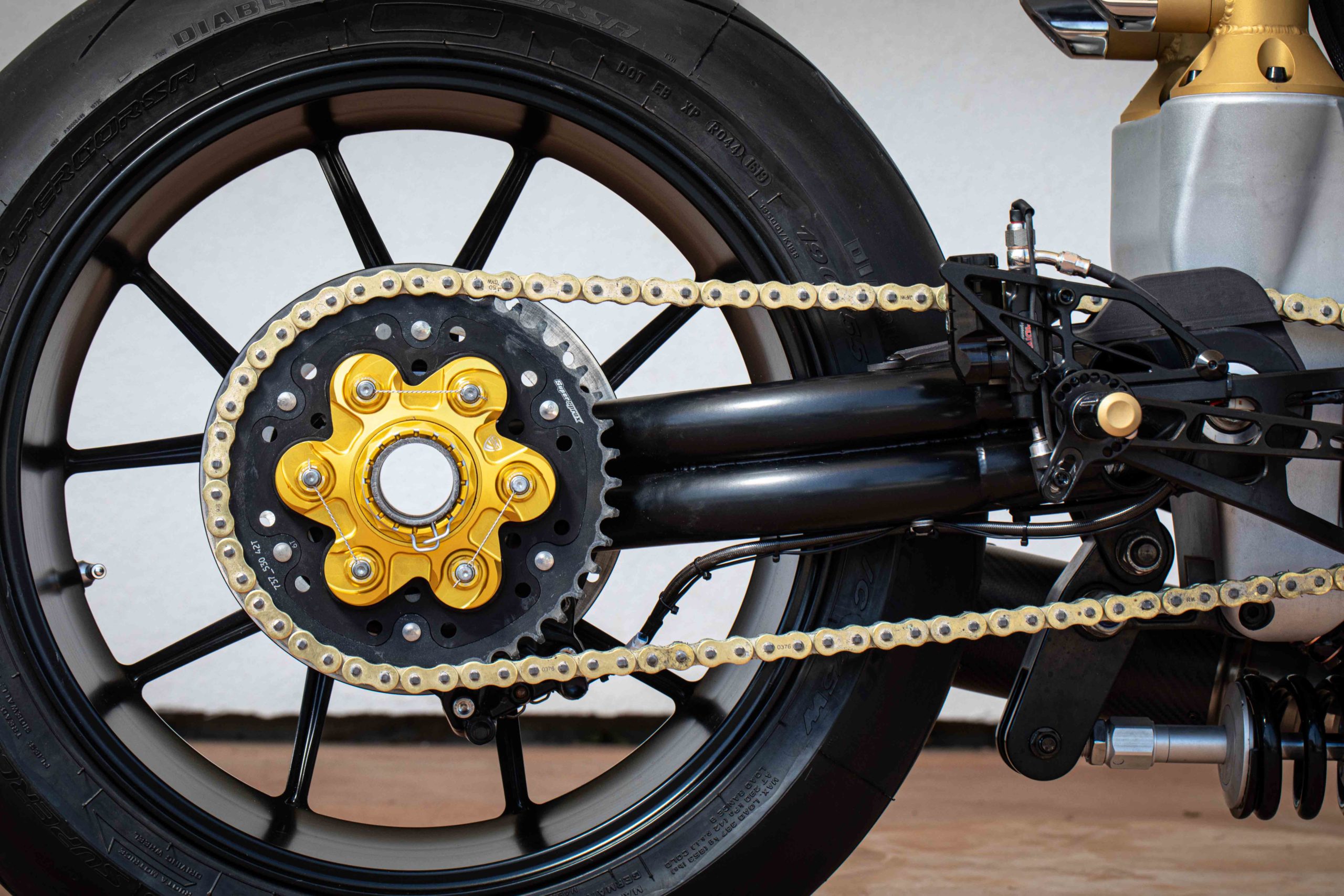 As an example, I wanted the under seat to be as narrow as possible but at the same time it had to contain the battery and all other electrical components. I wanted a pure and aggressive look. Jimmy came out with this design after a lot of tries and we found only one company capable of cutting this billet piece with a 5-axis CNC machine.
Polishing was another challenge. We gave this work to one of the best polishers in Europe who works on super and mega yachts who struggled to polish the very hard AL 6061 parts and the handmade tank, the aluminum being more "alive" than stainless steel and very sensitive to temperature, humidity and heat.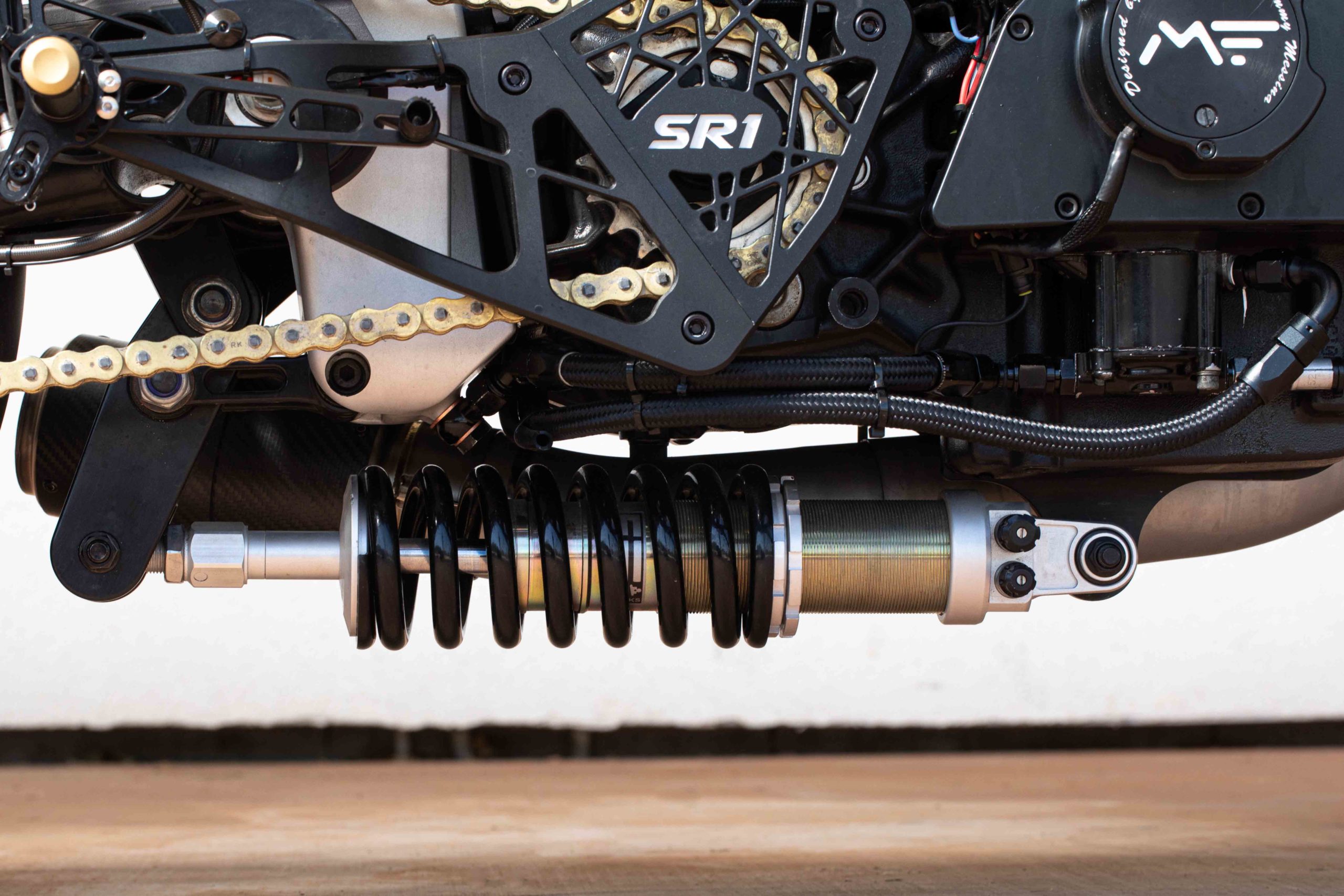 In a few words I would say that the most challenging part of this project was to integrate all the mechanical and electrical systems in a naked bike, hiding nothing and keeping a pure and aggressive look. No plastic, no cover up, just bare materials and smart engineering. 
Our first reward was when we received our first CNC parts (front and rear block) designed by Jimmy. We could finally see the result of his work and start the built.
Then came the win at the AMD European Championship, a reward that came after three years of hard work and pain due to Jimmy's cancer. This win made Jimmy confident in his work quality and capabilities and gave him the motivation to keep on going in designing more bikes. He started as an amateur in a garage and was finally considered as a professional by the builders' community after his win. As his father, I am obviously very proud of him.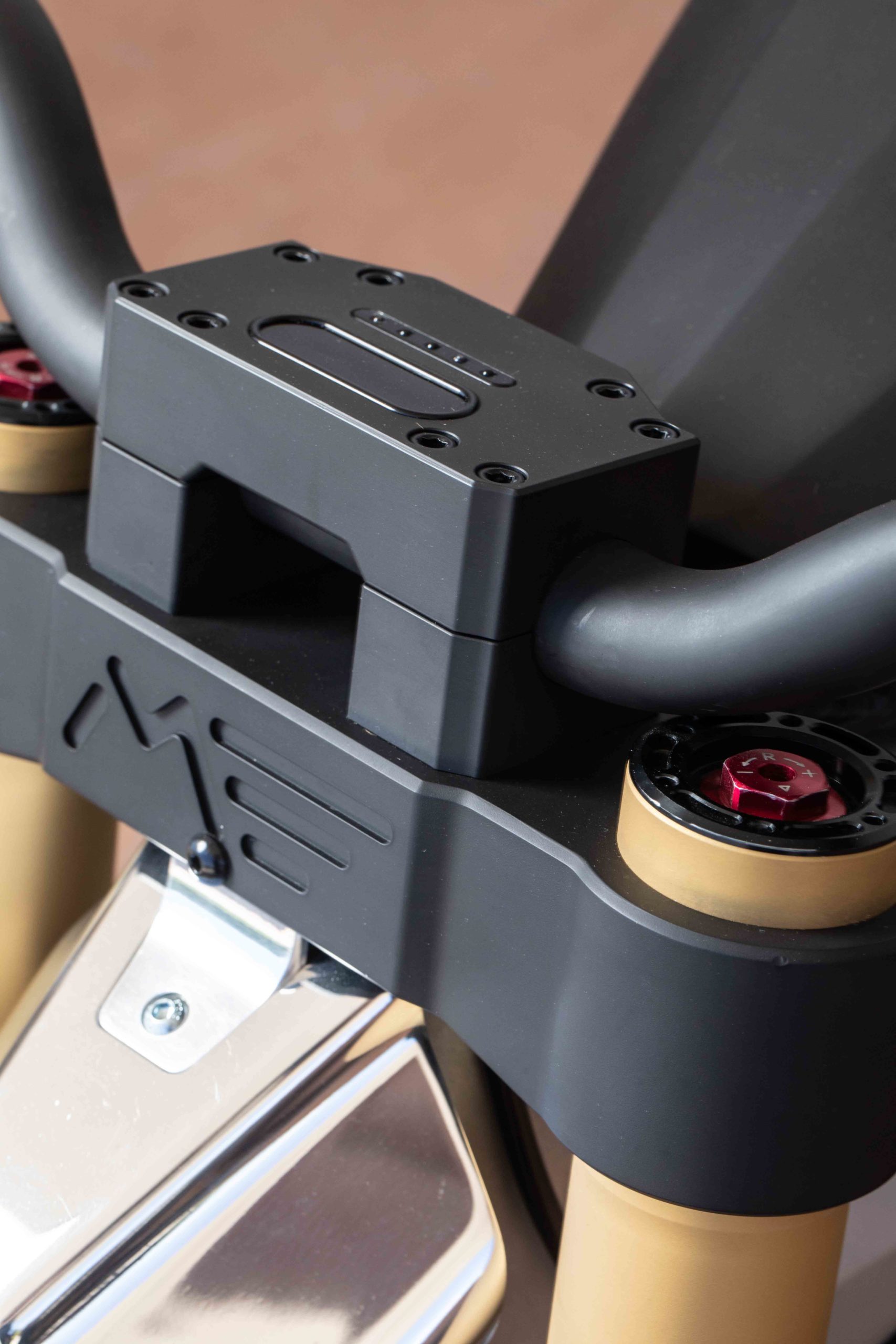 As said in the beginning, we are Harley enthusiasts but also French with Italian roots. I wanted to mix all these cultures into this bike. The heart is an American Icon V-twin, the frame is inspired by the Voxan  and the overall look by Italian bikes. The end result comes from Jimmy's brain. We wanted to put all these cultures and styles into a very pure looking naked roadster.
We are just back from Italy where the RD Kustom bike won the Best of Show of the European AMD finale and Jimmy is already onto two other projects: One is almost finished and is a Flat Track sportster he is building for my wife but the second one is a lot more challenging. This time we're starting from the crankcase only. The bike will be a neo-retro Shovester XR type bike. Jimmy is completing the engineering of the cylinders, heads, valve covers and frame.
I would like to thank Ben who joined RD Kustom and who is now the third member of the team. He fabricated the exhaust and designed the gas tank. He is also very involved in the communication and the new bike project.
Thanks to Swan from Joker Lab who did the Cerakote coating, Cedric from CRM for his amazing work on the gas tank, air box, rear seat and mudguard supports. In the USA we would like to thank CCC for their cool hand controls and Gregg's customs for the fabrication of the swingarm and frame tube bending. And mainly thanks to my wife's support while we make noise in the garage all day long.
This build gave me the possibility to work with my son, offering him a chance to start his business, RD Kustom, despite all the constraints, pains and difficulties he has to fight because of his cancer. The AMD win and invitation to the World Championship proved he has the capacity and talent to do it and it makes me very proud of him. Although we designed and built this bike in the garage, we have adopted industrial techniques. I am a senior project manager working for more than 30 years in the industry and I have used all my experience to support Jimmy.
I hope that my son's dream of becoming a recognized builder and engineer will come true and will help  him in his continued fight against cancer.