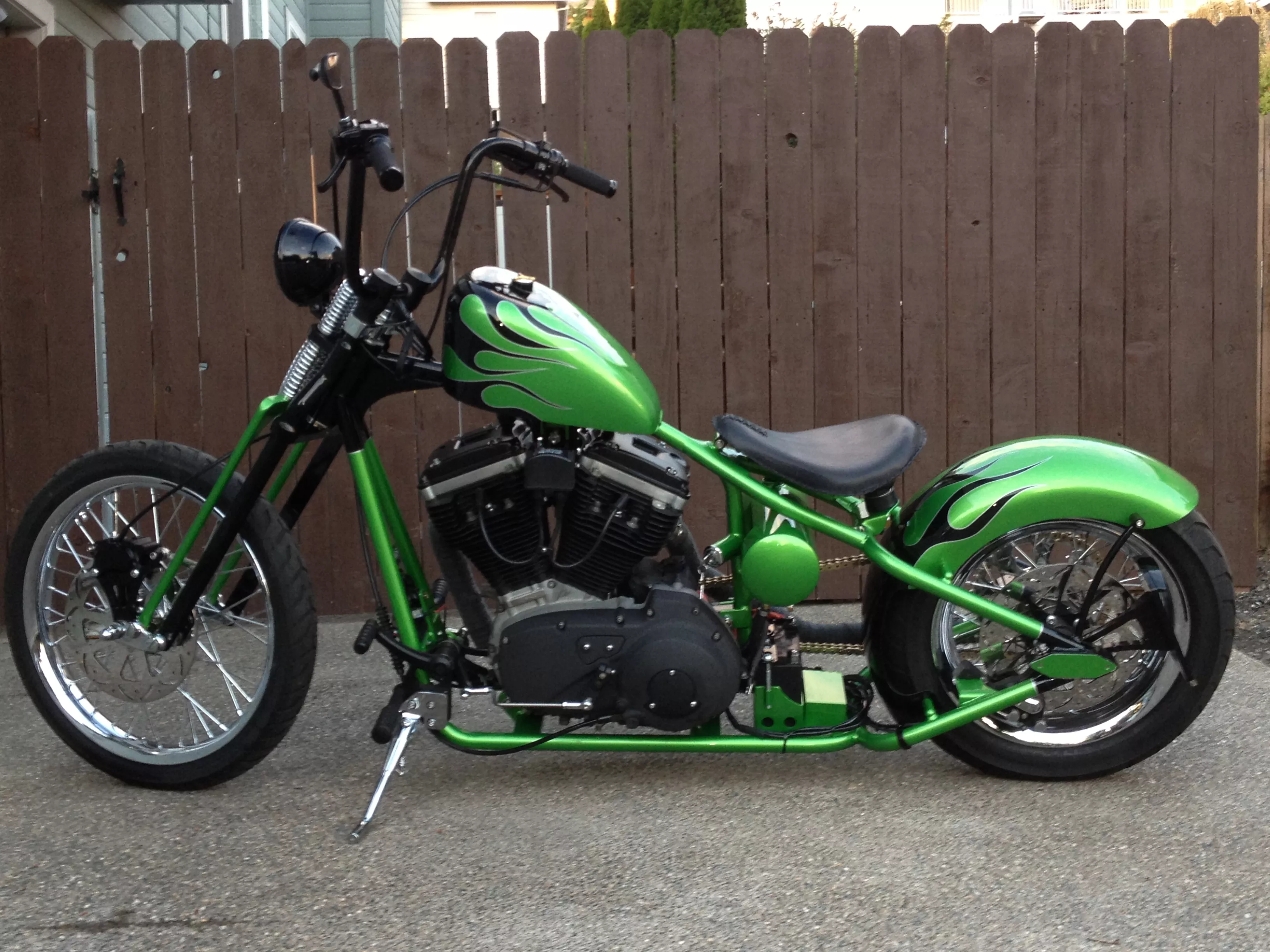 A few years ago I got the itch to do something different and decided a custom bobber was in order, to round out my stable. I found a wrecked Buell XB9 donor bike and pulled the engine for the build and rebuilt and pumped it up from the stock 984cc to 1,050cc. I engaged Big Al (Wilkerson) of BEOSC in Iowa to build the custom hardtail frame to my specs. Once the frame arrived in Oregon, I commenced with the build and engaged a couple of local builders for guidance and assistance. I leveraged some stock parts from my Dyna, like the H-D profile laced wheels and rear brake caliper for the project, and procured the sheet metal on eBay and modified both the gas tank and rear fender accordingly. The bike was converted from belt drive to chain and from EFI to H-D CV carburetor. Local painter and friend Wed Donnelly did the awesome green-and-black flame job paintwork, while Tony Chavez did the silver pinstriping. In about a year (and many nights and weekends later) my dream build came together in what you see here. She is a blast to cruise, and I get compliments everywhere I go.
I have a modified 2008 Harley Rocker C that may appeal to other readers. It has a lot of custom features that have been advertised in the past. I didn't do all the work but am putting the finishing touches on it. It wound up looking somewhat like an edgier, modern-day version of Peter Fonda's Captain America bike.
My name is Jose Ruiz (Luis), and I have been a subscriber of your magazine for over 10 years. I would like to share a few pictures of my son riding with me. The first picture was his very first ride for about 50 miles that day. He was about three years old at the time. Now we have purchased a 2015 Ultra Limited, my son is four years old, and this was taken at the Snake Turn of Mulholland Drive.