This article was originally featured in the April-May 1999 issue of Cycle World's Big Twin magazine.
Want to enjoy the same excitement as the first motorcyclists of a nearly century ago? Try three wheels. They're as thrilling as ever, and guaranteed to put a big smile on the faces of the rider, the passenger and most bystanders.
A century after the first anonymous, brave soul hitched a motorcycle to a wickerwork armchair to make the first sidecar outfit, you can still hitch up a 'car to your modern Big Twin. Sidecars are available through numerous sources, including Harley-Davidson, which has been continuously offering them since 1915.
A glance through Harley's sidecar history shows it hasn't been all fun and games with three wheels over The Motor Company's 85 years. Sidecars are sloggers, and there has been plenty of hard work in their long history. But although they once were workhorses, these rigs are now classic memories.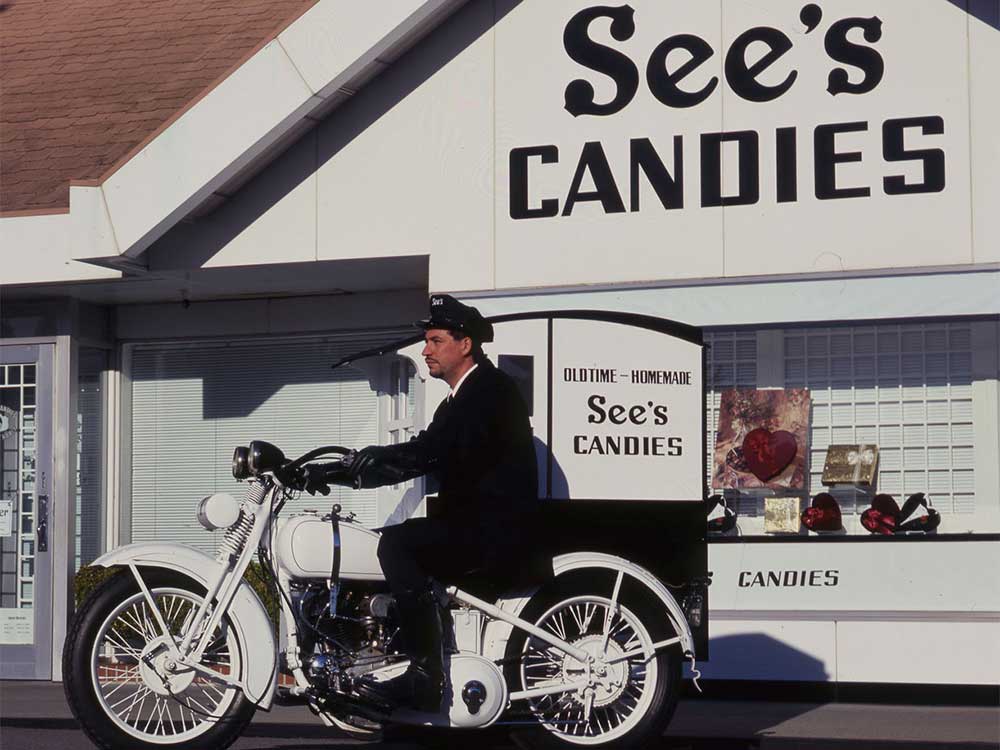 At the dawn of the century, pioneers found that a motorcycle had enough power to carry an extra passenger or even a sizable parcel or two—but where? First efforts focused on the forecar, basically a box on two wheels pushed by the motorcycle. Frightening. Especially for the passenger. Imagine rattling through the center of town in your lounge chair, being shoved from behind by a shaking, roaring, single-speed motorcycle with virtually no brakes. If the forecar hit anything, the passenger would be the first to learn of it.
We'll probably never know who made the first sidecar, but the idea quickly caught on, especially with passengers. Compared to being a human bumper pushed down the road by a motorcycle, the sidecar concept seems positively sane. Well, almost.
Sidecars developed quickly, pretty much attaining their final form within the first decade of their existence, and then stopped developing as if fossilized. A few companies today build some innovative rigs; otherwise, the sidecar you can buy now, including the optional H-D car, is strikingly similar to the 1915 model.
It was in 1914 that Harley-Davidson first contracted with the Rogers Company to supply sidecars. Those first big American V-Twins were eminently suitable for three-wheel work and the demand for the cars become so great that The Motor Company built its own sidecar factory.
The 1915 outfit pictured here is owned and ridden by Marshall Matthews, a man who refuses to own a motorcycle built after 1929. Later motorbikes are just too modern, he insists.
Back when an automobile was luxury indeed, sidecars offered practical alternative transportation. Three was company, and Ma and at least the first couple of kids could crush into the sidecar. And because of the sidecar's prominence in the military scheme of things at that time, the kids had fun playing soldiers when riding in one.
Sidecars saw first enemy action when the U.S. sent General "Black Jack" Pershing with a fleet of armored, machine-gun-carrying outfits out on the trail of Pancho Villa in Mexico—without much luck: Villa's troops were riding Indians. Both brands would be used by the U.S. and its allies, including Russia and Japan, in the Great War a few years hence. Although the war between Harley and Indian would continue for four decades more, the outbreak of civilian peace saw three-wheelers converted into commercial workhorses—a role they performed admirably and with panache for the next 20 years on the streets of America.
Though the price of a commercial sidecar outfit in the 1920s was barely less than that of a Model T Ford, it made sense to use three wheels. Many more youngsters were familiar with the controls of a motorcycle than of a car or a pickup truck, so it was easy to hire riders. And despite its width, the sidecar was much easier than a four-wheeler to maneuver and park in city traffic.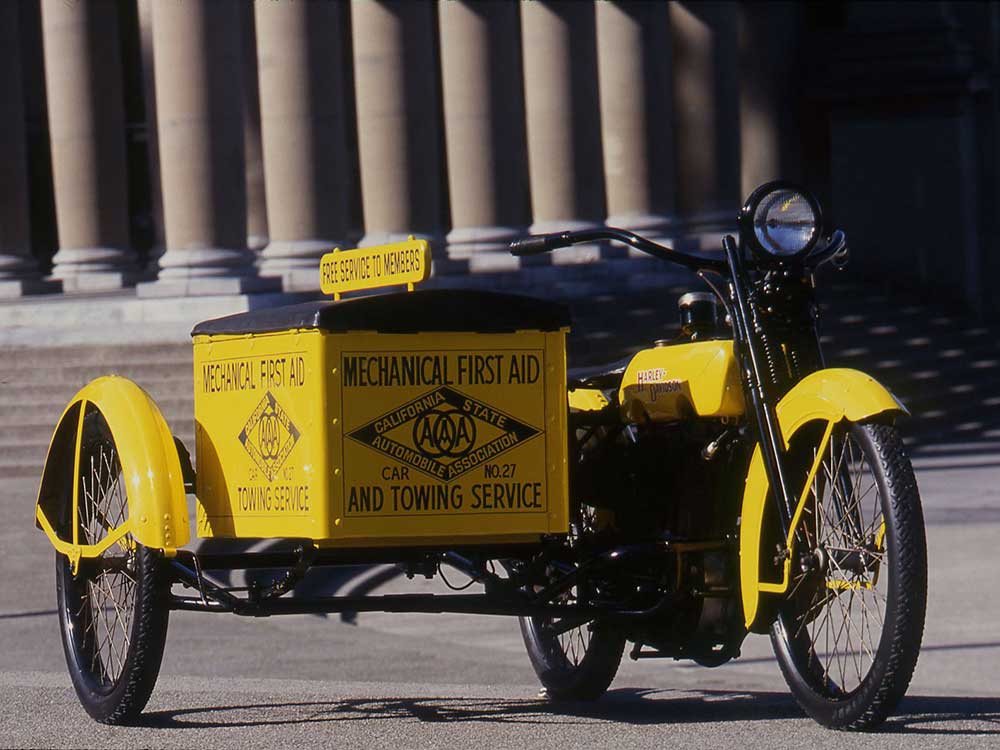 What got carried in sidecars? Old pictures give the scoop. You could order sidecar box vans shaped as ice cream cones, cameras and cottages. Giant tires for the Firestone dealer. Pestle and mortar for the druggist. Even a mini-taxi body. In sales literature, commercial sidecars were "package trucks".
Dudley Perkins Company in San Francisco was the largest dealer in the country for package truck sales. The dealership even offered "wet" leases: fully equipped sidecars (with riders) for a day or a year. Riders delivered all day, and mechanics worked through the night at the dealership, servicing the bikes. In the depression-era Thirties, men lined up for a day's sidecar duty.
Makes you wonder, though, how they drove 'em. San Francisco, then as now, is a hilly, damp, misty city, lashed with winter rain. Streets are lacerated with steel rails carrying cable cars and trams. The load in those sidecars was up to 500 pounds, officially. Total brakes available were precisely one, an external contracting device on the rear rim, until front brakes were introduced in 1928.
"Thrill" doesn't describe the feeling of teetering down a rain-slicked San Francisco hill, trolley tracks and all, with a full load in the sidecar and one sorry brake. Crash!
More work for sidecars! With streets as crowded as San Francisco's, clearing crash sites was essential. The California State chapter of the American Automobile Association (AAA) conscripted sidecar-equipped model Js into its fleet in late 1923. Often, the sidecar was sent out on "broom patrol" to sweep accident sites. And on "rescue patrol," sidecar boxes were filled with gasoline and oil cans, and a selection of emergency repair tools.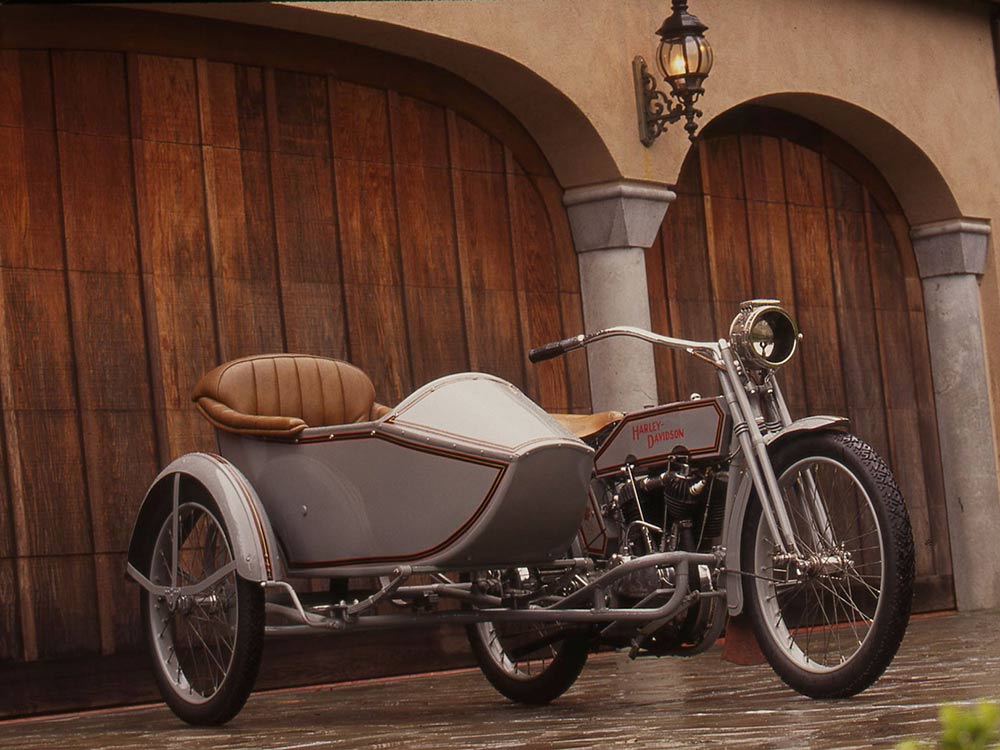 The AAA outfit, now painted a brilliant yellow, is one of the eight sold by Dud Perkins in 1923. The original color was Brewster Green, Harley's new hue for that year: Bright colors were way in the future.
Today, in its new yellow color scheme, this sidecar rig works almost as hard as it did in a former life by representing the AAA at shows, fairs and functions. It's a great calling card, because if there's one thing all sidecars share, it's high visibility.
Numerous companies gained publicity back in the 1920s with fleets of brightly painted H-D package delivery sidecars. One of them was See's Candies. According to legend, the company introduced a sidecar delivery service after its president, Charles A. See, observed sidecar outfits at work in Europe. He soon realized that such outfits would work in Los Angeles, too, and give his candy that touch of promotional originality that remains the best advertising.
It was in 1996, for its 75th anniversary, that See's Candy Co. restored the sidecar rig seen on these pages. The company in fact restored two outfits, so one would always be available for shows and display.
These days, See's sidecars live a life that's almost as tough as the originals experienced, according to the company's Northern California Transport Manager, Pat Ybarra, who accompanies the museum pieces to shows and displays. "We had to get the package delivery bodies rebuilt," he says, "because of kids clambering all over them."
See's sidecars replicate the small-scale, candy-filled models the company sold for years. The models are based on original photographs of a 1929 J; but for the restoration, the company instead decided to use a pair of 1930 VLs fitted with the twin bullet headlamps offered on 1929 and 1930 models.
By the Thirties, the sidecar delivery outfit had gotten specialized. The See's rig had a ventilated box in front that would carry containers of dry ice, keeping the soft chocolates cool as they were delivered to stores in the hundred-degree, Southern California heat of Pasadena and the San Gabriel Valley. Today, See's uses a fleet of semis for the same job.
Back then, the three-speed, 61- or 74-cubic-inch, V-Twin, single-cam model J, with its exposed pushrods and hand gearchange, could chug along at a top speed of 50 mph or so. Weather protection was optional, afforded by celluloid windshield and canvas legshields, assisted by a leather helmet and aviator goggles.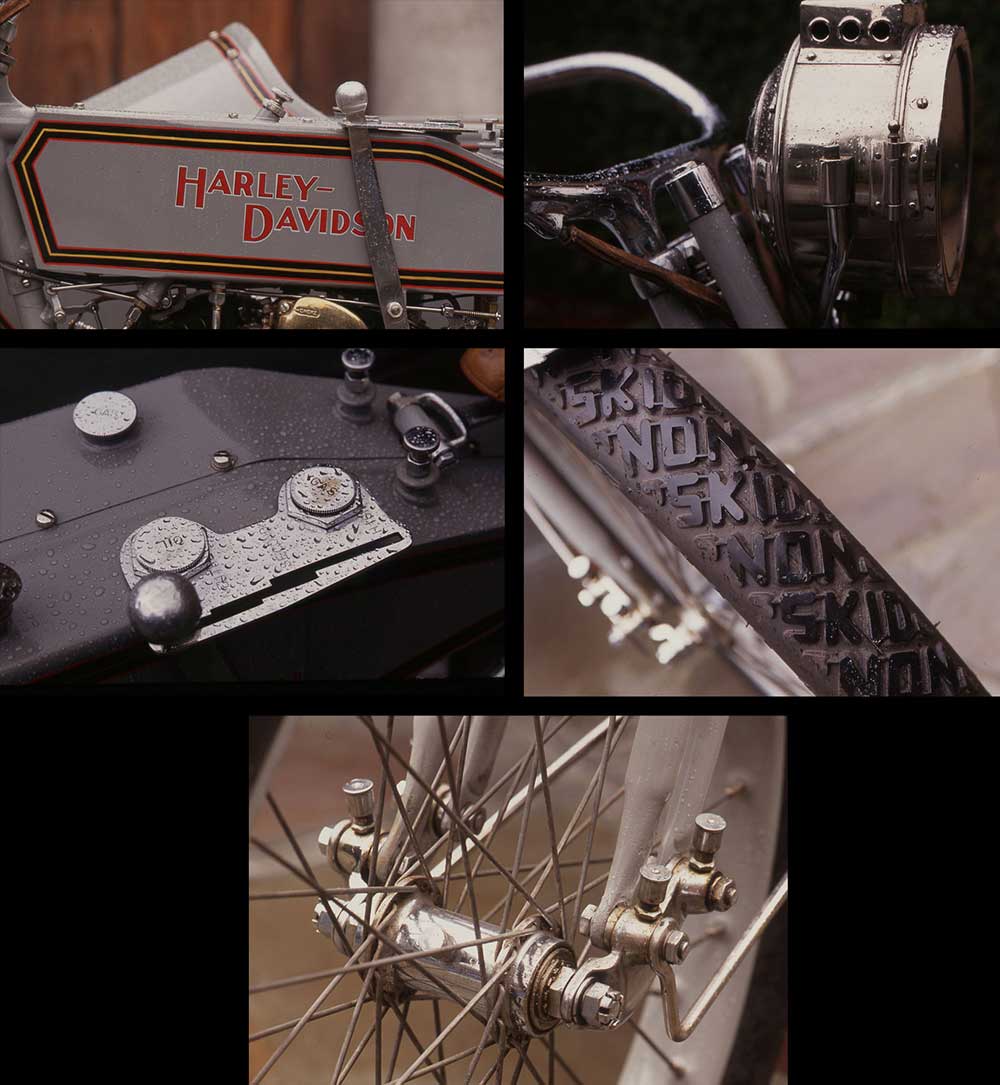 But was the See's outfit really inspired by a European trip? Or was it competition with Fanny Farmer candies—big on the East Coast—which used extremely similar outfits? Study of the only photographic evidence available reveals that while See's was using motorcycle outfits in 1929 or 1930, Fanny Farmer had been carrying candy around as early as 1926 in almost identical white-and-black model J rigs with cottage-style sidecars. See's outfits were almost identical to Fanny Farmer's, with one exception: The lace curtains were definitely See's own.
Whatever the truth, one thing is obvious: Even by 1929, sidecars were thought of as old-fashioned and quaint. That description hasn't changed.
If you have any thoughts of converting your Big Twin to pull a sidecar, you have several choices. One is The Motor Company, of course, which has offered that option for 84 years. Another is Arlen Ness, who markets a sidecar outfit straight out of the 'Teens. With modern power, of course.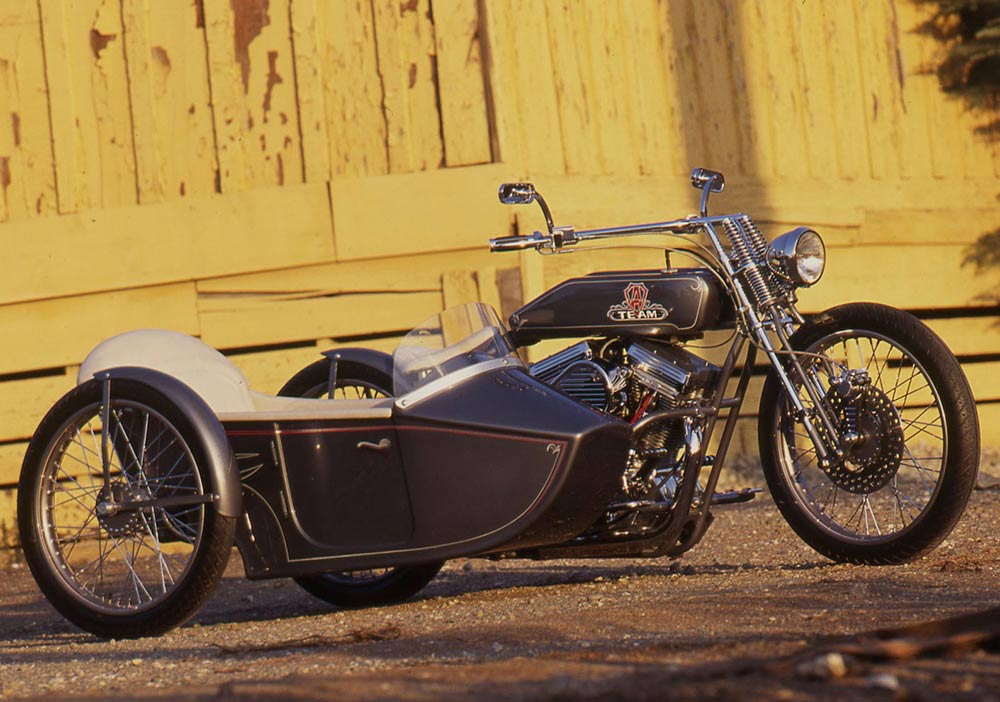 Ness completed his sidecar package only a year ago—although it already had plenty of history. The vintage replica sidecar, with Evo engine, was originally designed in the early Eighties by a San Francisco entrepreneur who wanted to offer the flavor of a classic but with the reliability of a modern Harley. The concept looked great but the timing was wrong, and Ness bought the drawings when the company went bankrupt.
It has taken another decade for the sidecar to come around again, but this time the world seems ready for it. Ness is building several turn-key sidecar outfits for friends ("We're going to start a sidecar gang," he jokes), and his company will soon have a sidecar kit available for both Big Twins and Sportsters. The kit will consist of a rigid motorcycle frame and a sidecar styled after the 1917 model—detachable, of course. "It's almost as much fun riding around on a vintage-looking motorcycle as it is in the sidecar," says Ness.
---
---
But the sidecar, he admits, draws the most attention, as his good friend Arnie Araujo now knows. Araujo's Evo-engined sidecar, shown here, is the first Big Twin Ness outfit. He first rode Ness's Sporty-powered sidecar a year ago at the annual Laughlin River Run. "It was so much fun, I knew I had to have one," he says. "I prefer riding in the sidecar, but I don't get much of a chance now; everybody else wants to ride in it."
Starting with a frame and sidecar kit from Ness, Araujo pretty much filled out the rest of the specification sheet by haunting swap meets in search of the appropriate period parts. The bike's gray paint and powder coating are subtle enough to fool anybody into thinking that it's original. His sole concession to modern instrumentation is a stereo mounted in the sidecar.
As Araujo quickly discovered, his is a motorcycle that everyone loves. His 80-year-old mother-in-law adores it, and his six-year-old grandkids constantly beg for rides. Once a rider gets in, he or she doesn't want to get out.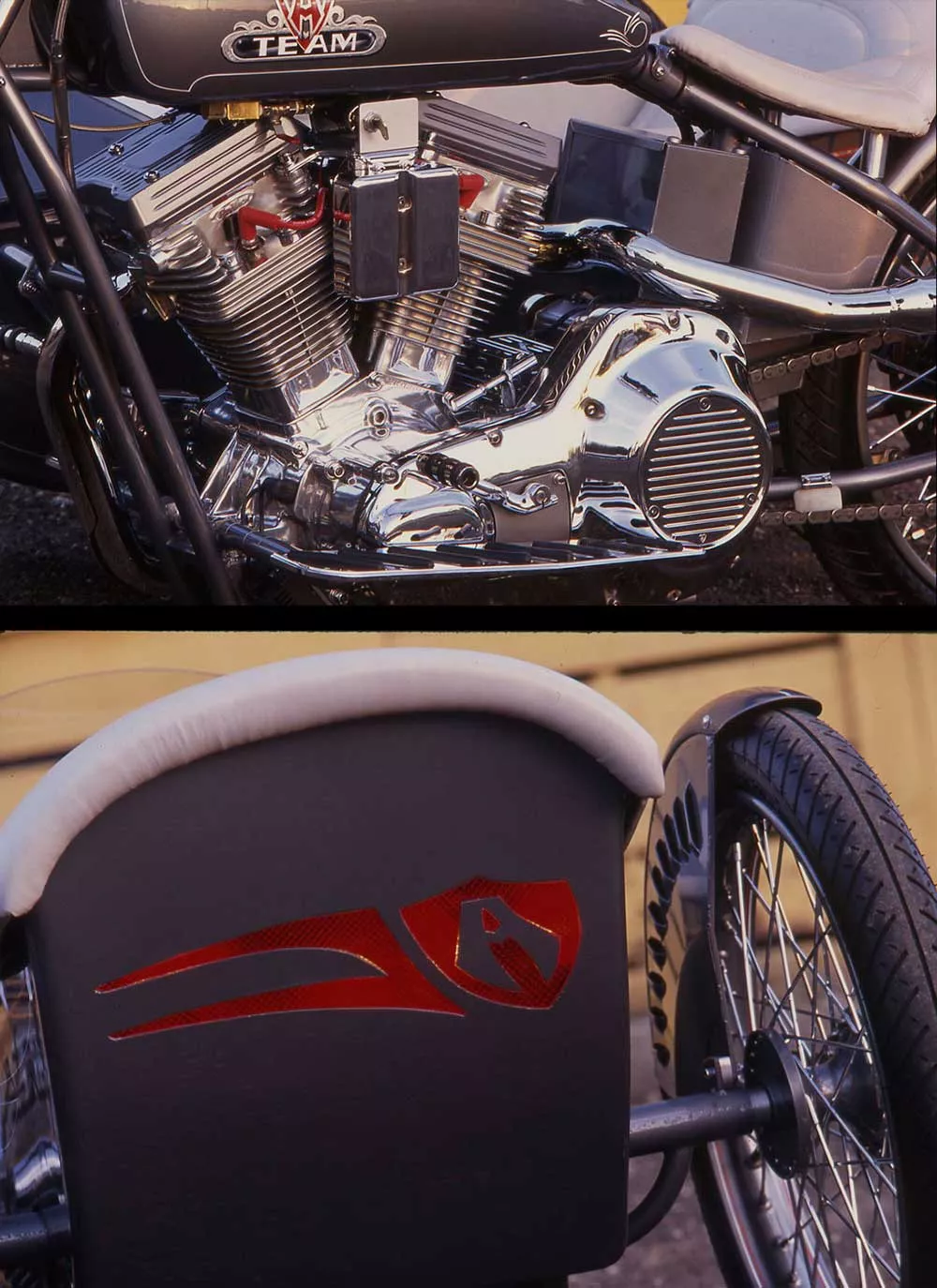 Good thing, too. Sidecars handle best when loaded, a lesson that Araujo learned … shall we say, the frightening way. "While I was waiting for the sidecar body, I took the bike for a ride with just the bare sidecar frame on. It was the scariest thing I've ever ridden. The sidecar wheel wanted to rise all the time, and I went across the center line in turns a couple of times. It was real spooky. But once I got the weight of the body on it, riding it was real simple. Now it handles so good that I can pass cars in the canyons and cruise on the freeway at 75 mph with no problem.
So, in the final analysis, sidecars haven't really changed in more than three-quarters of a century. Probably never will. They're just as quaint and just as quirky as ever.
And just as much fun.
Jay Leno: Funnyman, Sidecar Man:
Jay Leno's 1924 Harley-Davidson JD, with its olive green paint and factory sidecar, looks for all the world like military issue. But it's actually a civilian model that Leno rides regularly. "The bike was used until 1951, I think, then it was stored until around 1987," says the comedian and host of television's The Tonight Show. "It's pretty dependable. I just put gas and oil in it and drive it. This bike was built in the period when internal-combustion engines were just becoming reliable, and it has a battery ignition and things like that. For its day, it was pretty fast."
This is the only sidecar rig in Leno's 53-bike stable that includes six Harleys, as well as numerous Vincent Black Shadows and Brough Superiors. He has a 1000cc overhead-valve Pope racebike that he occasionally rides just to scare hell out of himself.
Leno's vintage Harley still contains all of the components that were on it as it rolled out of the factory, and they all work. He rides the bike quite often, as he does on all of his antique machinery. "When I take it on the freeway, 50 miles an hour is ideal," he says. "Sixty is about the fastest I want to go with the sidecar. Any more than that and it gets a bit squirrelly.
If Leno's JD bike looks used, that's because it has never been restored. His philosophy is that machinery was built to use; but rest assured that this motorcycle, like every other bike in his collection, is meticulously maintained by Leno and his staff. Although restoration may be in the bike's future, for right now, he's getting too much enjoyment out of riding it.
"It's fun to commute on," he says. "In L.A., you really can't go that fast anyway. I do lots of things on it; my wife and I go to the store and fill it up with groceries, and it's great at Christmastime. We ride around the neighborhood to look at all the lights, and do stuff like that."
When Jay Leno says his '24 JD sidecar was built to ride, he's not kidding. It's a genuine runner—and he genuinely runs it.